Knights reach deep into goaltending depth as injuries mount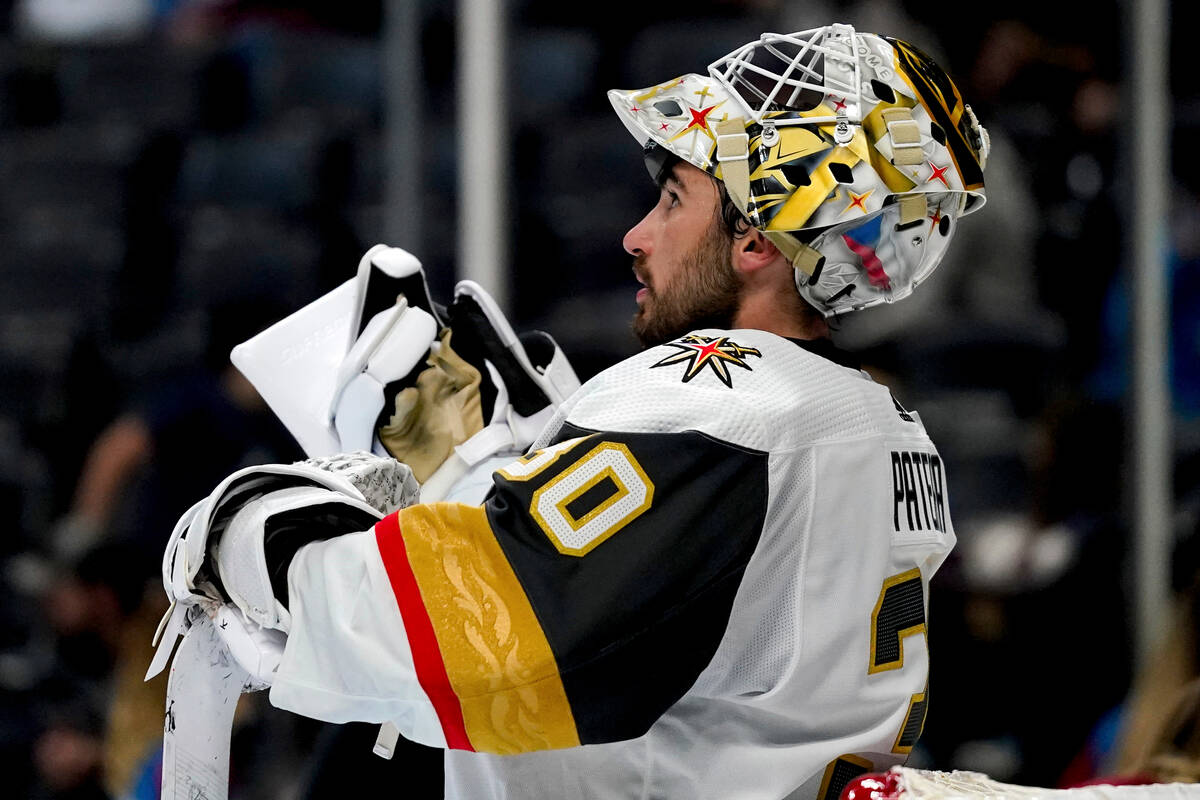 Jonathan Quick, when the Golden Knights needed saves late in the third period against the Tampa Bay Lightning, stopped center Brayden Point twice from within 10 feet Thursday.
The 37-year-old goaltender may be nearing the end of what could be a Hall of Fame career. But against an active NHL dynasty, he showed he can still get it done. Those saves were two of the 34 he made in a 4-3 overtime win.
The Knights only hoped to rely on Quick as an insurance policy when they acquired him from the Columbus Blue Jackets on March 2. That's no longer an option. Injuries to Robin Lehner, Logan Thompson, Laurent Brossoit and Adin Hill mean the two-time Stanley Cup winner is the team's new No. 1.
Quick showed he could handle that against the Lightning. Now he and backup Jiri Patera need to prove they can give the Knights a chance to win consistently, starting with a back-to-back against Carolina and St. Louis on Saturday and Sunday.
"With some of the injuries, it presented an opportunity for me to come here," Quick said. "If they need me in the net, I'll be in the net working. If not, I'll try to help these guys as much as I can."
The Knights are as deep into their goaltending depth chart as they've ever been.
Patera, who was called up from Henderson on Thursday, is the sixth goalie to dress for the team. That's a franchise record. The Knights would set another one if Patera becomes the fifth to get a start.
All that shuffling has yet to cost them. The Knights have the NHL's seventh-best team save percentage at .911, in part because coach Bruce Cassidy's strong defensive system is working. They've gotten good performances from Thompson, Brossoit, Hill and now Quick, even with Lehner out for the season with a hip injury that required surgery.
"We've liked our goaltending all year," Cassidy said the day of the Quick trade. "I think we came into it with some level of unknown with Robin's injury. They've responded very well."
The Knights face a different challenge with Thompson, Brossoit and Hill all nursing lower-body injuries and not on the current road trip. Using this many goaltenders hasn't gone well for different teams.
Chicago, Los Angeles, San Jose, Toronto and Vancouver are the only other clubs to use four starters this year. Ottawa has had a league-high five.
The Maple Leafs are the only one in the top half of the NHL in team save percentage, at ninth (.908). Los Angeles (.883), San Jose (.881) and Vancouver (.877) are the bottom three.
Those teams — minus the Kings — didn't have anyone with Quick's resume to plug in, however. He's adapted well in his first two starts with the Knights. He's 2-0 with a .908 save percentage. His track record this season is still cause for concern. Quick's overall .878 save percentage is fifth worst among goaltenders with at least 10 appearances.
Patera, 24, hasn't made an NHL appearance. The 2017 sixth-round pick is having a strong year for the Silver Knights, with a 12-13-1 record, .916 save percentage and 2.66 goals-against average. Brossoit, playing behind the same team, was 8-11-3 with a .909 save percentage and 2.72 goals-against average.
Patera may need to be called on with the Knights playing three games the last four days of their road trip. If he is, the team is reaching past even the insurance policy it just bought for itself for more depth.
It's been one of those seasons for the Knights in net. They'll have to see whether a 16-year veteran and rookie can keep it together. Teammates who have played with Quick before have confidence in him.
"He's just an all-time competitor and unbelievable teammate," defenseman Brayden McNabb said after Quick's first practice with the Knights. "We acquired a great goalie and a great person. I was pumped when I saw it. He'll do great for us."
Contact Ben Gotz at bgotz@reviewjournal.com. Follow @BenSGotz on Twitter.
Up next
■ Who: Golden Knights at Hurricanes
■ When: 4 p.m. Saturday
■ Where: PNC Arena, Raleigh, N.C.
■ TV: AT&T SportsNet
■ Radio: KKGK (98.9 FM, 1340 AM)
■ Line: N/A