Knights star expected to play in Game 5 against Panthers
Updated June 12, 2023 - 9:52 am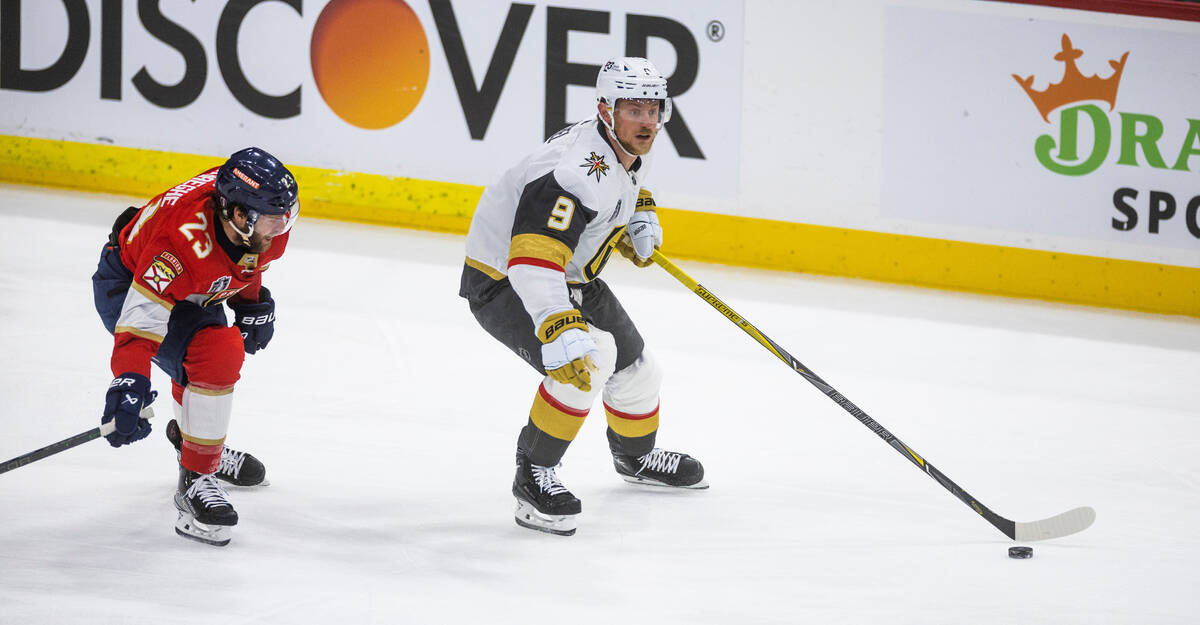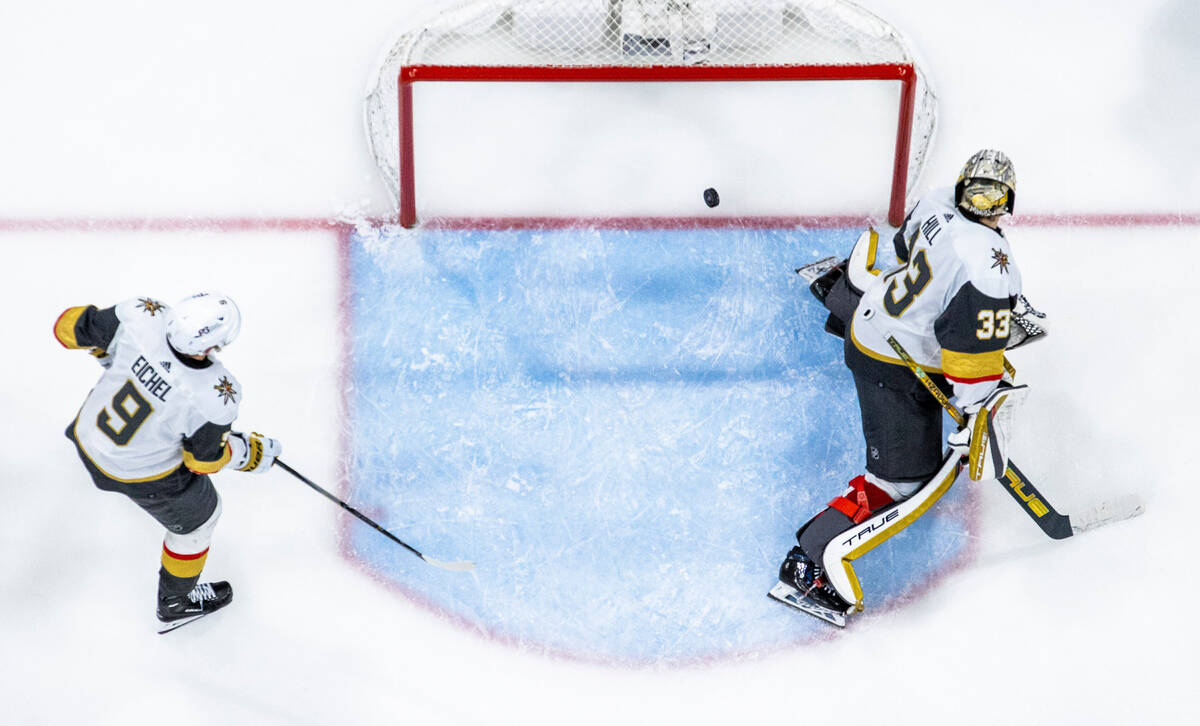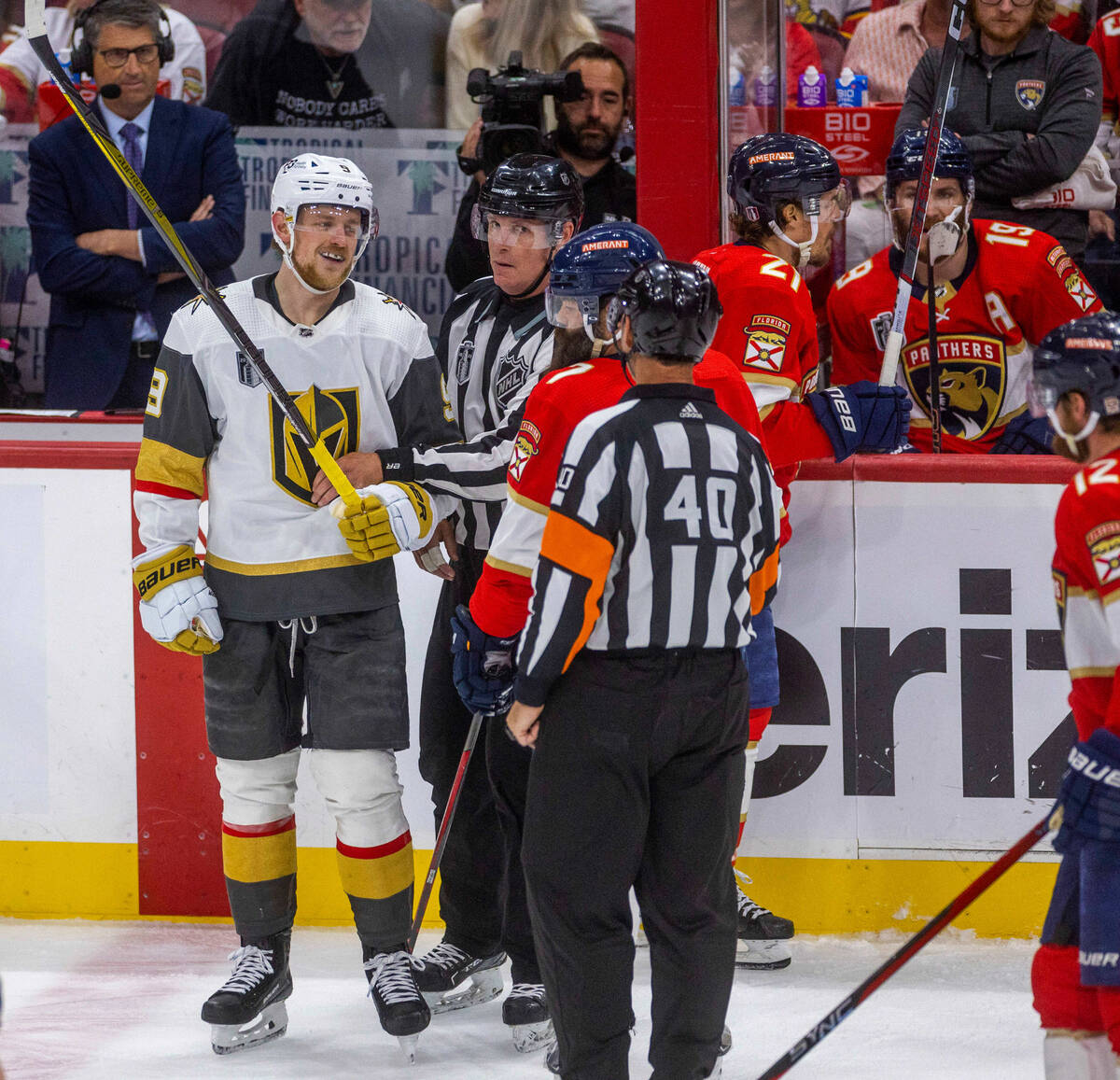 SUNRISE, Fla. — Forward Jack Eichel has truly embraced the "it hurts to win" motto the Golden Knights have adopted this postseason.
Eichel left the game and went to the locker room for the second time against the Florida Panthers in the Stanley Cup Final in Game 4 on Saturday at FLA Live Arena. But, just as he did in Game 2, Eichel returned to action in the third period.
Coach Bruce Cassidy said he expects Eichel to be ready again when the Knights return home Tuesday with a chance to hoist the Stanley Cup at T-Mobile Arena.
"He'll get a couple days to rest up, and I fully anticipate him being ready to go for Game 5," Cassidy said Sunday morning before the team flew back to Las Vegas. The Knights did not practice Sunday.
The issue in Game 2 was a big hit from Panthers forward Matthew Tkachuk. Eichel shook out the cobwebs and immediately skated to the locker room while the teams scuffled over the hit.
In Game 4, Eichel was hit in the head and shoulder area with a puck off the stick of teammate Jonathan Marchessault. He briefly laid on the ice before removing his helmet and skating off and to the locker room
But there he was again playing with his teammates as they scratched and clawed to keep the puck out of the net in the third period and hold on for a 3-2 victory that gave them a 3-1 series lead.
"He's in the trenches every day," Cassidy said. "He goes to the dirty areas. This one was unfortunate. I think it caught him in a spot where his helmet wasn't protecting him, so he's sore, but he was able to come back, medically cleared or he wouldn't have come back. So that wasn't an issue. Probably a little bit of a pain tolerance thing for a little bit."
Eichel has 23 points, including 17 assists, in his first playoff run. He spent his first six seasons in Buffalo, where the Sabres never made the postseason. Then the Knights missed the playoffs for the first time in franchise history last season after he was traded to them and underwent a major procedure on his neck.
Cassidy is pleased with how the star center has responded to the rigors of all these extra games.
"He's a tough guy," Cassidy said. "He's been through a major surgery in his career and came back. He plays a violent sport and has been able to stay predominantly healthy from that injury. He's had a few little things, lower-body things over the year, like a lot of guys have. But he's a guy that wants to be in there."
Panthers awaiting updates
While Cassidy was definitive about Eichel's status, Panthers coach Paul Maurice wasn't as forthcoming about two of his ailing players.
Tkachuk missed more than 10 minutes of the third period before returning for the final desperation push. Fellow forward Anthony Duclair also saw his shifts reduced down the stretch.
Maurice said he had not been updated on their status as of a Sunday morning video conference with reporters.
"Guys will come in for rehab here now in the next hour or two," Maurice said. "The rest of the healthy guys will meet us at the plane, so we'll have more for you (Monday in Las Vegas)."
Tkachuk, tied for the playoff lead in points with 24, wouldn't say after Saturday's game when he was injured.
"Obviously, you want to be out there playing," he said. "Just was able to go out there at the end and tried to make some magic happen late."
Power play lacking power
The Panthers had just one power play in Game 4, which covered the final 18 seconds after Alex Pietrangelo cleared a puck over the boards.
Florida couldn't convert the six-on-four advantage with an extra attacker into a goal and is 0-for-13 on the power play in the series.
The only other team since at least 1978 to have at least 10 opportunities without converting a goal was the New Jersey Devils in 2012.
Jonathan Quick, the Knights' backup goaltender, was the starter for the Stanley Cup champion Los Angeles Kings that season.
Contact Adam Hill at ahill@reviewjournal.com. Follow @AdamHillLVRJ on Twitter.