Top line has chemistry as Knights lose 2nd preseason game
Updated September 27, 2022 - 8:50 am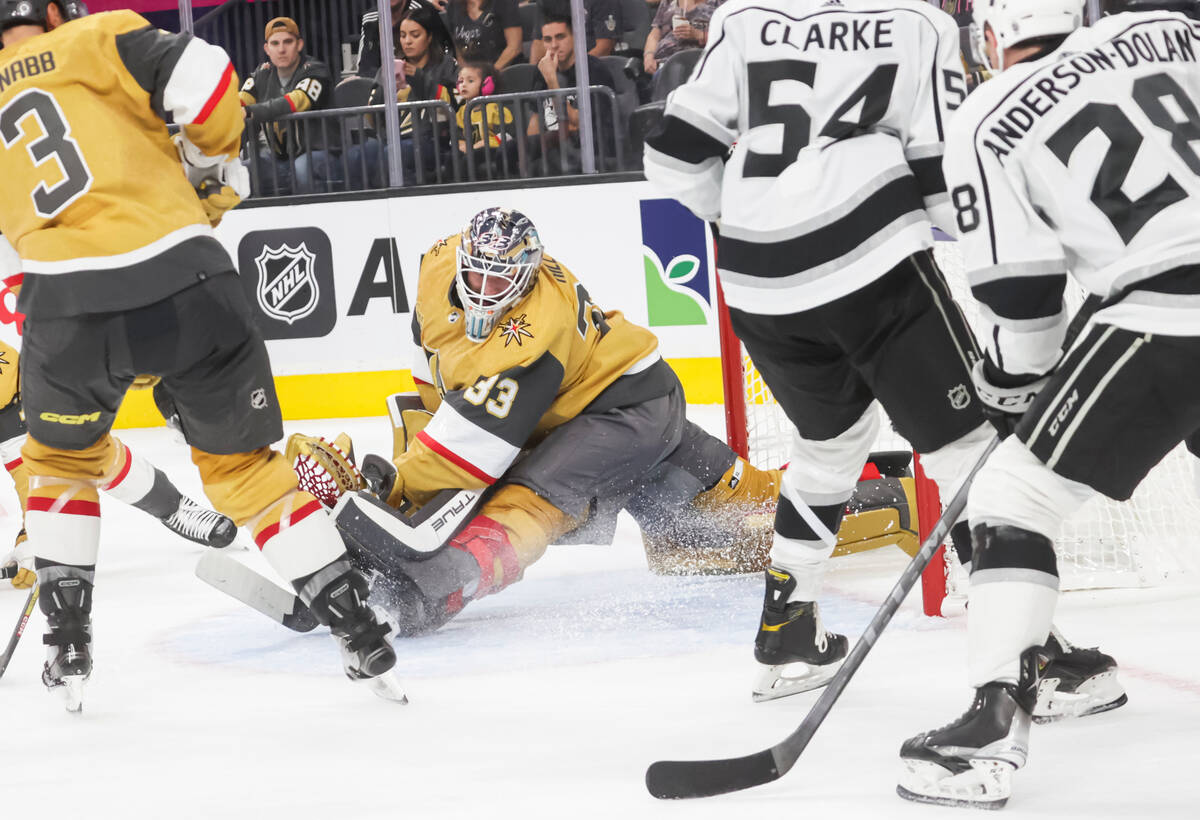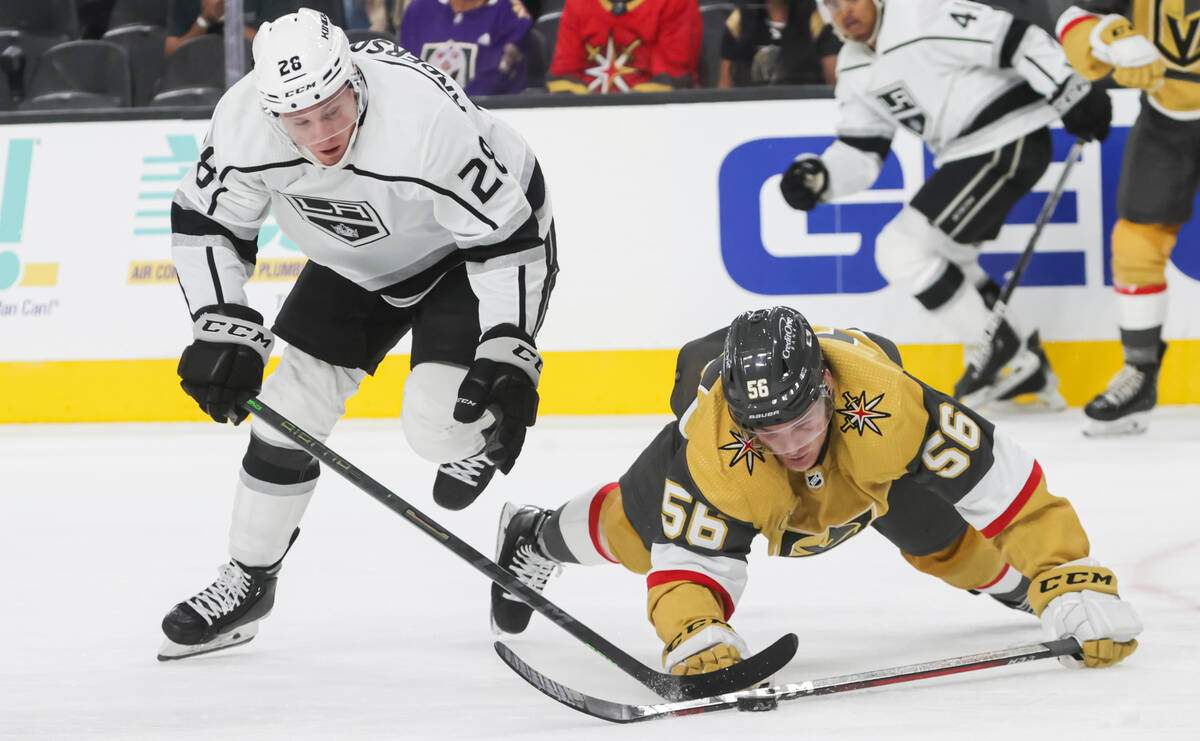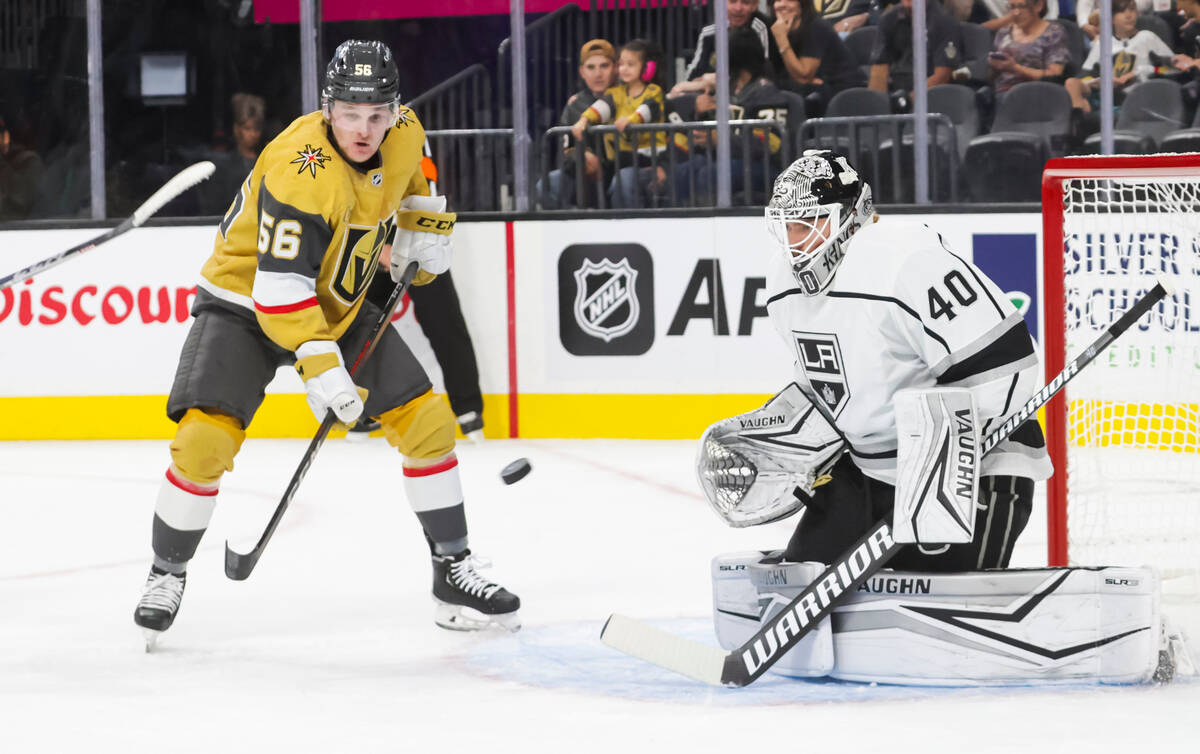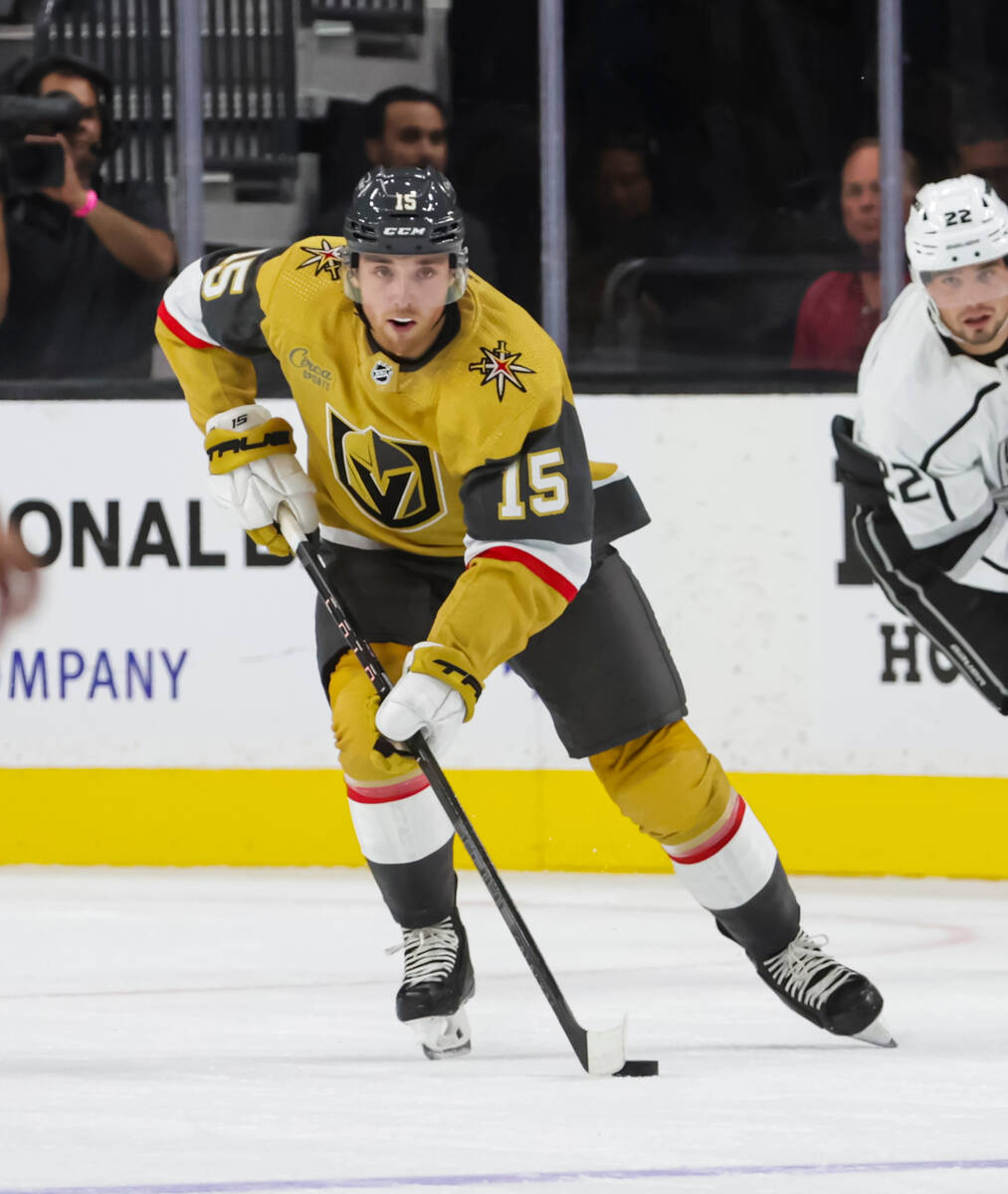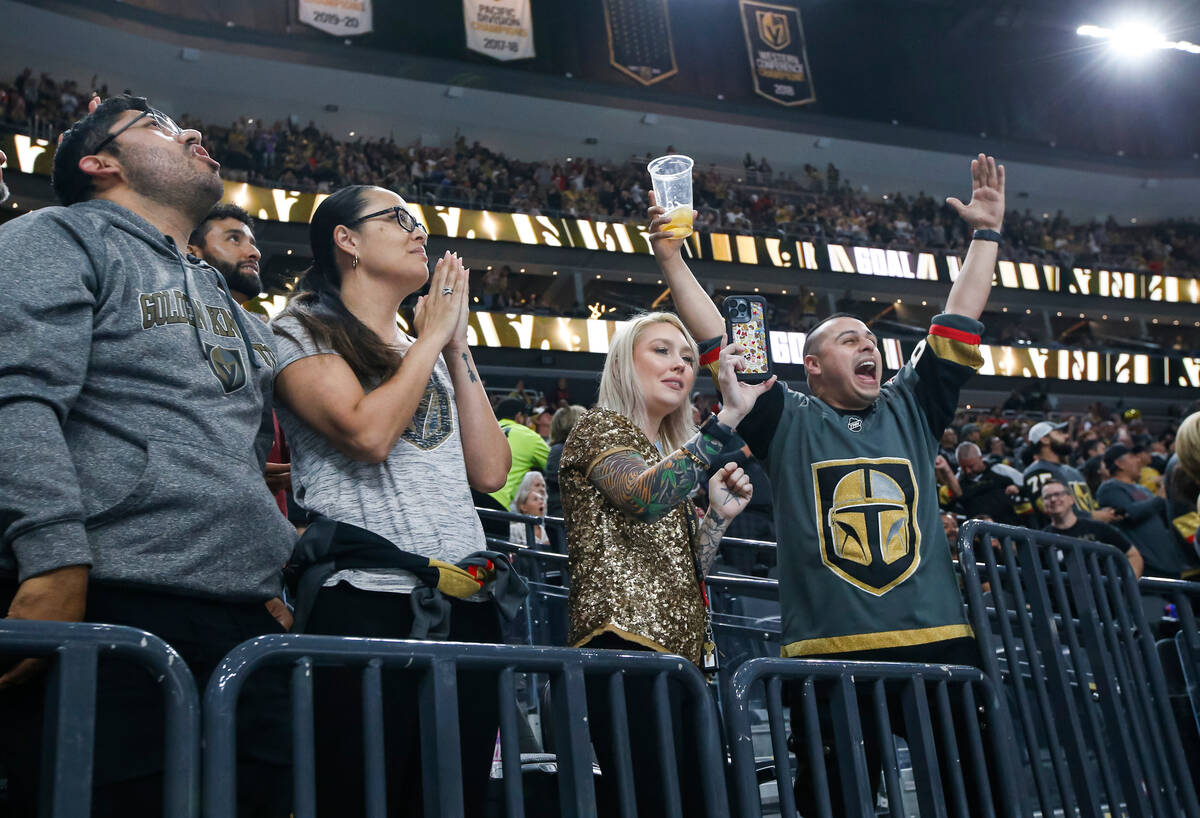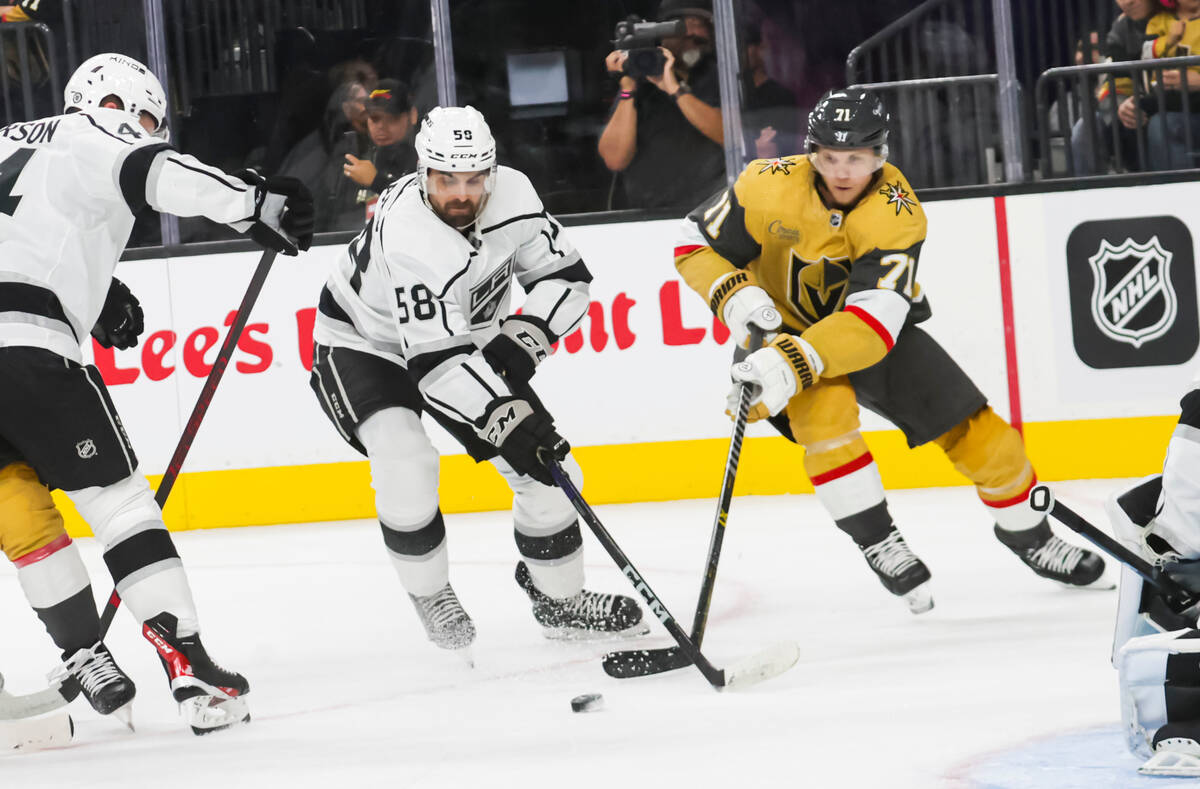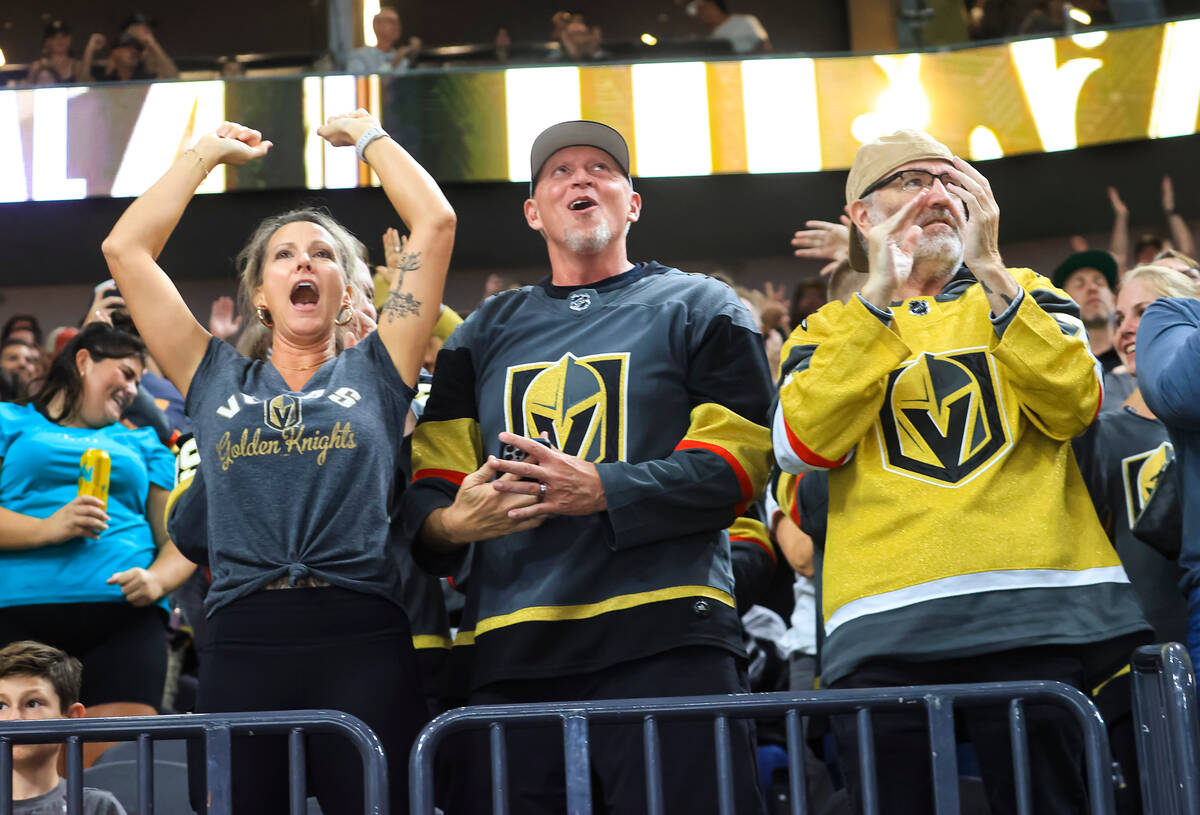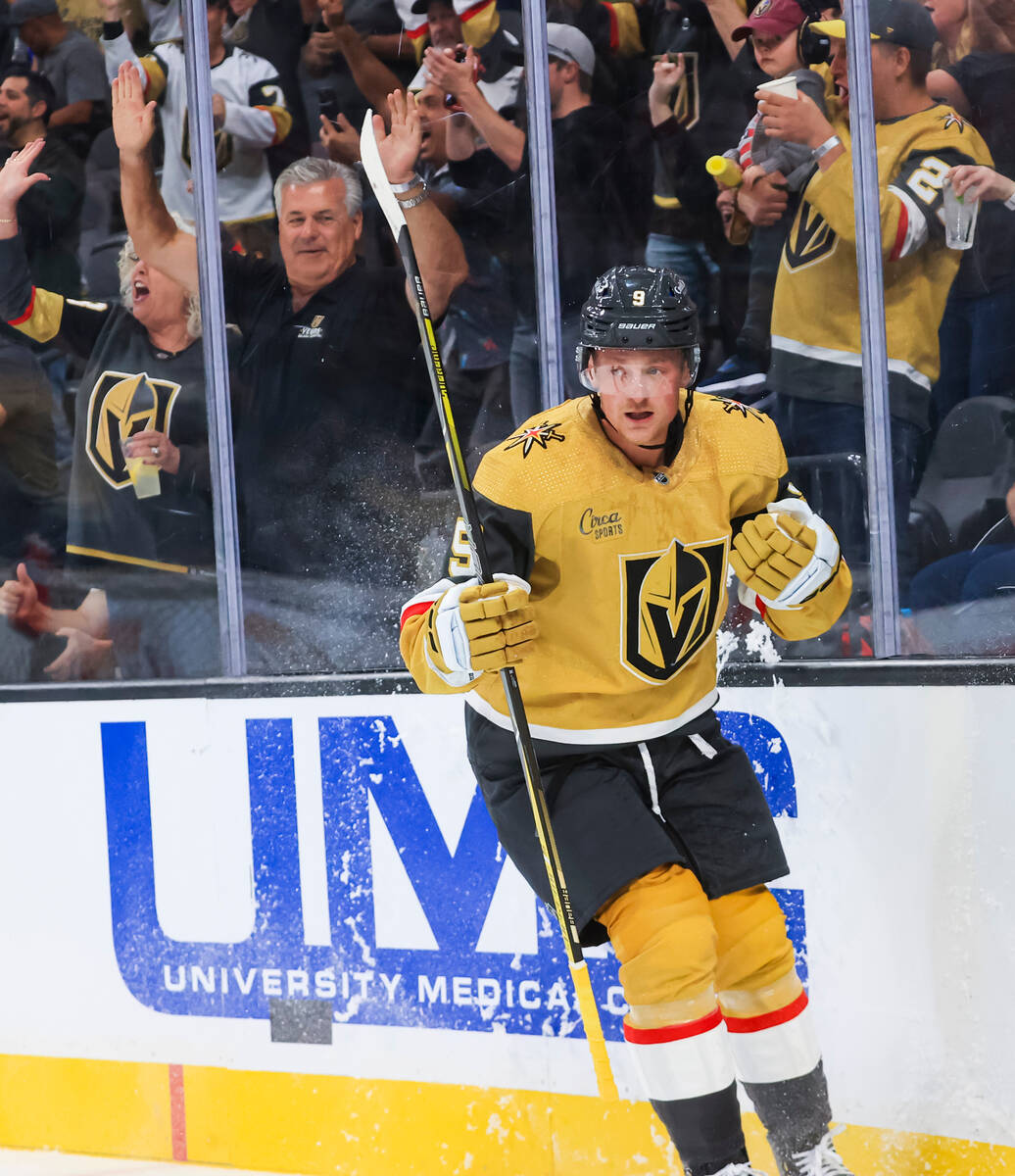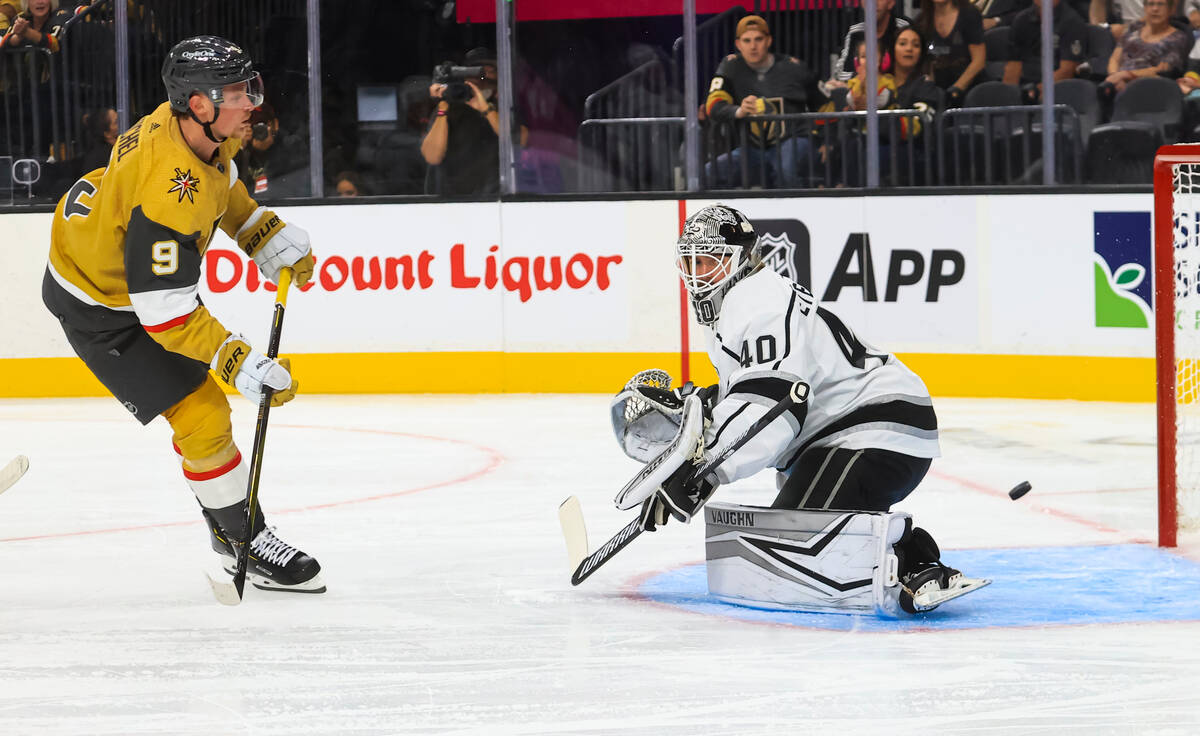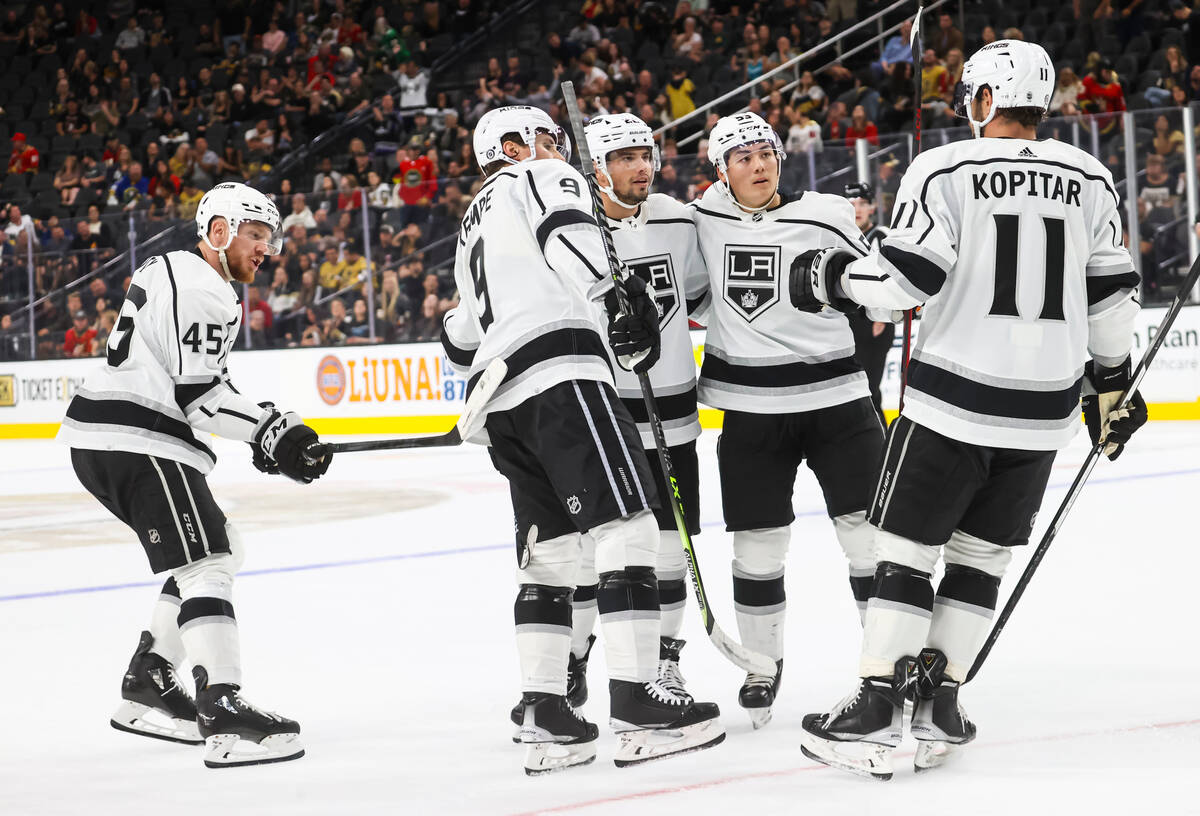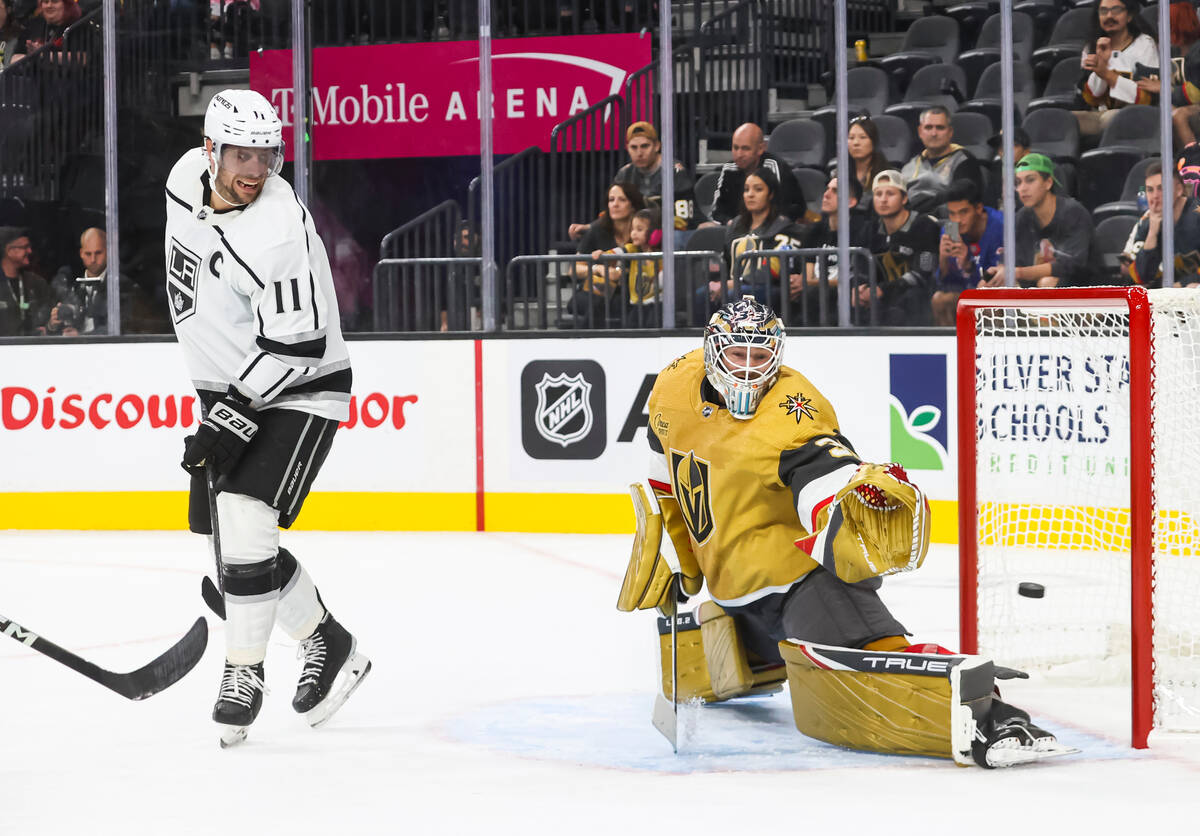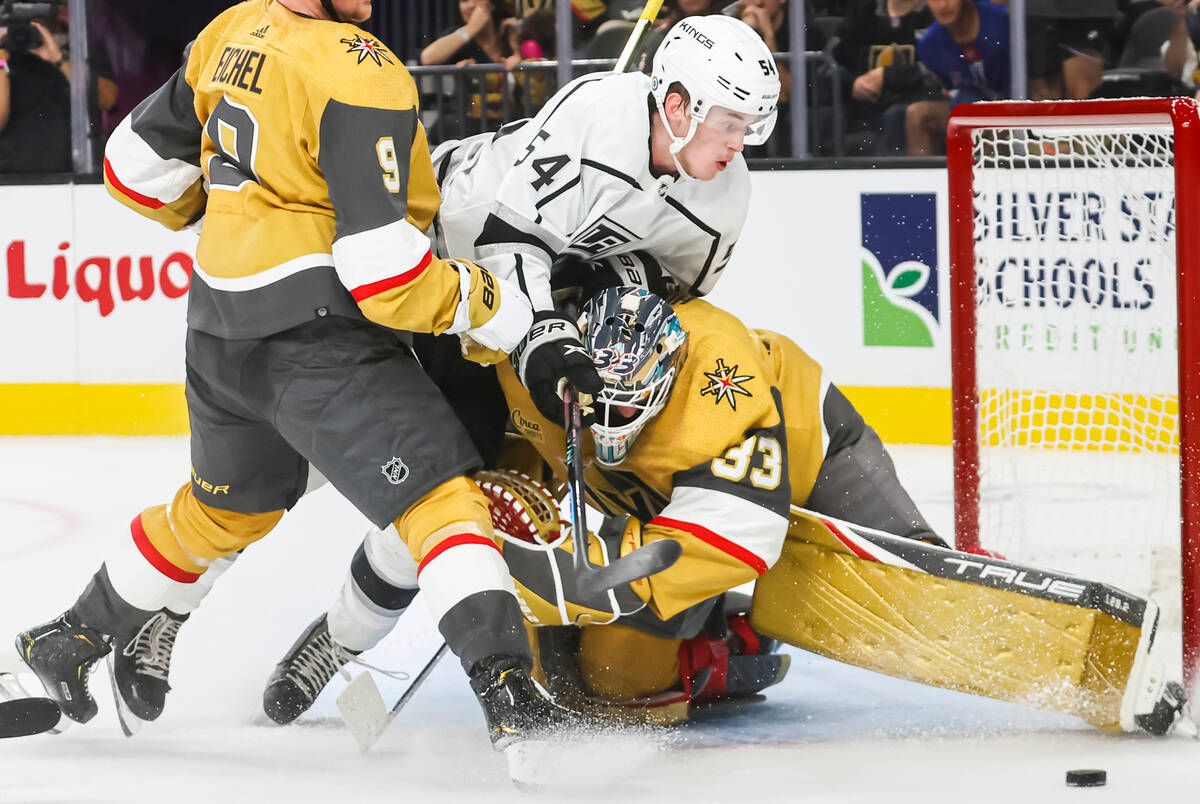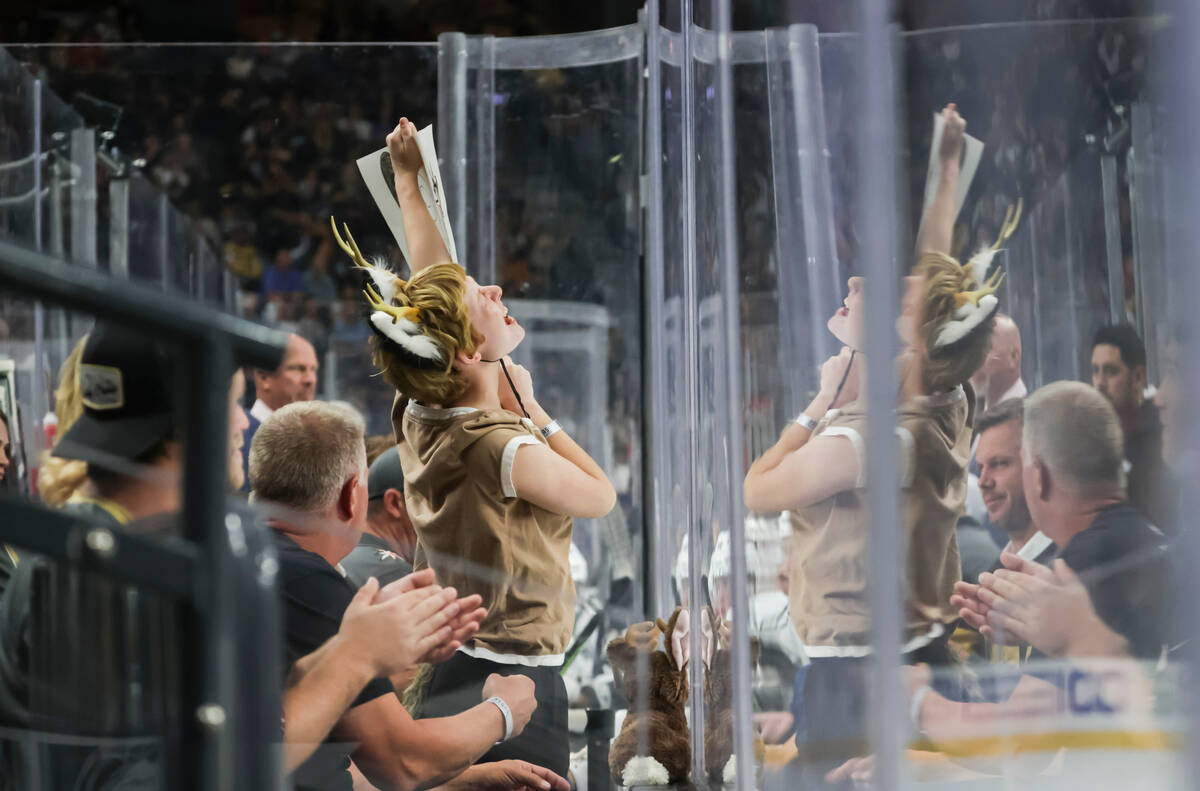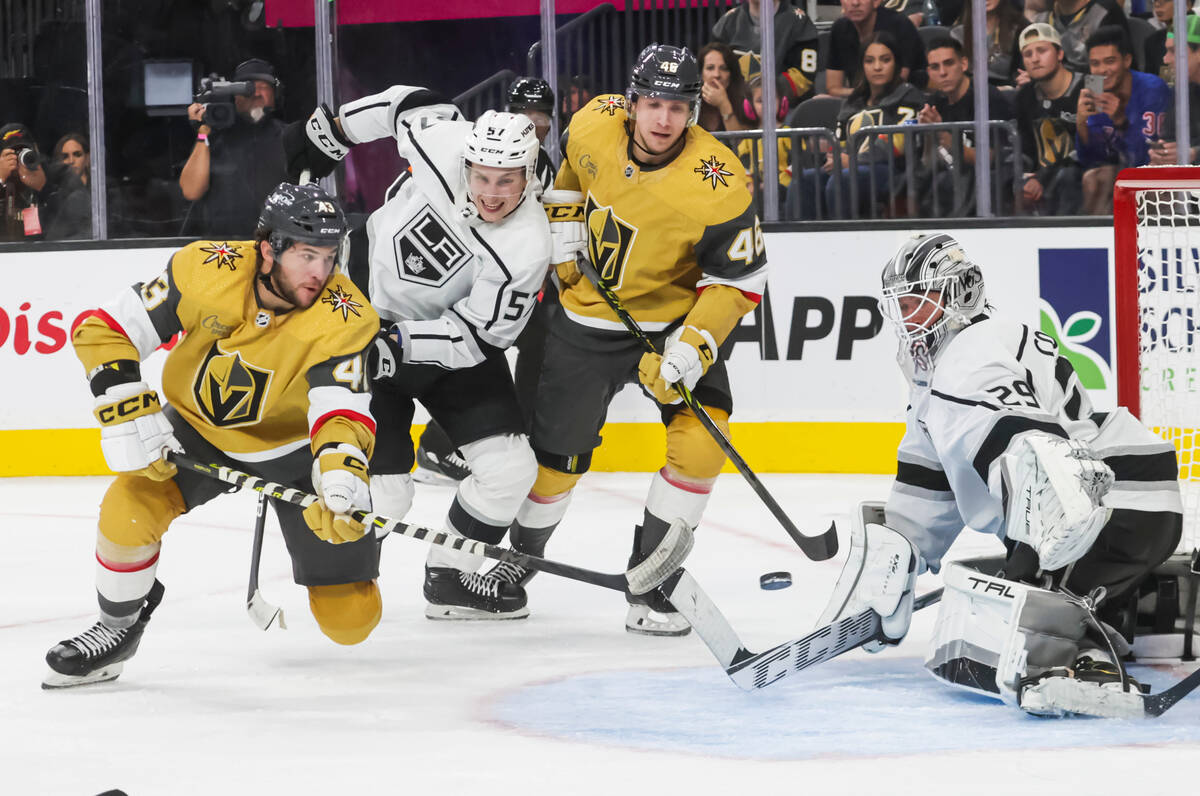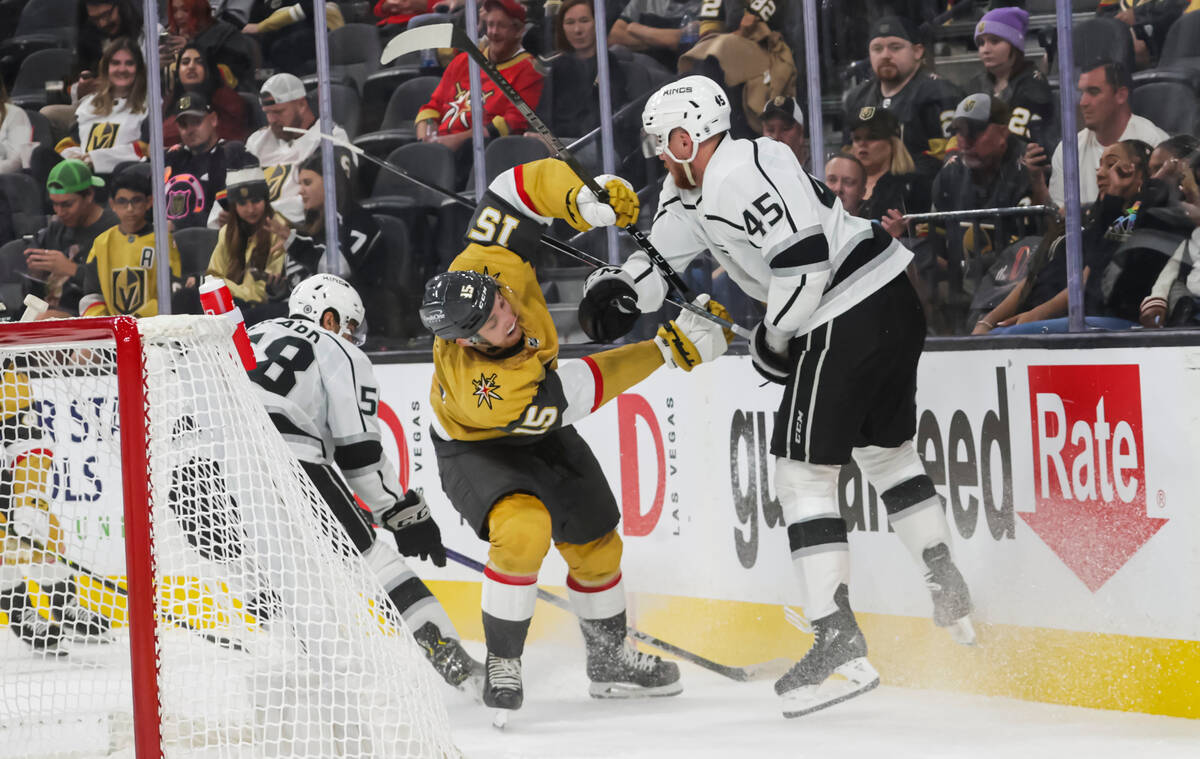 Golden Knights coach Bruce Cassidy was approached by an official during Monday's preseason game against the Los Angeles Kings asking if he wanted a shootout.
Cassidy said yes, assuming it would only happen if the game was still tied. Instead he agreed to an optional shootout regardless of the score.
It turned out to be an important miscommunication.
Because of the mix-up, Cassidy's T-Mobile Arena debut was extended far past the Knights' 2-1 loss to the Kings in overtime. The teams went back-and-forth for 14 rounds in a shootout before goaltender Adin Hill's diving poke-check won it.
The Knights had to reach far enough down their bench that defensemen Brayden McNabb and Alex Pietrangelo got an attempt. Pietrangelo scored the winner with a massive slap shot.
"He knew he was doing that," defenseman Daniil Chayka said. "We couldn't wait to see that in action."
The Knights' still ended the long night 0-2 in the preseason. Here are three takeaways from the loss:
1. Eichel, Kessel flash chemistry
There's no telling how successful Eichel and right wing Phil Kessel will be if they play together during the regular season. They sure would be fun to watch, though.
Cassidy put the two offensive dynamos on the same line to begin camp with left wing Reilly Smith. It wasn't necessarily by design, but Cassidy wanted to keep center Chandler Stephenson and right wing Mark Stone together and see how Smith, left wing Jonathan Marchessault and center William Karlsson would play apart.
No matter how they were formed, the group appears to be clicking fast. Kessel, who ranks 13th among active players in career goals with 399, sprung Eichel for his breakaway goal 7:10 into the first period.
Eichel, the No. 2 overall pick in 2015, nearly returned the favor later in the period with a nifty backhand pass that set up Kessel in the right circle. The two generated enough looks that it might be worth keeping them together a little longer.
"He's a super smart player," Eichel said. "It's been a lot of fun getting to know him and getting to play with him."
2. Goalies start well
The Knights' new-look goaltending tandem made its first appearance at T-Mobile.
Rookie Logan Thompson was up first and played the first half of the game. His competition for the opening-night starter gig, childhood friend Hill, took over in the second period and finished the game.
Both had good moments. Thompson stopped all nine shots he faced before heading to the bench. His only blemishes were a few misplays with the puck behind his own net.
"Logan looked real solid tonight," Cassidy said.
Hill was tested much more when he entered the game. He stopped a short-handed breakaway from right wing Adrian Kempe 2:53 into his outing. Hill finished with seven saves before Kempe scored in overtime, then made another nine stops in the shootout.
The first preseason outing is likely just the first step in a lengthy battle between the two. They're expected to play a lot in the final five games before the Knights decide who starts first.
3. Chayka, Brisson get large roles
The Knights afforded huge opportunities to two of their prospects.
Chayka, a 2021 second-round pick, was paired with defenseman Pietrangelo with defenseman Alec Martinez recovering from an upper-body "tweak," according to Cassidy. Chayka made the most of his extra ice time.
The lanky 19-year-old used his long reach to break up plays on defense. He started the breakout that led to Eichel's goal. He also had a quality offensive-zone shift in the second period, getting two good looks on goaltender Pheonix Copley.
"Young kid that wasn't bothered by anything," Cassidy said. "Not a lot to be disappointed in at all."
Brendan Brisson, the Knights' 2020 first-round pick, was less noticeable in his elevated role.
The 20-year-old skated with left wing Jonathan Marchessault and center William Karlsson in his first NHL preseason game. He attempted four shots, hitting the net once. He did send Marchessault toward the net for a dangerous chance in the third period, but showed he still has room to improve.
Contact Ben Gotz at bgotz@reviewjournal.com. Follow @BenSGotz on Twitter.