What Golden Knights must do to start 2023 strong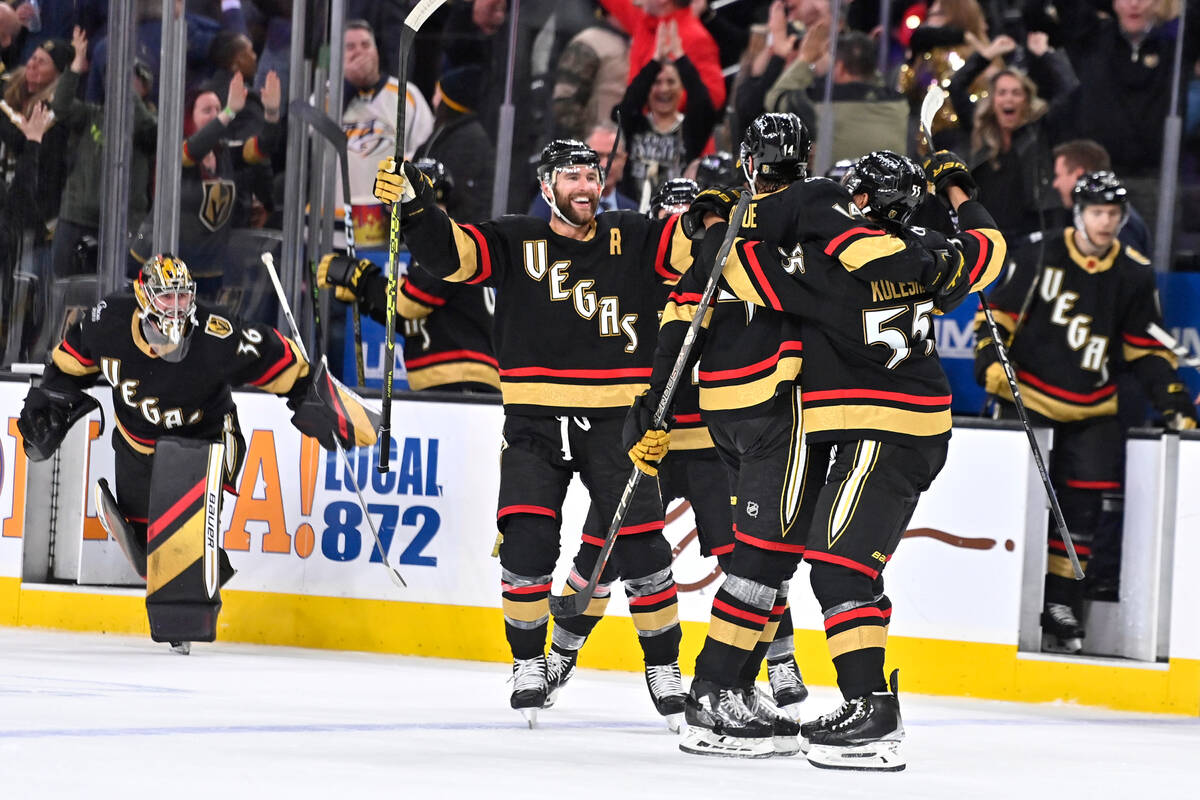 For the second straight season, the Golden Knights celebrated a new year with the most points in the Pacific Division.
Now it's on them to hold onto it.
The Knights began 2022 by going 21-19-8 in their final 48 games. That didn't just cost them first place in the division. It cost them a playoff spot for the first time in franchise history.
The Knights will begin 2023 trying to avoid a repeat. They have a four-point lead on the Los Angeles Kings with a game in hand, but there are still 43 games to go.
"We've done a real good job to continue to accumulate points," coach Bruce Cassidy said. "There's a lot of positives. I'm happy for the guys."
The Knights' collapse last season was the result of many things going wrong. Here are three things the team will look to do in 2023 to get a different result:
1. Get healthy
The Knights were blessed to start the season.
Last season's injury-ravaged campaign — featuring more than 500 man games lost — seemed to be in the rearview mirror. The only players expected to contribute who missed time because of injury or illness in the first 21 games were fourth-line forwards Nicolas Roy (three games), Keegan Kolesar (two) and William Carrier (one). As a result, the Knights began the season 16-4-1.
Things have taken a turn since.
The Knights started Saturday's game against Nashville without seven regulars. They were down to four defensemen by the end because Brayden McNabb was ejected and Daniil Miromanov got hurt.
"It sucks seeing guys go down," defenseman Nic Hague said. "Those are big parts of our lineup."
The team's record has fallen to 9-8-1 in its past 18 games with all those absences. Help might be on the way soon. Eichel, who has missed 12 of the past 13 games with a lower-body injury, practiced in a noncontact jersey Sunday.
2. Figure out forward depth
When they were healthy, the Knights had three of their four forward lines figured out.
Their third line has been much tougher to figure out. The Knights have rotated players on it throughout the season, especially once injuries popped up. It's led to a unit that hasn't had a consistent makeup or identity.
Finding the ideal groupings for his forwards will be one of Cassidy's main tasks in 2023. He can load up his top six again once Eichel and right wing Jonathan Marchessault return and hope left wing Michael Amadio maintains his red-hot form on the third line.
Or Cassidy could keep Amadio on the top line with center Chandler Stephenson and captain Mark Stone and spread out his forward talent. Amadio has a career-best six-game point streak, so he's doing everything in his power to make it a difficult choice.
"They're two really good players, so just trying to find some open ice and soft spots," said Amadio, who has four goals and four assists in his past six games. "It's been working for us."
3. Develop goaltending
Logan Thompson and Adin Hill entered the season with a combined 80 NHL starts.
They're on pace to double that total this season.
Thompson, who started 17 games a season ago, has already made 27 appearances and is 17-9-1. He's had his ups and downs as a rookie. He's also 3-1 in shootouts and tied for third in the NHL in wins. His .915 save percentage is well above the league average of .905.
"The goaltending, we've watched Logan grow in front of our eyes," Cassidy said.
The Knights have to hope they can help both goaltenders improve the rest of the way as they take on the largest workloads of their careers. Hill, who is 8-3-1 with an .899 save percentage, has never started more than 22 games in a season. He's on pace for 26 starts this season.
If one of the goaltenders fails to make progress, the Knights have an experienced option in the American Hockey League in Laurent Brossoit. The 29-year-old, after recovering from offseason hip surgery, is 5-2-1 with a .947 save percentage in his past eight starts for the Silver Knights.
Contact Ben Gotz at bgotz@reviewjournal.com. Follow @BenSGotz on Twitter.
Up next
Who: Golden Knights at Avalanche
When: 6 p.m. Monday
Where: Ball Arena, Denver
TV: AT&T SportsNet
Radio: KKGK (98.9 FM, 1340 AM)