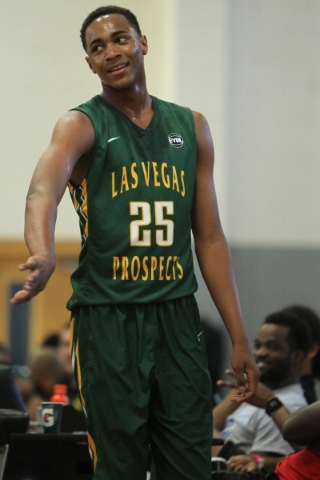 Chuck O'€Bannon averaged only seven points a game last season playing for the best high school basketball team in Nevada that featured two of the nation's top prospects and eight seniors.
This left the 6-foot-5-inch, 195-pound swingman to stay under the radar.
Not any longer.
"€œLast year, and my freshman year, I felt like I was really underrated,"€ said O'€™Bannon, a five-star recruit and the No. 31 overall player in the class of 2017 on ESPN.com.
O'Bannon, whose father, Charles, and uncle, Ed, each starred at UCLA before turning into NBA Draft picks, has blown up on the recruiting trail since the end of his sophomore season with Bishop Gorman. Playing this summer with the Las Vegas Prospects, O'Bannon has schools all over the country vying for his services.
With the departures of seniors Chase Jeter (Duke) and Stephen Zimmerman (UNLV), O'€™Bannon will likely take on a much bigger role with Zach Collins, a 2016 Gonzaga commit, for the Gaels, who will be seeking a fifth consecutive state title this winter.
"€œI wouldn'€™t say overshadowed, but I feel like I could'€™ve been a little bit more noticed,"€ O'Bannon said. "But this year will be better for me because they're gone."
In the meantime, O'€™Bannon already has gotten a taste of that alpha role this summer on the AAU travel circuit, playing under former Findlay Prep coach Michael Peck.
Earlier this month, he averaged 14.2 points and 5.0 rebounds per game against the nation'€™s top talent in the Nike Peach Jam. Now he's competing in his hometown in the Las Vegas Classic.
"€œWith Chuck, it'€™s his ability to score," Peck said. "€œHe'€™s a slasher, but he can really shoot the 3 and get it going there. He'€™s also got a good midrange game.
"There'€™s going to be more expected of him (next year at Gorman). But the experience for him this spring and summer has prepared him. He's played against the high-level competition. He should go into it prepared."
Peck said he'€™s already seen a quick development in O'€™Bannon, but it'€™ll ultimately be up to him to decide how far he wants to go. Talent and athleticism only go so far.
But if O'€™Bannon continues to refine and embrace the littlest of details, Peck believes he'€™ll turn into another one of those special players he coached at Findlay Prep (DeAndre Liggins, Avery Bradley, Tristan Thompson, Cory Joseph).
"With Chuck, if anything, is understanding the importance of pace," Peck said. "€œSometimes with kids that are younger, everything is about speed. You don't have to play offense at 10 speed, maybe at six or seven. But understand the importance and significance of spacing and how it'€™s going to work for you. Just those little nuances.
"€œGuys that are athletic that have some speed and talent usually rely on that, but the really good ones understand. Now you have a ceiling where people get excited about that."€
O'€™Bannon has received close to 20 offers, including from most of the Pacific-12 conference schools, but said there are no front-runners. Some of the schools in the recruiting mix are: Arizona, California, Kansas, Oklahoma, North Carolina State, Texas A&M, UCLA and UNLV.
Contact reporter Ashton Ferguson at aferguson@reviewjournal.com or 702-383-0430. Follow him on Twitter: @af_ferguson