Omar Salgado pursues law school dreams while with Lights FC
Most soccer players say they've always dreamed of becoming one. Omar Salgado has never taken his eyes off a different prize.
The 6-foot-4-inch forward wants to become a lawyer, and recently took the LSAT to move a step closer to his goal. So while he's scoring goals for the Lights FC, he's also preparing for his final semester of master's degree work and, eventually, law school.
"It's always been my dream," Salgado said. "I like politics and business law and corporate law, so that's always what I've been pushing for."
Pursuing law school is a unique side hustle for the 24-year-old El Paso, Texas, native, especially because he's already had a lengthy soccer career. He played for the Mexico and U.S. youth national teams and was selected No. 1 overall in the 2011 Major League Soccer SuperDraft by the Vancouver Whitecaps.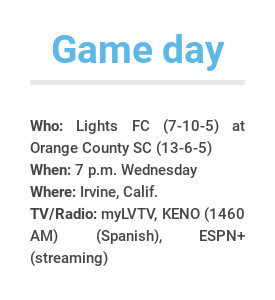 His talent is obvious — Lights technical director Jose Luis Sanchez Sola once tweeted Salgado can do whatever he wants to on a soccer field — though his career has been plagued by inconsistency. Still, despite his gifts, he's given no thought to abandoning his master's in International Relations and Economy at Northeastern University in Boston.
He's the rare player that gets excited about taking corner kicks and the finer points of contract law, though he's in no hurry to negotiate his own deals.
"I have a great friend that helps me out with contracts to avoid conflicts with the teams," Salgado said. "But yeah, the contract part of business I really enjoy."
Salgado's current deal is with El Paso USL, an expansion team that plans to debut in 2019. He's on loan with the Lights this season to keep his legs fresh and he has two goals and an assist in five games heading into Wednesday's match with Orange County SC.
"He has quality," midfielder Daigo Kobayashi said.
Kobayashi, who also played with Salgado in Vancouver, mentioned his friend is different from his MLS days. While Salgado was a disappointment with the Whitecaps — scoring just one goal in 26 games — he's been a playmaker for the Lights. After struggling in Vancouver and later with Tigres UANL, one of Liga MX's top teams, for the past three seasons, Salgado said it's been nice to find success in the USL.
Just don't expect him to stop chasing success in the boardroom as well.
"It didn't end well (in Vancouver) but at the end of the day it was my fault," Salgado said. "In Mexico, it was complicated. I played for probably the best team in the continent and it was difficult to get minutes. Here, it's great. I really love the coaching staff, this club, this setup."
More Lights: Follow all of our Las Vegas Lights FC coverage online at reviewjournal.com/lights and @RJ_Sports on Twitter.
Contact Ben Gotz at bgotz@reviewjournal.com. Follow @BenSGotz on Twitter.