Blaydes holds on for win in main event of UFC on ESPN 11
Updated June 21, 2020 - 1:02 am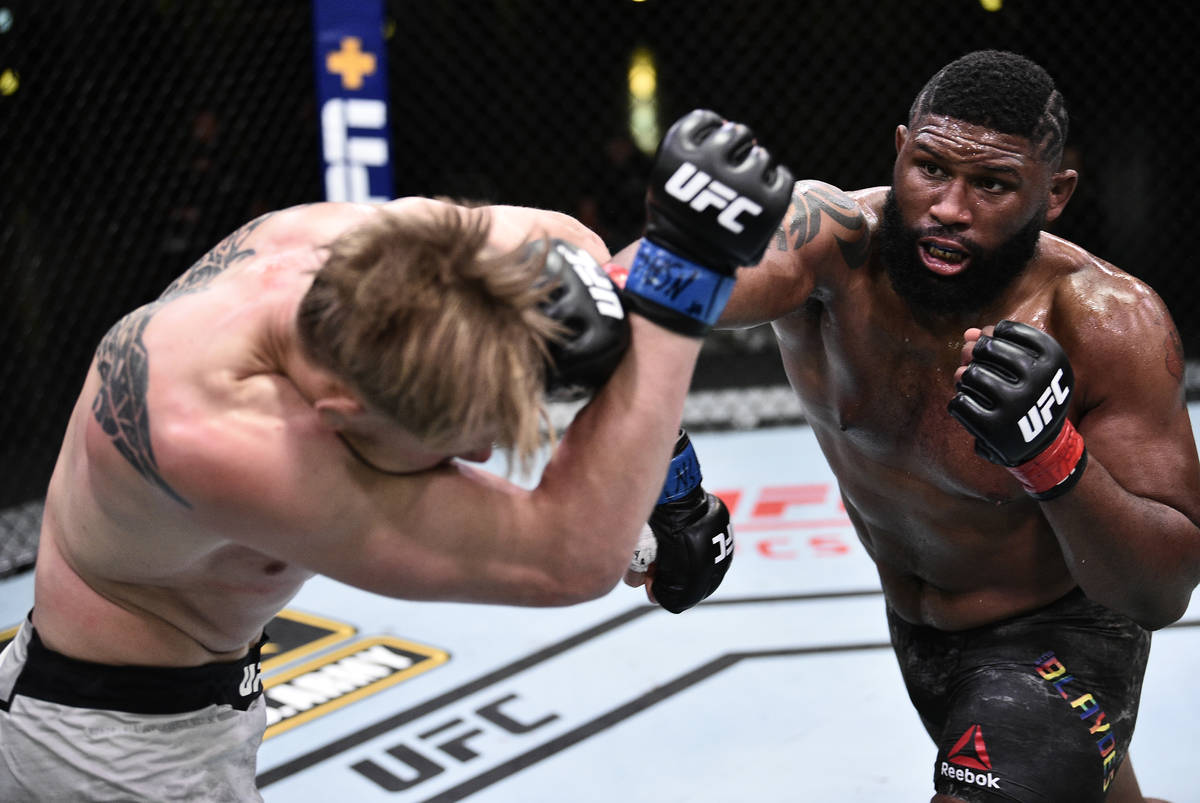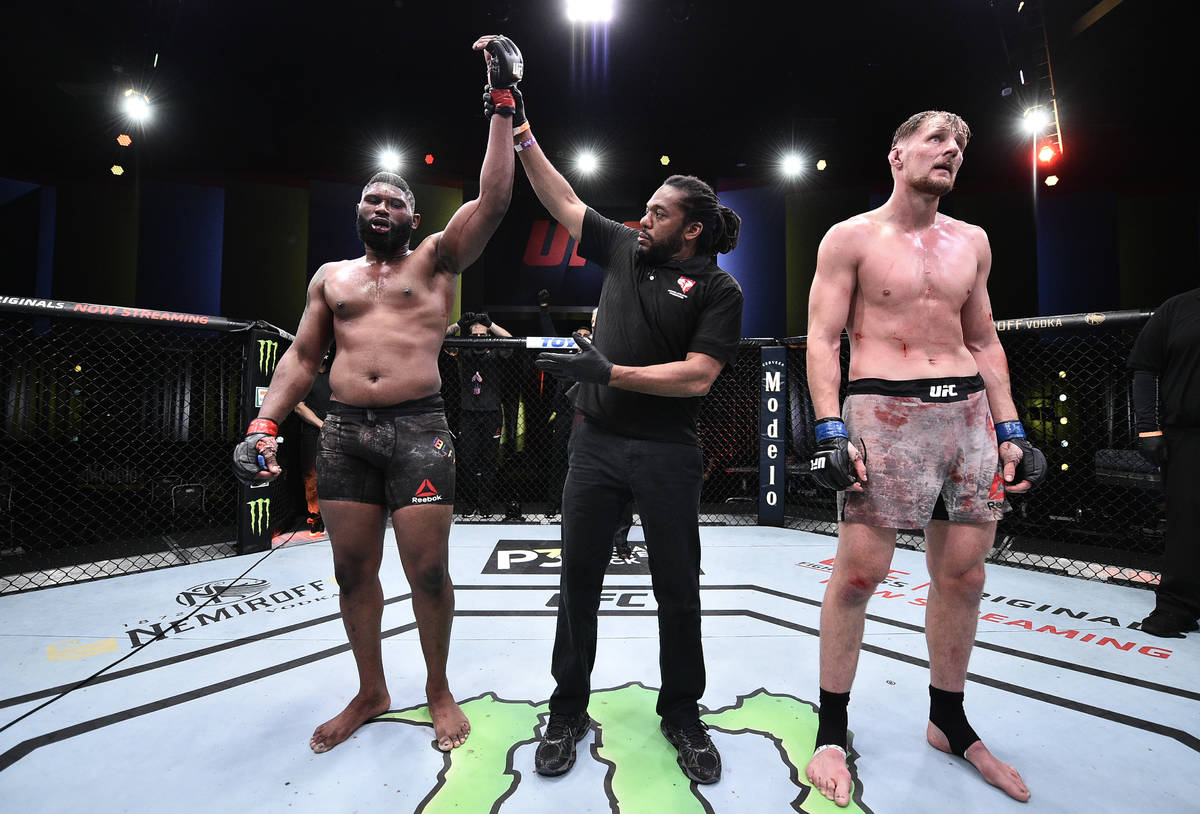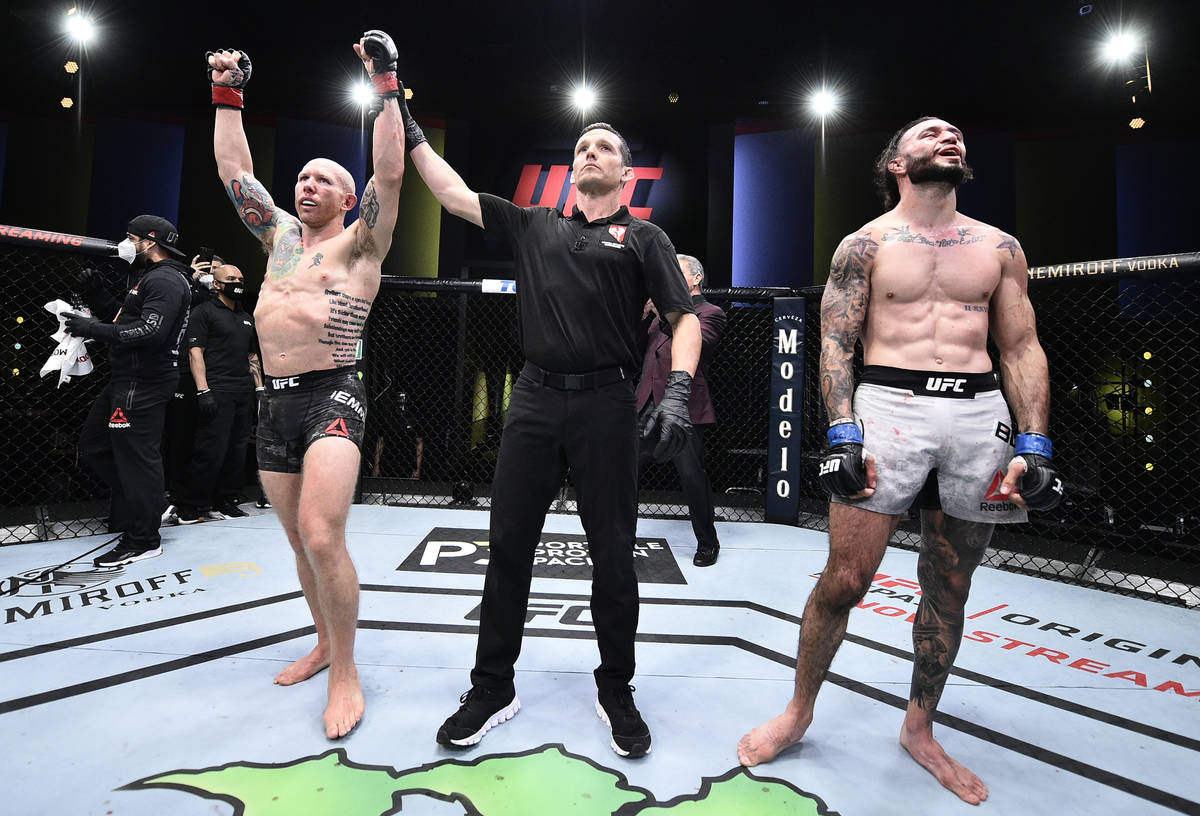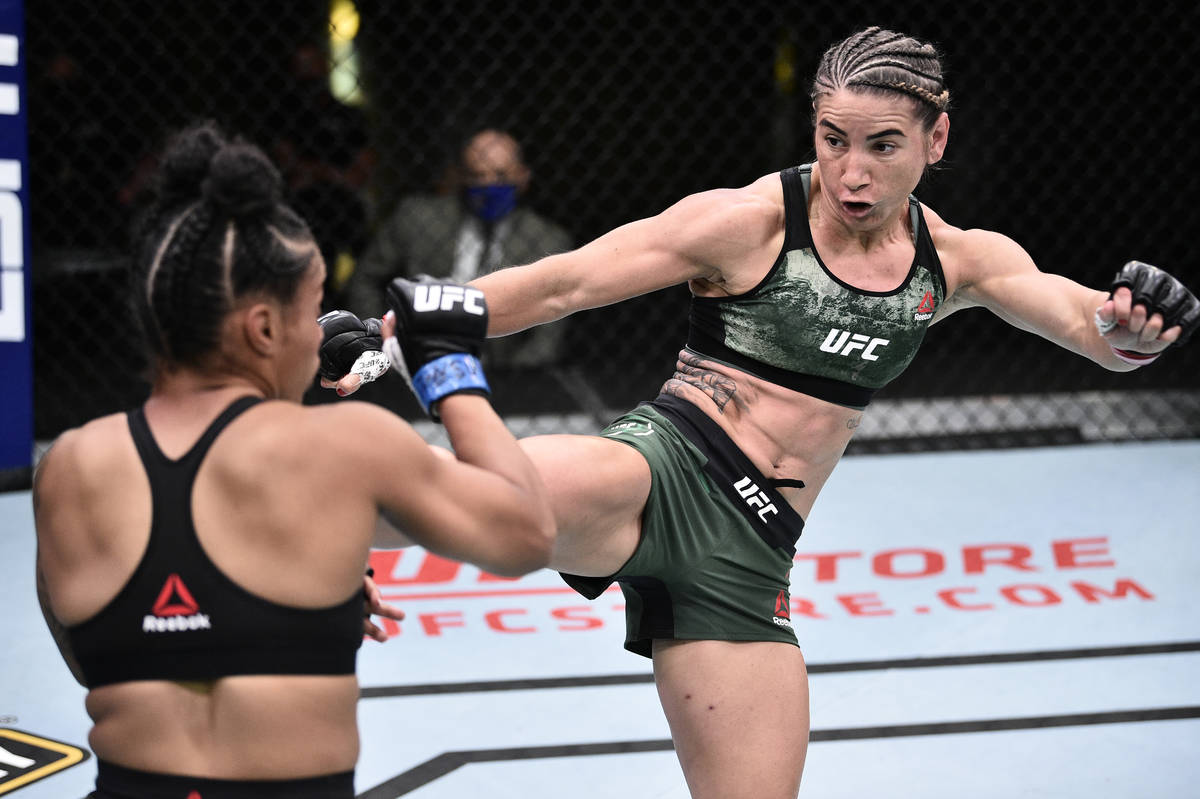 Tecia Torres delivered a stellar performance in pulling an upset of rising women's strawweight prospect Brianna Van Buren on the UFC on ESPN 11 card at the Apex facility on Saturday night.
Then her nerves started to kick in.
Torres said after her unanimous-decision win her focus immediately turned to her fiancée, women's bantamweight veteran Raquel Pennington, who was competing on the card against Marion Reneau.
"I wanted to get that win so she could be excited and take it from there," Torres said. "I'm really happy I fought first. If it was vice-versa, I don't think I'd really want to do it. I just get too nervous for her and I would have been thinking more about her and not focusing on my fight. I'm glad it's done for me.
She didn't have anything to worry about.
Pennington, a former women's bantamweight title challenger, delivered perhaps her best performance in four years in a unanimous-decision victory over Reneau.
The couple has been hesitant to compete on the same card, but the unique circumstances that have been created by the UFC scrambling to put events together during the pandemic made their fights line up. Now that they were both successful, it may happen again.
"I've been trying to convince her to fight on the same card with me for awhile, but she just couldn't do it," Pennington said. "She's way more emotional than me."
In the main event, heavyweight Curtis Blaydes ended his unanimous-decision victory over Alexander Volkov just like he started it.
Blaydes secured his first takedown just 9 seconds into the fight and his 14th with just over a minute remaining in the fifth round, keeping Volkov on his back until the final bell to win his fourth-straight fight and improve to 8-1 in his last nine bouts.
Volkov finally had success with his striking late in the fourth round and early in the fifth against an exhausted Blaydes, but it wasn't enough.
The judges scored the fight 49-46, 48-47 and 48-46.
Torres and Pennington made a mark on the card beyond just the two fights in which they competed.
Pennington helped make Torres' plan to honor Pride Month come to fruition as several fighters incorporated rainbow color schemes into their fight kits.
Torres said she reached out to the UFC and Reebok to no avail, but Pennington used her close relationship with UFC president Dana White to make it happen. Once the variation on the uniforms was approved, several fighters joined the cause.
"I was so happy," Torres said. "She texted him and he was like, 'Hell yeah, that's freaking awesome.' So he got it done for us. Then I show up and see all these rainbows. They were like, 'After you got it approved, we asked other fighters if they wanted to wear it.' "
Pennington and Torres would typically be working each other's corners, but enhanced protocols due to coronavirus prevented that from happening.
A request by Torres to remain in the building was denied.
"Unfortunately, I can't stay here and wish her good luck and kiss her after her fight," Torres said after her win. "I asked if I could stay and I'm not allowed."
Pennington took a FaceTime call from Torres as she walked from the cage back to the locker room.
"She was blowing up all of our coaches' phones," Pennington laughed.
Also on the card, Josh Emmett knocked down Shane Burgos twice in the final round to take a unanimous decision in a wild featherweight bout.
Contact Adam Hill at ahill@reviewjournal.com. Follow @AdamHillLVRJ on Twitter.
UFC on ESPN 11 Results
— Curtis Blaydes def. Alexander Volkov, unanimous decision (49-46, 48-47, 48-46), heavyweights
— Josh Emmett def. Shane Burgos, unanimous decision (29-28, 29-28, 29-27), featherweights
— Raquel Pennington def. Marion Reneau, unanimous decision (30-27, 29-28, 29-28), women's bantamweights
— Belal Muhammad def. Lyman Good, unanimous decision (29-28, 29-28, 29-28), welterweights
— Jim Miller def. Roosevelt Roberts, submission, first round (2:25), catchweight (160 pounds)
— Bobby Green def. Clay Guida, unanimous decision (29-28, 29-28, 30-27), lightweights
— Tecia Torres def. Brianna Van Buren, unanimous decision (30-27, 30-27, 30-27), women's strawweights
— Marc-Andre Barriault def. Oskar Piechota, KO, second round (4:50), middleweights
— Gillian Robertson def. Cortney Casey, submission, third round (4:32), women's flyweights
— Justin Jaynes def. Frank Camacho, KO, first round (0:41), catchweight (158 pounds)
— Lauren Murphy def. Roxanne Modafferi, unanimous decision (30-27, 30-27, 29-28), women's flyweights
— Austin Hubbard def. Max Rohskopf, retired, second round (5:00), lightweights