Hero or villain? Jon Jones toes the line ahead of UFC return
Updated March 3, 2023 - 2:34 pm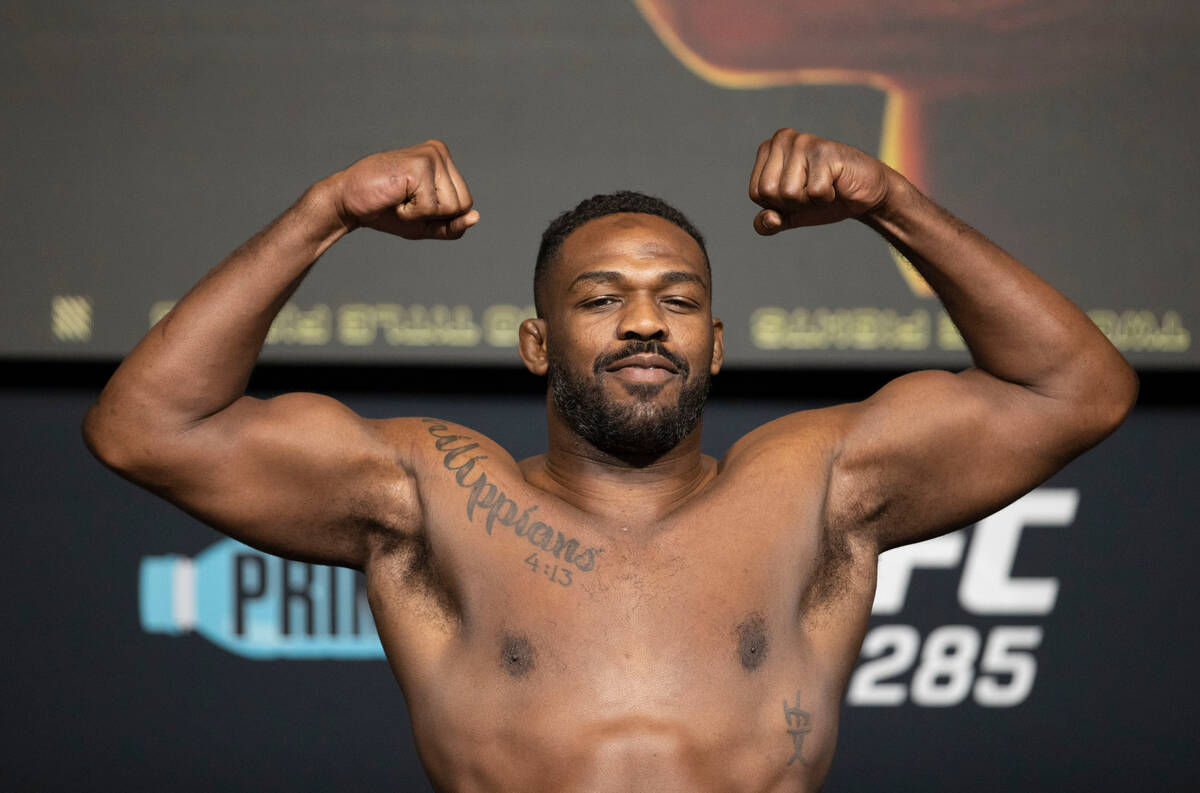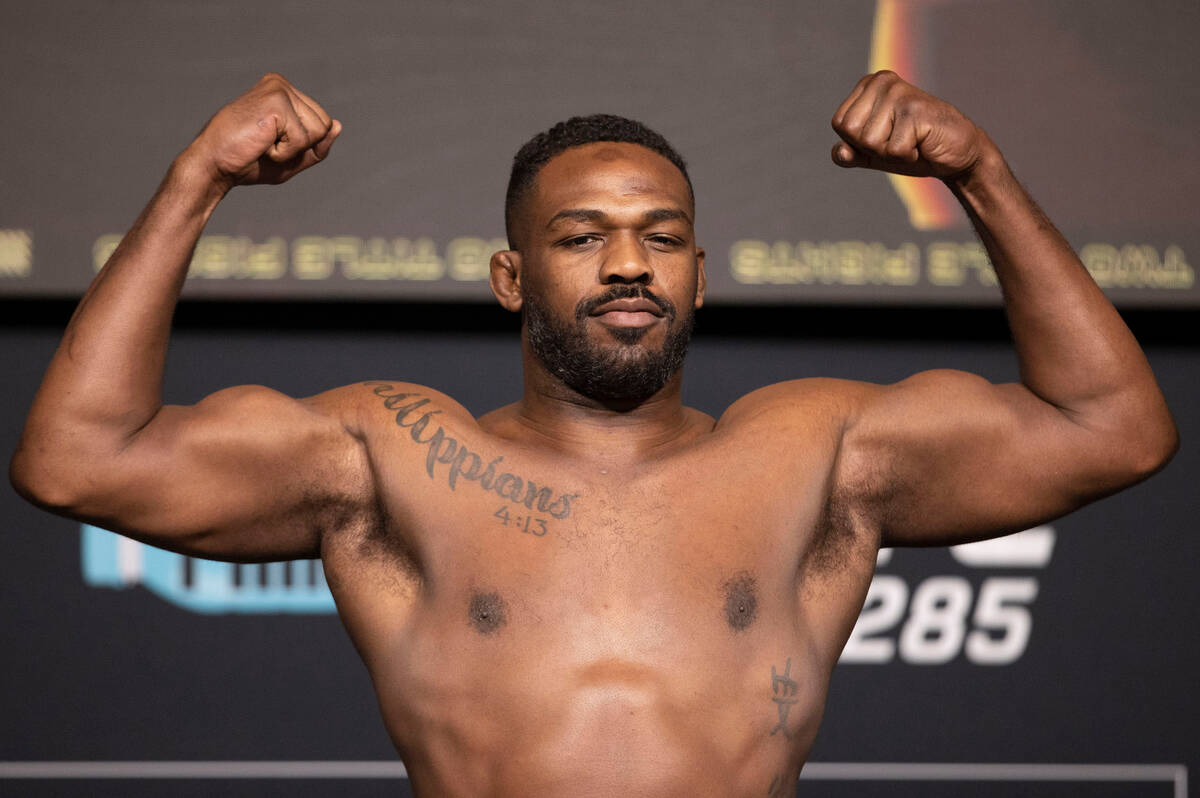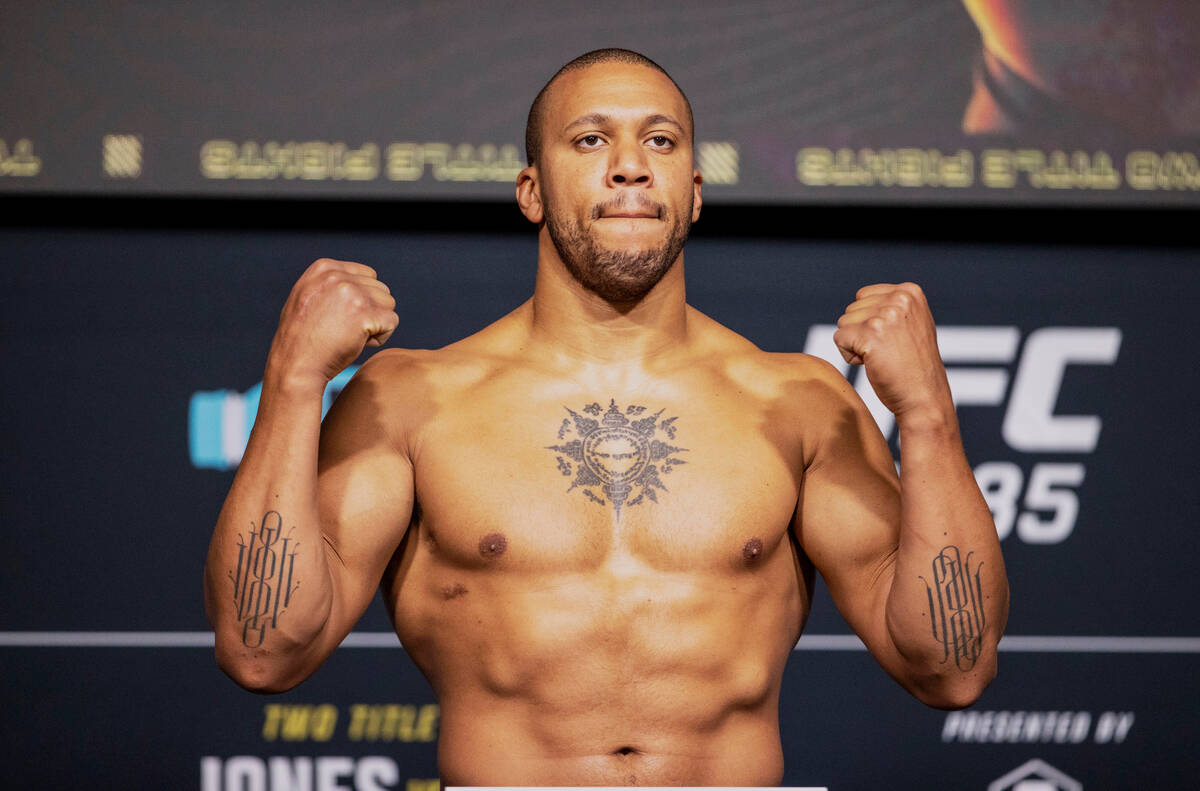 The best moment from a news conference this week promoting Saturday night's UFC 285 card at T-Mobile Arena was also a stark reminder of the complex character who the event is built around.
Former light heavyweight champion Jon Jones returns after three years away from competition to make his heavyweight debut in a headlining bout against Ciryl Gane at T-Mobile Arena.
During that time, while Jones has not built upon perhaps the best resume in mixed martial arts history inside the cage, he has added to his notorious rap sheet outside it.
He was charged with aggravated DWI and negligent use of a firearm on the streets of Albuquerque just a month after his last fight in 2020. Then he was arrested on a domestic battery complaint and charged with tampering with a police vehicle when he headbutted a Metro SUV after the UFC Hall of Fame induction ceremony in Las Vegas in 2021.
The incident prompted Jones again to post on social media that he was giving up alcohol and UFC president Dana White to say it's difficult to bring Jones to Las Vegas because he has "a lot of demons."
So when Jones was asked on Thursday how he plans to celebrate should he win the heavyweight belt on Saturday, he insinuated he may keep it relatively low key.
"I'm not getting lit at all," Jones said. "You guys don't want to see me lit. I'll just leave it at that."
The response triggered laughs from a sizable crowd and a quick interjection from White, who was also on stage.
"Amen," White added.
Jones' legal history is no laughing matter, but the damage to his popularity appears to be negligible based on the crowd support he has received all week and the anticipation for his return. As dominant a fighter as Jones has been in the cage, he has been just as complex a character outside of it.
"None of us are perfect," he said. "We all have ups and downs in life. I genuinely believe my imperfection makes me very relatable to a lot of people."
The story of Jones, the older brother of Chandler Jones of the Raiders, has been a complex one since he burst on the scene in his UFC debut just after his 21st birthday. Talent and ability have never been in question. Character has, though he has long resisted embracing the urge to go full heel even if that could be a useful marketing tool.
"As far as whether I'm a hero or a villain, I am Christian so I believe as human beings we are all born into sin," he said. "Being a good person is a decision, while doing the wrong thing isn't something that has to be taught. It's just in our DNA.
"So I believe we are all somewhat bad guys. Some of us just make decisions to try and be better and try to do the right things and be a good person. Whether I'm a hero or villain, who knows? It depends on the situation. I'm just human."
Jones declined comment on his most recent 2021 arrest and chalked up some of his issues to being in the public eye for the better part of 15 years.
"People may put you on a pedestal or have higher expectations for you, but ultimately you just owe it to yourself to just be the best person you can be and not beat yourself up too bad when you fall because we're all going to fall," he said.
Jones gets another chance Saturday to show how good he is inside the cage against Gane, a French striking star who came up short in his previous attempt to win the heavyweight belt.
Women's flyweight champion Valentina Shevchenko also puts her belt on the line against Alexa Grasso in a 7 p.m. main card that kicks off with the UFC debut of three-time national champion wrestler Bo Nickal.
Contact Adam Hill at ahill@reviewjournal.com. Follow @AdamHillLVRJ on Twitter.
UFC 285
Main card bouts on Saturday's pay-per-view card at T-Mobile Arena:
■ Jon Jones (26-1, 1 no contest) vs. Cyril Gane (11-1), for the vacant heavyweight title
■ Valentina Shevchenko (23-3) vs. Alexa Grasso (15-3), for Shevchenko's women's flyweight title
■ Geoff Neal (15-4) vs. Shavkat Rakhmonov (16-0), welterweights
■ Mateusz Gamrot (21-2) vs. Jalin Turner (13-5), lightweights
■ Bo Nickal (3-0) vs. Jamie Pickett (13-8), middleweights