Preview capsules for 'The Ultimate Fighter 24' Finale Saturday
December 2, 2016 - 3:13 pm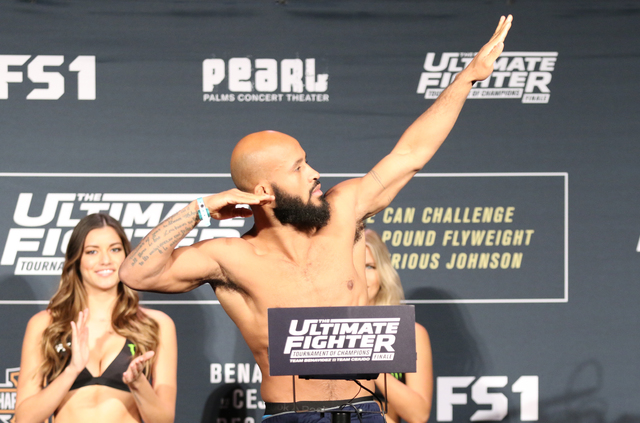 A breakdown of the fights on the main card of Saturday's "The Ultimate Fighter 24" Finale card at the Palms:
Demetrious Johnson (24-2-1) vs. Tim Elliott (10-6-1)
Class: For Johnson's flyweight title
Line: Johnson -1000
Storyline: Johnson is not only the best flyweight in the world, but very possibly the best pound-for-pound fighter in the UFC. His run of nine consecutive title defenses has been so dominant that it left the organization looking for potential challengers outside the UFC. Elliott survived a field of 16 capable fighters on this season of "The Ultimate Fighter" to earn this shot and is battle-tested entering the matchup. He also has a very awkward style that could legitimately give Johnson trouble. It would not be at all surprising for Elliott to give Johnson much more trouble than anyone expects in this main event. It might even be worth putting down a few bucks at such a big underdog price. In the end, it's nearly impossible to pick against Johnson at this point. He's just too smooth in all aspects of the game. Elliott will have to make this a really ugly fight and he will do his best to make that happen. It just might not matter.
Pick: Johnson by decision
Joseph Benavidez (24-4) vs. Henry Cejudo (10-1)
Class: Flyweight
Line: Benavidez -195
Storyline: As much as Johnson has been the clear-cut king of the division, Benavidez has long been the prince. He is 9-2 since dropping to 125 pounds in 2012 with both losses coming to Johnson. Cejudo is a worthy adversary, however. The 2008 Olympic gold medalist in wrestling won the first 10 fights of his MMA career before he was knocked out by Johnson in April. Cejudo's wrestling is obviously elite and he has developed decent power in his hands, but Benavidez just has too many ways to win fights. He is also very motivated after things got ugly between the two as they served as coaches on 'TUF.'
Pick: Benavidez by second-round knockout
Jake Ellenberger (31-11) vs. Jorge Masvidal (30-11)
Class: Welterweight
Line: Masvidal -245
Storyline: Ellenberger is extraordinarily dangerous in bursts. Those bursts have grown fewer and farther between in recent fights, but he delivered another spectacular knockout his last time out with a quick finish of Matt Brown in July. Whether he can follow up on that performance will be the big question heading into this fight. It will be quite a challenge. Ellenberger's best shot is a knockout, but Masvidal has only been knocked out once in 41 professional fights. Masvidal is much more of a technician. He has had some trouble staying consistent throughout full fights, however, which has led to several narrow decision losses. The good news for him here is that as long as he can stay upright through Ellenberger's early onslaught, he should have a huge edge. His chin should save him.
Pick: Masvidal by decision
Ion Cutelaba (12-2, 1 No Contest) vs. Jared Cannonier (8-1)
Class: Light heavyweight
Line: Cutelaba -215
Storyline: Cutelaba, 22, is a very intriguing prospect in the division. He is an explosive striker who likes to come forward and has shown the ability to stay aggressive for 15 minutes. While he hasn't shown it much, he also has a strong grappling background in sambo. This will be a test, however. Cannonier was a smaller heavyweight who will drop down to 205 pounds for the first time. While the move may negate the speed advantage he had against bigger fighters, he will no longer be taking on bigger competitors. Both guys could have a very bright future, but Cutelaba's style and the potential cardio edge going against somebody cutting to this weight for the first time could prove to be decisive.
Pick: Cutelaba by second-round submission
Sara McMann (9-3) vs. Alexis Davis (16-6)
Class: Women's bantamweight
Line: McMann -170
Storyline: There was a time when McMann was the trendy pick to be the one to dethrone Ronda Rousey. The Olympic silver medalist has had some trouble translating her immense wrestling skills into success in the octagon, however. McMann is incredibly strong and has been able to use that edge to power her way to three UFC wins, but her overall game has been slower to progress than she would have liked and that has been exposed in her three losses. While Davis is a complete fighter, this will be a tough matchup. Davis has been out of action for more than 18 months on maternity leave and this isn't an ideal return bout. Expect McMann to get takedowns early and often to keep the fight where she's most comfortable.
Pick: McMann by decision
Brandon Moreno (12-3) vs. Ryan Benoit (9-4)
Class: Flyweight
Line: Moreno -140
Storyline: Moreno was the lowest-seeded fighter in the 'TUF' tournament and was brought into the UFC as a late-notice replacement to face heralded prospect Louis Smolka in October. It was no fluke. Moreno is incredibly gifted on the ground. Benoit has had mixed results in the UFC, but has shown impressive knockout power. He will want to stay off the ground as much as possible. As long as he can keep the fight standing, he will be dangerous. The problem for Benoit has been an inability to string wins together. A second-consecutive victory would go a long way toward building his confidence and he will look to build on a split-decision win over Fredy Serrano in July.
Pick: Benoit by second-round knockout