Las Vegas tight ends primed to go in 1st round of NFL draft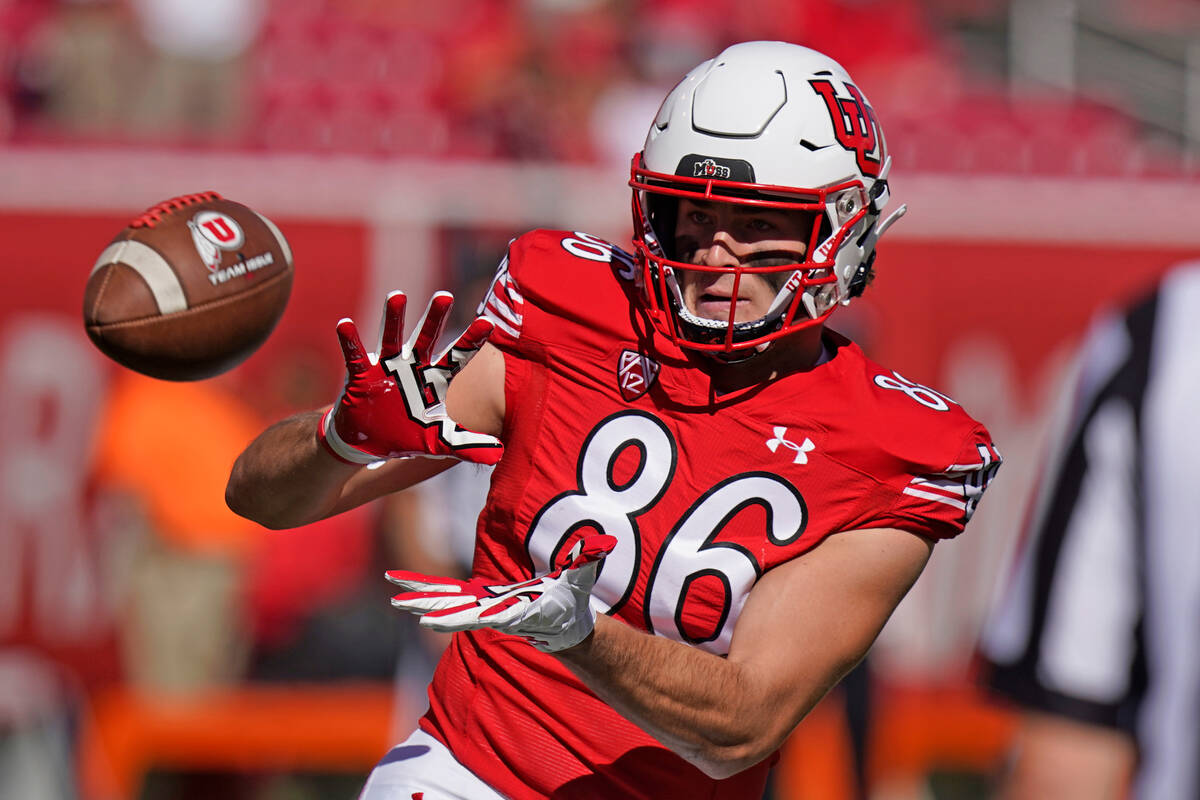 NFL commissioner Roger Goodell will take the stage Thursday at Kansas City's Union Station to announce the names of the 31 players that comprise the first round of the NFL draft.
Don't be surprised if he says a couple that may be more familiar than most.
Premier tight end prospects Darnell Washington and Dalton Kincaid hail from Las Vegas and could find their way into the first round depending on the way the draft takes shape.
Washington played at Desert Pines, graduating to a three-year career at Georgia, where he won two national championships. Kincaid concluded high school at Faith Lutheran, attending San Diego before transferring — and starring — at Utah.
The two sport differing skill sets and backgrounds, navigating their own respective pathways toward the prospect of NFL glory.
The prized prospect
That Washington is a potential first-round pick is hardly a surprise.
He persevered through generational poverty to become the top tight end recruit in the class of 2020, garnering football scholarship offers from powerhouse programs and basketball offers as a power forward. A five-star football recruit, Washington committed to Georgia, knowing he'd share the limelight with other four- and five-star prospects and embracing his role.
Regardless of what it was.
"I feel like that's why people go there. To get developed as a player and a person," Washington said last month at the NFL's annual scouting combine in Indianapolis.
"Coming to the University of Georgia, I knew I wasn't getting 50, 40 balls. … There's only one football. You can't give it to everybody."
So Washington committed to bettering his blocking, utilizing his 6-foot-7-inch, 264-pound frame to overpower opposing defenders at the line of scrimmage and down the field.
He said at the combine that he compares himself to Marcedes Lewis, a bruising blocker who finished his 17th NFL season in January.
Washington is a deft pass catcher, too, totaling 28 receptions for 454 yards and two touchdowns last season as a junior. His size and strength help him make contested catches, and his speed makes him a factor with the ball in his hands.
"I feel like I've got lots of untouched talent when it comes to that area," said Washington, who covers 40 yards in 4.64 seconds. "In high school, I was getting the ball 60 times a season. Coming from there to college, not so much in that area. When I tap into that potential, I think it's going to be crazy to see."
That sentiment was echoed before the combine by NFL Network draft analyst Daniel Jeremiah, who touted Washington during a conference call with reporters.
"He is like playing with a sixth offensive linemen in the run game," Jeremiah said. "And he is still developing and learning in the pass game. I think there's more there."
The late bloomer
Unlike Washington, Kincaid was hardly a premier prospect — focusing on basketball at Coronado before transferring to Faith Lutheran and finding a fit on the football field as a wide receiver.
He was an all-state honoree as a senior in 2017, the only year of high school football he played, catching 37 passes for 745 and eight touchdowns.
Football Bowl Subdivision programs did not seek Kincaid's services, and he committed to San Diego of the Football Championship Subdivision sans a scholarship.
But FBS schools would come calling after his sophomore season of 2019, during which he totaled 44 receptions for 835 yards and eight touchdowns after converting to tight end.
"Being a young student at a school that was nonscholarship, I didn't know if I really, truly believed (I could play in the NFL)," Kincaid said at the combine. "When I had gone home for COVID and talked to my parents and ultimately made the decision to transfer, that was kind of the ultimate test to see if I could do this as a career and pursue it."
"That's kind of when all the focus went toward becoming an NFL player," Kincaid added — and when NFL teams began focusing on him.
Kincaid transferred to Utah in 2020 and played sparingly, preserving his final two seasons of eligibility. In 2021 and 2022, he tallied a combined 106 receptions for 1,400 yards and 16 touchdowns.
"I ultimately did what was asked of me," Kincaid said of his production the last two seasons. "It was my offensive coordinator putting us in the best positions he thought for us to succeed. It's not something I'll ever shy away from. I'm passionate about being able to do everything."
Kincaid battled a back injury toward the end of his senior season and did not participate in drills at the combine. He stands 6-4, weighs 246 pounds and runs every route in the tree, overpowering smaller defenders and outrunning bigger ones.
"He is one of my favorite players to watch in this draft. I think he is one of the best players in the draft," Jeremiah said. "He is just sudden in everything that he does. He separates. He is outstanding after the catch. … He can win on contact over the middle of the field."
Contact Sam Gordon at sgordon@reviewjournal.com. Follow @BySamGordon on Twitter.