New pick for Raiders at No. 7 in RJ's 2nd mock draft
Updated March 22, 2023 - 10:35 am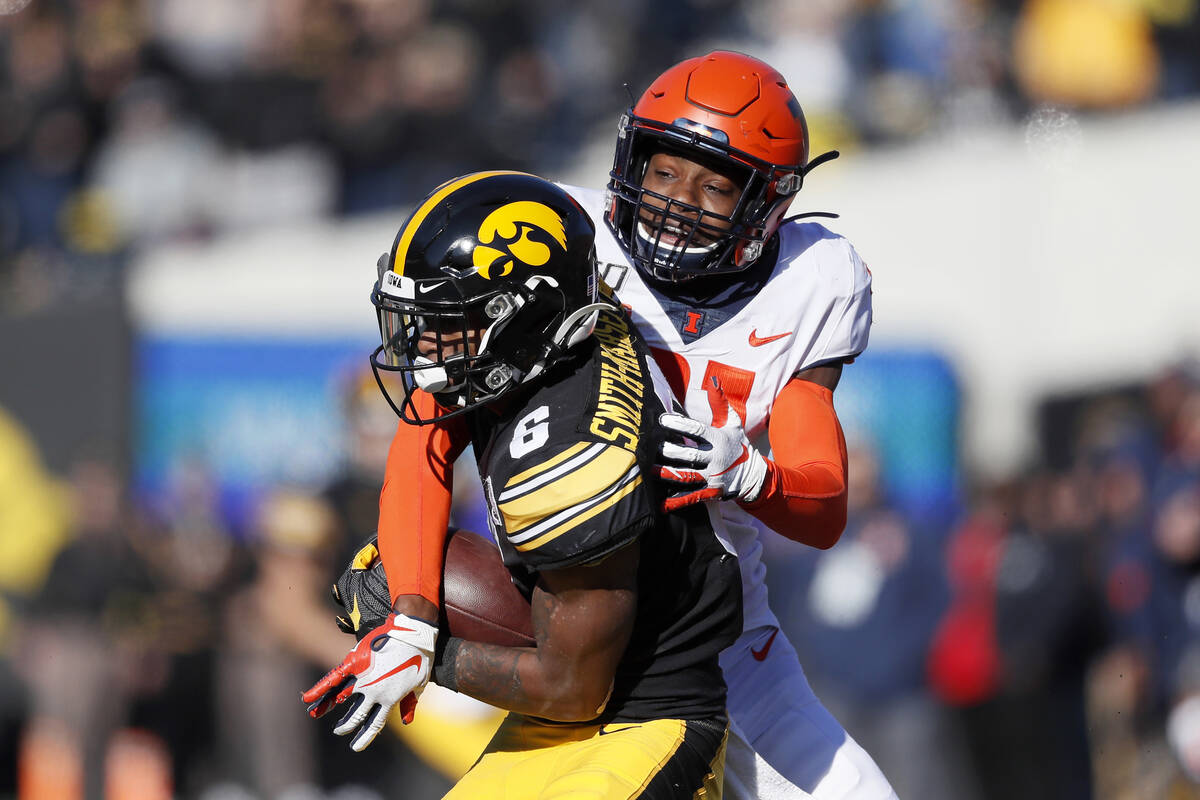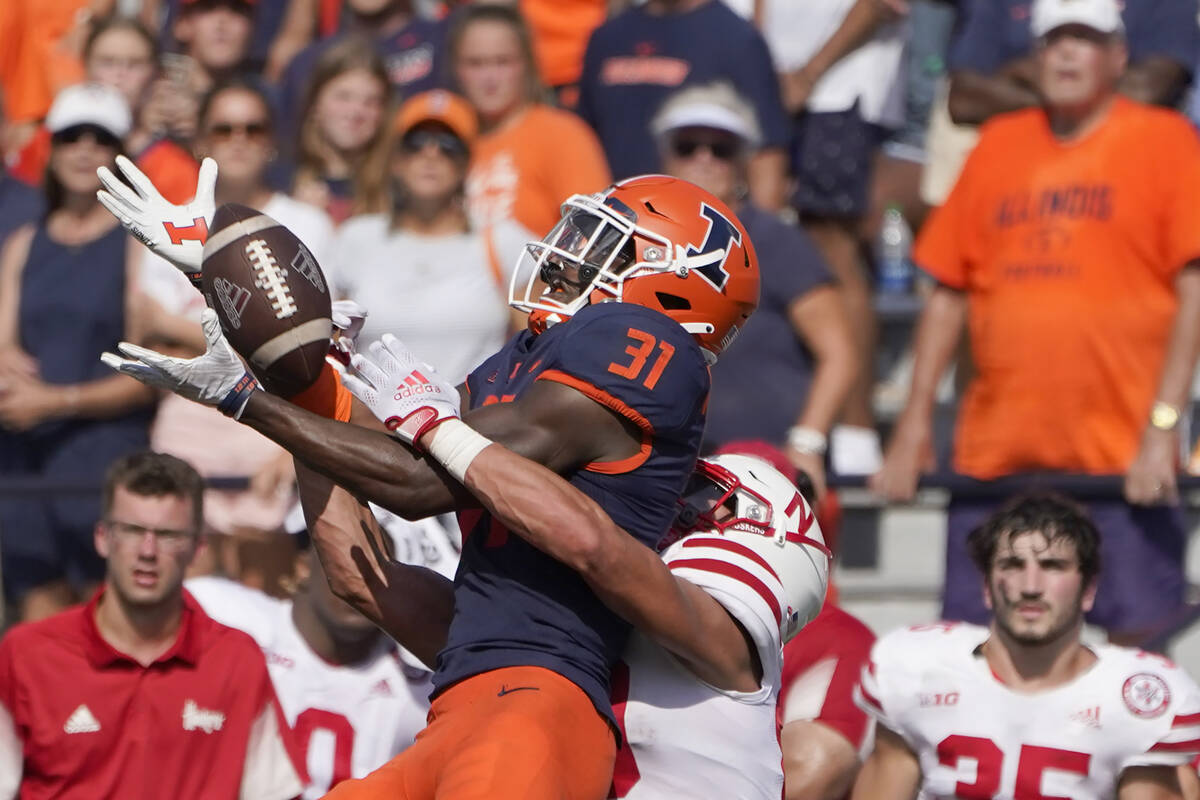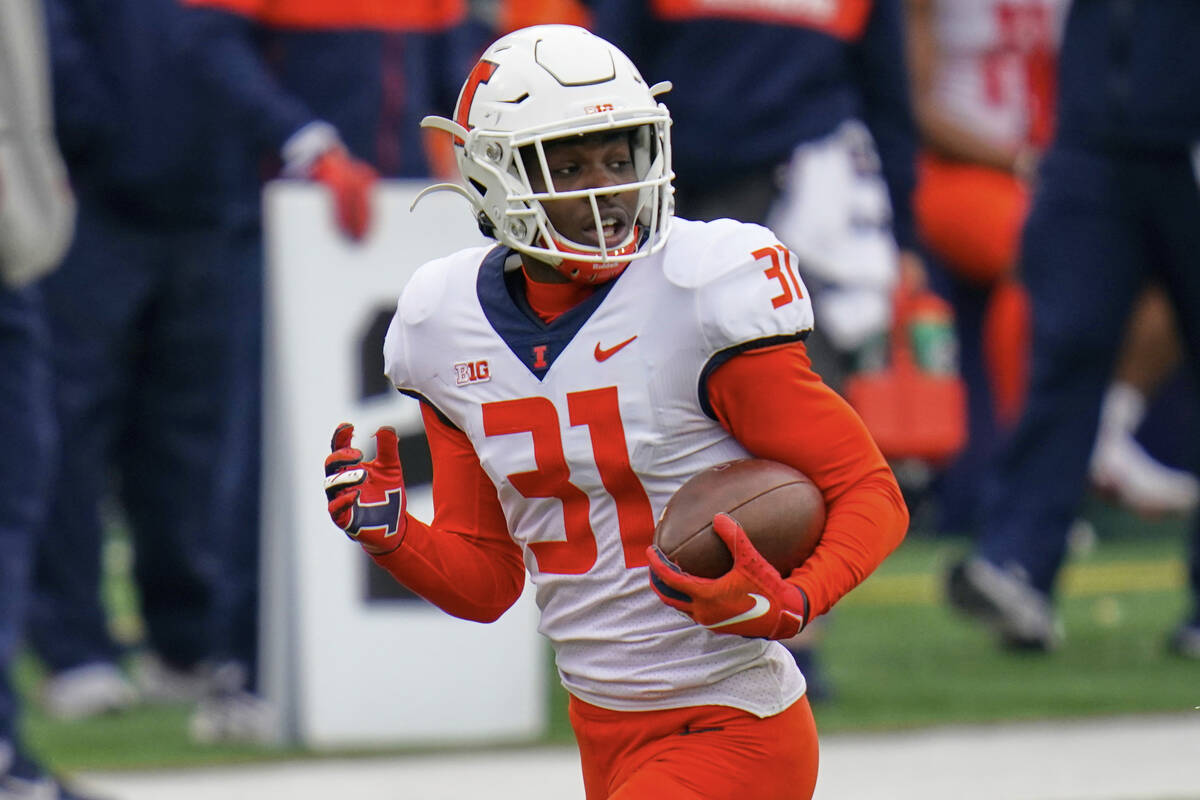 NFL teams are in the midst of hosting some of the top draft prospects as the process of narrowing down their draft boards is in full swing.
Now that the first wave of free agency is over, those teams also have a clearer picture of what needs they will have to address when the draft begins April 27 in Kansas City.
So it's time to take another look at how the first round could play out. Version 2.0 of the Review-Journal's mock draft has three quarterbacks going in the top four picks. That, of course, begins with the Panthers, who traded up to the top spot to have their choice of QBs.
With the No. 7 pick, the Raiders address a need on defense by drafting cornerback Devon Witherspoon of Illinois.
A reminder that the Dolphins forfeited their first-round selection, so there are 31 picks. A player's draft position in our first mock is indicated in parentheses.
1. Carolina Panthers
(From Chicago Bears)
C.J. Stroud, QB, Ohio State (4) — The Panthers have moved up to the top of the class to select their quarterback of the future. It's not entirely clear which of the QBs Carolina thinks stands out from the rest, but Stroud looked the part of a top overall pick with his sizzling combine performance.
2. Houston Texans
Bryce Young, QB, Alabama (2) — It could be a close call between Young and Stroud at the top. The Texans are likely just fine settling for whichever QB falls to them. If Young were about 3 or 4 inches taller, this might not be much of a debate.
3. Arizona Cardinals
Will Anderson Jr., Edge, Alabama (3) — The Cardinals are in a great position. There could be a bidding war for this pick should a team want to jump in front of Indianapolis to take a quarterback. They will undoubtedly listen to offers, but probably would be content to stay here and take a talented edge defender in Anderson.
4. Indianapolis Colts
Anthony Richardson, QB, Florida (7) — Sure, owner Jim Irsay tipped his hand a bit by revealing his admiration for Young. With the Alabama star off the board, new coach Shane Steichen instead gets a gifted athlete to play the Jalen Hurts role in the offense he brings with him from Philadelphia.
5. Seattle Seahawks
(From Denver Broncos)
Tyree Wilson, Edge, Texas Tech (5) — His size and athleticism make him an intriguing prospect. He has also produced against the run and pass in college despite being somewhat raw. Wilson is going to go early.
6. Detroit Lions
(From Los Angeles Rams)
Jalen Carter, DT, Georgia (1) — The Lions might be the first team that has to make a decision about Carter, who was speculated as the top pick before his legal issues came to light at the combine. There's also now questions about how he's dealing with the situation after a disappointing pro day. He could be the story of draft day.
7. Raiders
Devon Witherspoon, CB, Illinois (6) — Quarterback isn't out of the question even with Jimmy Garoppolo in the mix, but there are options later. The Raiders need playmakers on defense, and this is an obvious position of need. While there are several candidates to be the top corner off the board, Witherspoon brings an attitude and a skill set that could fit well with the Raiders. Fans would love the way he plays.
8. Atlanta Falcons
Nolan Smith, Edge, Georgia (24) — In addition to possessing all the tools to be a three-down defensive end in the league, Smith is one of the best leaders in college football. He was the heart and soul of the national championship defense and is expected to perform well in the interview process. Smith could be a hometown hero for a team looking to build a foundation of success.
9. Chicago Bears
(From Carolina Panthers)
Peter Skoronski, OT, Northwestern (13) — General manager Ryan Poles got a nice haul for the top pick and still has his pick of top offensive linemen should he choose to go in that direction. Skoronski was phenomenal in pass protection, even though he doesn't have prototypical measurables. He could give the Bears positional flexibility as he projects as a potential candidate to also play guard.
10. Philadelphia Eagles
(From New Orleans Saints)
Calijah Kancey, DT, Pittsburgh (18) — The only real questions about Kancey are his size and scheme fit. Philadelphia loves athletic playmakers in the middle, and Kancey would have plenty of room to operate with the team's pass rushers on the outside. This is an ideal match, even if it might be a bit early.
11. Tennessee Titans
Bijan Robinson, RB, Texas (25) — Yes, this would mean Derrick Henry is available. Robinson would be a good consolation prize for fans devastated by the potential loss of the face of the franchise.
12. Houston Texans
(From Cleveland Browns)
Quentin Johnston, WR, Texas Christian (20) — Expect to see quite a bit of shuffling of the top receiver off the board. Johnston is a physical presence who replaces Brandin Cooks and could pair with the new quarterback to give Houston a formidable young duo.
13. New York Jets
Paris Johnson, OT, Ohio State (11) — If the Jets acquire Aaron Rodgers, and they most likely will, offensive tackle stands out as a huge area of need with the current options either aging or fragile. The Jets have invested in the position, but hope Johnson could pay quick dividends.
14. New England Patriots
Christian Gonzalez, CB, Oregon (10) — New England's depth chart at cornerback is thin and basically nonexistent when it comes to size at the position. Gonzalez would give them a big presence on the outside. This could allow the Patriots to deploy Jonathan Jones in the slot or even safety at times to take better advantage of his versatility.
15. Green Bay Packers
Dalton Kincaid, TE, Utah (28) — The former Faith Lutheran High star didn't start playing football until late in his high school career and has been on an astronomical trajectory. He can line up all over the field and give first-year starter Jordan Love a security blanket.
16. Washington Commanders
Joey Porter Jr., CB, Penn State (16) — The Commanders have plenty of needs, though perhaps none quite as glaring as cornerback. Porter should step in immediately and is already well-versed on the rigors of playing in the league from his dad.
17. Pittsburgh Steelers
Broderick Jones, OT, Georgia (14) — Pittsburgh has done a pretty good job addressing an offensive line that was abysmal two years ago, but there is still work to do on the outside. Jones could help complete the rebuild of the unit.
18. Detroit Lions
Will Levis, QB, Kentucky (9) — Should Levis start to fall in the draft board, this is an intriguing landing spot. The Lions wouldn't need him to start immediately with Jared Goff under contract for two more seasons, but they do have the luxury of having an extra first-round pick and Levis could be an interesting use of it.
19. Tampa Bay Buccaneers
Myles Murphy, Edge, Clemson (8) — While they have other needs after several cap moves, the Bucs need to find a way to get to the quarterback. Murphy knows the way there.
20. Seattle Seahawks
Jaxon Smith-Njigba, WR, Ohio State (22) — Seattle has done a great job of using the Russell Wilson trade as a springboard to building a good roster. A third receiver is still an area where they could make a good offense even better, and Smith-Njigba could be a strong fit.
21. Los Angeles Chargers
Jordan Addison, WR, Southern California (12) — Addison could also be a fit with Seattle, but the Chargers are in a similar position. They have two good weapons who are getting older and more expensive. A dynamic tight end would also be a nice weapon to add for Justin Herbert if all three top receivers are off the board.
22. Baltimore Ravens
Deonte Banks, CB, Maryland (23) — It's not difficult to see the Ravens' biggest needs with a quick glance at the depth chart. They need help on the outside — at cornerback and wide receiver. The best player available at either of those positions just so happens to be a Baltimore native.
23. Minnesota Vikings
Lukas Van Ness, Edge, Iowa (19) — Van Ness has been surging up draft boards, but a great deal of that is based on projection. He still hasn't quite put it all together on the field. Minnesota could be the team willing to take that chance on a good athlete with a ton of potential.
24. Jacksonville Jaguars
Darnell Wright, OT, Tennessee (ND) — Now that Trevor Lawrence has started to live up to the immense hype, the Jaguars need to do everything they can to protect him. Wright's stock is soaring.
25. New York Giants
Zay Flowers, WR, Boston College (31) — The Giants just keep trying to find wide receivers who will work out. With Daniel Jones locked in at quarterback, Flowers could be another piece for a group that is starting to come together.
26. Dallas Cowboys
Michael Mayer, TE, Notre Dame (21) — The departure of tight end Dalton Schultz is official, and Dallas filled its need at wide receiver by acquiring Brandin Cooks this week. Mayer would give Dak Prescott an outlet that consistently gets open and finds a way to make catches in traffic when he's not.
27. Buffalo Bills
O'Cyrus Torrence, OG, Florida (27) — Torrence makes a ton of sense for a team that needs to bolster the interior of the offensive line to not only protect a quarterback who got beat up last season but needs to run the ball between the tackles with more consistency.
28. Cincinnati Bengals
Brian Branch, S, Alabama (15) — Branch should probably go earlier and could if a team believes it has a good scheme fit for him. Cincinnati lost two key pieces in the defensive backfield with Jessie Bates and Vonn Bell departing in free agency. The Bengals started to prepare for that possibility by taking Dax Hill last year and could now have another versatile piece in Branch.
29. New Orleans Saints
(From San Francisco 49ers via Miami Dolphins and Denver Broncos)
Bryan Bresee, DT, Clemson (17) — The Saints addressed their quarterback position by signing Derek Carr and then got a first-round pick when Sean Payton came out of retirement to coach the Broncos. While they have a couple of options to solidify the middle of the defensive line, Bresee could be a stalwart.
30. Philadelphia Eagles
Cam Smith, CB, South Carolina (ND) — This is no longer an immediate area of need for the Eagles after they brought back James Bradberry and extended Darius Slay, but they are on the wrong side of 30 and NFL teams can never have enough quality corners.
31. Kansas City Chiefs
Will McDonald, Edge, Iowa State (ND) — Offensive tackle and wide receiver are definite possibilities here. It would also be fun to see what Andy Reid and Patrick Mahomes would do with former Desert Pines star tight end Darnell Washington. For now, though, McDonald helps replenish their depth on the edge.
ND — Not drafted.
Contact Adam Hill at ahill@reviewjournal.com. Follow @AdamHillLVRJ on Twitter.