Greg Maddux makes pitch for celebrity poker tournament at Circa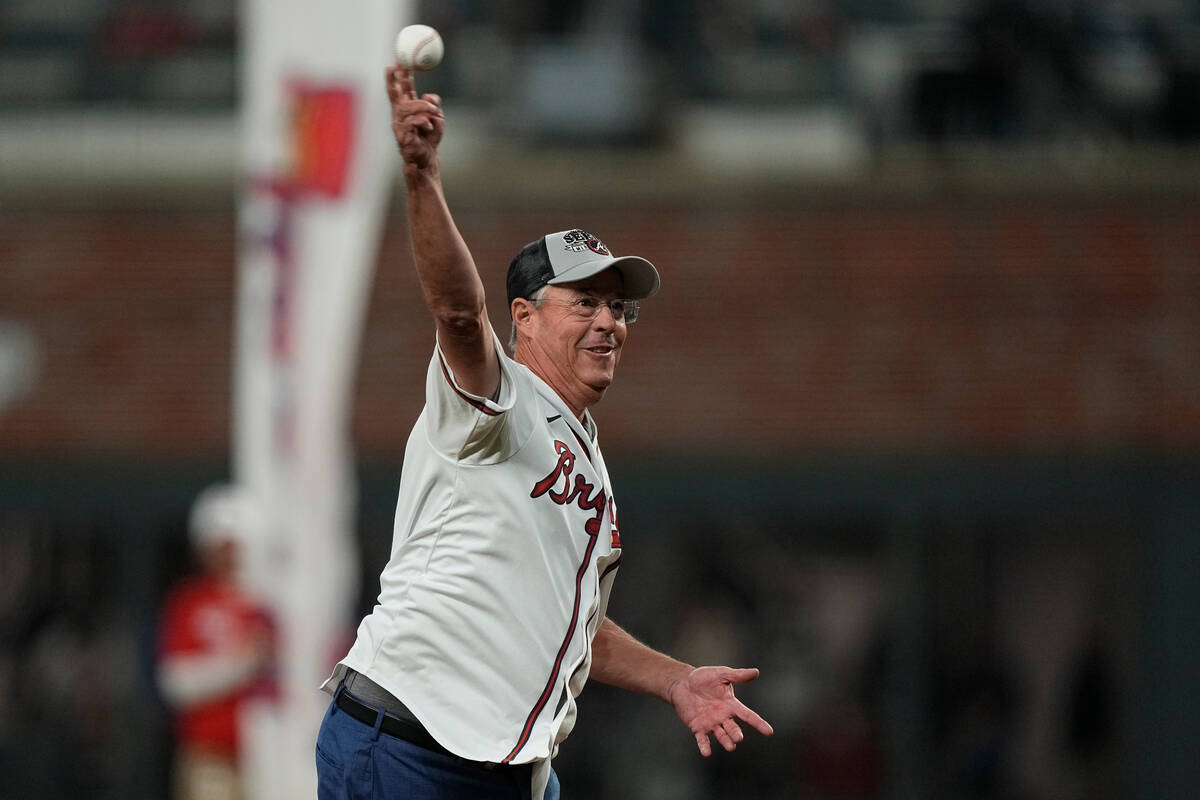 Before Greg Maddux started playing golf as a pastime, the Hall of Fame pitcher was often found at a poker table.
Whether it was at one of the local casinos in Las Vegas during the 1980s or on the team plane, Maddux spent much of his time chasing backdoor flushes when he wasn't throwing backdoor sliders.
"I kind of needed something to do as a hobby. I played a lot of cards back then," Maddux said. "There was always a poker game on the planes. As far as being actually in the casino, I haven't done a whole lot of that in the last 15, 20 years. But I've always enjoyed playing poker, and I know a lot of my friends do as well."
Maddux will put his poker skills to the test when he hosts the Baller Dream Celebrity Poker Tournament.
The event is the culmination of a three-day experience April 28-30 at Circa to benefit the Baller Dream Foundation, which supports families impacted by cancer in children and young adults.
"It's nice to start giving back again. Plus, it's a great cause," Maddux said. "I've been fortunate enough to meet a few of the families over the last couple years, and if we can make the kids' lives a little easier for a weekend, I'm very happy to do it."
Maddux, who won 355 games and the Cy Young Award four times in 23 Major League seasons, was a volunteer pitching coach at UNLV from 2016 to 2020.
He's now "100 percent retired" and splits his time between Las Vegas and Dana Point, California, where he can be found on the golf course or his patio enjoying the ocean view.
During his career, Maddux overcame his lack of velocity on the mound in part by using odds and probability to attack batters' weaknesses.
It's a trait that translates well to the poker table.
"The only problem is when you're on the mound, you know what you got and what you're going to do with that, how to attack the hitter," Maddux said. "When you're in a poker game, let's just put it this way: It's a lot easier to put a batter on a hand than it is somebody you're sitting across from."
The Baller Dream Foundation celebrity experience at Circa includes an invite-only, private dinner at Barry's Downtown Prime with celebrities and top-tier sponsors, a welcome party at Stadium Swim and the celebrity poker tournament at Legacy Club.
The poker tournament also includes a silent auction and cocktail reception and features cash prizes up to $75,000 for the top five finishers.
In addition to Maddux, seven-time Cy Young Award winner Roger Clemens and former NFL offensive lineman Evan Mathis are among the 20 celebrities scheduled to appear.
Sponsorship packages for the weekend experience range from $10,000 to $75,000 and are available at www.ballerdream.org/circa.
"We got to learn a lot about the Baller Dream Foundation and figured out what they were doing with all these young kids and how much impact they've had on them," Circa owner Derek Stevens said. "For us, we just thought this was a great charity to get behind. This is a great opportunity for people to have some fun and have some great experiences here."
Baseball thoughts
Maddux said he watches baseball casually now but will follow the Rangers closely now that his brother, Mike, is their pitching coach again.
Also, the former Braves star said Andruw Jones, his teammate in Atlanta, should be in the Hall of Fame. And Maddux, who was known for finishing games quickly, is eager to see whether MLB's new rules speed up play.
"I like the shot clock. I think that's a good thing," Maddux said. "But again, I never had a problem with a long game. You talk to people that go to ballgames and they want to enjoy their time at the ballpark. … Players don't need to be lollygagging between pitches, but some games take longer than others."
Contact David Schoen at dschoen@reviewjournal.com or 702-387-5203. Follow @DavidSchoenLVRJ on Twitter.