Norwegian poker pro wins WSOP Main Event
Updated July 16, 2022 - 7:21 pm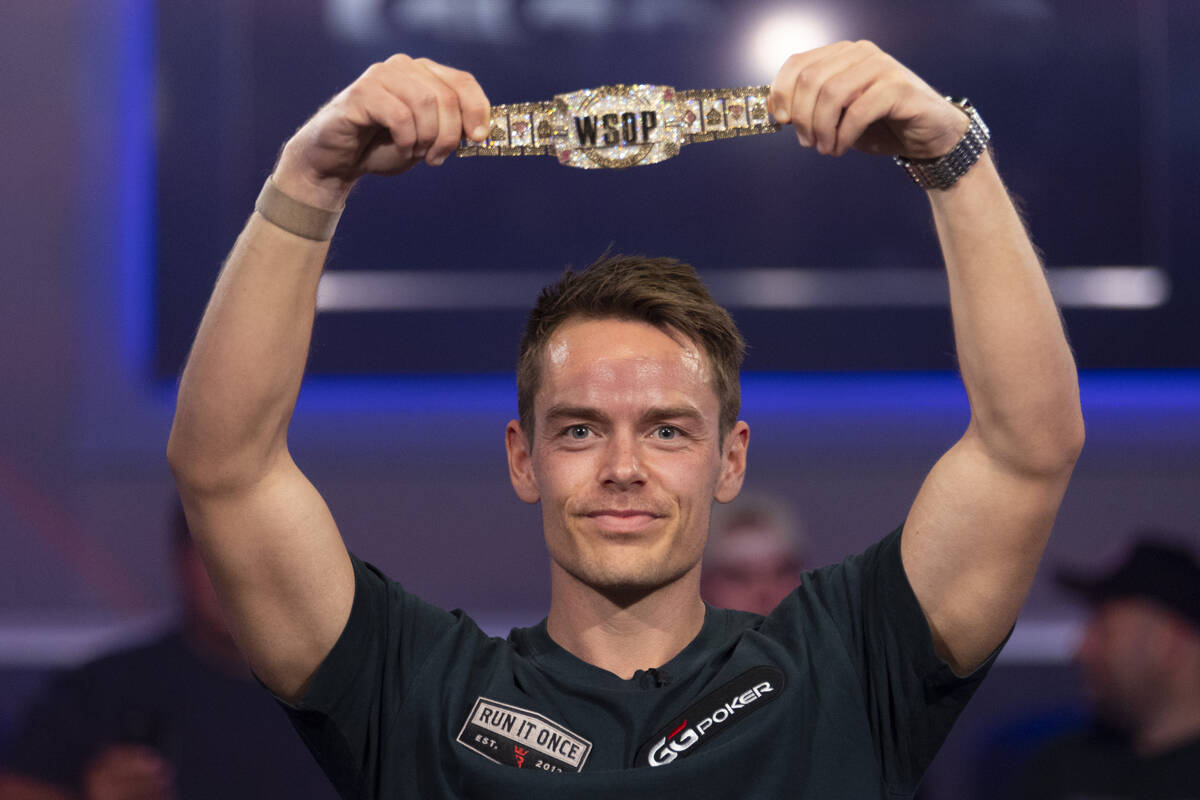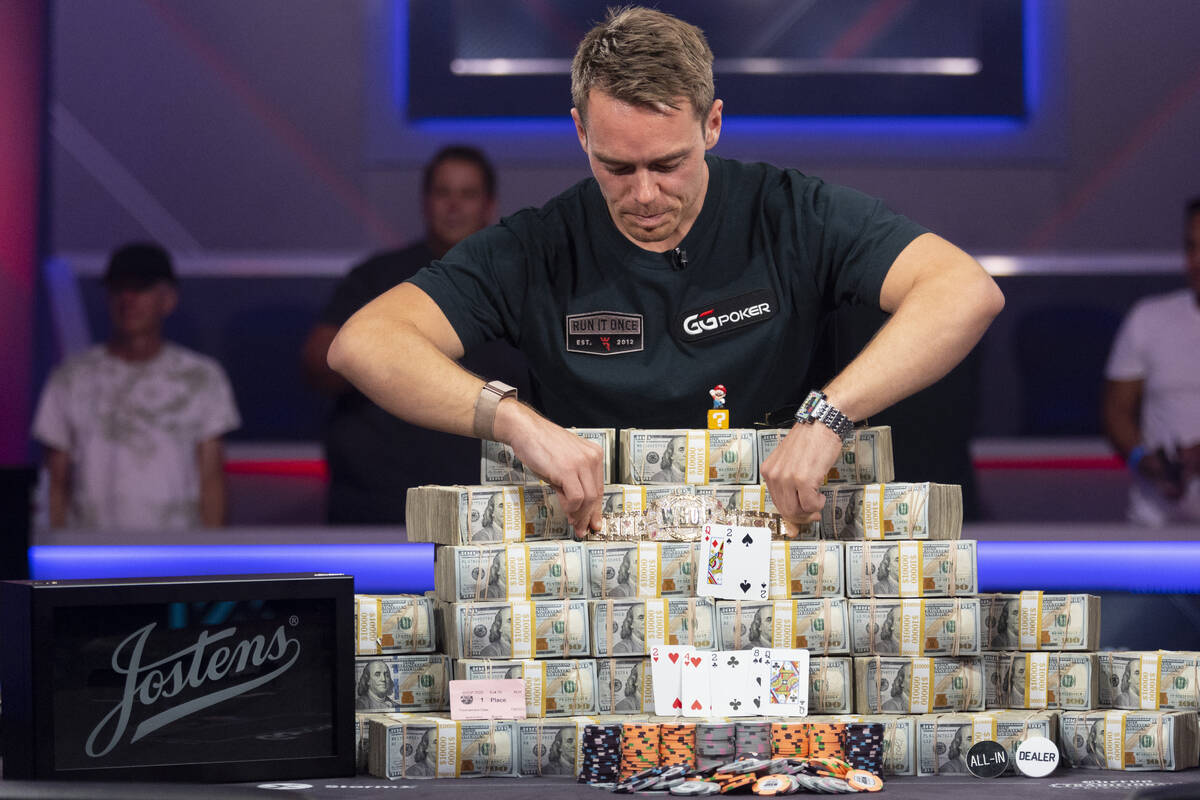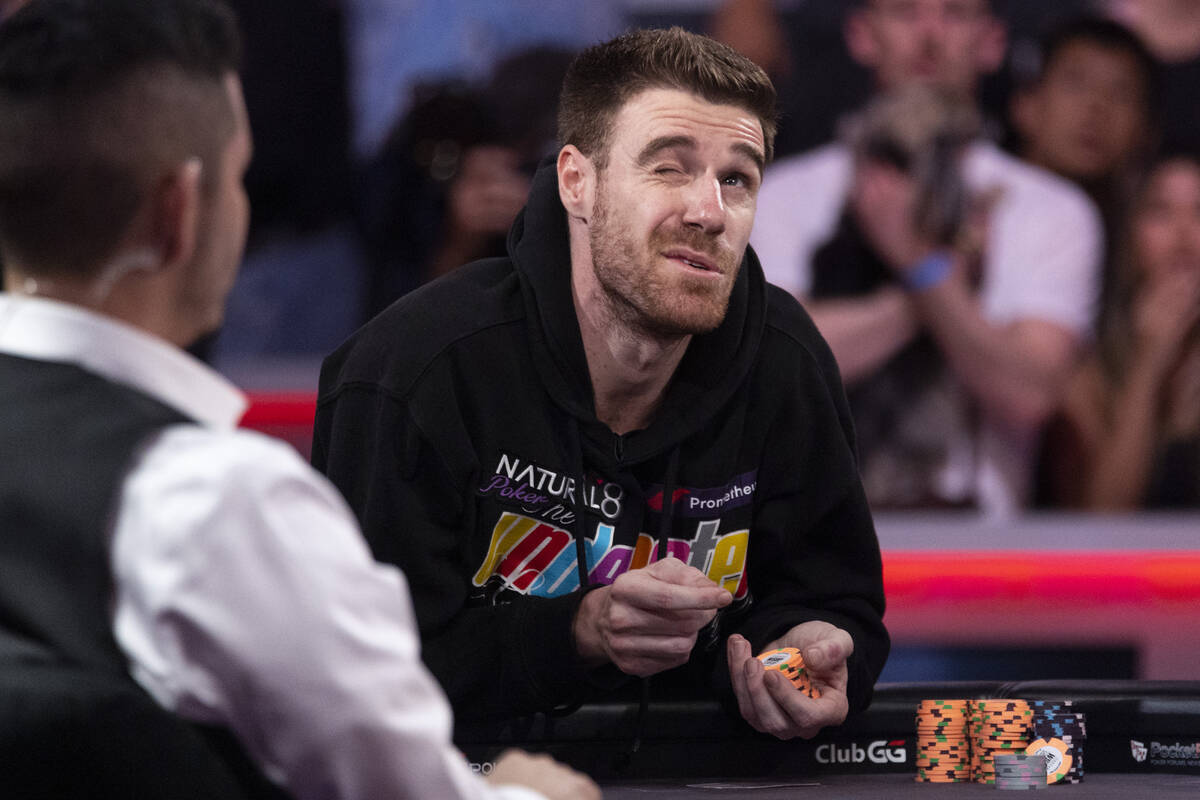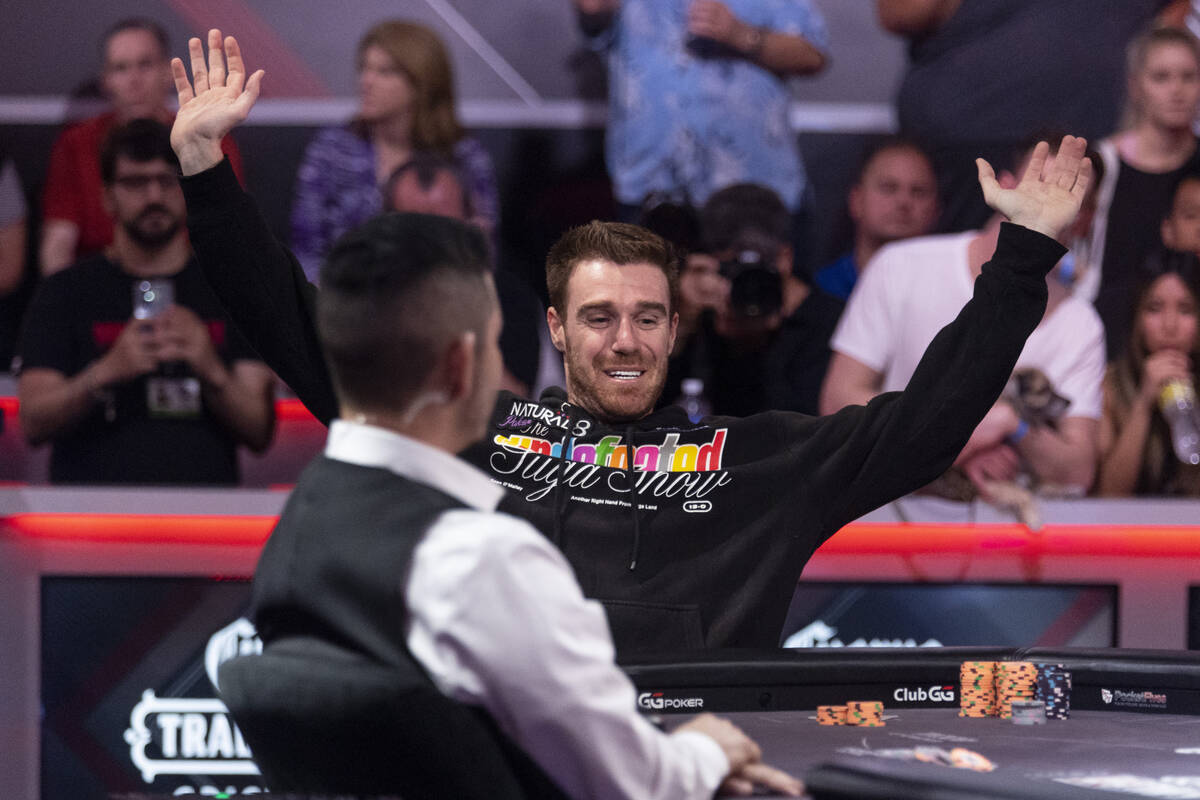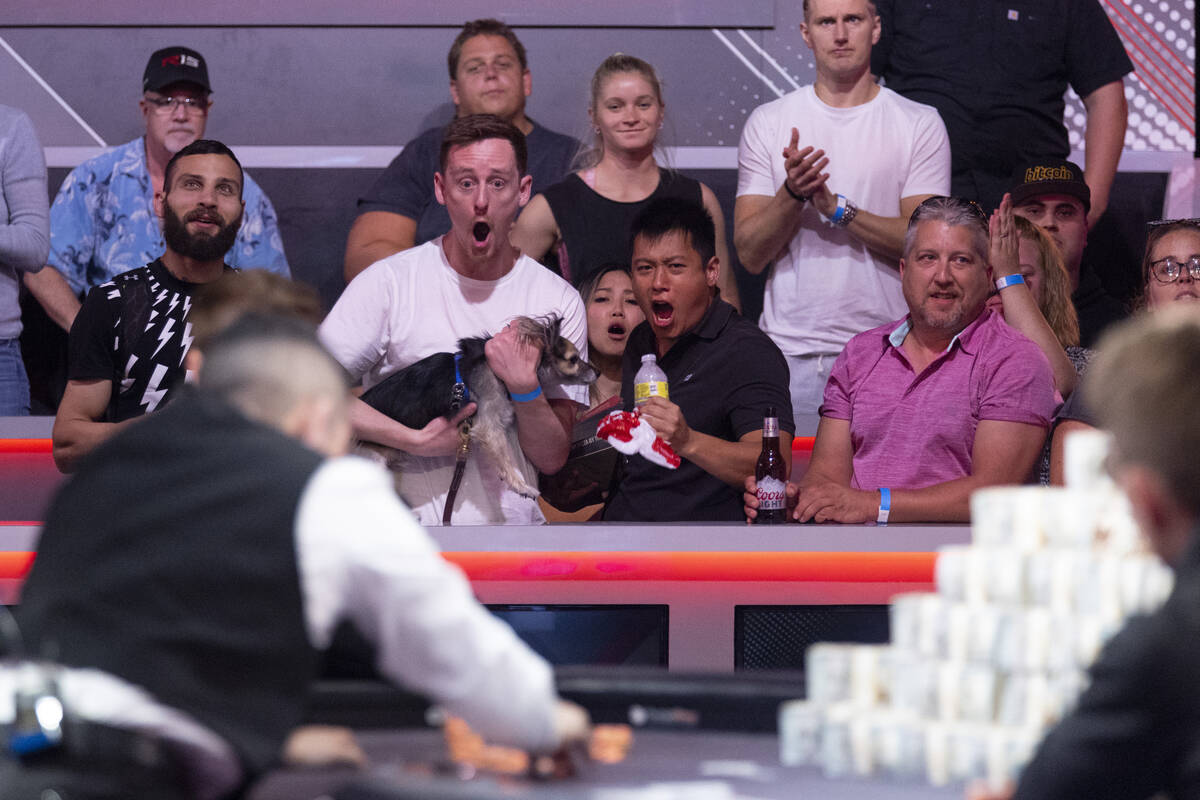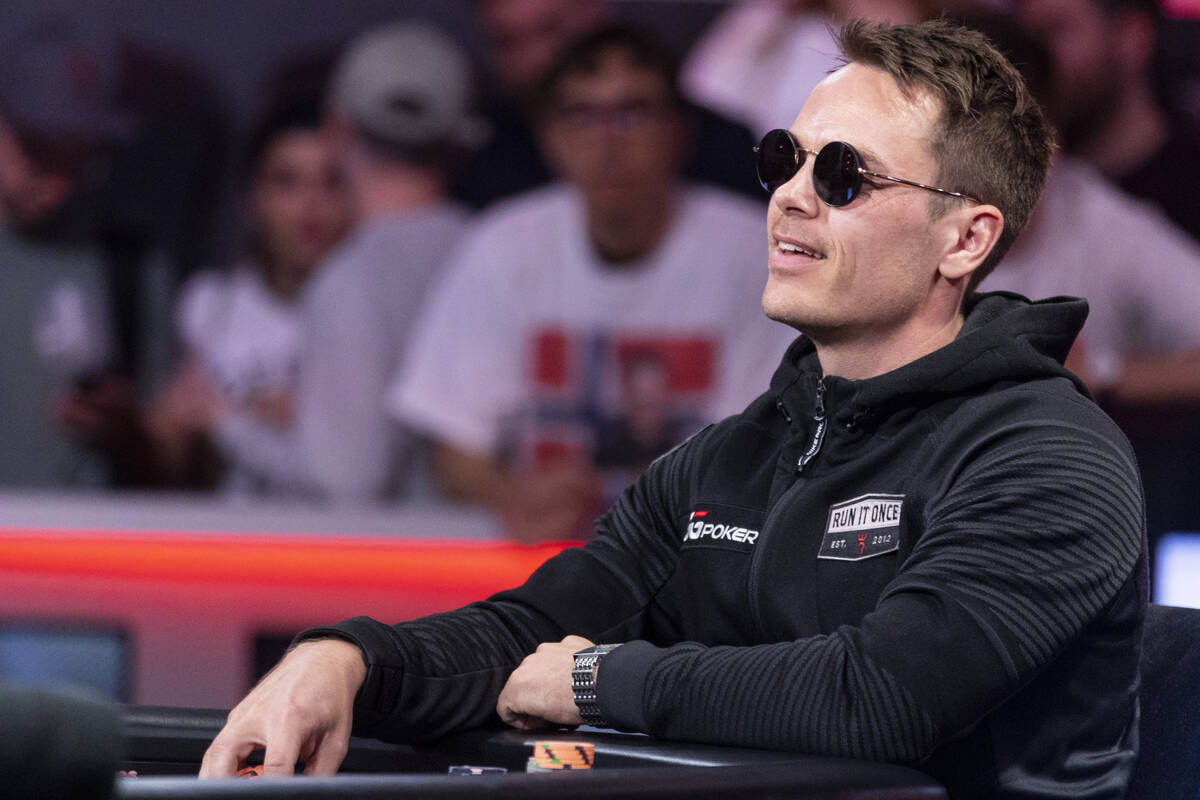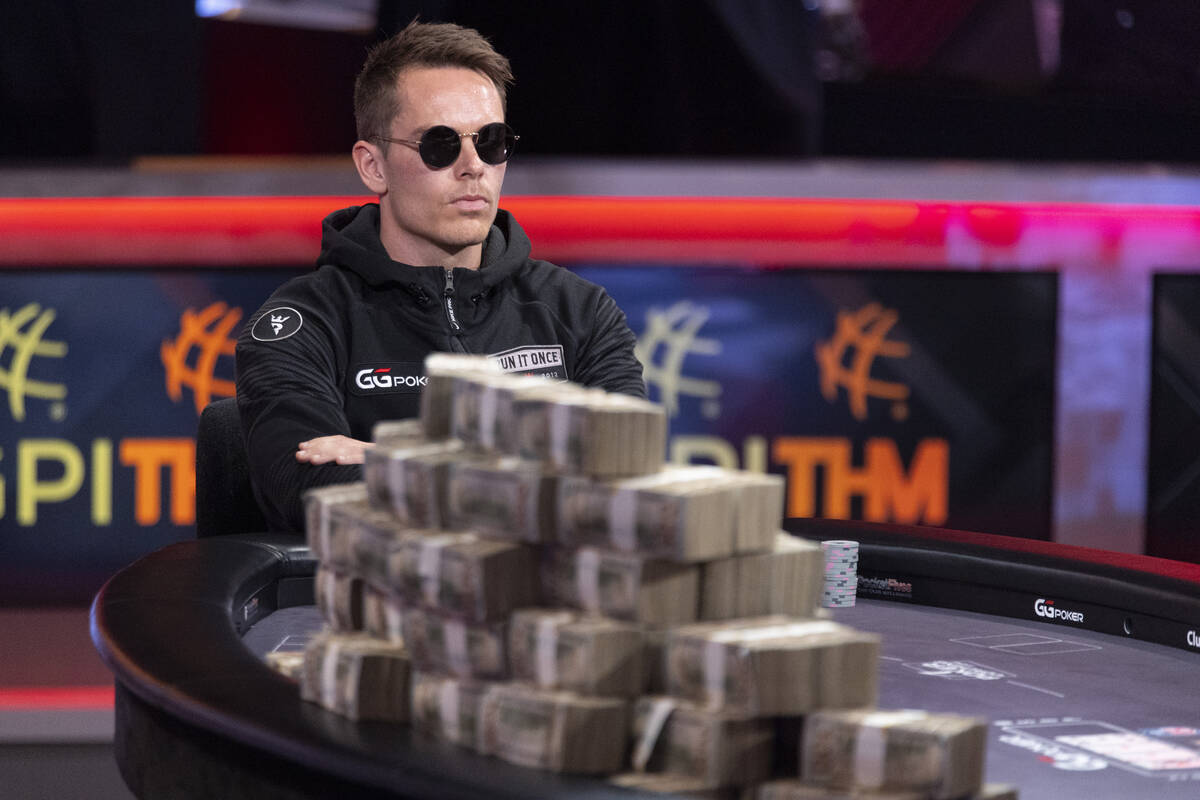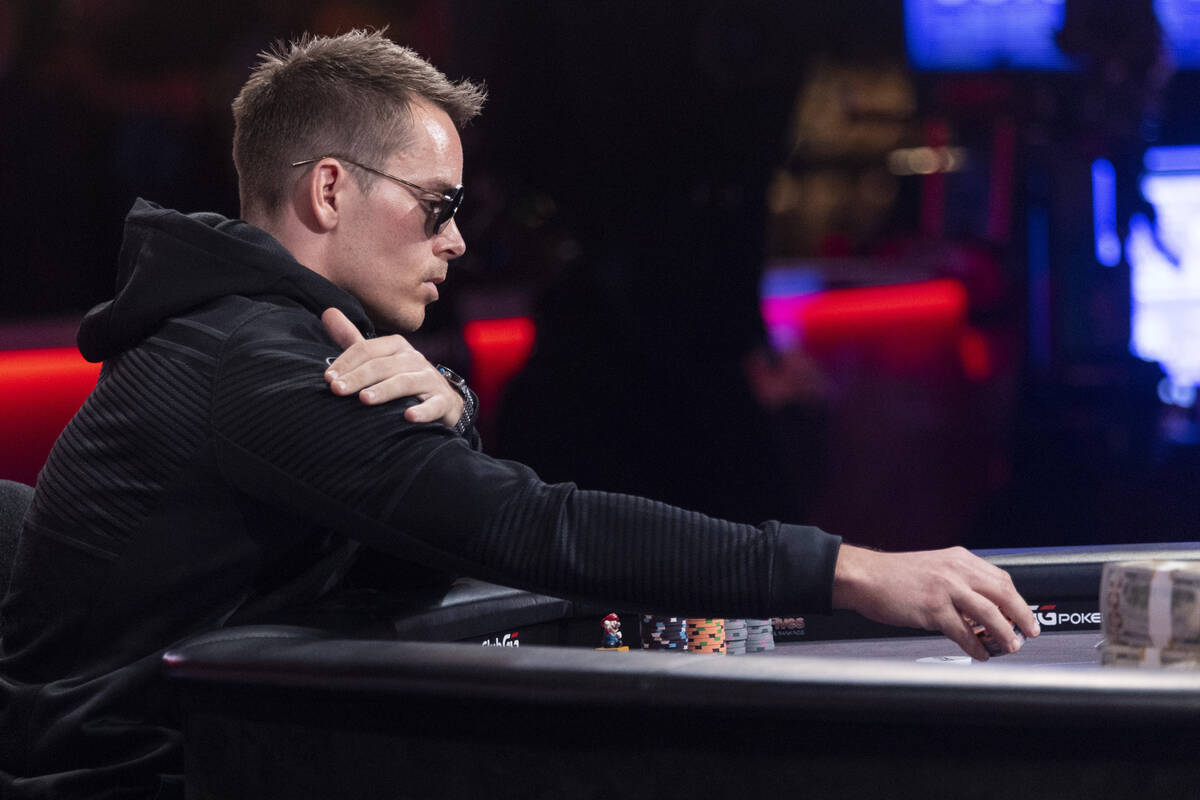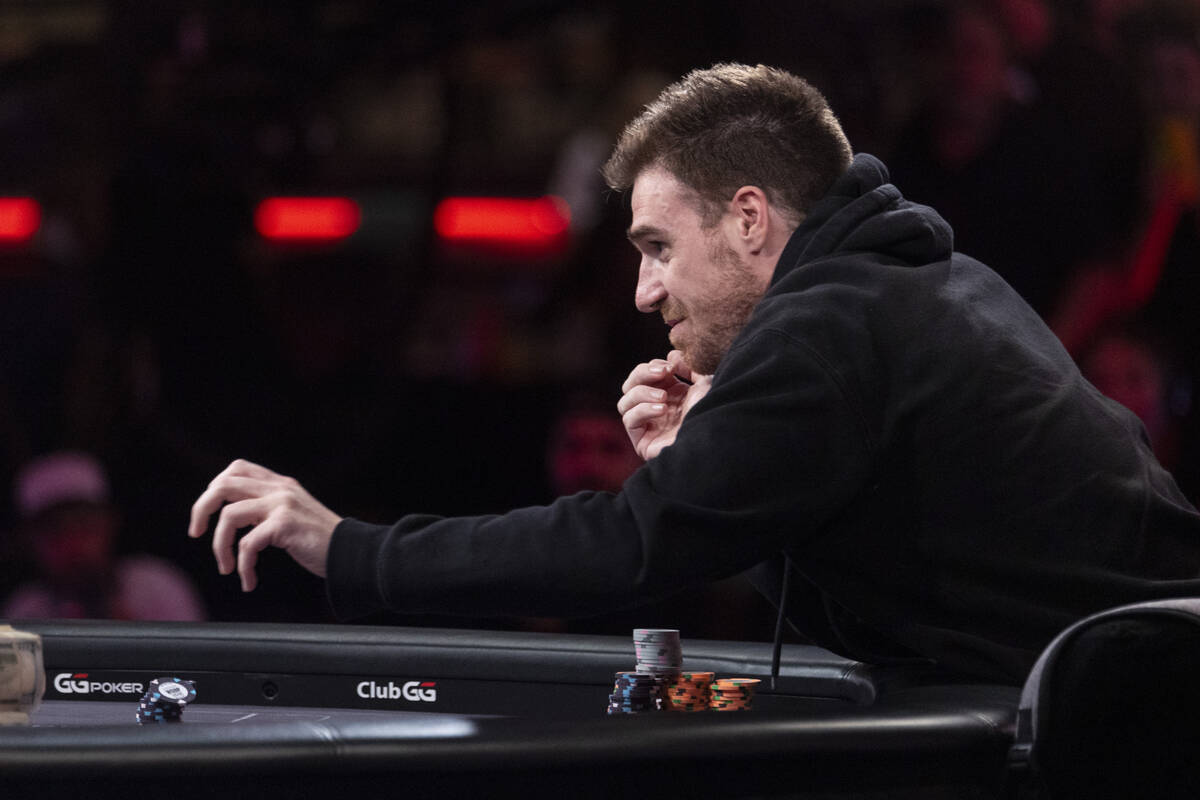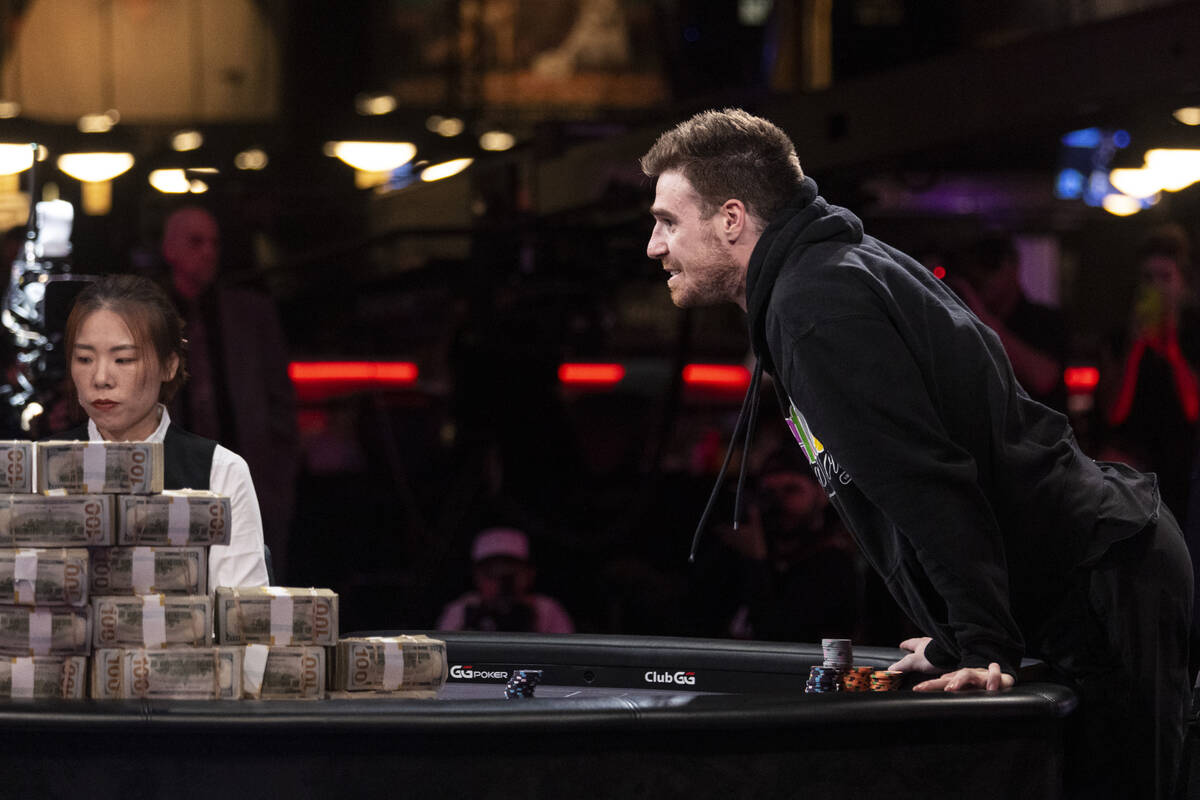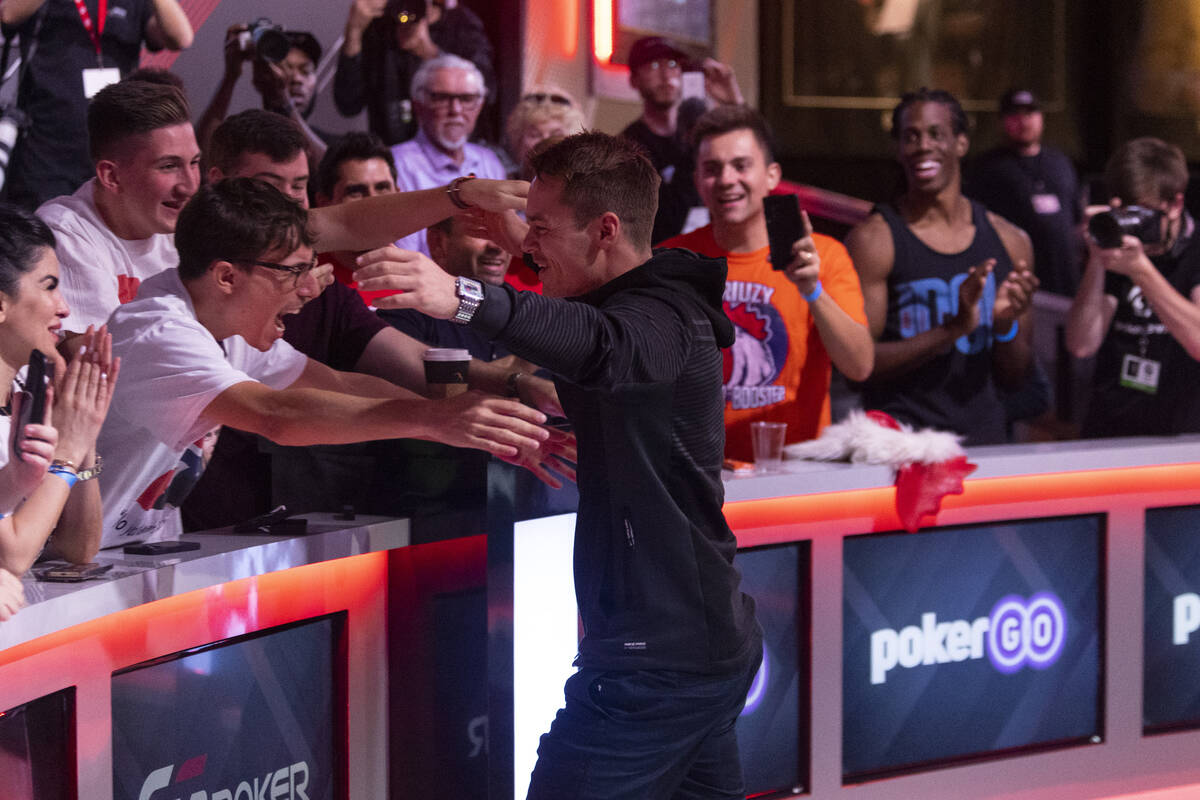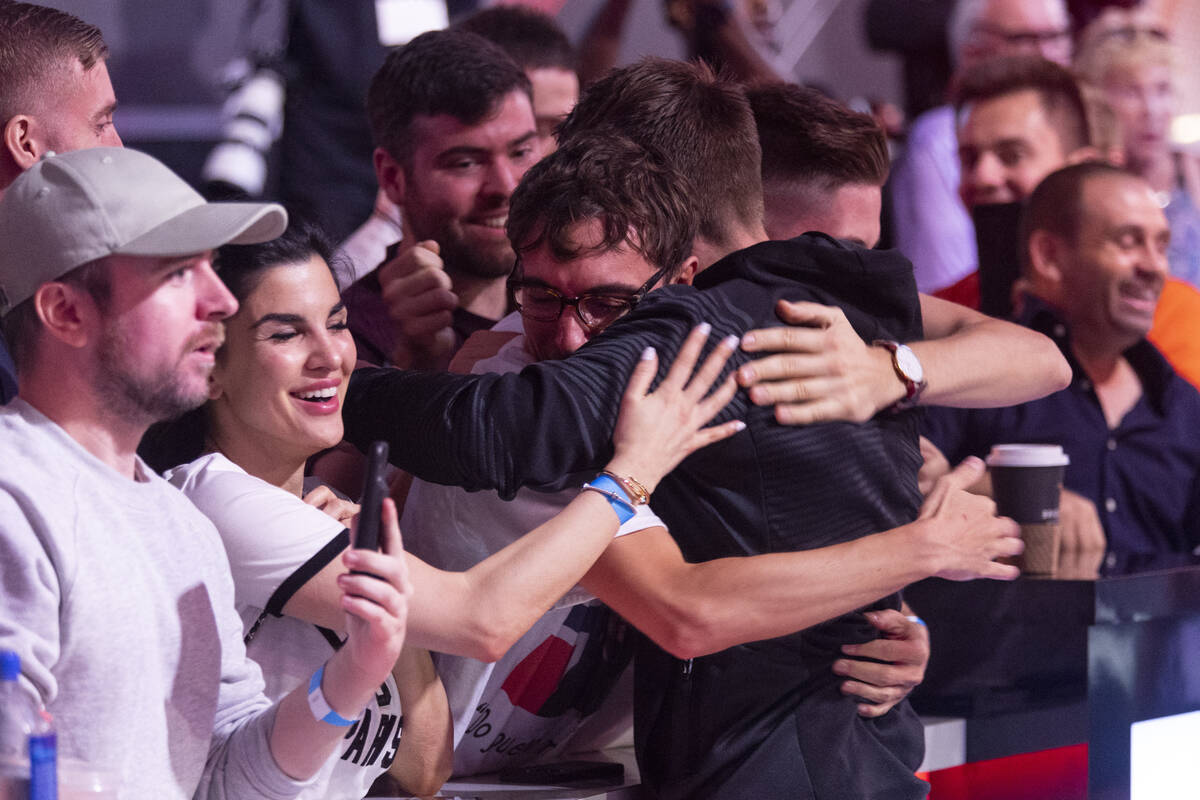 Espen Jorstad sat motionless, his left hand resting on his right elbow, eyes closed behind sunglasses and no expression on his face.
On two occasions during heads-up play in the World Series of Poker Main Event Jorstad assumed a statue-like pose while his opponent, Adrian Attenborough, shuffled his chips and agonized for several minutes over a decision.
Each time, the wait was worth it.
Jorstad won the $10,000 buy-in No-limit Hold'em World Championship on Saturday at Bally's Event Center, outlasting Attenborough to claim the $10 million first prize.
"I came into a very tough heads-up versus the one opponent I did not want to face," Jorstad said. "He was the guy who was giving me trouble since Day 6 basically. But I got better cards than him today."
Jorstad topped a near-record field of 8,663 entrants and is the first player from Norway to win the Main Event. Felix Stephensen finished second in 2014.
It is Jorstad's second career WSOP bracelet after he partnered with Patrick Leonard to win the $1,000 buy-in Tag Team No-limit Hold'em event earlier this summer.
Attenborough, a resident of Las Vegas originally from Australia, earned $6 million for second place.
"To me it's kind of like surfing a wave," Attenborough said. "If I crashed at the start of the wave and busted the (final table) early or if I somehow rode the wave into the shore, I would be super happy regardless. I'm just enjoying this experience."
The heads-up match between Jorstad and Attenborough lasted 19 hands and took less than 90 minutes but will be remembered for two long hands in particular.
On the first hand of the match, Jorstad put Attenborough to the test for his tournament life after the river while holding the better two-pair. Attenborough went into the tank for close to 20 minutes, squirming in his seat as he talked through his decision before ultimately folding.
The tank heard around the world.

Espen Jorstad strikes first in heads-up play after moving all in on the river and putting Adrian Attenborough in the cage with his bluff catcher.

▶️ – Stream is live. Watch here: https://t.co/niEDphYWiO pic.twitter.com/Ano6cgCaYX

— PokerGO (@PokerGO) July 16, 2022
"I really was trying to think of every other hand I've played with him, every action he taken on the streets, how long he's taken," Attenborough said. "Just anything that can get me a little extra information to make a better decision."
Jorstad let out an extended exhale as the chips were pushed his way. The entire hand took more than 28 minutes to play out.
"It felt like an eternity," Jorstad said. "I was doing this weird meditation practice where you focus on different body parts. I was focusing on this finger, then this finger, then this finger. I was just in my zone, just chilling."
That pot gave Jorstad a 3-to-1 chip advantage, which disappeared four hands later when Attenborough picked off his opponent's bluff and doubled-up into the chip lead.
But Jorstad recovered and was ahead once again heading into the final hand.
While holding queen-two, Jorstad made a full house on the river and again put Attenborough in the cage for all his chips, then took the identical pose as the first hand of heads-up.
Attenborough thought for almost nine minutes, muttered an expletive and finally slammed his chips in the middle only to see the bad news when Jorstad rolled over his cards.
Espen Jorstad puts Adrian Attenborough into the tank once more.

This time, Attenborough cannot find the fold.

With his full house, Jorstad claims victory in the Main Event and the $10M first-place prize.

▶️ – Watch the conclusion of the Main Event here: https://t.co/niEDphYWiO pic.twitter.com/gB5EES61Rf

— PokerGO (@PokerGO) July 17, 2022
Jorstad clasped his hands together in front of his chest and bowed to his friends and family on the rail to thank them. After the victory, he made an emotional call to his mother in Norway.
Jorstad, who lives in London, said he plans to move up in stakes to play more high-roller events and will use a portion of his winnings to invest in cryptocurrency and tech stocks.
"I don't know what to do now," he said. "I'm kind of homeless and trying to figure life out. I'll go somewhere or maybe take a little break."
Michael Duek, a resident of Fort Lauderdale, Florida, originally from Argentina, was eliminated in third place after less than 30 minutes of play. He took home $4 million.
Contact David Schoen at dschoen@reviewjournal.com or 702-387-5203. Follow @DavidSchoenLVRJ on Twitter.
WSOP Main Event results
Finisher (Hometown) ; Earnings
1. Espen Jorstad (London) ; $10,000,000
2. Adrian Attenborough (Las Vegas) ; $6,000,000
3. Michael Duek (Fort Lauderdale, Florida) ; $4,000,000
4. John Eames (Southport, England) ; $3,000,000
5. Matija Dobric (Slatina, Croatia) ; $2,250,000
6. Jeffrey Farnes (Dallas, Oregon) ; $1,750,000
7. Aaron Duczak (Kamloops, British Columbia) ; $1,350,000
8. Philippe Souki (London) ; $1,075,000
9. Matthew Su (Washington, D.C.) ; $850,675
10. Asher Conniff (Brooklyn, New York) ; $675,000