Terminally ill man fulfills dream of playing in WSOP Main Event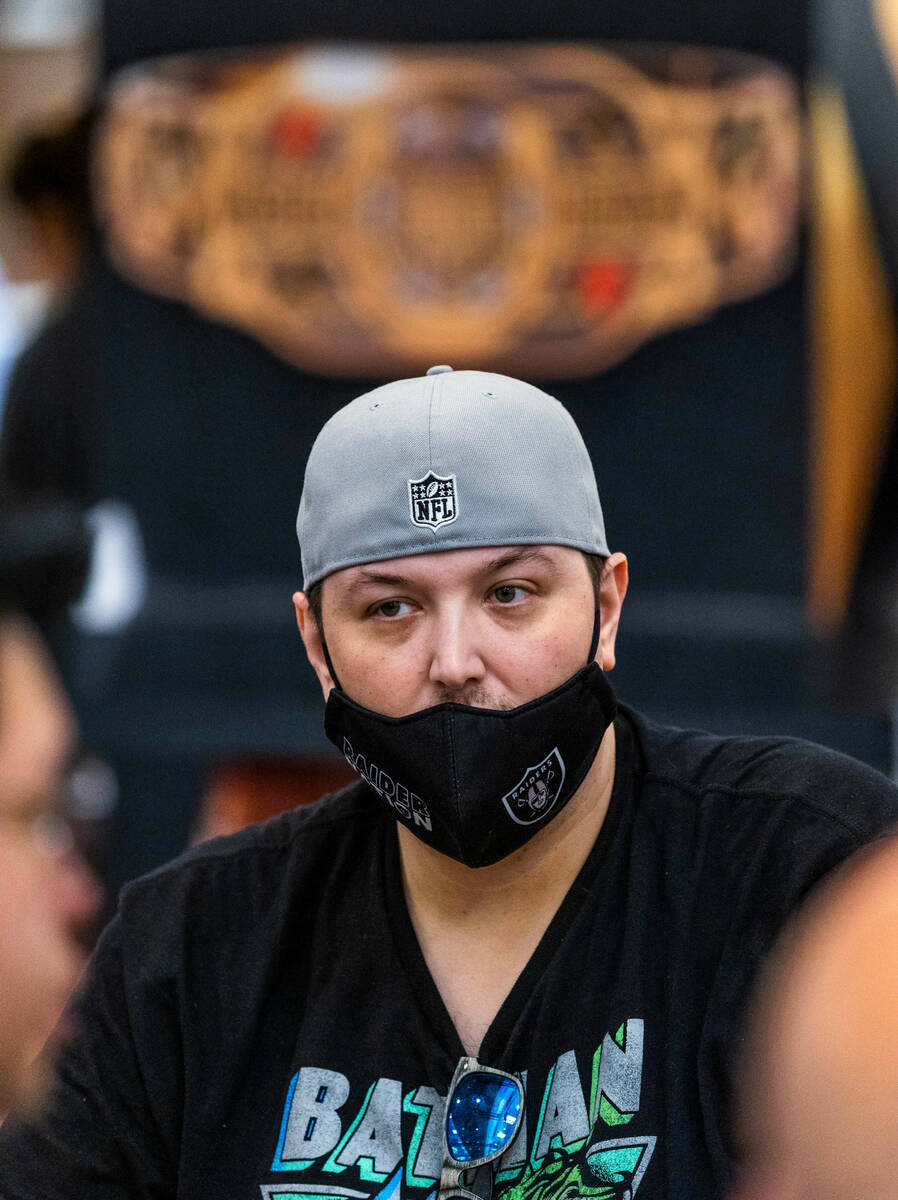 Rob Mercer calls himself a nobody in the poker world. Just a former semipro midstakes grinder who started playing 18 years ago.
But for a few hours Thursday, Mercer felt like a celebrity, fulfilling his dream of playing in the World Series of Poker Main Event.
"All these people rallied around me because of my story. Obviously they feel something for me, and I understand that," Mercer said. "But I haven't had that kind of love from people outside my family for a long time. It feels good to have somebody else outside my family put the kind of love and support into me and to know that they have my back."
Mercer was part of a record-setting field for the $10,000 buy-in No-limit Hold'em World Championship at Horseshoe Las Vegas and Paris Las Vegas.
His entry was made possible by the generosity of dozens in the poker community who donated money. That includes Nick Vertucci, the creator and producer of the "Hustler Casino Live" poker stream.
Mercer said he was diagnosed last year with terminal stage 4 colon cancer. The 37-year-old resident of Vallejo, California, started a GoFundMe last month in an effort to raise enough money to play the Main Event and had about $4,000 in donations when he shared his story 2½ weeks ago on the late-night Twitter Space of Alexander Zisiades, a musician and aspiring poker influencer.
Vertucci happened to be listening and was impacted by Mercer's struggle.
"I was so overwhelmed, I just got on the speaker and said, 'Hey, it's booked. I got you,'" Vertucci said. "It chokes me up because we walk around so blessed and we don't realize it. This kid's fighting for his life, so I'm just so happy he gets to play."
Along with his goal of raising $12,000 on GoFundMe, Mercer received additional donations to fund his trip. He also won close to $9,000 on table games and finished seventh in a daily poker tournament for an additional $2,300.
That helped ease the sting of being eliminated from the Main Event before the dinner break Thursday.
"This whole trip is a blessing," Mercer said. "I can't even put it into words how much it means to me to get me and play the Main Event, because I would never have been able to do it on my own."
Cody Daniels, 28, also saw his wish of playing in the Main Event come true during Flight 1D on Thursday. He was still alive at the dinner break.
The resident of Lake Havasu City, Arizona, suffered a ruptured intestine as a child and spent most of his life in the hospital. Last year, Daniels played in the WSOP "Colossus" event and was seated next to poker pro Lexy Gavin-Mather.
The two talked about the coin Daniels used as a card protector — which was given to him by President Barack Obama during a visit to the White House through the Make-A-Wish Foundation — and remained in contact.
Daniels finished second in a poker pub league in May, missing out on a Main Event seat to his close friend. A few days later, he was invited by Gavin-Mather to a shooting of "Poker Night in America" in Las Vegas.
After hearing Daniels' story during the show, high-stakes pros MJ Gonzales and Casey Coughlan donated $5,000 each to put Daniels in the Main Event. Daniels was invited back three days later, and Gonzales allowed him to play three orbits using his chip stack.
Daniels won $6,500, and Gonzales allowed him to keep the money.
"It made me cry," Daniels said.
Vertucci, who met Daniels during the "Poker Night in America" taping, also set up a charity stream July 23 at Hustler Casino to raise money for Daniels.
"It made a dream come true," Daniels said of playing in the Main Event, "and I'm excited whether I win or lose."
Contact David Schoen at dschoen@reviewjournal.com or 702-387-5203. Follow @DavidSchoenLVRJ on Twitter.
100-year-old eliminated from Main Event
Gene Calden became the oldest player in the history of the World Series of Poker Main Event when the 100-year-old registered Thursday.
The World War II veteran was staked into the $10,000 buy-in tournament by the Moneymaker Tour and its namesake Chris Moneymaker, whose Main Event victory 20 years ago is credited with starting the poker boom of the 2000s.
The previous record for oldest Main Event participant was held by Jack Ury, who was 97 when he played in 2010.
Moneymaker was scheduled to perform the "shuffle up and deal" announcement to start play but handed the honor to Calden. The resident of Boynton Beach, Florida, was eliminated during the second level of play when his two pair ran into the straight of Michael Carr.
Calden was given a round of applause by the players at his table as he exited.
World Series of Poker
■ What: $10,000 Main Event No-limit Hold'em World Championship
■ When: Now through July 17
■ Where: Horseshoe Las Vegas and Paris Las Vegas
■ How to watch: PokerGO (online stream)
■ Admission: Free (21 and older)