Broncos' late field goal stuns Raiders 20-19
Updated September 16, 2018 - 9:21 pm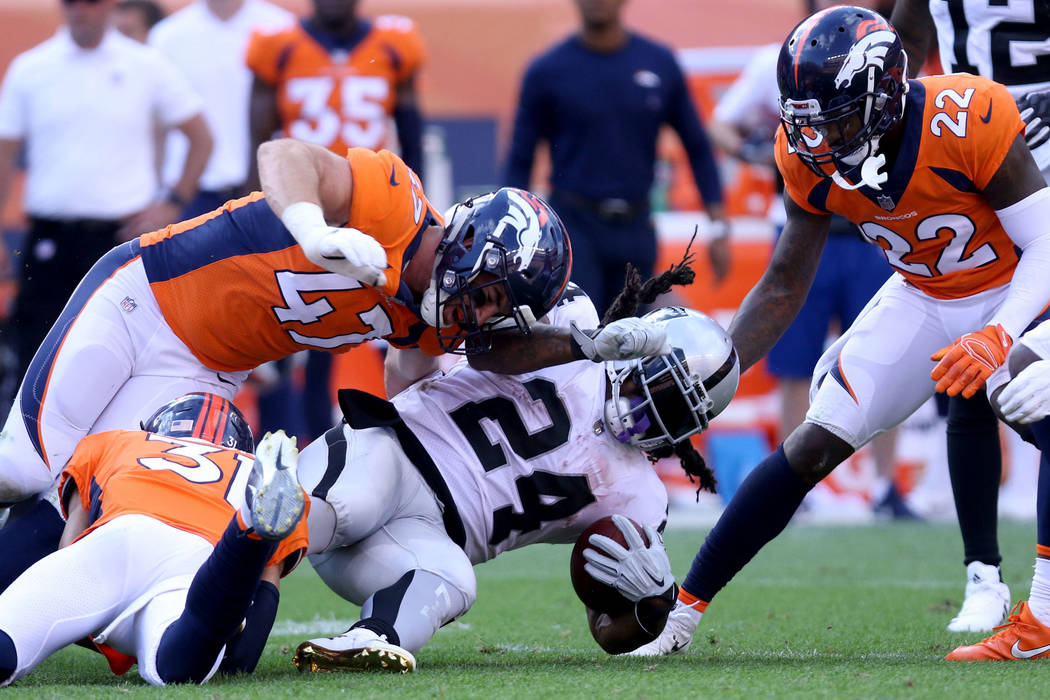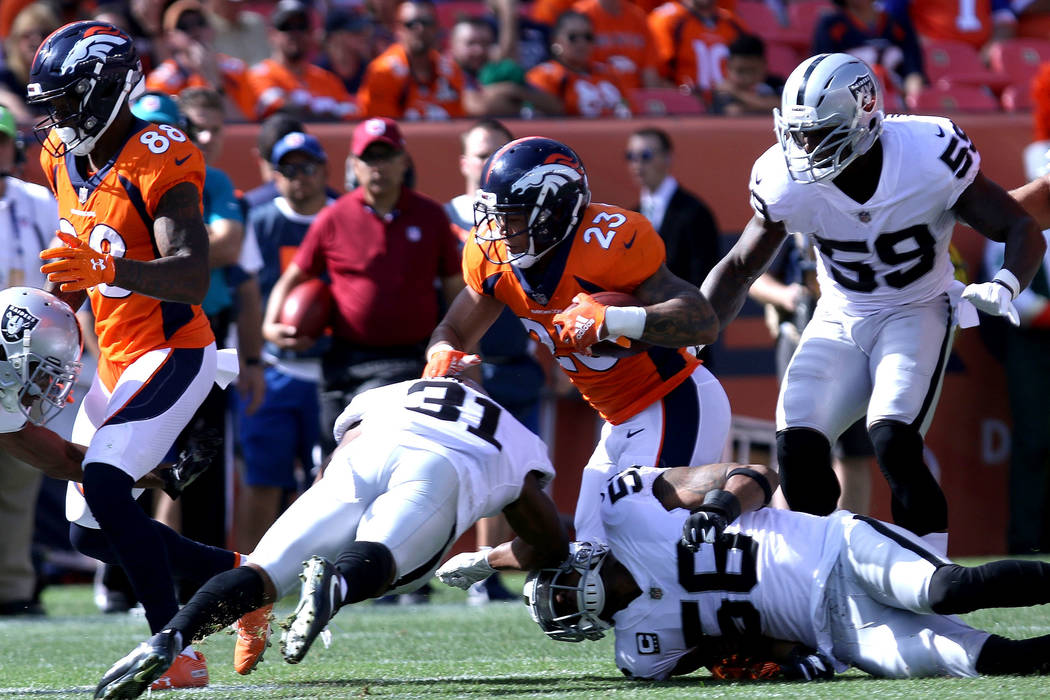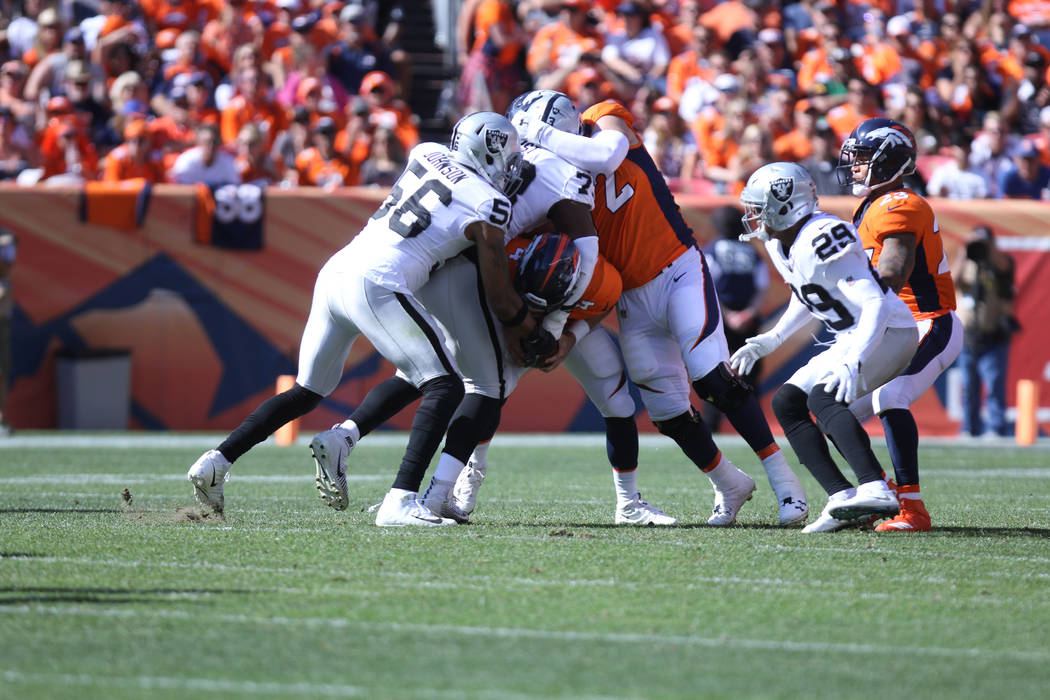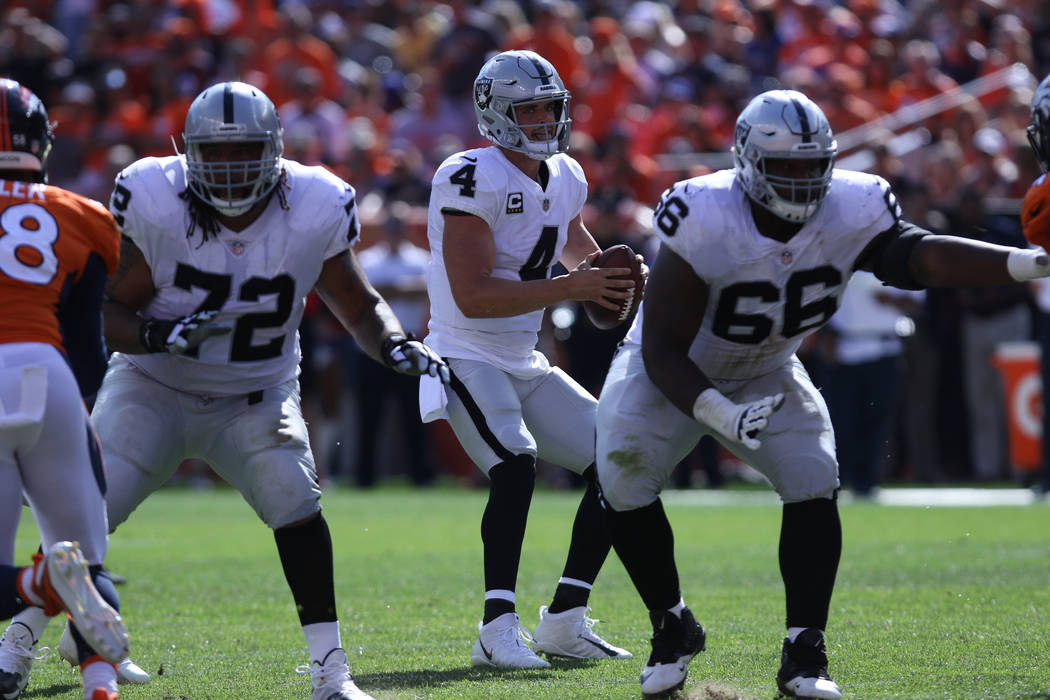 DENVER — Right tackle Donald Penn reached out his right arm, felt it slapped down, and dropped to the grass inside Broncos Stadium at Mile High. The sound of kicker Mike Nugent's extra-point attempt being blocked followed. Penn viewed the instant replay on the giant video board.
His gap. His man.
That was one point.
The Raiders forced a fourth down inside their own 10-yard line. After the play, defensive end Bruce Irvin was flagged for unsportsmanlike conduct. An automatic first down. Three snaps later, Denver Broncos running back Royce Freeman dove into the end zone.
That was four points.
And then, there was the dropped pass, the one that sank coach Jon Gruden to his knees on the sideline.
The Raiders jumped to a 12-0 halftime lead during the warmest home game in Broncos history. Despite a performance from quarterback Derek Carr befitting the heat, simple mistakes at critical times proved insurmountable. A tight game that perhaps shouldn't have been was decided by a game-winning field goal with six seconds remaining in a 20-19 loss.
Oakland didn't trail all game until Brandon McManus' 36-yard kick.
Gruden called it a "tough loss."
"I'm really proud of our team," he said. "We had opportunities, I think, to come out of here with a win."
A small margin separates the Raiders from a 1-1 record, which would position them in a three-way tie for second in the AFC West, rather than alone in the cellar at 0-2. Many errors Sunday were the difference, perhaps none more glaring than fullback Keith Smith's drop on fourth-and-1 early in the fourth quarter.
Gruden made an aggressive — and despite the outcome, it's easy to say "correct" — call when he kept his offense on the field at the Broncos' 33-yard line. The unit was in run-heavy personnel. Reserve center/guard Jon Feliciano rotated in as an extra blocker. Smith and running back Marshawn Lynch shared a backfield.
But it was a pass.
On a play-action motion, Feliciano ran deep. Carr faked to Lynch and then tossed a pass on target to Smith in the right flat. He was wide open but dropped it. There was little for Smith to say postgame. It was obvious.
"Should have caught it," Smith said.
The Broncos took possession and compiled an exhausting 14-play touchdown drive, which featured three third-down conversions, chewed up more than seven minutes of game clock, and culminated with a 1-yard sneak from quarterback Case Keenum.
Still up 19-17, the Raiders had another chance to put away the game.
They worked their way into Denver territory, courtesy of a 6-yard run from Lynch on first down to the 48-yard line. But second-and-4 became second-and-9 via a false start from tight end Jared Cook. Running back Doug Martin was stuffed for a 1-yard gain. On third down, Carr faced a heavy rush and threw a hot read to wide receiver Martavis Bryant, who was unable to break a tackle on a slant.
A punt set up the Broncos' game-winning drive, one on which defenders were panting in the 5,280-foot altitude and 92-degree heat. Denver had four offensive drives in the second half. Each spanned at least 10 plays and ended in a score.
"We're one missed tackle away from the game really being over," said Carr, who completed a career-high 90.6 percent of his passes, finishing 29-of-32 for 288 yards and a touchdown. "That's how close this game is, right? That's why I'm not going to sit here and be too up or too down, honestly. The first two weeks, we've done some really good things, and we've also done some things where you're like, 'Man, I wish we had done that better.'
"We have the recipe for the right stuff, I think, with Coach Gruden, with our offense and (defensive coordinator Paul) Guenther. I think we're on the right track. But we have to — there's no excuse — we have to finish and win football games."
Through two games, that's the point.
More Raiders: Follow all of our Raiders coverage online at reviewjournal.com/Raiders and @NFLinVegas on Twitter.
Contact reporter Michael Gehlken at mgehlken@reviewjournal.com. Follow @GehlkenNFL on Twitter.