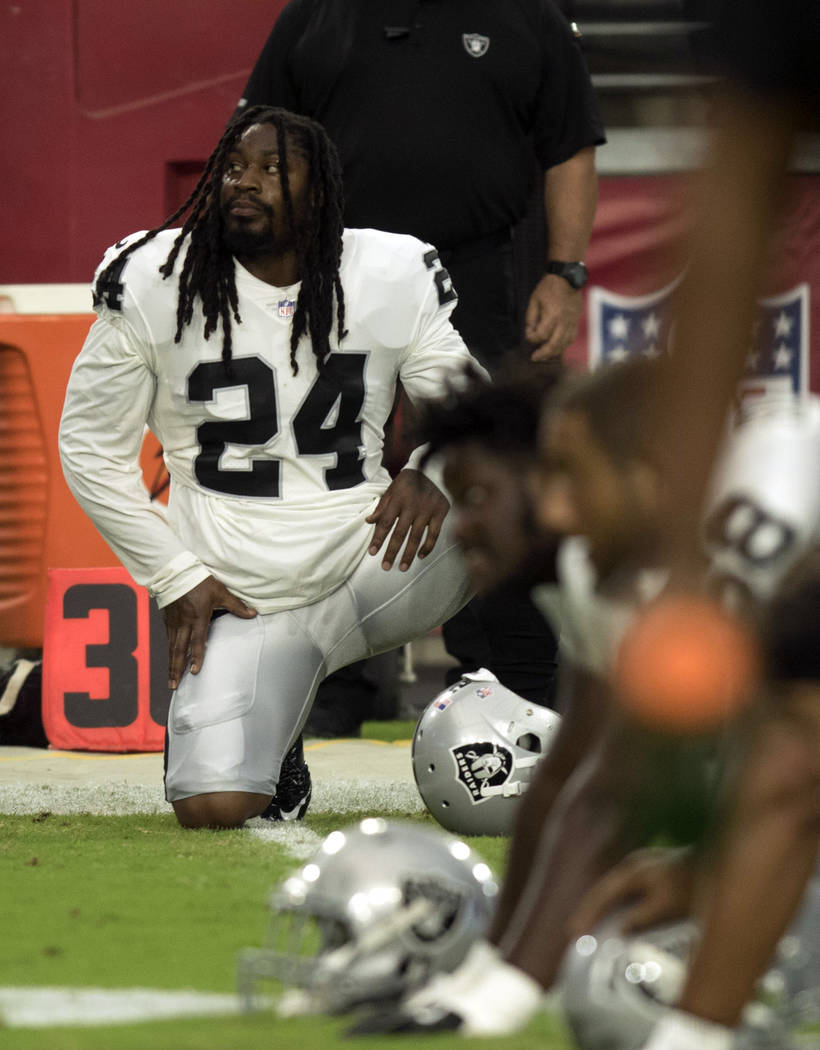 OAKLAND, Calif. — Marshawn Lynch demonstrated the power of his platform Saturday night, as his decision to sit on a sideline cooler during the national anthem of an exhibition game quickly developed into a national story.
The Raiders running back has the public's attention.
How he uses it is up to him.
Lynch is an NFL icon whose philanthropic work in Oakland, primarily his outreach to inner-city youth and families, is well documented. But his reach extends far beyond his hometown. This visibility affords him an elevated voice on social issues should he choose to exercise it.
Many who have sat, knelt or raised a fist during an NFL pre-game anthem in the past year also have verbally conveyed the reason behind their action. A moment, if Lynch wants it, is building for him to do the same.
In 2016, Lynch expressed support for Colin Kaepernick, the then-Niners quarterback who became a polarizing figure after sitting on his team's bench and kneeling on its sideline during pre-game anthems. He was the first NFL athlete to be widely noticed as having protested the anthem.
Kaepernick said he sought to raise awareness of racial inequality he saw in America, particularly as it relates to police violence.
"With what's going on, I'd rather see him take a knee than stand up, put his hands up and get murdered," Lynch said last September on "Conan," a late-night television show. "So my take on it is (expletive)'s got to start somewhere, and if that was the starting point — I just hope people open up their eyes to see that there's really a problem going on and something needs to be done for it to stop.
"And I mean, if you're really not racist, then you won't see what what he's doing as a threat to America, but just addressing a problem that we have."
Saturday's exhibition game against the Cardinals in Glendale, Arizona, was Lynch's first time on an NFL sideline since voicing his support for Kaepernick. The Raiders return to practice Tuesday, when Lynch may or may not speak with reporters, and face the Los Angeles Rams in Oakland on Saturday night.
It is unclear how many times Lynch previously skipped standing for the anthem.
Former NFL wide receiver Andrew Hawkins told Pro Football Talk on Sunday that Lynch did the same in 2015 on multiple occasions. Coach Jack Del Rio referenced a possible track record when paraphrasing a conversation he had with Lynch following Saturday's game.
"He said, 'This is something I've done for 11 years. It's not a form of anything other than me being myself,' " Del Rio said. "I said, 'So you understand how I feel, I very strongly believe in standing for the national anthem, but I'm going to respect you as a man.' … That's a nonissue for me."
Until Lynch speaks himself, little else will be made clear.
The public won't know what stand Lynch seeks to make when choosing to sit. The public won't hear what personal experiences influenced his sideline position. The public will be left to guess what, if any, relation his Saturday action had to the violent clashes between protesters and white supremacists in Charlottesville, Virginia.
Lynch has the freedom to speak his mind. He has the freedom not to. This is his decision.
If he speaks, a national audience awaits.
Contact reporter Michael Gehlken at mgehlken@reviewjournal.com. Follow @GehlkenNFL on Twitter.