Raiders want an answer on Marshawn Lynch before NFL draft
April 21, 2017 - 12:35 pm
Updated April 21, 2017 - 6:29 pm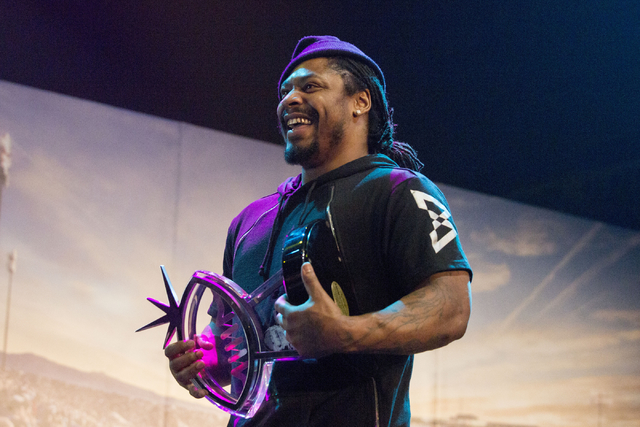 ALAMEDA, Calif. — Answers might be coming on the Marshawn Lynch situation. Soon.
The Raiders held their annual predraft news conference Friday. Six days before an event devoted to hundreds of prospects that General Manager Reggie McKenzie and his staff have scouted, and eight of which he is scheduled to select, McKenzie's comments about a veteran running back arguably were most notable. He said the team wants to know if Lynch is a Raider before the draft begins Thursday.
At least, in an ideal world.
"At some point, you'd like to know," McKenzie said. "Prior to the draft is that point. You'd like to know that. Our door is open, and we're not shutting the door until that time pretty much. Who knows after that? I'm not ever going to say 'never.' But the door is still open."
Lynch, who turns 31 on Saturday, and the Raiders have been in contract discussions for weeks.
He has visited their training facility. He's met their staff. A resolution on the matter is best soon as the Raiders want to know where their running back position stands before making any decisions on the clock.
Overall, this is expected to be a defense-heavy draft for the Raiders. They have one selection in each of the first six rounds and two in the seventh.
Lynch's signing is not as simple as it might be for a typical free agent. For starters, he is not one.
He is a retired player whose rights the Seahawks own. They've granted Oakland permission to negotiate with him. Once a deal is reached, they must either release or trade him before the Raiders officially can acquire him. Seattle is expected to do the latter for a nominal price.
"It's a process," McKenzie said. "It's just not one little thing, one little hurdle. There's a couple of things that have to be done. … I would like to have an answer, but it's not going to be the end all. He's a good back that we like. …We feel good about the young backs we have.
"If we can add another back, we will. We're trying to get some more impact players. If it's Marshawn, if it's whoever, we're going to do it."
Follow all of our Oakland Raiders to Las Vegas coverage online at reviewjournal.com/Raiders and @NFLinVegas.
Contact Michael Gehlken at mgehlken@reviewjournal.com. Follow @GehlkenNFL on Twitter.