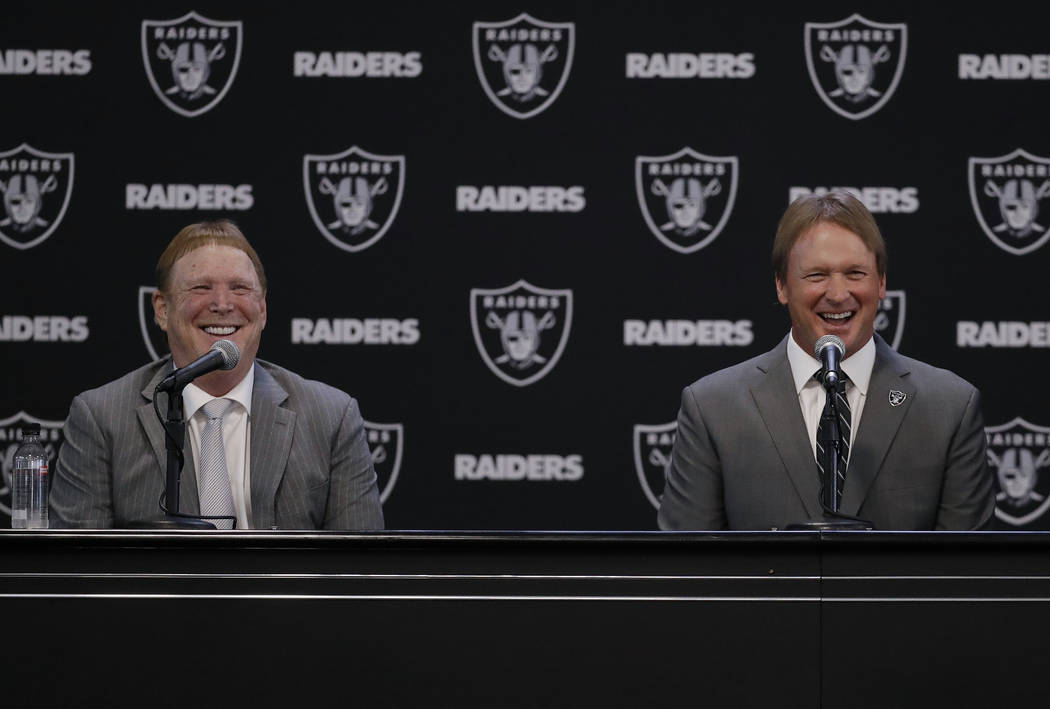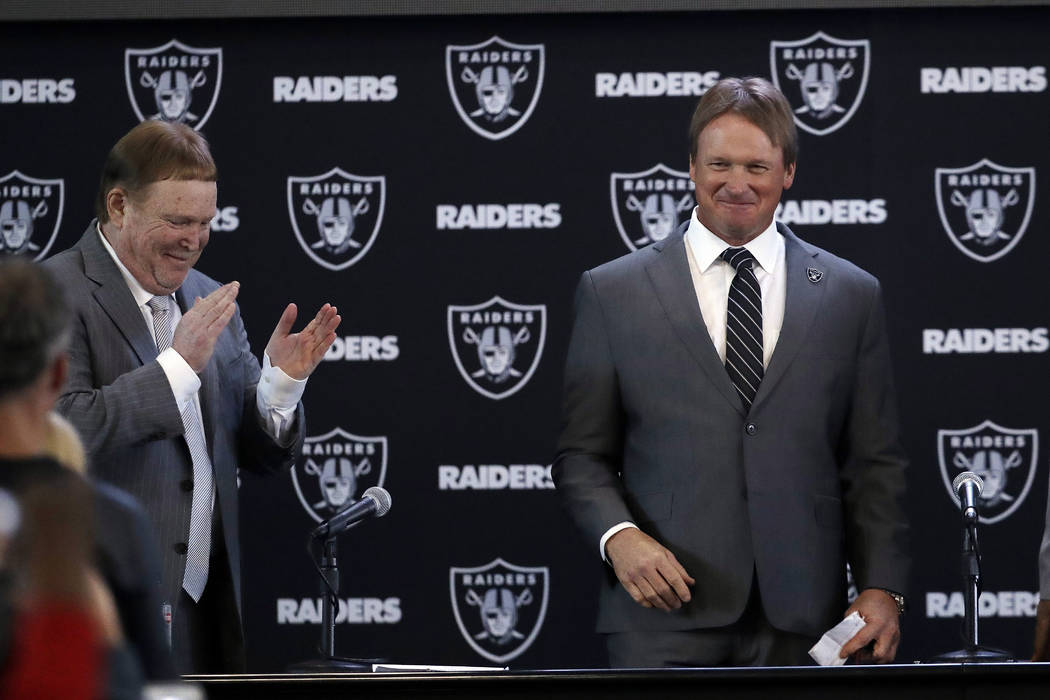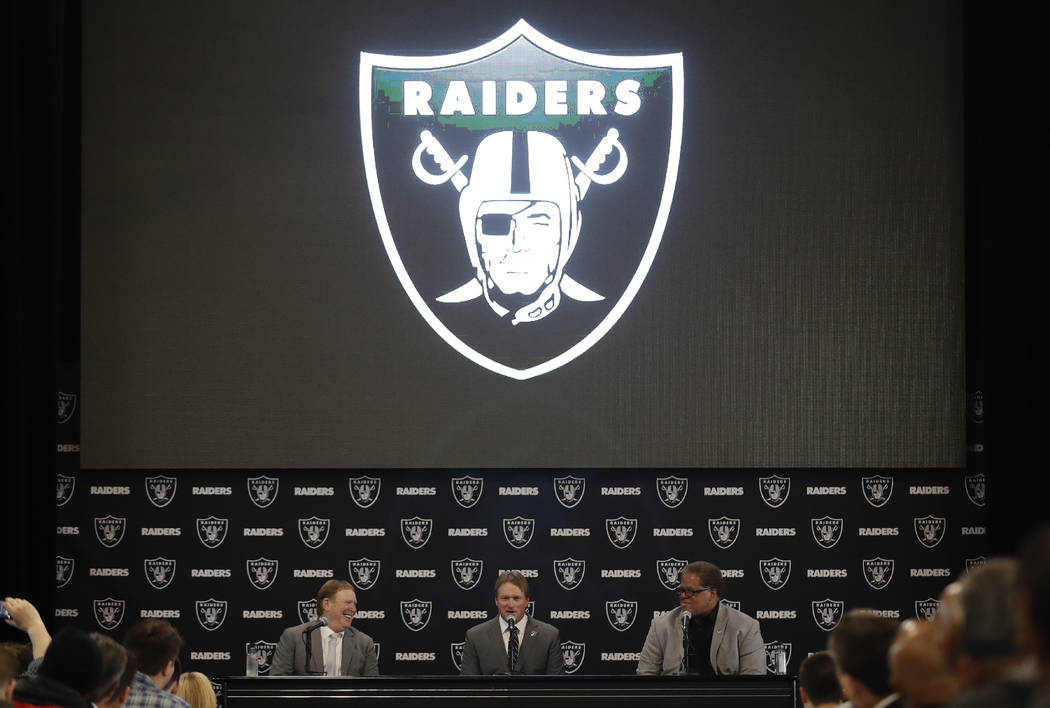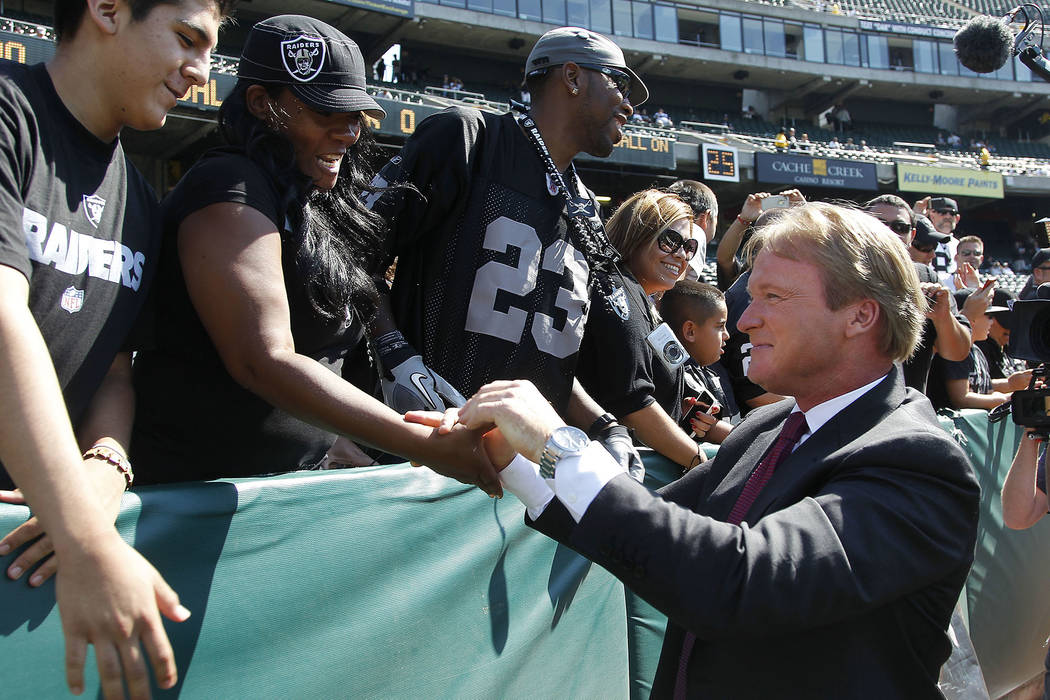 ALAMEDA, Calif. — One hundred fifteen media members were credentialed for a news conference that drew "Event Parking" signs outside Raiders headquarters.
About 50 retired Raiders players attended. Fifteen fans held signs near the facility's entrance.
Around 8:30 a.m., one fan said, Jon Gruden autographed his sign, which read, "Welcome back Chucky" in black marker.
The scene outside Raiders headquarters. Fan says Jon Gruden signed his "Welcome home Chucky" sign today about 8:30 a.m. pic.twitter.com/NboJe5apur

— Michael Gehlken (@GehlkenNFL) January 9, 2018
Not just another news conference.
Not just another coach.
"Raider Nation" owner Mark Davis said seconds before Gruden took stage: "This is a big f-ing deal."
Gruden formally was introduced to the public Tuesday. There was less a sense of a 54-year-old man being hired for a job but rather an overdue reunion and even prodigal coach's return. Gruden made his first comments about his arrival since ending a nine-year tenure Saturday as an ESPN analyst to sign a 10-year, $100 million contract with the NFL team.
He initially joined the franchise in 1998 at age 34. He remained there through the 2001 season before being traded to the Tampa Bay Buccaneers. Gruden won a Super Bowl the next year over the Raiders. He hasn't coached in the league since 2008.
"I never wanted to leave the Raiders," Gruden said. "I never thought I'd be back. … I feel a lot of unfinished business. I feel a lot of loyalty, and I feel a lot of responsibility to get the Raiders going again. It's been awhile since we consistently performed at a high level, and that's really all I care about."
Gruden said he will call offensive plays from the sideline, a role he's held in the past. He also confirmed the hirings of defensive coordinator Paul Guenther, offensive coordinator Greg Olson and special teams coordinator Rich Bisaccia. More interviews will be Wednesday morning, Gruden said.
This was a long time coming for Davis.
He attempted more than once to lure Gruden back onto the Raiders' sideline. That included leading up to the 2014 hiring of coach Jack Del Rio, whom Davis fired Dec. 31 after a 6-10 season to add Gruden.
Davis' father, Al Davis, died Oct. 8, 2011. Shortly afterward, his son addressed reporters.
"I said the one thing I know is what I don't know, and I'm going to surround myself with the people that do know those things," Mark Davis said. "My vision at that time was Jon Gruden to coach this football team and (general manager) Reggie McKenzie to bring in the talent. It took me six years of chasing Jon.
"But every trip I made to Tampa Bay, I sat down in the Fired Football Coaches Association room and saw the work that Jon does every day starting at 3 in the morning. Watching film. Marking down plays. How much he enjoys it. And over the six years that passion never waned. He's continually doing it, and I continually tried to convince him that he's wasting his time teaching everybody out here how to play football, that he should come back and that he should do it with a football team in the National Football League, and if he's gonna do it, he should do it with the Raiders."
Added Davis: "It is the biggest day of my life right now to have him here to run this organization and be the leader of this organization on the field. It's going to be phenomenal. I'm excited."
Raiders alumni who attended the ceremony included two Pro Football Hall of Fame wide receivers under Gruden — Tim Brown and Jerry Rice — and retired defensive back Charles Woodson.
In a moment of levity, Woodson asked Gruden if his contract includes a no-trade clause. It does, Gruden said.
Gruden's introduction was inside the team's weight room to account for the large number of people who attended. There were 230 chairs with a standing section for 25 video cameras.
Before hiring Gruden, the Raiders interviewed two minority candidates to be compliant with the Rooney Rule, McKenzie said. They were Southern California offensive coordinator Tee Martin and Raiders tight ends coach Bobby Johnson.
More Raiders: Follow all of our Raiders coverage online at reviewjournal.com/Raiders and @NFLinVegas on Twitter.
Contact reporter Michael Gehlken at mgehlken@reviewjournal.com. Follow @GehlkenNFL on Twitter.