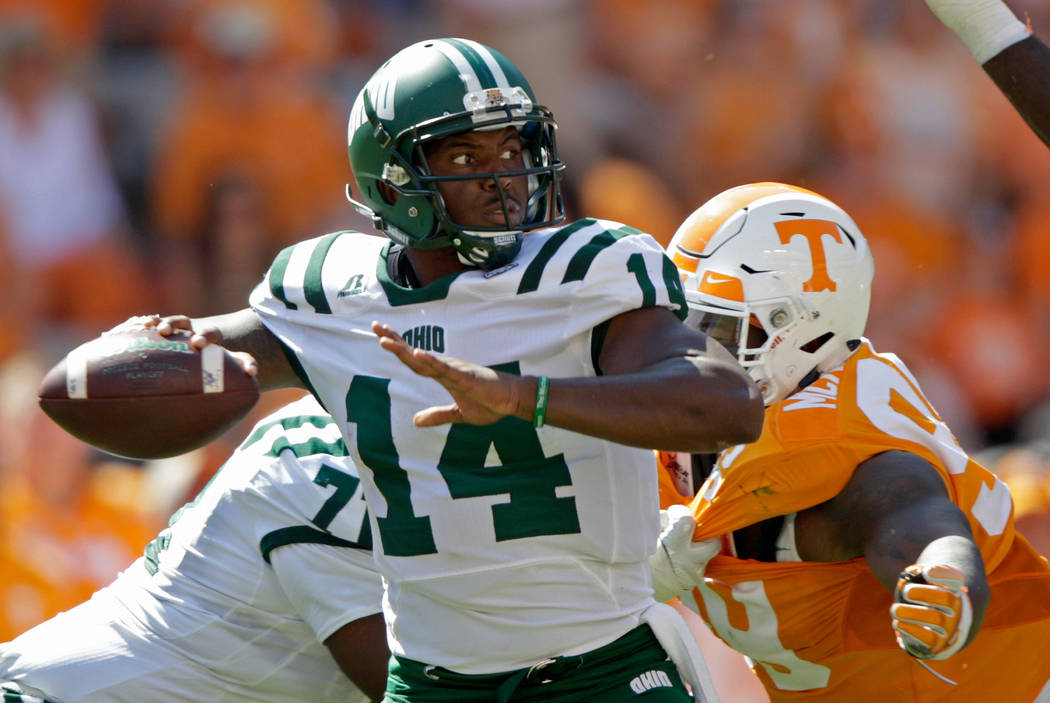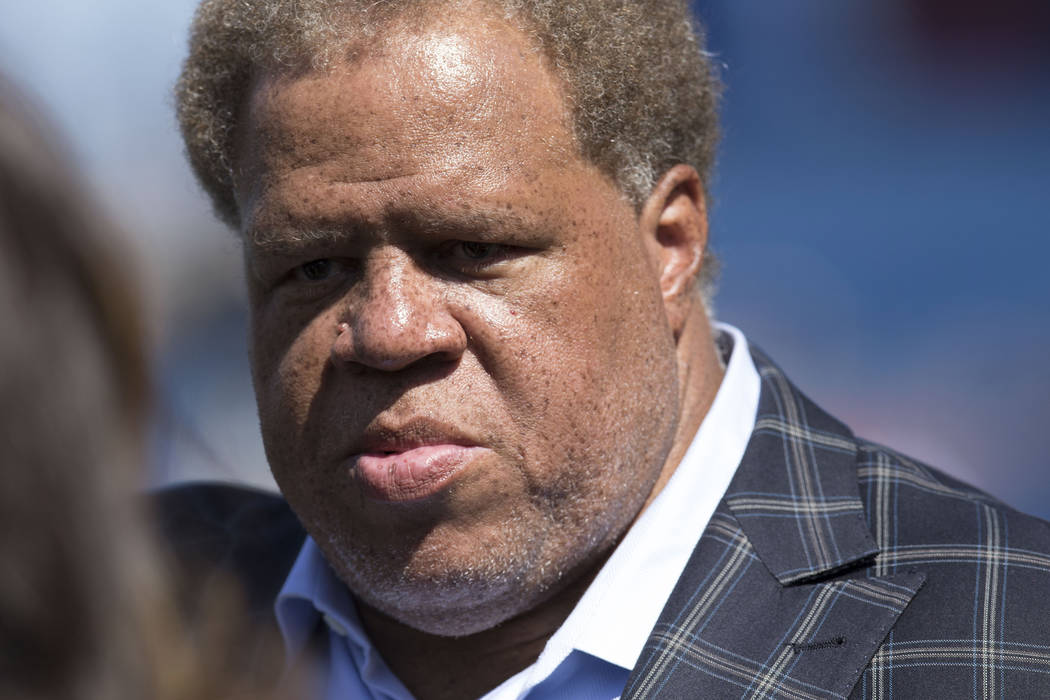 INDIANAPOLIS — Kahlil McKenzie grew up around this.
He attended NFL practices and games. He roamed various team headquarters. He interacted with some of the league's greats. Those include Raiders defensive end Khalil Mack, with whom he shares an inside joke, each calling the other "the real Kahlil," McKenzie said.
And so Saturday, the former Tennessee defensive tackle displayed a polish beyond his 21 years. Reporters looked to learn whether he's met or will meet with the Raiders this week at the NFL scouting combine. Reggie McKenzie, his father, is their general manager. Raleigh McKenzie, his uncle, is a team scout.
"I'm meeting with a lot of teams," Kahlil McKenzie said vaguely. "Just meeting with everyone."
Did he meet with the Raiders on Friday night?
"Meeting with a lot of teams," McKenzie said.
Is that a no comment?
"Yeah," he said with a laugh.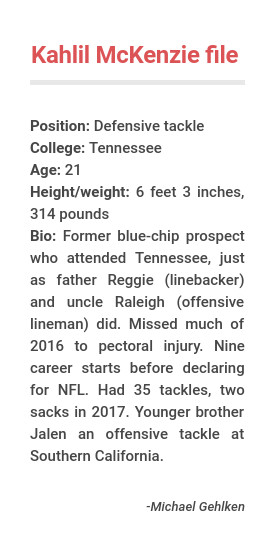 His father taught him well. McKenzie will participate in an on-field workout Sunday at Lucas Oil Stadium, competing in position drills and such timed tests as the 40-yard dash. Regardless of family ties, Reggie would scrutinize these drills. Because of the link, he said that he'll watch with an especially critical eye.
He added that he believes his son is ready.
"He's been around football all his life," Reggie said Wednesday. "He's been walking through the halls of Lambeau (Field). He's been on the practice field. It's nothing for him, but it's new for me to have to watch him on tape and evaluate him and put him on the draft board. That's a weird feeling. There's not a whole lot more that I can tell him that he didn't already know because he's an extrovert personality.
"He's always talking to people, unlike his father. He's fired up for this. … It'll be interesting to see him go through the process and watch him work out."
Kahlil said his father's main advice was to "stay humble through everything" and "work hard."
Road started in Wisconsin
Reggie worked for the Green Bay Packers' scouting department and front office from 1994 to 2011 before becoming the Raiders' general manager in 2012.
On Jan. 3, 1997, Kahlil was born. He recalled often relaxing in his father's office in Green Bay, combing through myriad reports about the draft or an opposing team's players.
He memorized players' height and weight listings, 40-yard dash times, wing spans and other measurements that he will have left Indianapolis on Sunday having logged for himself.
"My mom would come and say, 'Reginald! Your son knows the whole 'Game Days' front and back,'" Kahlil said. "That's when my love kind of started. We'd always just sit there. We're talking about this guy, that guy. When I was in high school and he got the GM job, I'm predicting who he might draft. That's a little game we liked to play in the family."
Reggie never directly coached Kahlil.
Rather, the elder said he preferred to coach him "from afar," allowing room for his love for football to develop at its own pace.
Among Kahlil's fondest memories, he was 14 when he stepped onto the field at AT&T Stadium in Arlington, Texas, just as red, white and blue confetti fell on a Super Bowl victory for the Packers over the Pittsburgh Steelers on Feb. 2, 2011.
With this combine and the April 24 to 26 NFL draft, a new chapter has begun.
Soon, it will be Kahlil's own practices and games he attends. It will be his headquarters that he roams. NFL greats will be his teammates. Perhaps someday, he will play in a Super Bowl. After choosing to declare for the draft as a junior, he can leave his mark as an expected selection on the final day, rounds four to seven.
"I'm Kahlil McKenzie. That's what they're getting," he said. "They aren't getting my dad. They're getting me."
Contact reporter Michael Gehlken at mgehlken@reviewjournal.com. Follow @GehlkenNFL on Twitter.