AJ Cole interviews Daniel Carlson in Raiders Q&A for RJ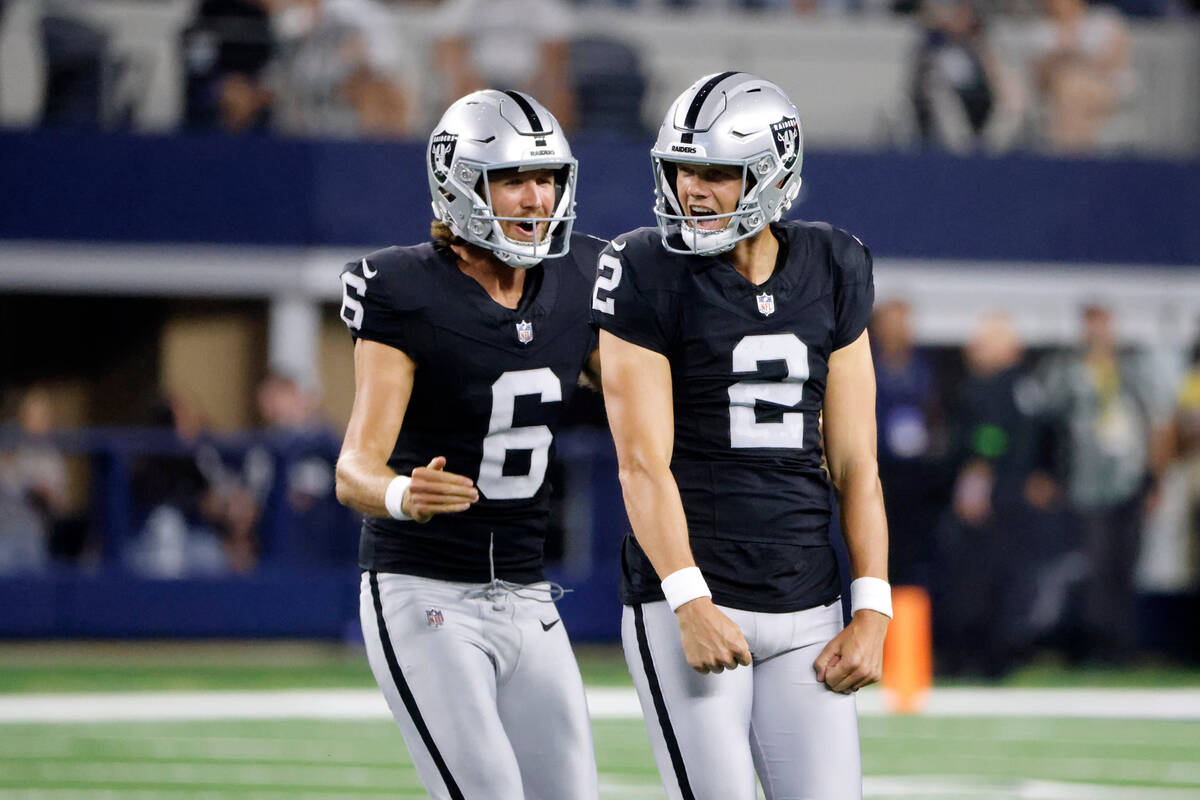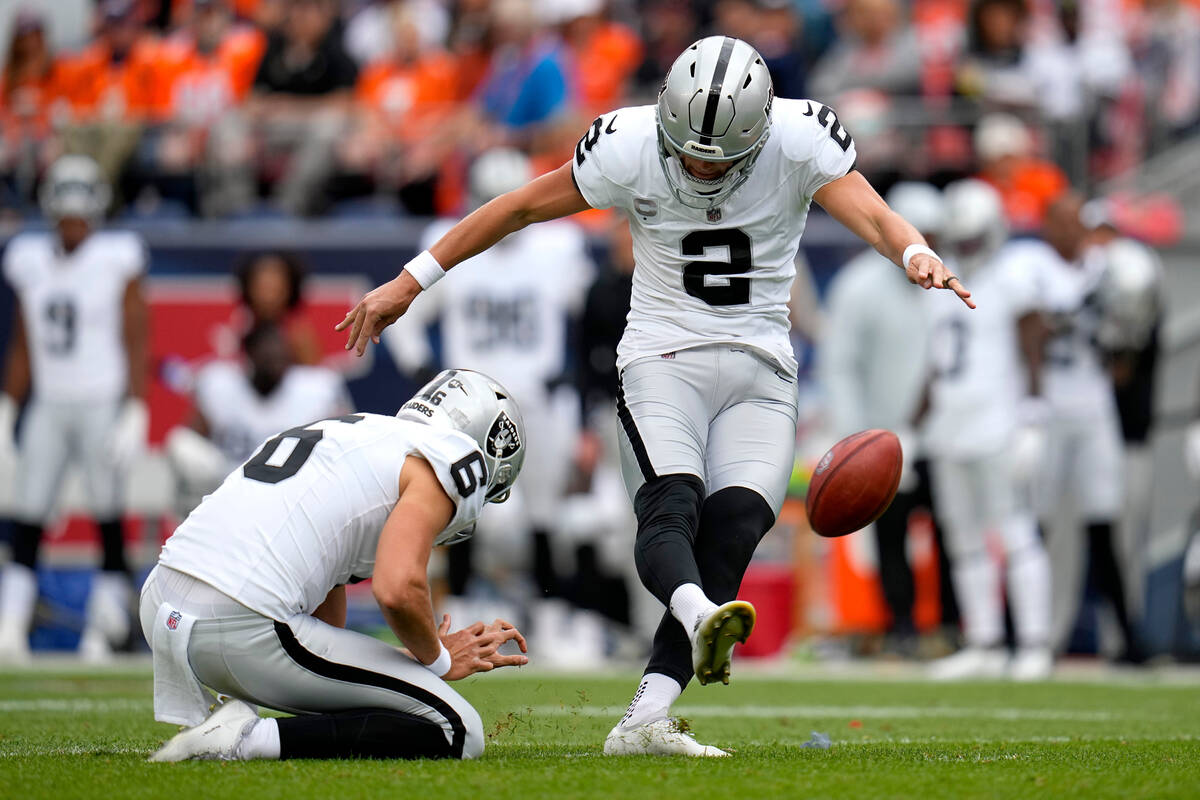 WHITE SULPHUR SPRINGS, W.Va. — AJ Cole and Daniel Carlson form perhaps the NFL's best punter and kicker combination.
The Raiders' dynamic duo also spends a lot of time together getting to know each other through often bizarre but always entertaining conversations.
So for this week's Q&A, the Review-Journal asked Cole to put on the interviewer cap and interrogate his friend on a variety of topics from kicking philosophy to vegetables he would relegate to the practice squad.
Yeah, it gets weird.
So here's Cole's questions to the man he holds for on field goals and the answers provided by one of the league's best kickers.
Cole: Do you get more nervous for your own field goals or watching your little brother (Anders of the Green Bay Packers) kick?
Carlson: My little brother, and it's not even close. It's much like I would imagine watching your kids play a sport where you really want them to succeed, but you have no control. I like being in the driver's seat, not sitting shotgun.
Cole: All sports competition between you and me. We're talking Frisbee golf, we're talking putt-putt, archery …
Carlson: Let me cut you off. It's me, and it's not close.
Cole: Everything. Basketball, pool, cornhole. Everything combined. Me and you. All sports, who's the better athlete?
Carlson: We've had this discussion a lot. I think it's me; you think it's you. Maybe one day when we retire from this job, we can go battle it out and you'll find out.
Cole: OK, field-goal kicking is the sport, or the facet of a sport, that you are best at. What do you think is the sport you're worst at?
Carlson: Gymnastics. I can do a backflip into water, but I've never done it on like a trampoline or anything.
Cole: The only difference is trust.
Carlson: Yeah, I don't have the confidence.
Cole: Or the mental fortitude?
Carlson: Not at that.
Cole: OK, we're going to go with the start, bench or cut game. Broccoli, asparagus, cabbage. Go.
Carlson: Each one has some issues and some good attributes. I'm going to cut cabbage. Start broccoli. Benching asparagus. I might elevate it from the practice squad. It depends what kind of garnishing it has on it.
Cole: What is the last thing that goes through your head right before the ball is snapped on a field goal?
Carlson: Hit it.
Cole: What about a kickoff?
Carlson: Murder it. We can get a little more aggressive on the kickoff. On a field goal, it's more consistent. On a kickoff, there's some factors. Touchback, no touchback, wind, weather, placement. But I like when it's a smash-it type situation.
(Long-snapper Jacob Bobenmoyer walks by and makes a chicken sound.)
Cole: OK, Bob just clucked, so what do you think the most overrated farm animal is?
Carlson: I actually just watched 'Babe,' the movie about the pig. It had no purpose besides to eat, is what I learned in the movie. But they do taste delicious. Is a turkey a farm animal? I don't like them. But people do hunt them here in West Virginia, so I'll go with that.
Cole: One sentence, no commas or conjunctions to describe your attitude about field-goal kicking. Go.
Carlson: When I get to kick a field goal, I feel like …
Cole: There's a comma there.
Carlson: Helping the team by doing something I have fine-tuned over and over again. Is there a comma in that?
Cole: Which article of clothing best represents you and encapsulates who you are as a man?
Carlson: A drop cut, plain-colored T-shirt. Comfortable athleisure wear.
Cole: Very boring.
Carlson: Mild and sleek.
Cole: Boring.
Cole: We're practicing at Greenbrier resort this week. What is your high, what is your low and what is your 'Wow?'
Carlson: The high has been the camaraderie (slightly mispronounced).
Cole: Cama what?
Carlson: Camaraderie (laughter). That's a tough word. Wow is the scenery. The hills, the forest, the greenery we sometimes miss in Las Vegas. The low, I'd say this locker room smells kinda tough. There's a lot of bathrooms right in one spot with not a lot of air flow. I appreciate our facility back home.
Contact Adam Hill at ahill@reviewjournal.com. Follow @AdamHillLVRJ on X.