Derek Carr, Raiders roll past Eagles, take 1st in AFC West
Updated October 24, 2021 - 7:37 pm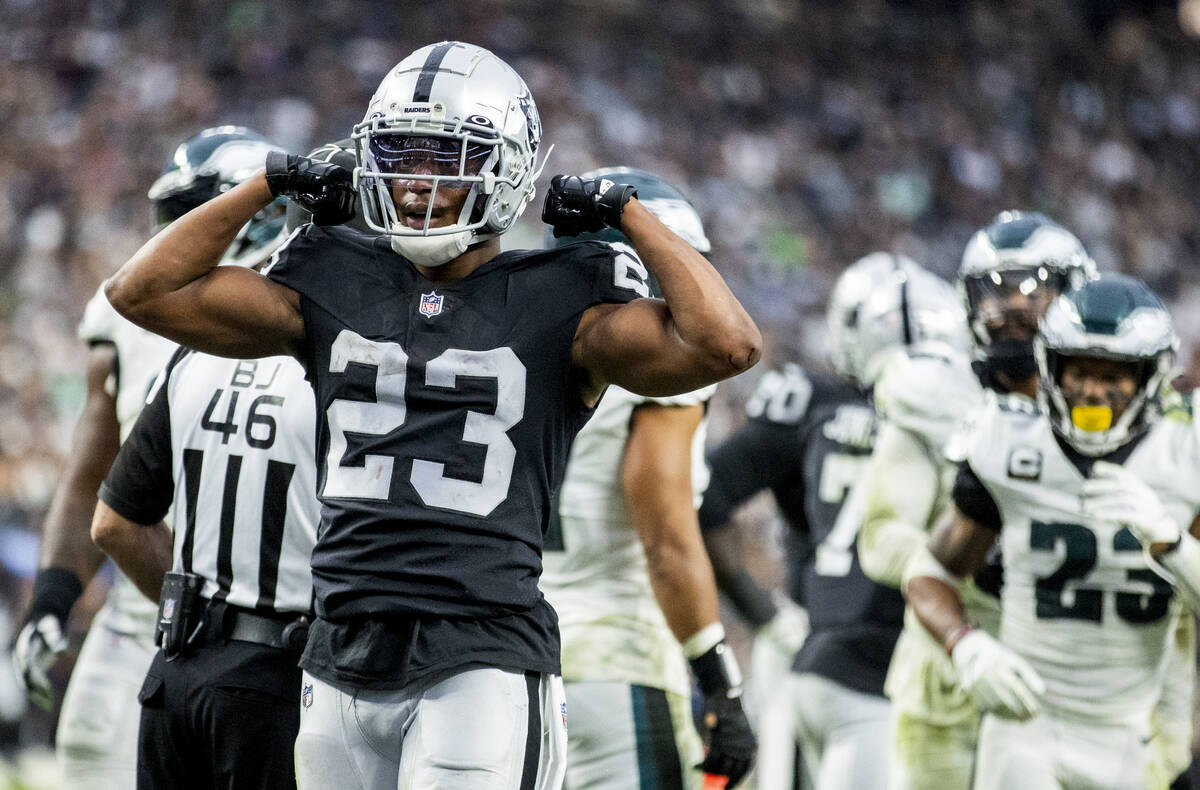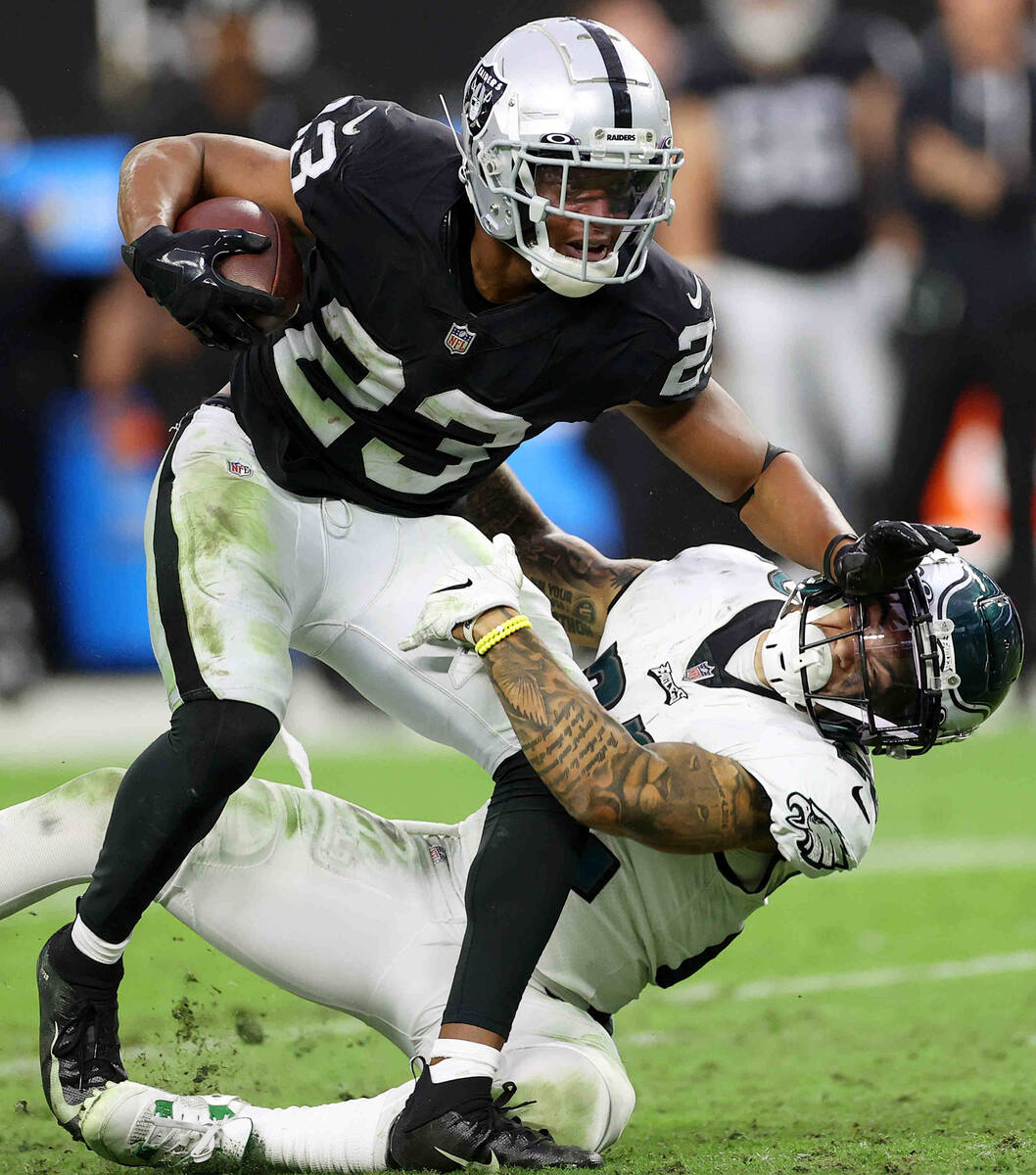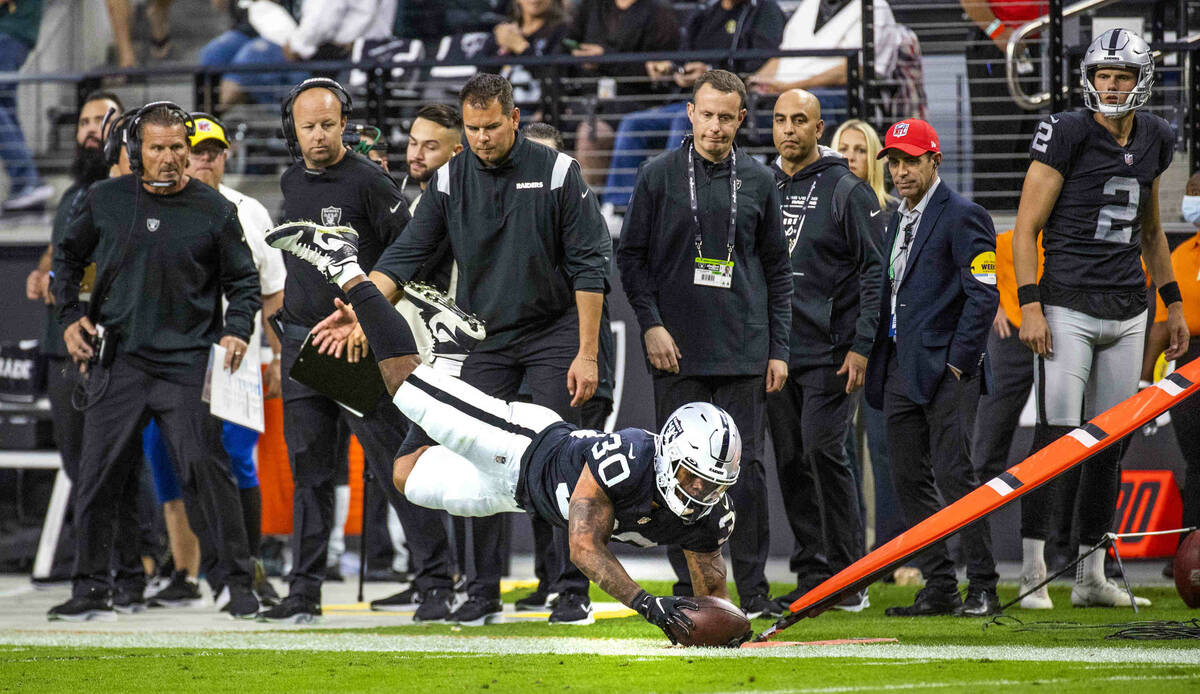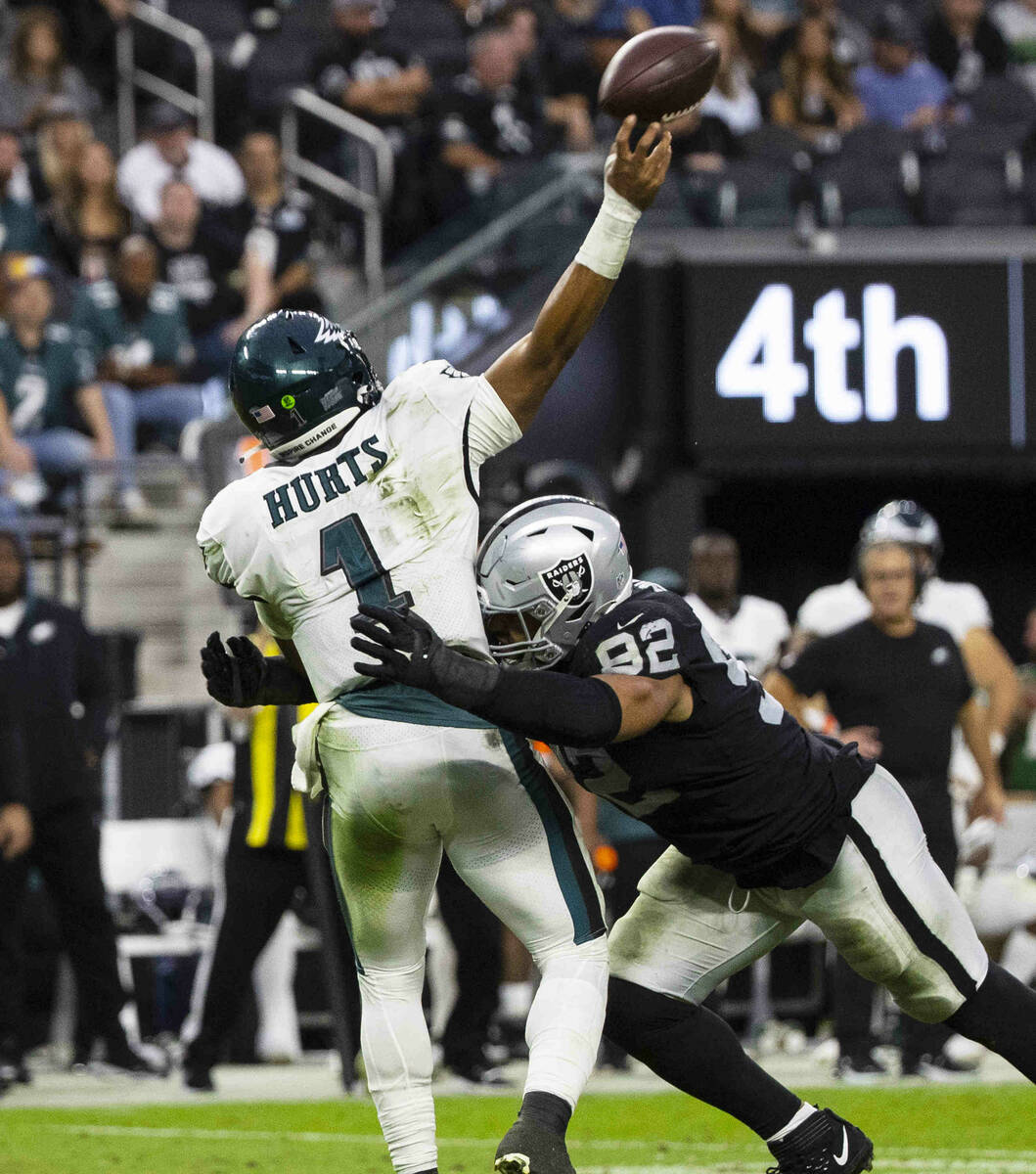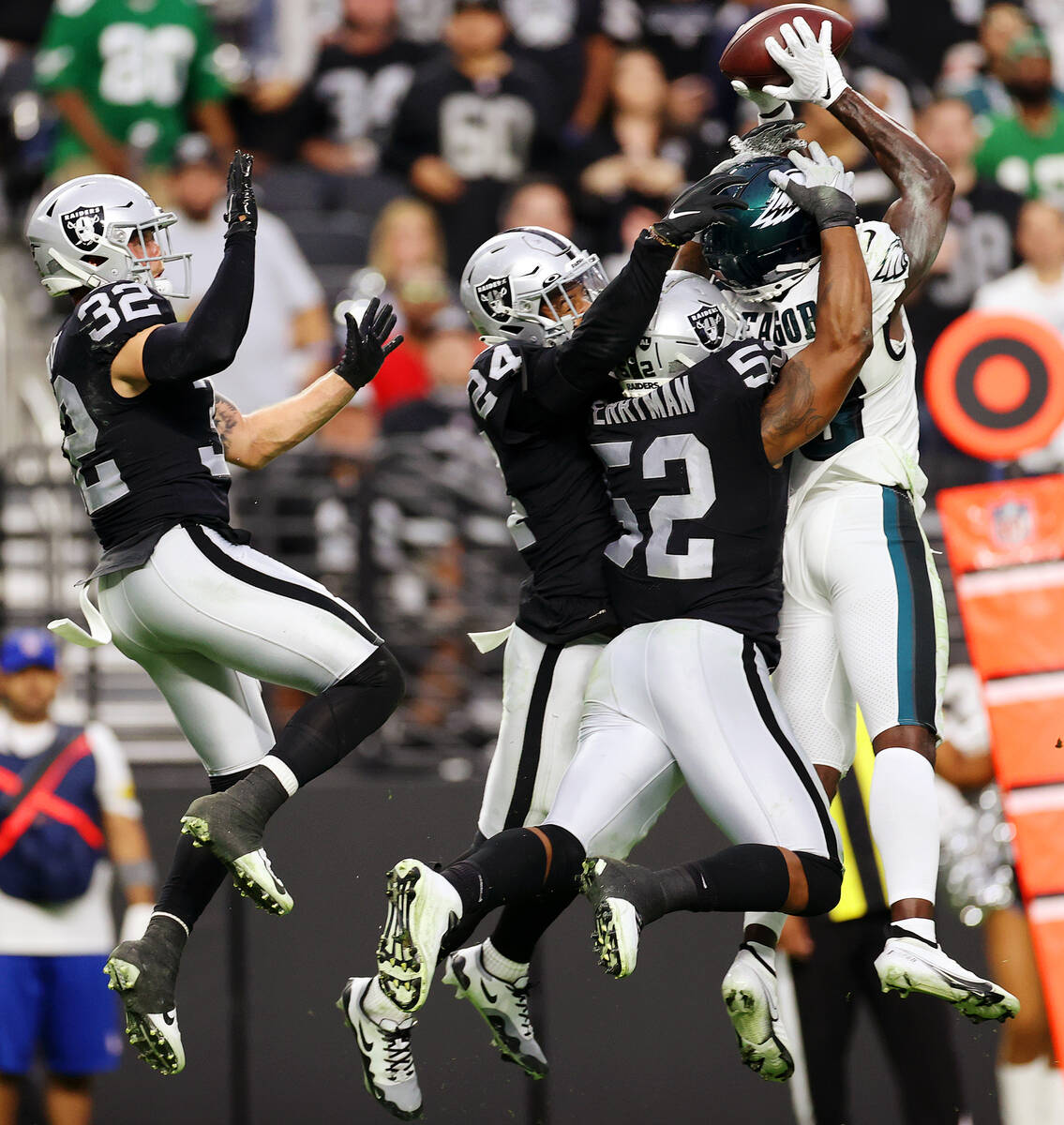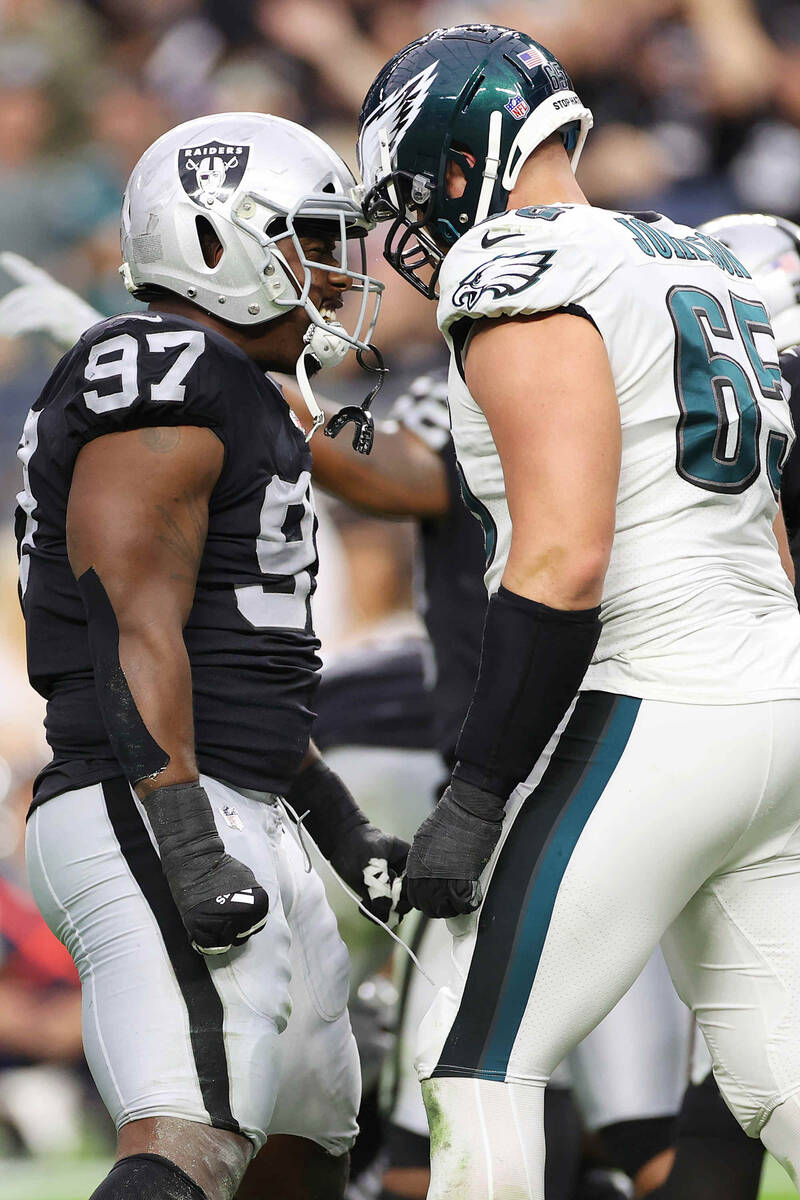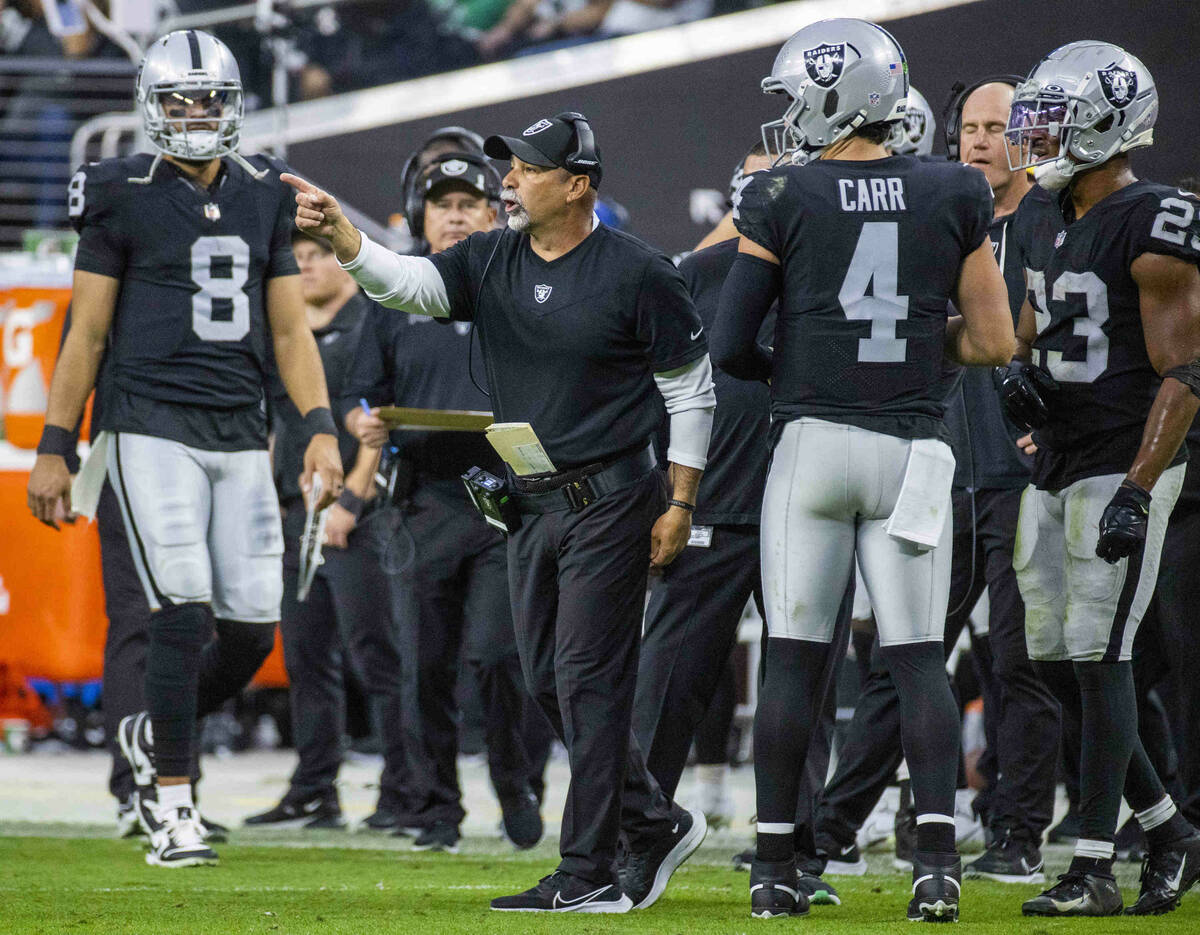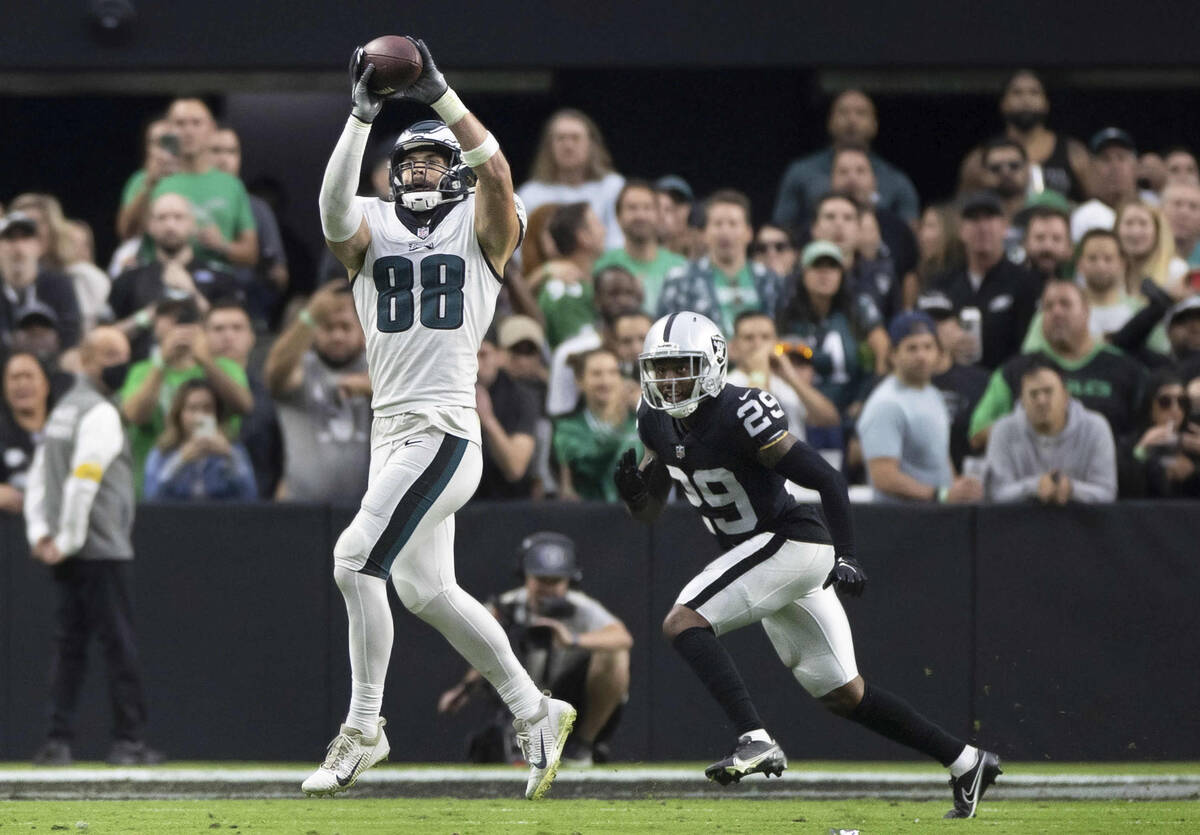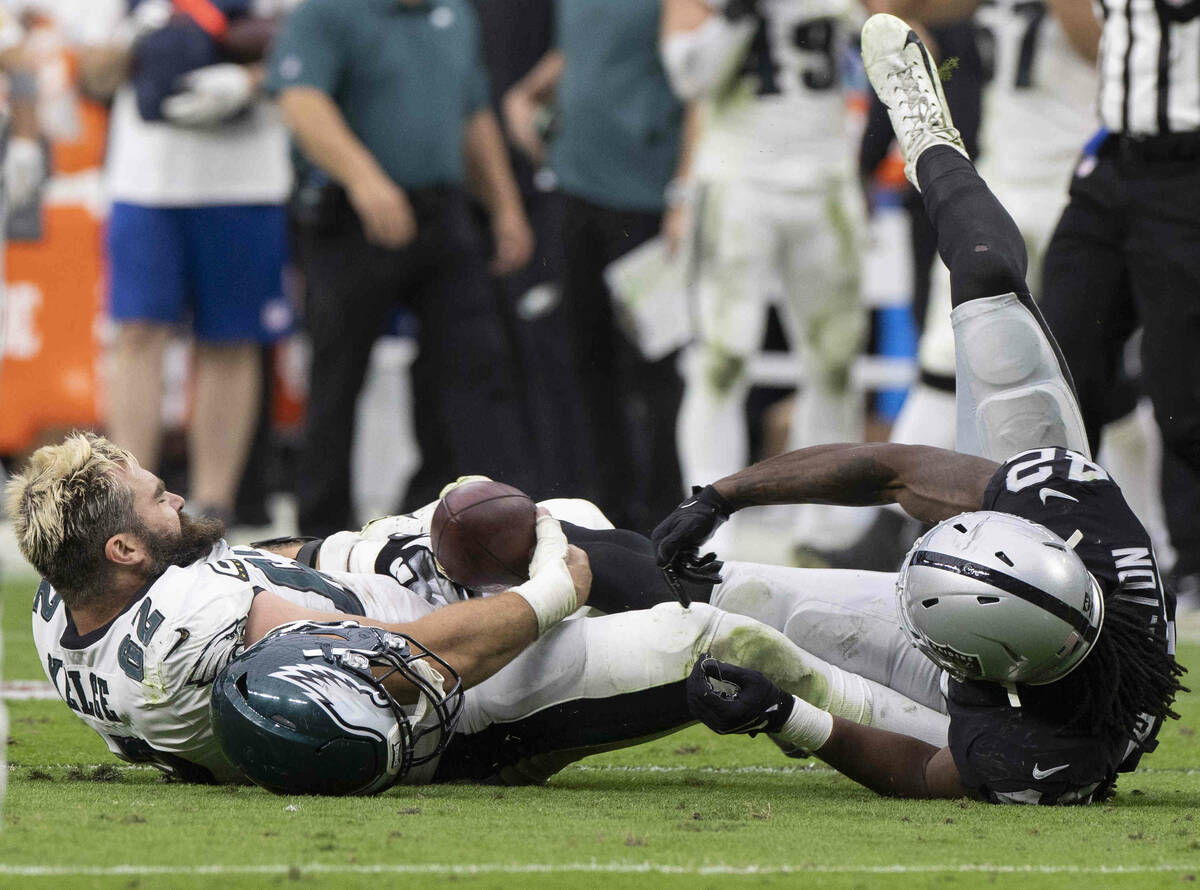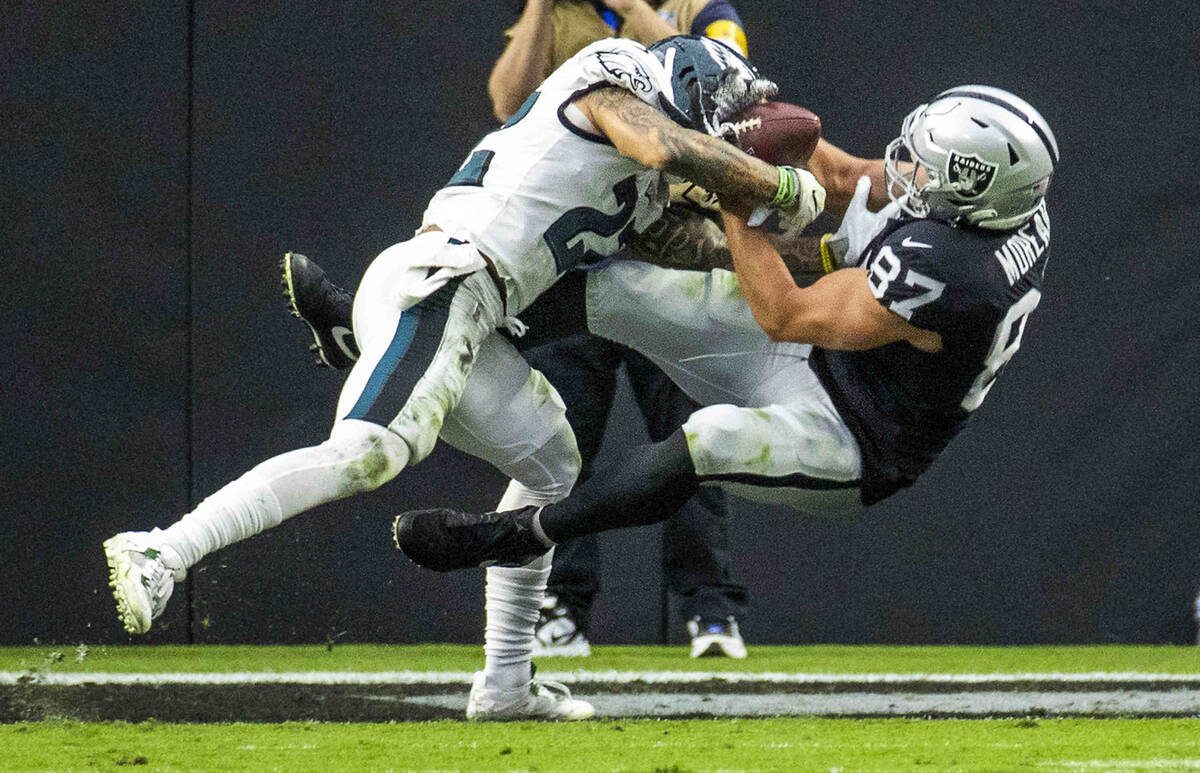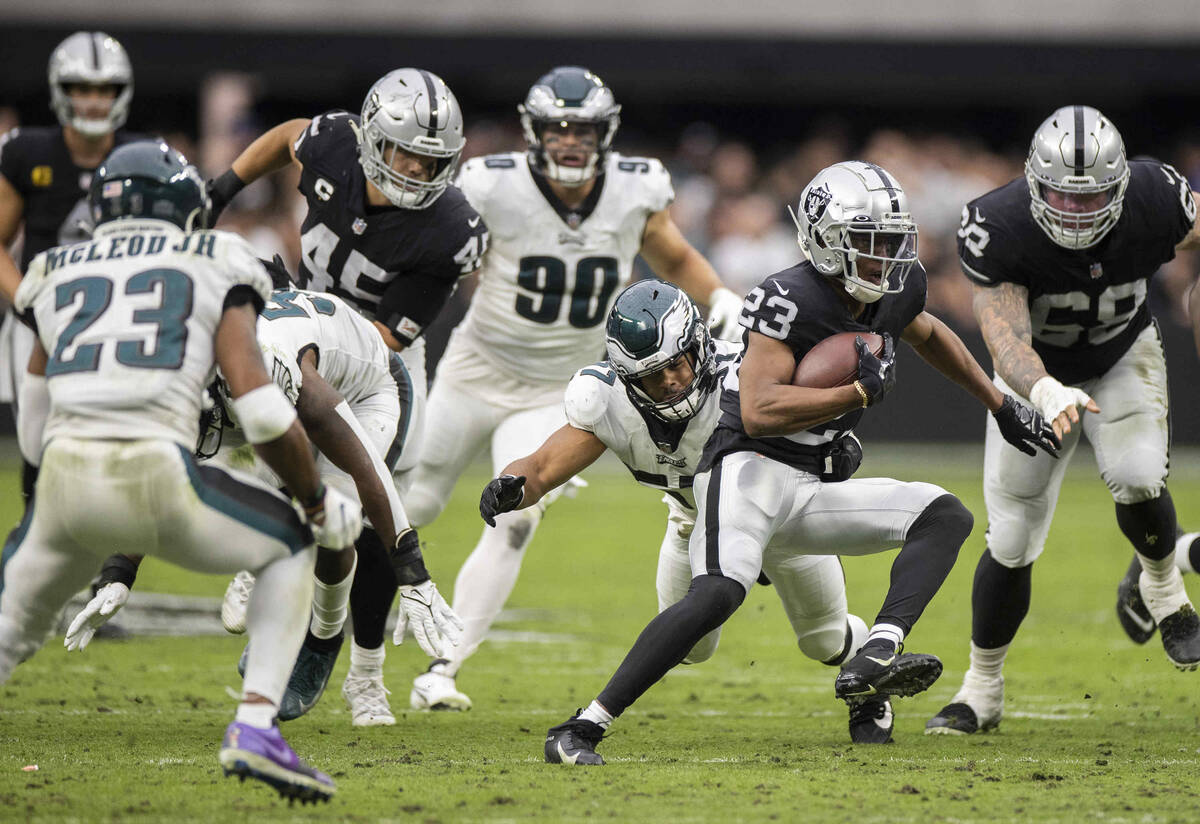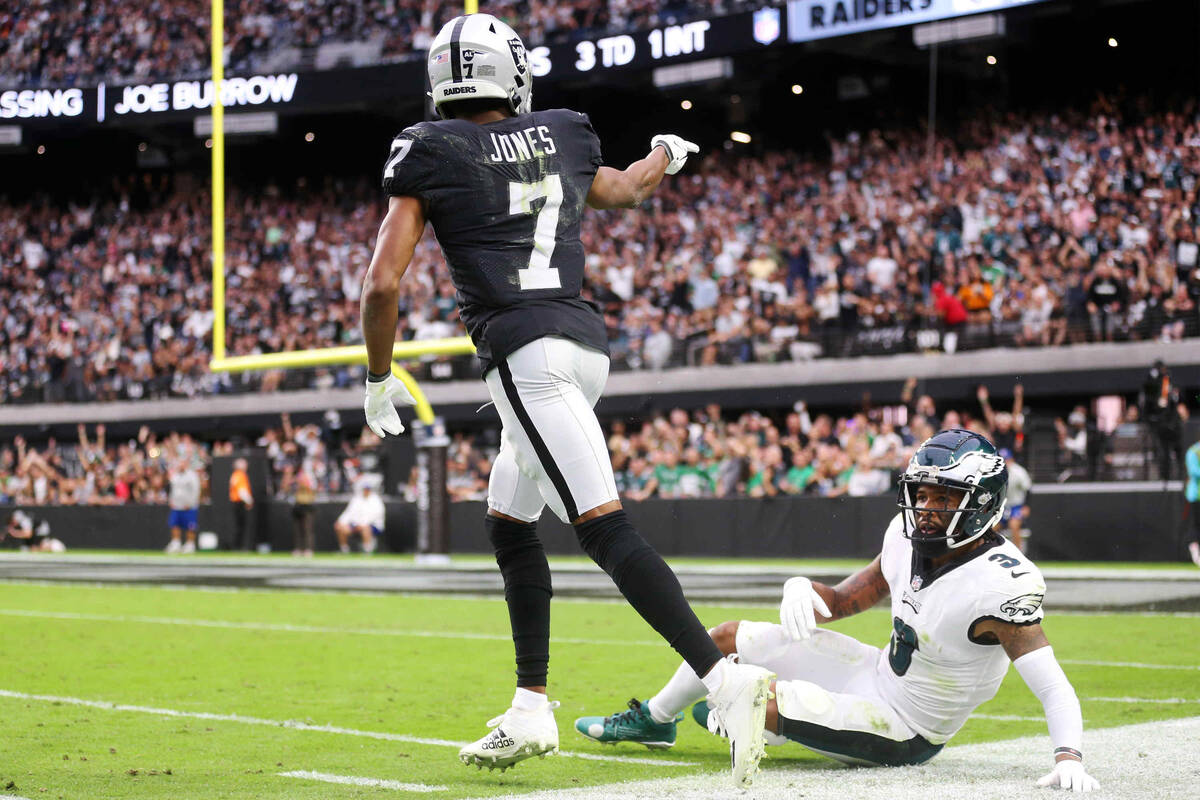 Teetering to the point of potential collapse two weeks ago, the Raiders did an un-Raiders thing.
Instead of falling flat on their faces as so many assumed, they mapped out a path that would deliver them to their bye week surging rather than slumping. The journey was completed Sunday when they thumped the Philadelphia Eagles 33-22 in a performance every bit as commanding as their win over the Denver Broncos seven days ago.
The Raiders (5-2) hit the bye week tied for the AFC's best record.
They have done it behind a quarterback playing some of the best football of his career, a young offensive line that is growing up and a defense making timely plays.
This is a team in complete contrast to the one that was mired in controversy over Jon Gruden's resignation — and a losing streak two weeks ago — and the one so many thought was on the verge of face plant.
But the Raiders always saw it differently.
"We have a great team," left tackle Kolton Miller said. "And we know that."
Getting it back on track began with a team meeting immediately after the Gruden bombshell in which they laid bare their thoughts, goals and objectives. The first order of business was to focus on one immediate goal.
"We have to be 5-2 at the bye," quarterback Derek Carr said. "Be 5-2 at the bye, let's get some rest, get healthy and let's go on a run."
The result has been back-to-back dominating performances, culminating in Sunday's victory that showcased all of their weapons and a suddenly stingy defense that has shown marked improvement from last season.
"We did the first part right," Carr said.
The highlights were everywhere:
— Carr completed 31 of 34 passes for 323 yards and two touchdowns. His 91.2 completion rate is a career high. And, for the second straight week, his game-planning and play-calling collaboration with offensive coordinator Greg Olson was next level.
"When you have a quarterback that's that cerebral, dissecting a defense, understanding presnap looks, getting us to the right play whether we need to get to a pass or a run, it just makes the game flow so much easier," running back Kenyan Drake said. "It's like having a coach on the field."
— Nine players got involved in the passing game, including six catches and one highlight-reel touchdown grab by tight end Foster Moreau. He was a late replacement for fellow tight end Darren Waller, who was scratched because of an ankle sprain.
The offense essentially runs through the ultra-talented Waller, but even without one of the most dangerous weapons in the NFL, the Raiders didn't miss a beat because of Moreau.
"We've got a special group of guys," Moreau said. "They understand the mission. Unfortunately, the lines got a little crossed.
"But those guys are really special, and they absolutely picked it up and rallied around each other. And we've been blessed to find ways to win the past two weeks."
— Defensive end Yannick Ngakoue was a force off the edge while collecting two sacks. The constant pressure he created supercharged a defense that denied the Eagles points on six consecutive possessions between the first and third quarters and allowed Carr and the offense the time to build a 30-7 lead.
"That's the formula. That's the winning recipe," Carr said. "We gotta play together. We can't just be one-sided. It's gotta be all three phases. For the last two weeks, we've played all three phases really well."
Contact Vincent Bonsignore at vbonsignore@reviewjournal.com. Follow @VinnyBonsignore on Twitter.