Jimmy Garoppolo 'can't wait to get started' as Raiders' new QB
Updated March 17, 2023 - 5:09 pm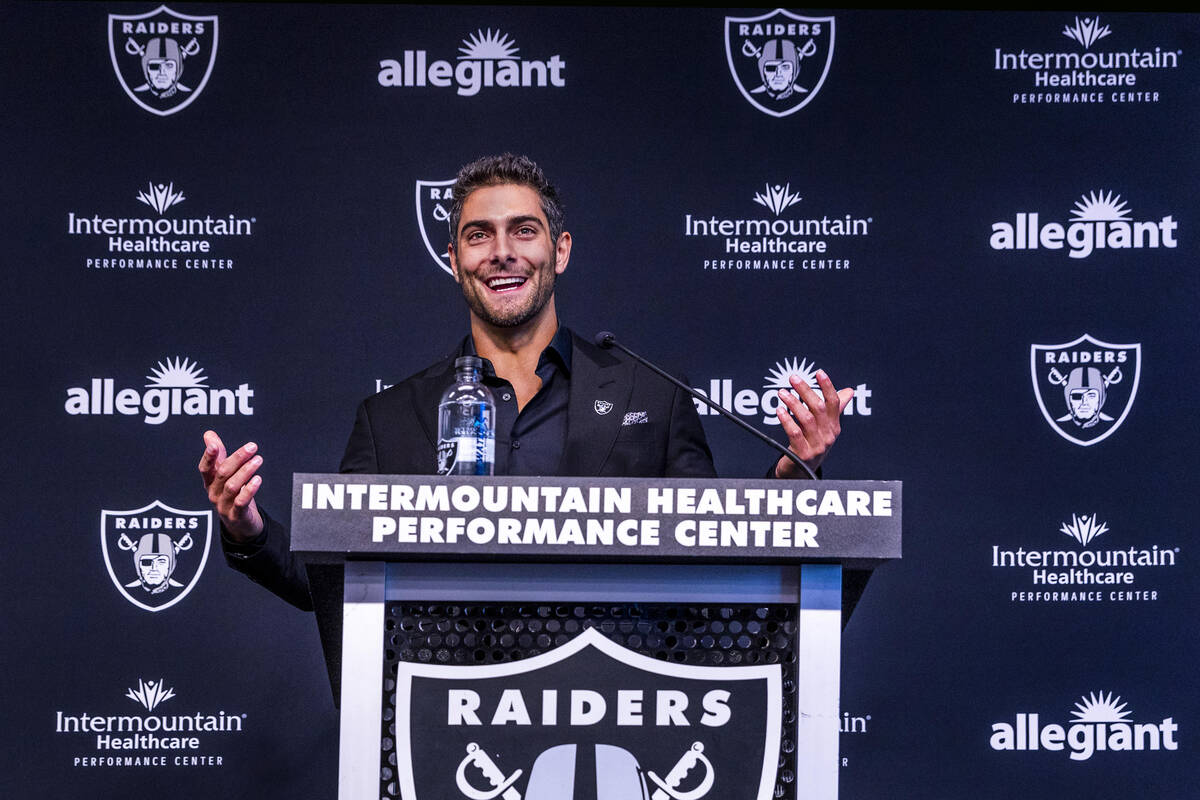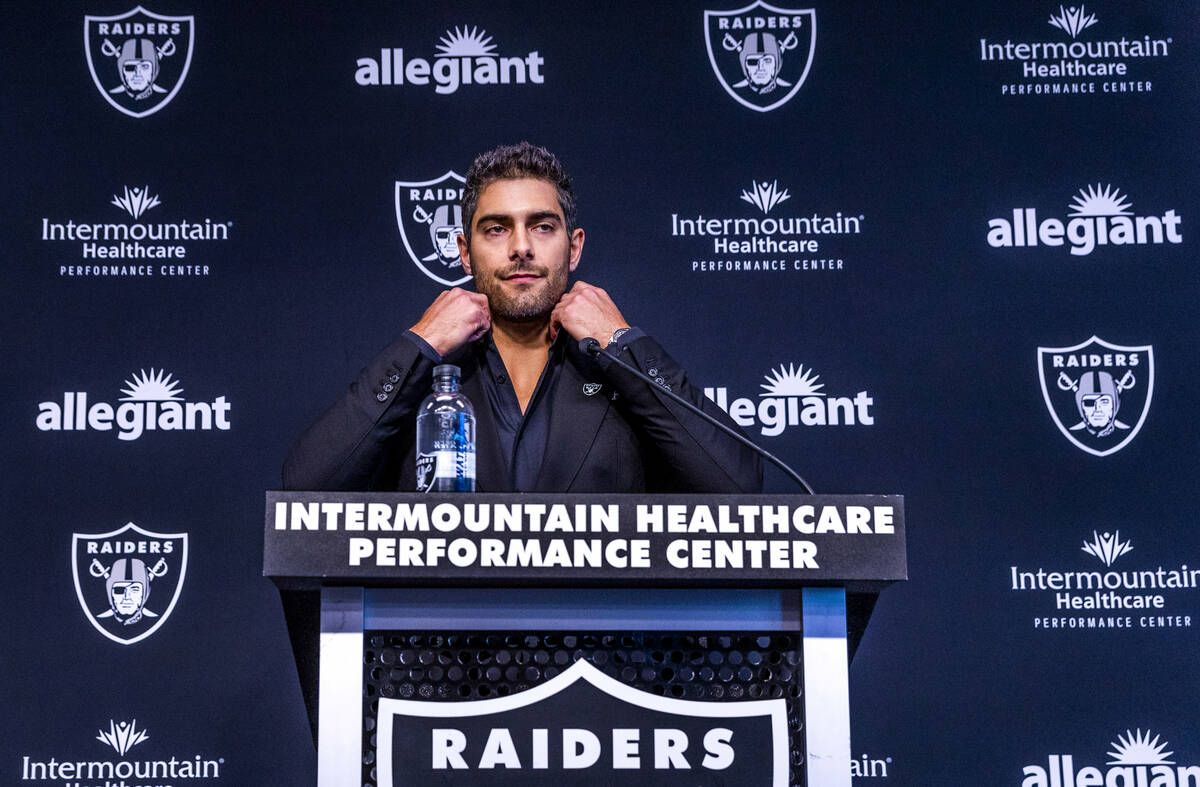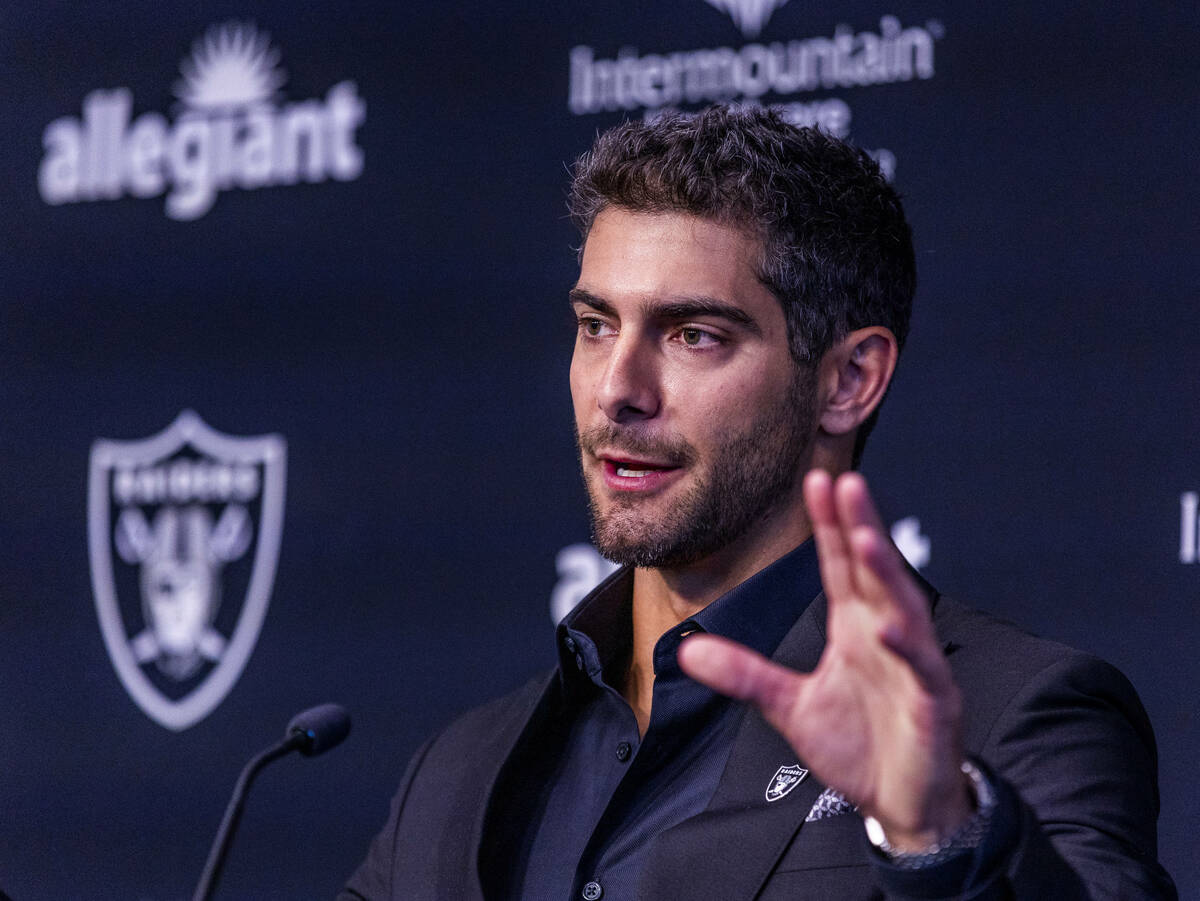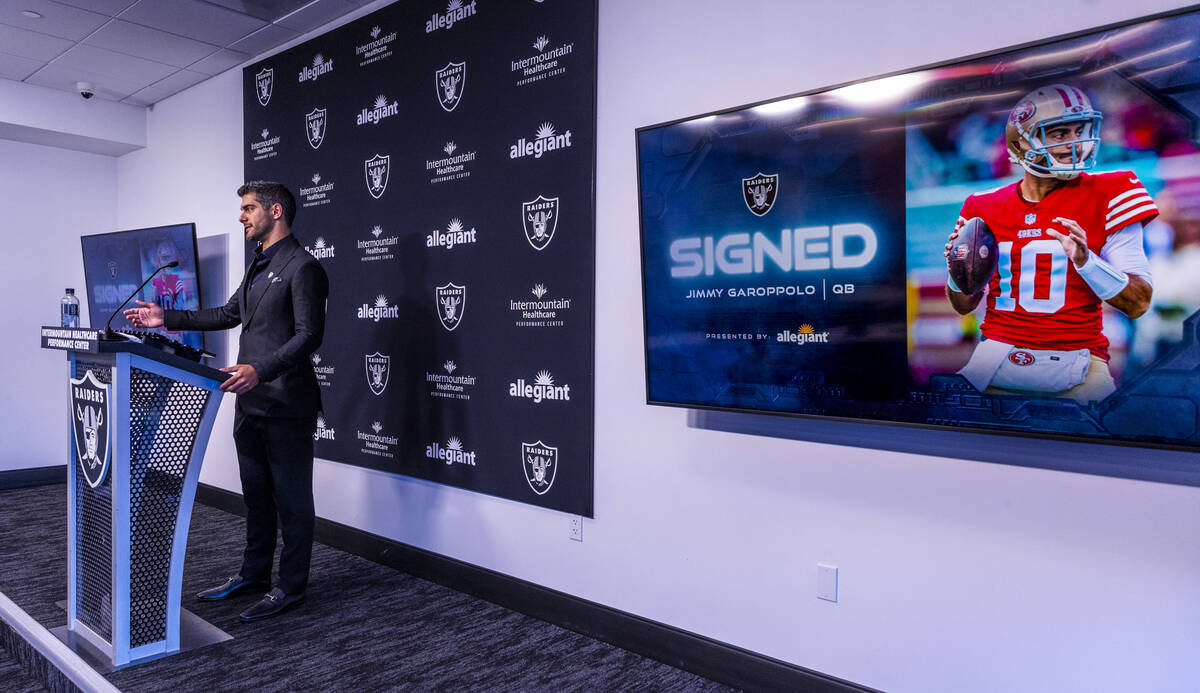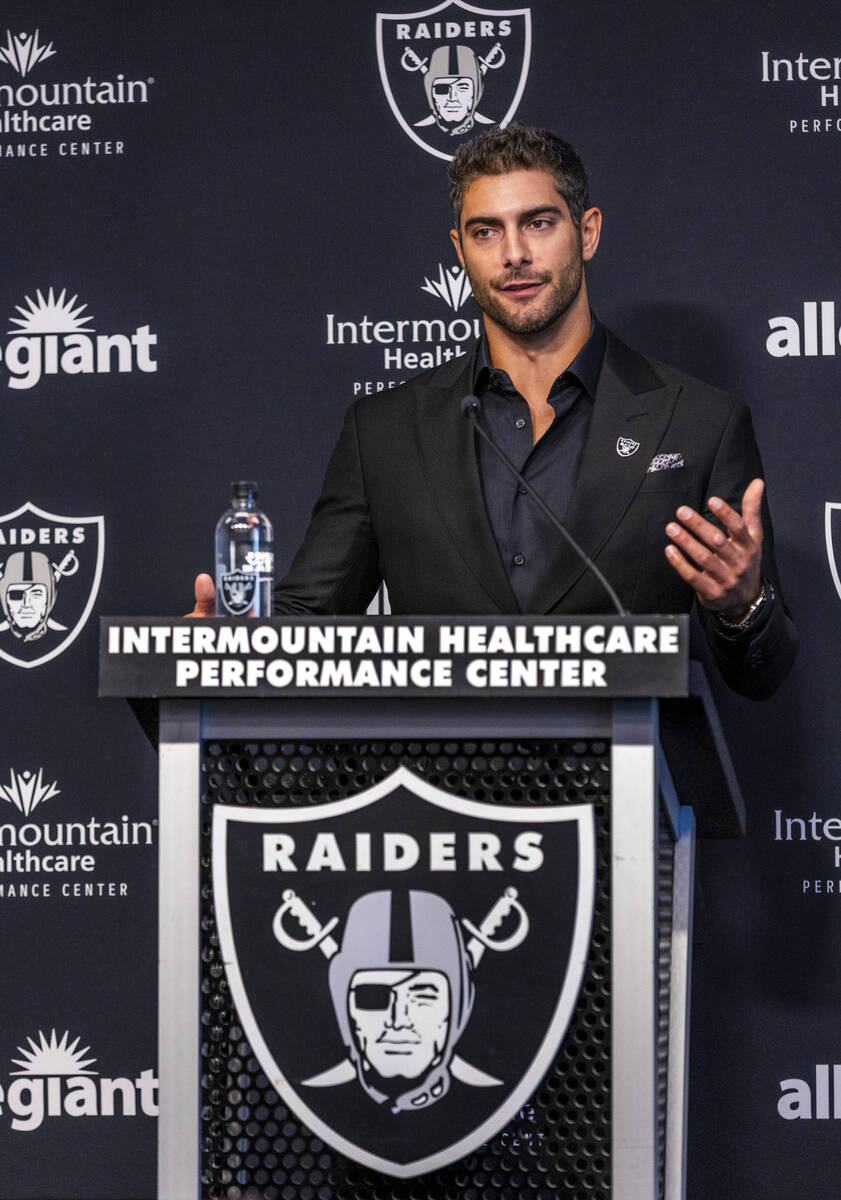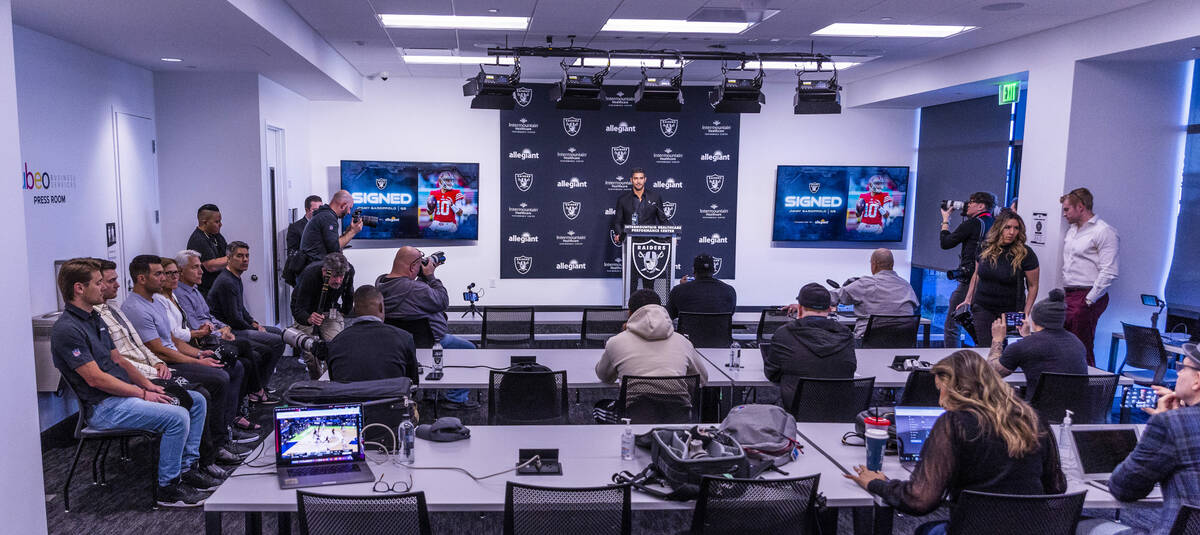 Jimmy Garoppolo was a wet-behind-the-ears college prospect the first time he crossed paths with Raiders coach Josh McDaniels.
But he wasn't so green that he couldn't size up exactly what McDaniels was up to when the then-Patriots offensive coordinator pulled him into his office to talk some football during Garoppolo's visit to New England during the 2014 draft process.
The not-so-subtle audible McDaniels called will never be forgotten.
"I swear he planned it," Garoppolo insisted Friday during his first official day as the Raiders' new quarterback.
But more on that in a bit.
The Raiders officially introduced Garoppolo on Friday after finalizing a three-year, $72.7 million deal with $45 million in guarantees.
In many ways, Friday represented a full-circle moment for Garoppolo, who is no longer the wide-eyed kid from Eastern Illinois that McDaniels was testing nine years ago.
McDaniels, along with former Patriots and current Raiders offensive assistant Jerry Schuplinski, eventually laid the foundation for just about everything Garoppolo needed to know about being a professional quarterback.
"They basically raised me in the NFL," Garoppolo said.
The master's-level education was often delivered with a tough love that Garoppolo didn't always understand.
"You hate it, initially," Garoppolo said. "Especially as a young player, you're like, 'What the … man, this is hard.'"
What he eventually came to respect was that the level of difficulty and demand being applied went hand in hand with the position itself.
"The NFL is hard," Garoppolo said. "But you appreciate it later in your career because you're like, 'I'm glad I went through that because it's making everything else so much easier.'"
All of which served him well as he sprouted wings and soared west to San Francisco as the quarterback of the 49ers. As the starter in San Francisco, his teams went 38-17 and advanced to two NFC championship games and a Super Bowl appearance in the 2019 season.
That Garoppolo and McDaniels are now reunited in Las Vegas is a testament to the bond they built over three seasons in New England and the mutual admiration that remained through the years.
The proof of which played out at the opening of free agency this week, when McDaniels and Raiders general manager Dave Ziegler — another throwback to Garoppolo's time in New England — immediately reached out to him to be their next quarterback.
The short negotiation that ensued was followed by the equally quick yes Garoppolo responded with. And after a short delay to resolve some contract language Thursday, the Raiders were introducing their new quarterback to the media.
"The familiarity with Josh, Dave, all that played a role," Garoppolo said.
The Raiders and Garoppolo are counting on that existing relationship and understanding of McDaniels' offense to create a seamless transition as Garoppolo takes the reigns from longtime quarterback Derek Carr.
"I'm trying to bring an energy," Garoppolo said. "Trying to get everyone on the same page, everyone rolling in the same direction."
All of which is dependent on Garoppolo doing his part first. That includes staying healthy, which has been a struggle for a quarterback, who has been unable to finish three of the past five seasons because of injuries. That includes the broken foot he suffered last year.
"I'm trying to earn it," Garoppolo said. "Just because I'm the quarterback, I'm not the leader because of that. I want to be the leader because guys respect me and believe in me. And I think that starts with hard work."
For one day, at least, Garoppolo couldn't help but notice the nostalgia floating around the Raiders' facility as he reunited with old friends and began making new ones.
Including Garoppolo's memory of his first meeting with McDaniels back in the day.
As McDaniels ran through the Patriots' offense on a whiteboard, Garoppolo tried his best to appear confident. But as is usually the case in those situations, the nerves were flowing.
Then the door to McDaniels' office swung open, and Garoppolo's jaw nearly dropped.
"Tom Brady walked in," Garoppolo said.
To this day he's convinced the whole thing was some sort of test to throw him off. What are the odds the Patriots' star quarterback would walk in at the very moment a quarterback the team was thinking about drafting was meeting with the offensive coordinator?
"A little starstruck," Garoppolo admits.
Nearly 10 years later, Garoppolo is all grown up and ready to lead the Raiders.
"The next chapter of my life," he said. "I can't wait to get started in Vegas."
Contacts Vincent Bonsignore at vbonsignore@reviewjournal.com. Follow @VinnyBonsignore on Twitter.