Jon Gruden brings energy to Raiders' minicamp
Updated April 24, 2018 - 8:07 pm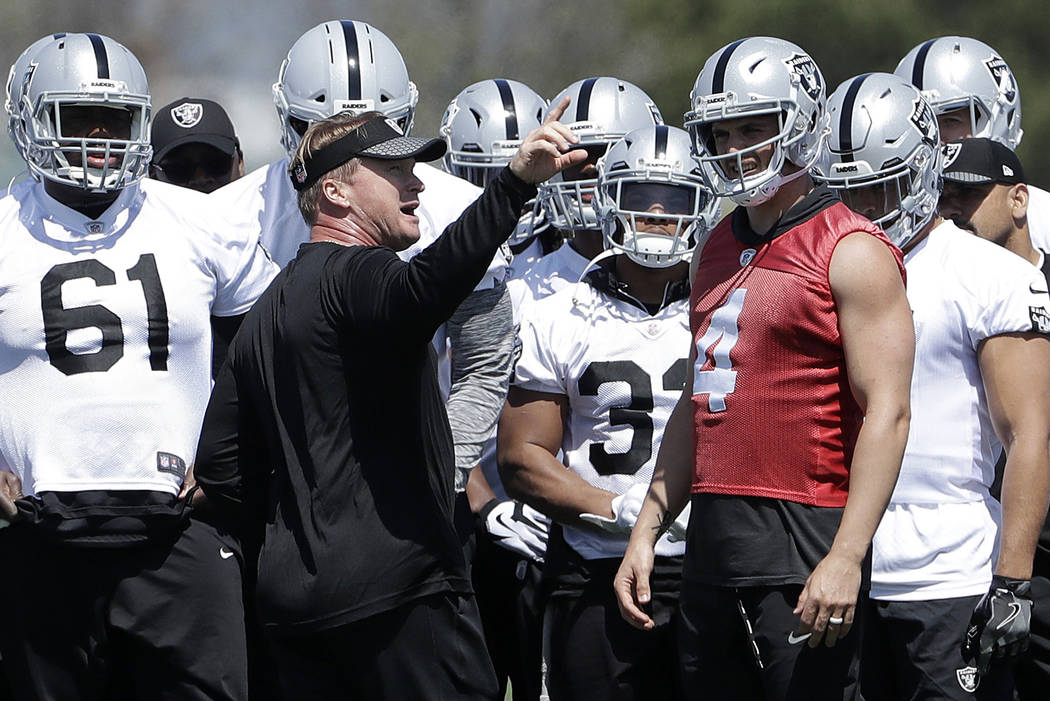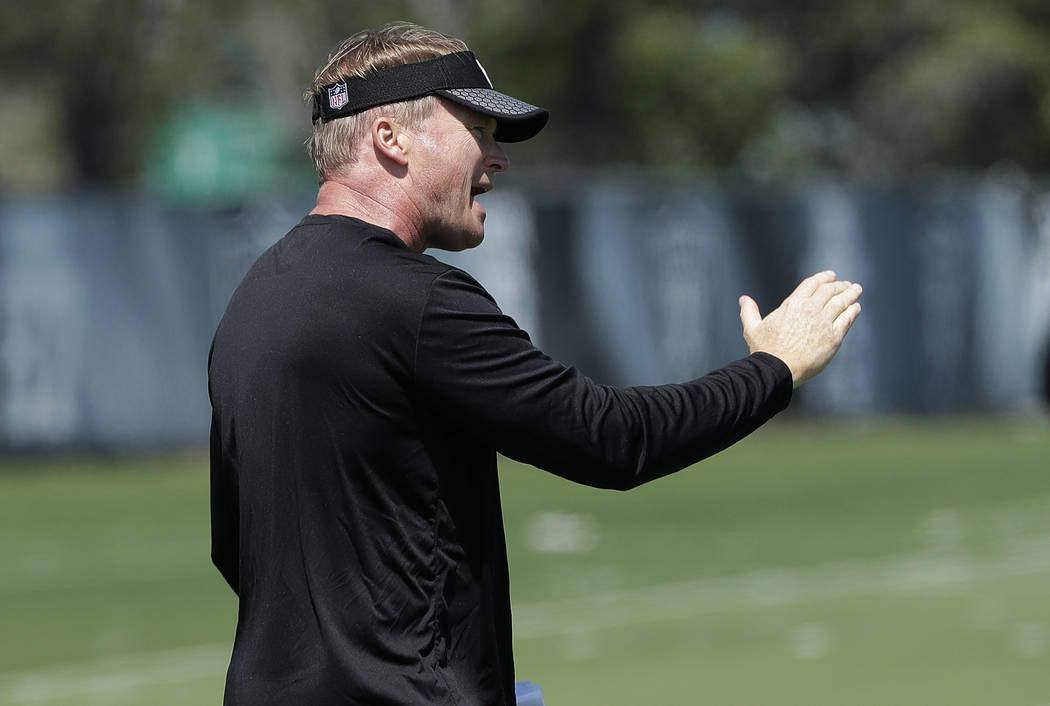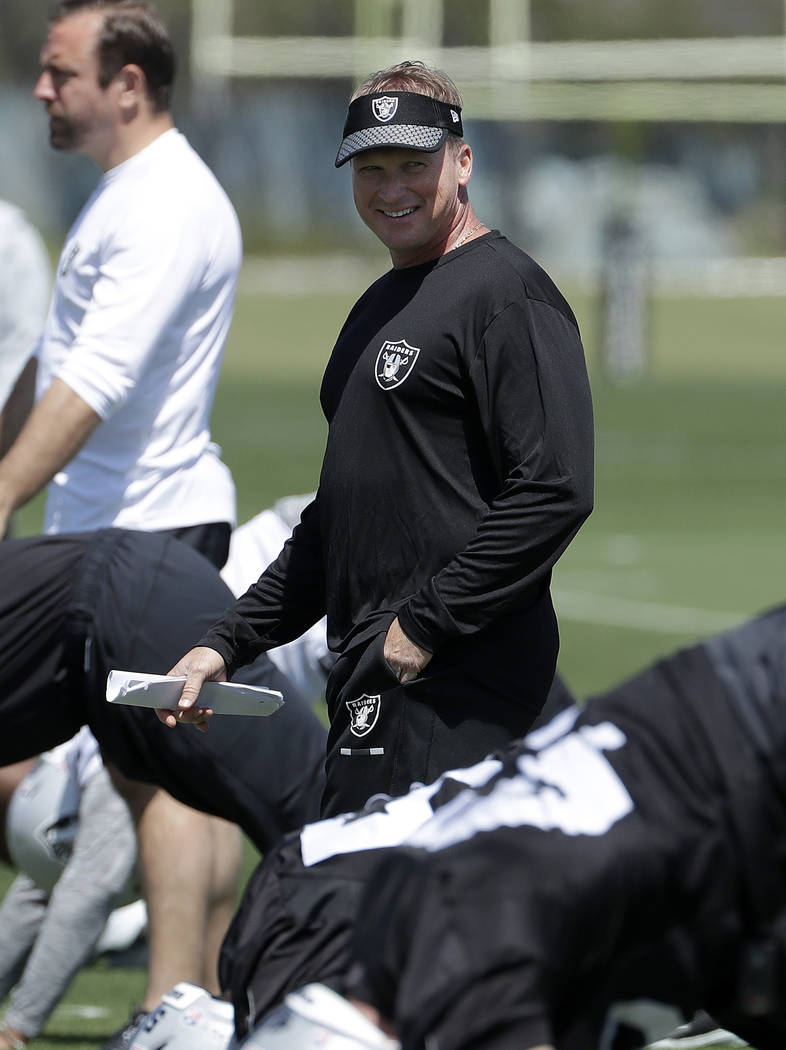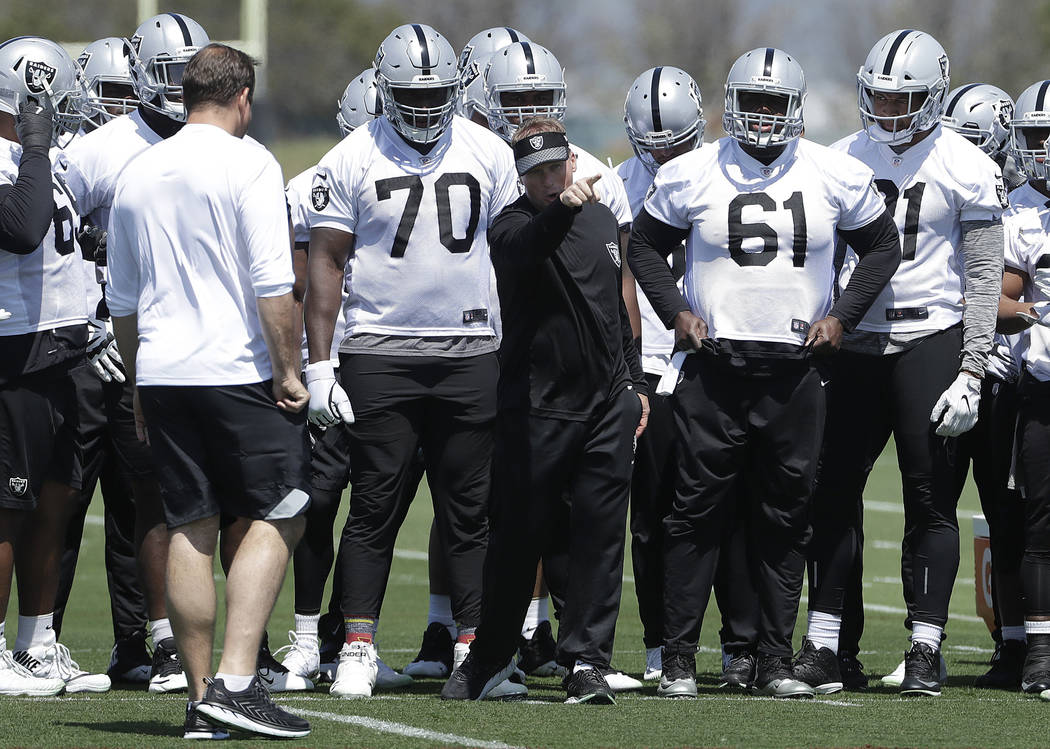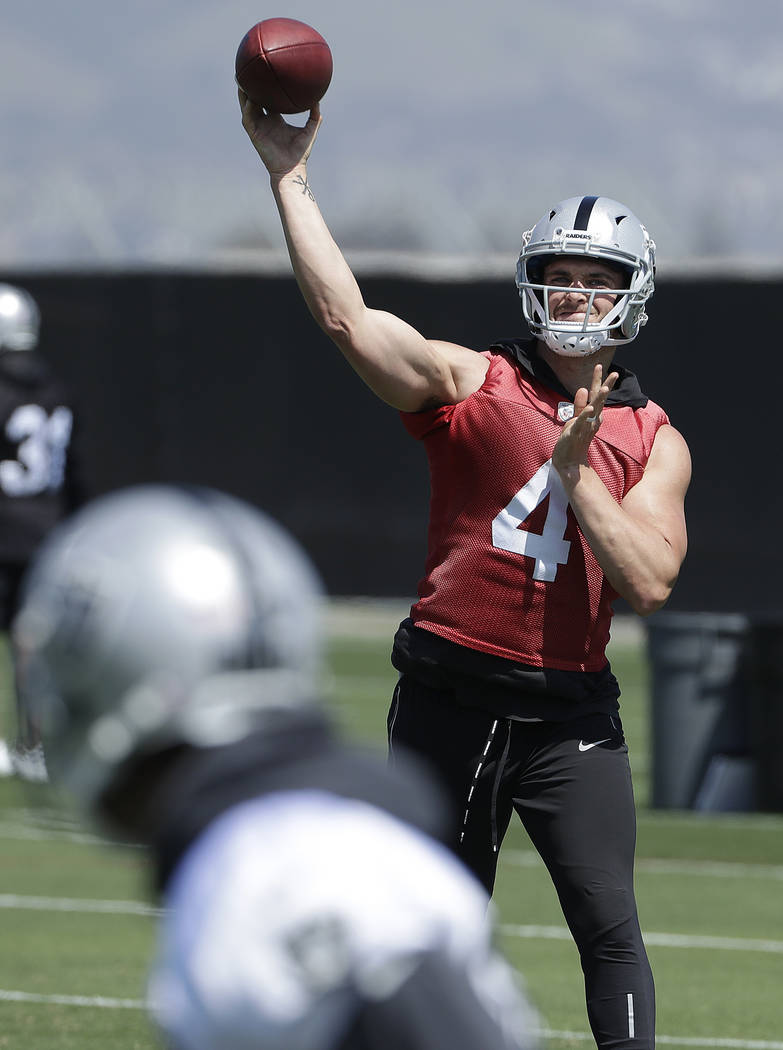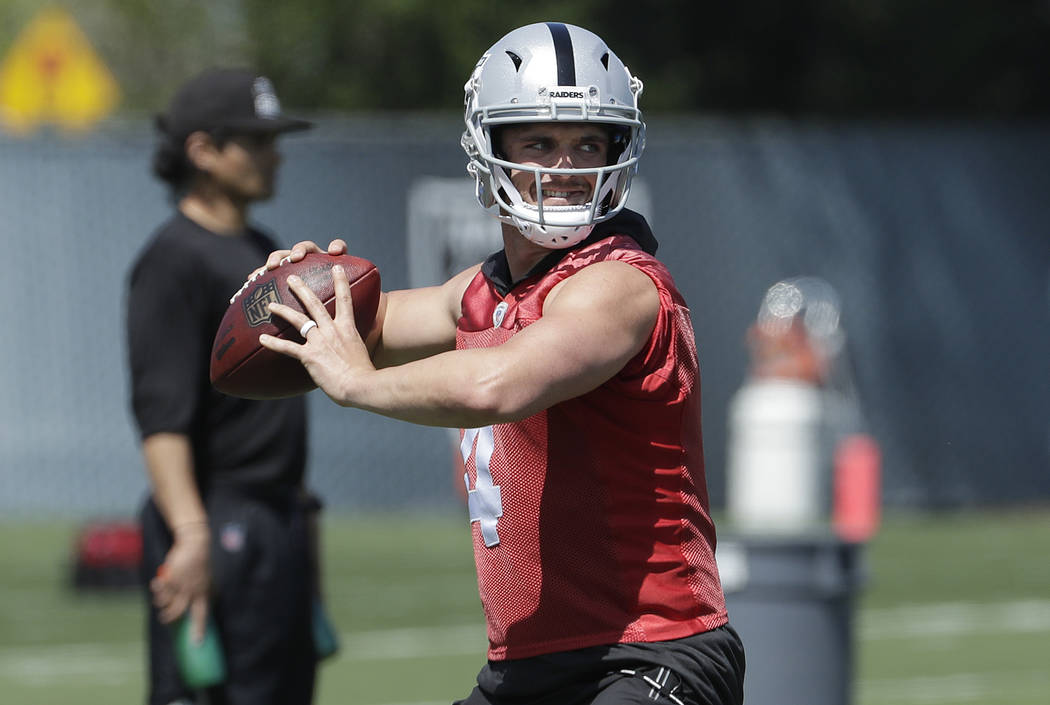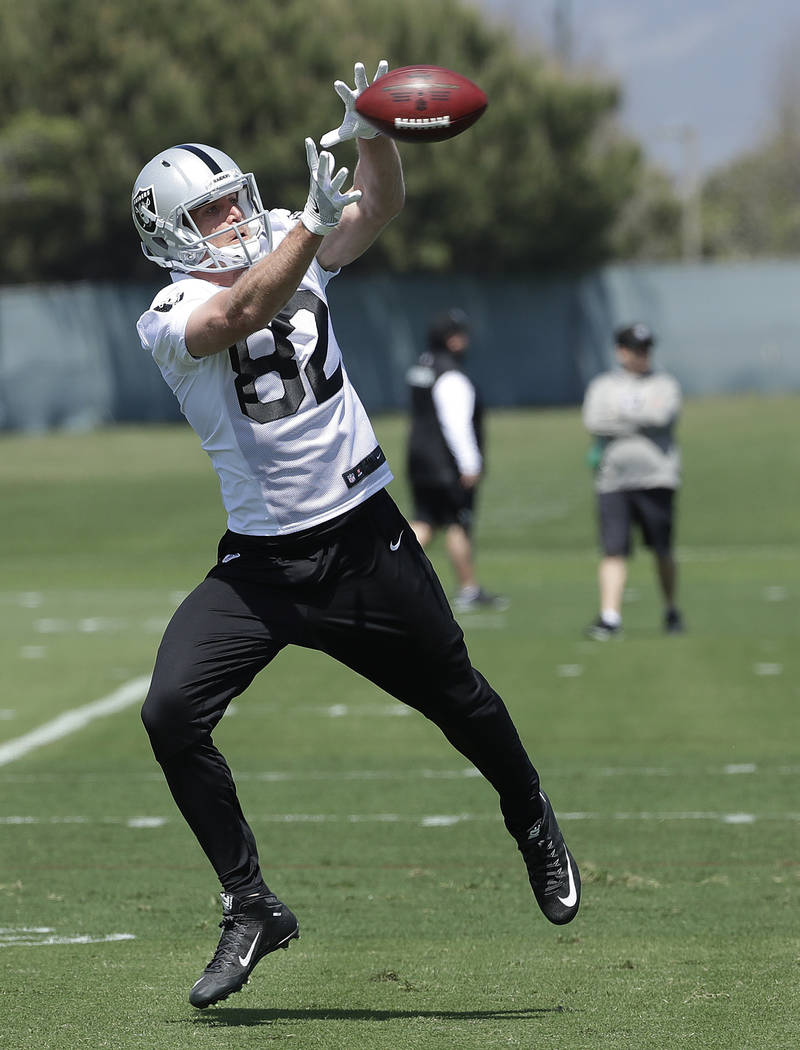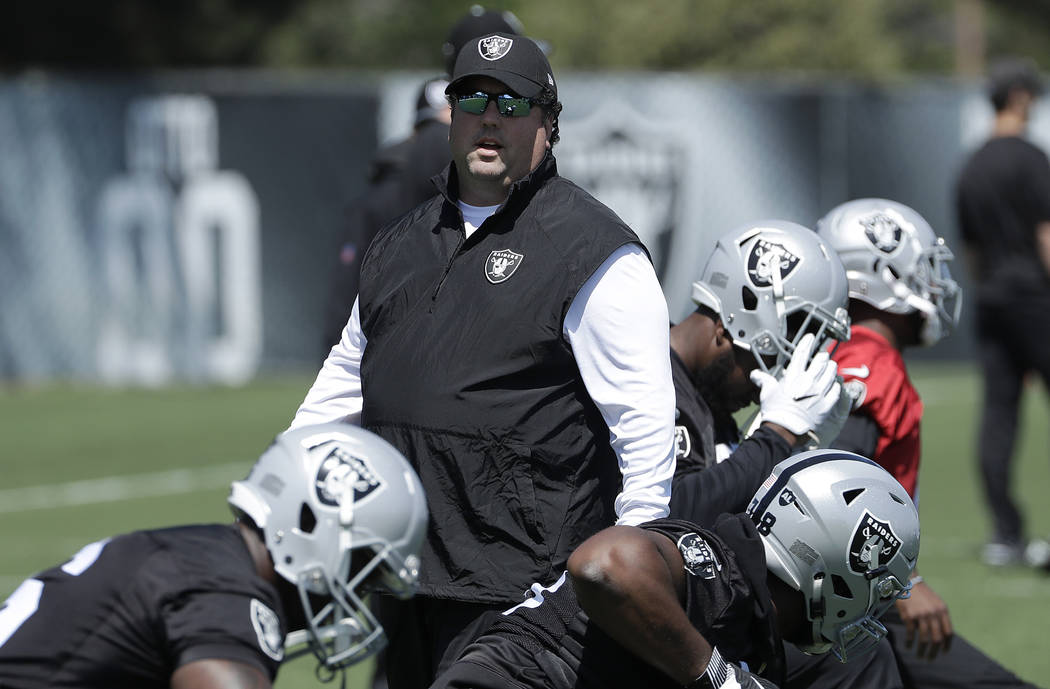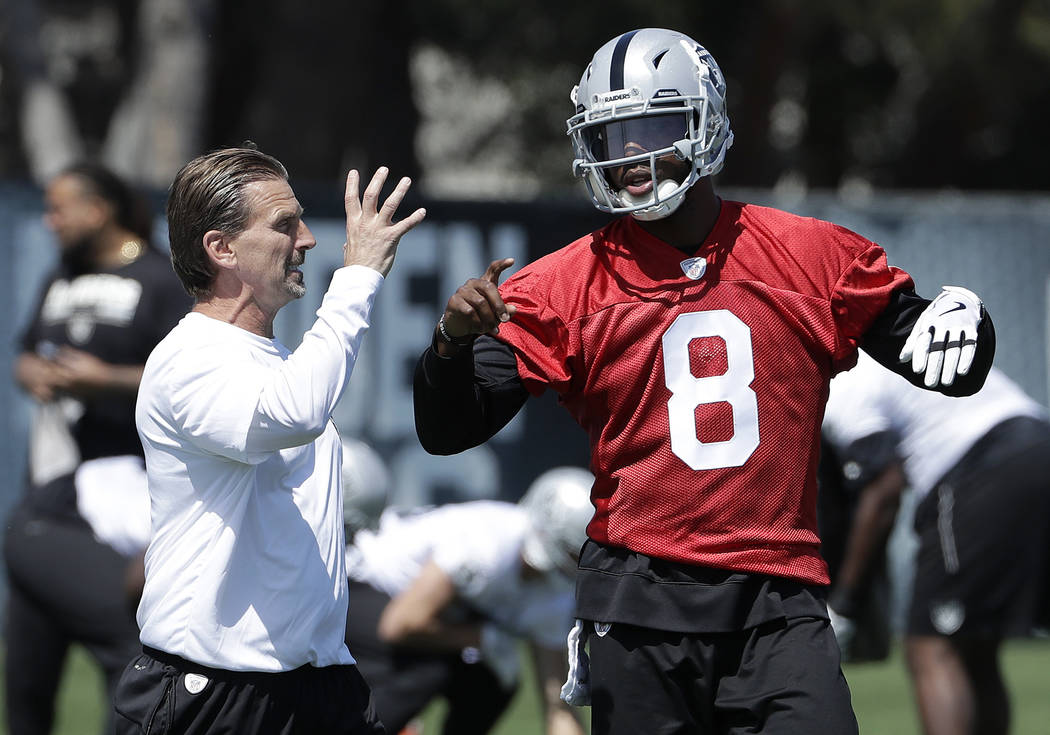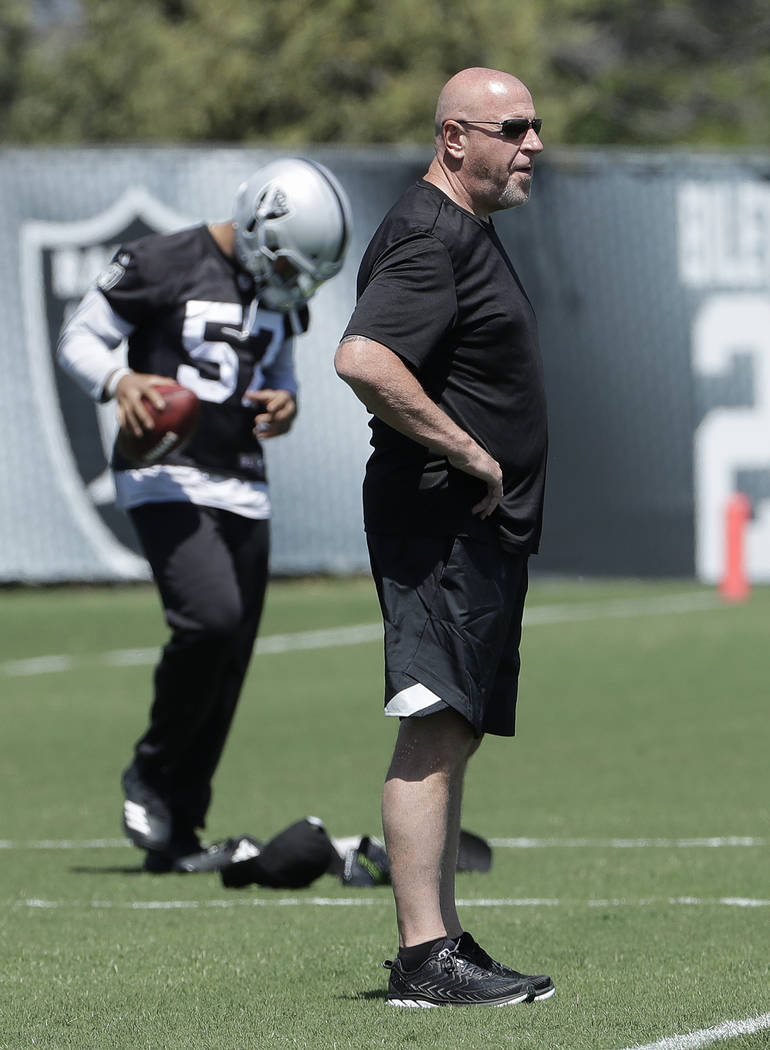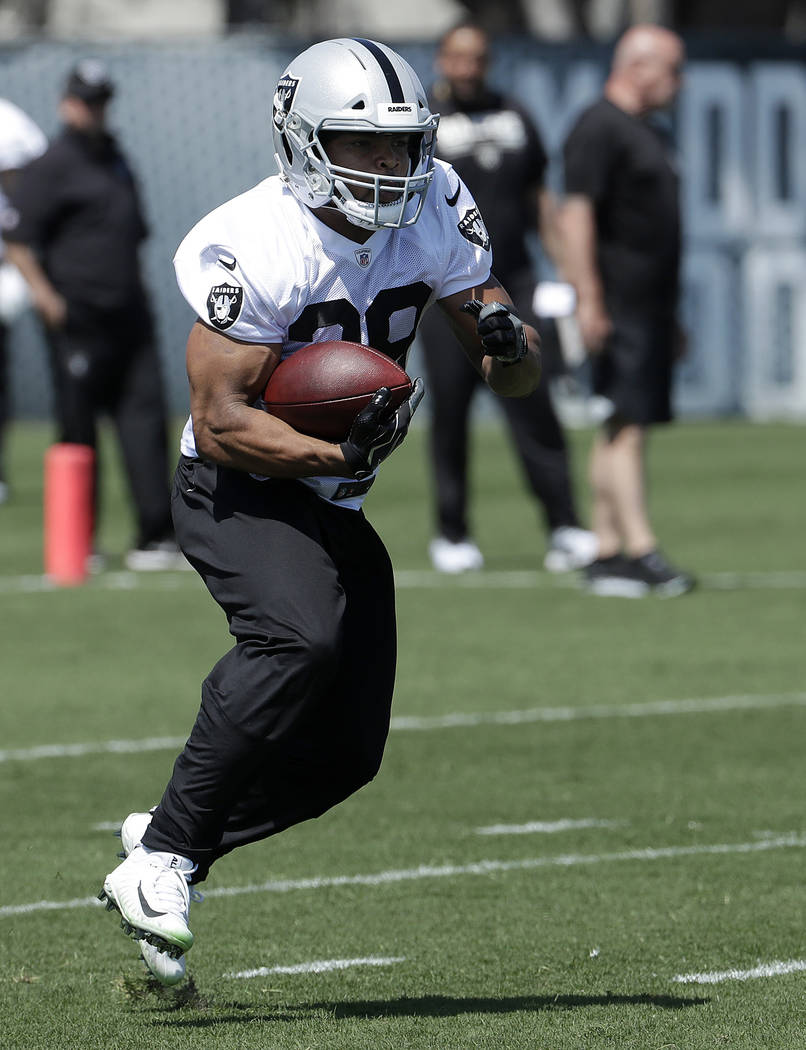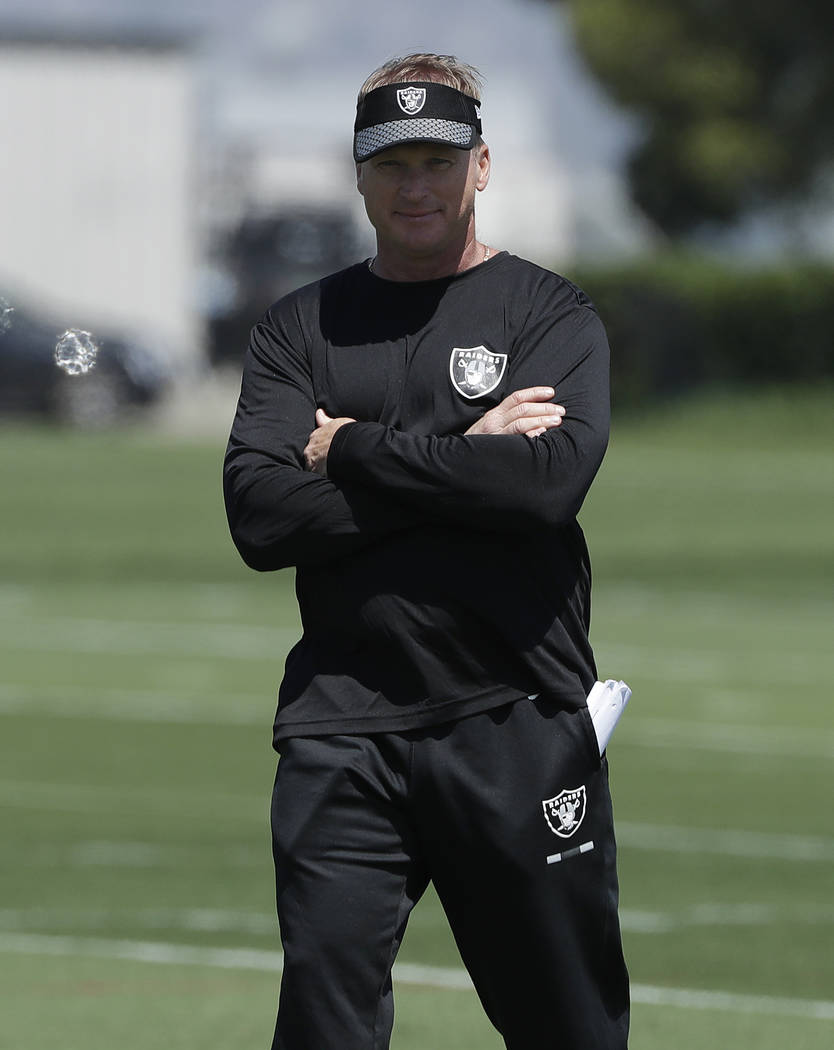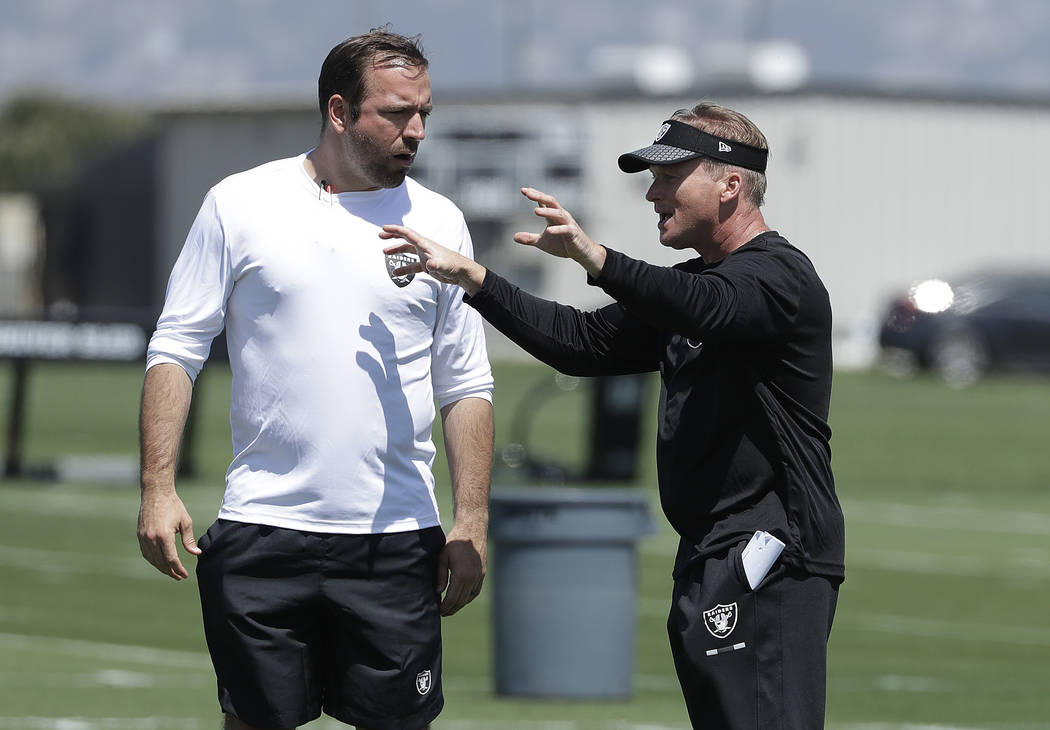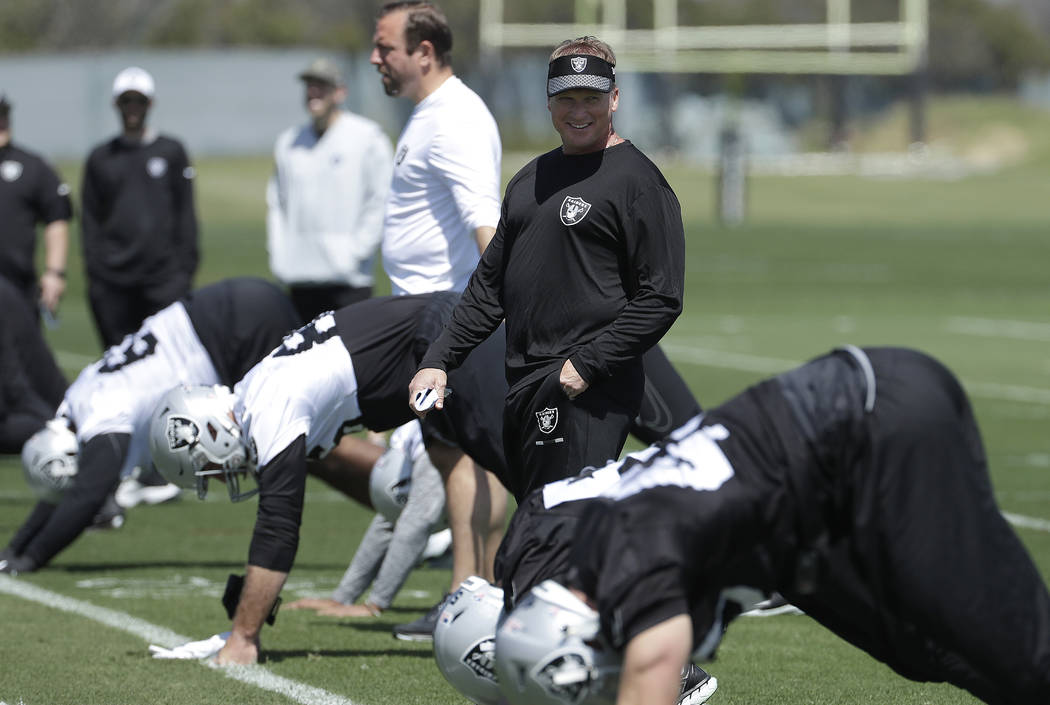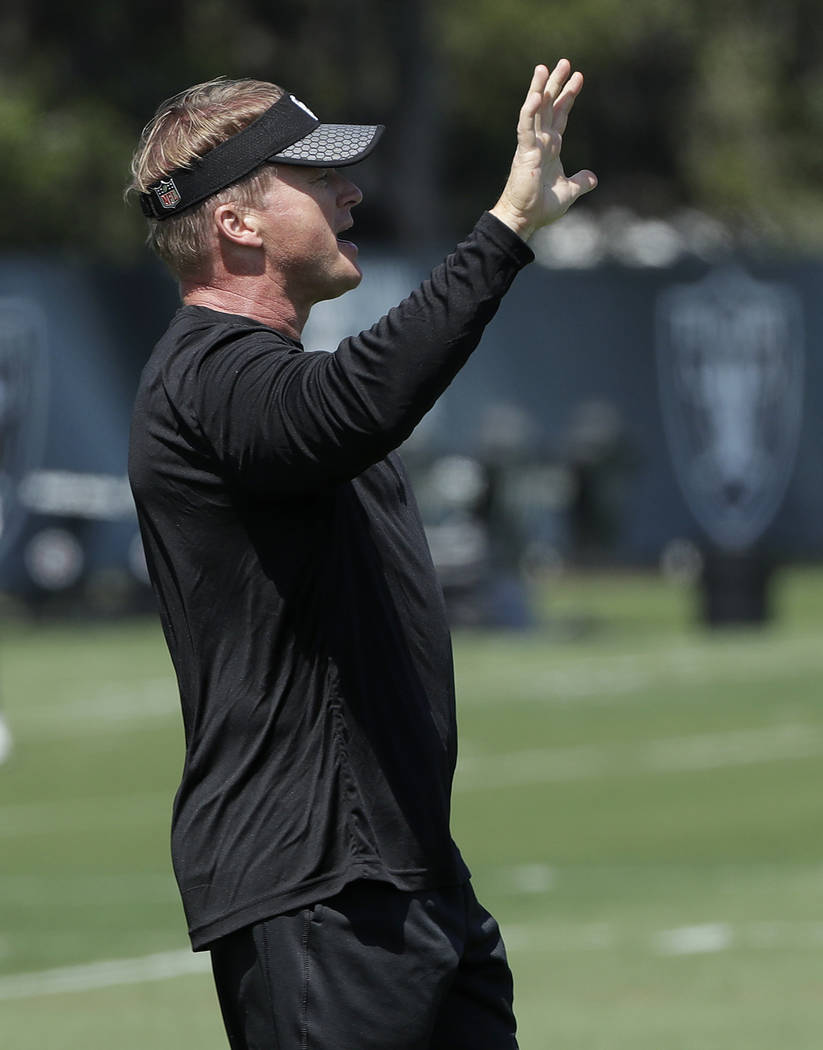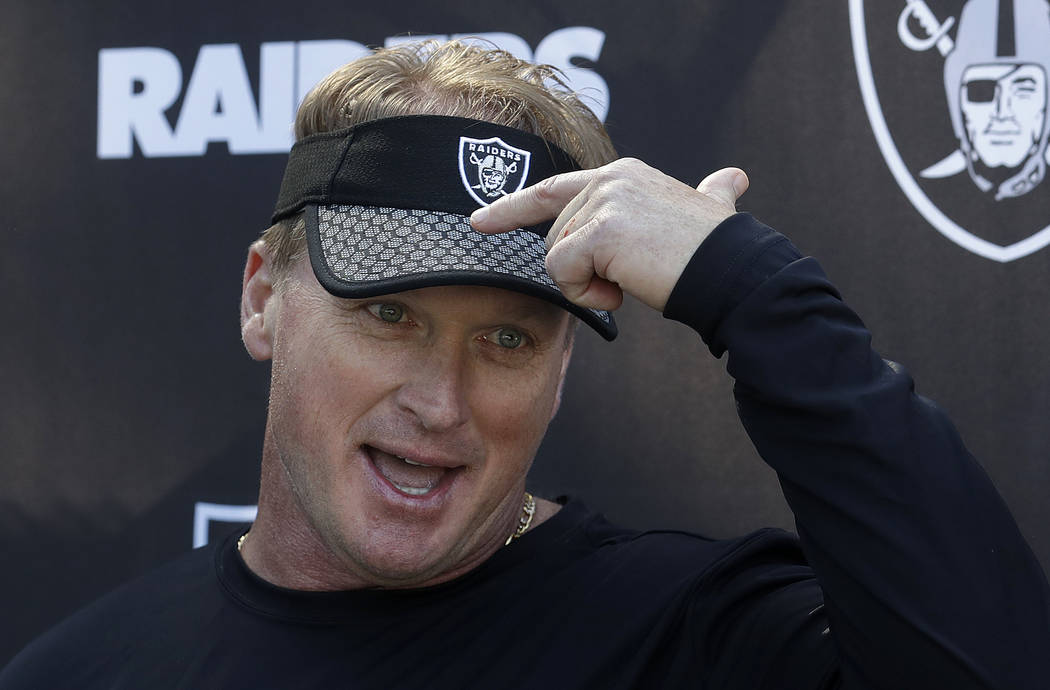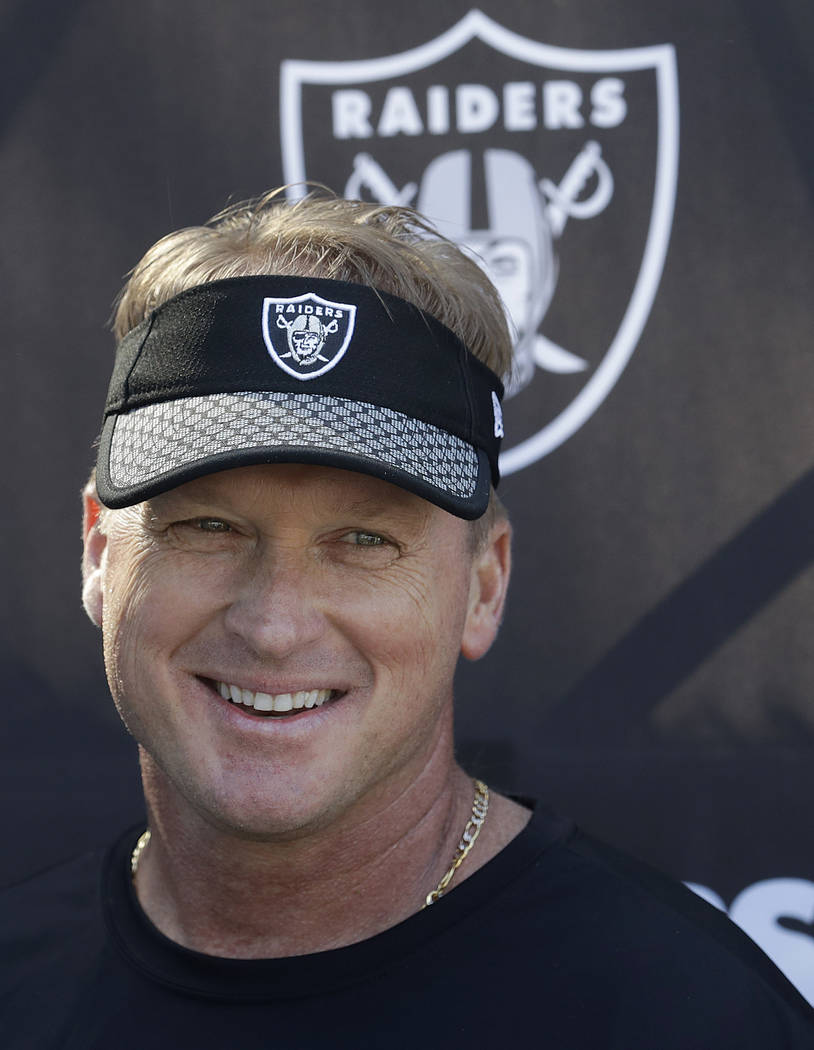 ALAMEDA, Calif. — Jon Gruden stalked down a grassy aisle Tuesday as players stretched around him.
His star defender was absent. His left tackle was a spectator. There were no pads. The only regular-season thing about this minicamp was his voice, Gruden projecting the sort of volume that, come 2020, might seem audible in Summerlin from the team's practice facility in Henderson.
Gruden nodded afterward.
He waited for this.
On April 9, the new Raiders coach began holding meetings with players. On Tuesday, for the first time in several years, he coached on a field. Gruden was true to form. His energy added a weight and intensity to what might otherwise have been a slow, vanilla spring workout.
Gruden coached the Raiders from 1998 to 2001 before a seven-year run with the Tampa Bay Buccaneers.
"It was great," Gruden said of the practice. "I mean, I came back to coach. I'm excited to be here. I've said that from day one. I consider it a great responsibility. The practice field has always been a laboratory for a coach. That's where we earn our pay, I think. We've got to develop this team. We've got to learn a lot about them quickly. We've got a lot of things to teach. A lot of areas to improve.
"But it was fun to be out there. I don't want to be too deep or philosophical. I might start crying."
Only so much could be learned Tuesday about the 2018 Raiders.
This season may well be defined by what contributions the team can receive from its youth. Cornerback Gareon Conley (shin), safety Obi Melifonwu (hip) and defensive tackle Eddie Vanderdoes (knee) were the top three draft picks in 2017. All are coming off surgery and did not practice. As for the 2018 class, the first of seven rounds won't be held until Thursday.
Of the veterans, left tackle Donald Penn is still recovering from December foot surgery. He's not expected to practice until training camp. Defensive end Khalil Mack continues to skip voluntary workouts amid contract extension talks.
Alas, there was Gruden.
Never mind that the Raiders offense cannot drill against the defense, that wide receivers Jordy Nelson and Amari Cooper ran routes versus air. Gruden, dressed in a long-sleeve black shirt with a Raiders logo over his left pectoral, pushed the tempo.
The first-team offense opened the afternoon with "perfect play," a drill designed to test players' understanding of the playbook. He screamed out a play call, and players jogged through the first steps of their assignments. Once the first-team unit completed a rep, Gruden boomed for the second-team offense.
Quarterback Derek Carr called it "awesome" to see the coach at work.
"I've known him for four or five years," Carr said. "I'll say this: He's never changed. He's been the same guy all the time with me. He's hard on me. He pushes me. He challenges me. It's everything I want because it's everything that I do for myself. I push myself. I challenge myself.
"And at the same time, he'll tell me, 'I love you, man.' You know how he feels about you, so when he pushes you, you don't care because you want to do anything you can for him. You want to run through a wall for him. I think our whole team feels like that. I think you can feel a little bit difference around him, and it's really cool."
Contact reporter Michael Gehlken at mgehlken@reviewjournal.com. Follow @GehlkenNFL on Twitter.