Mark Davis says he apologized to Derek Carr 'for not getting it done'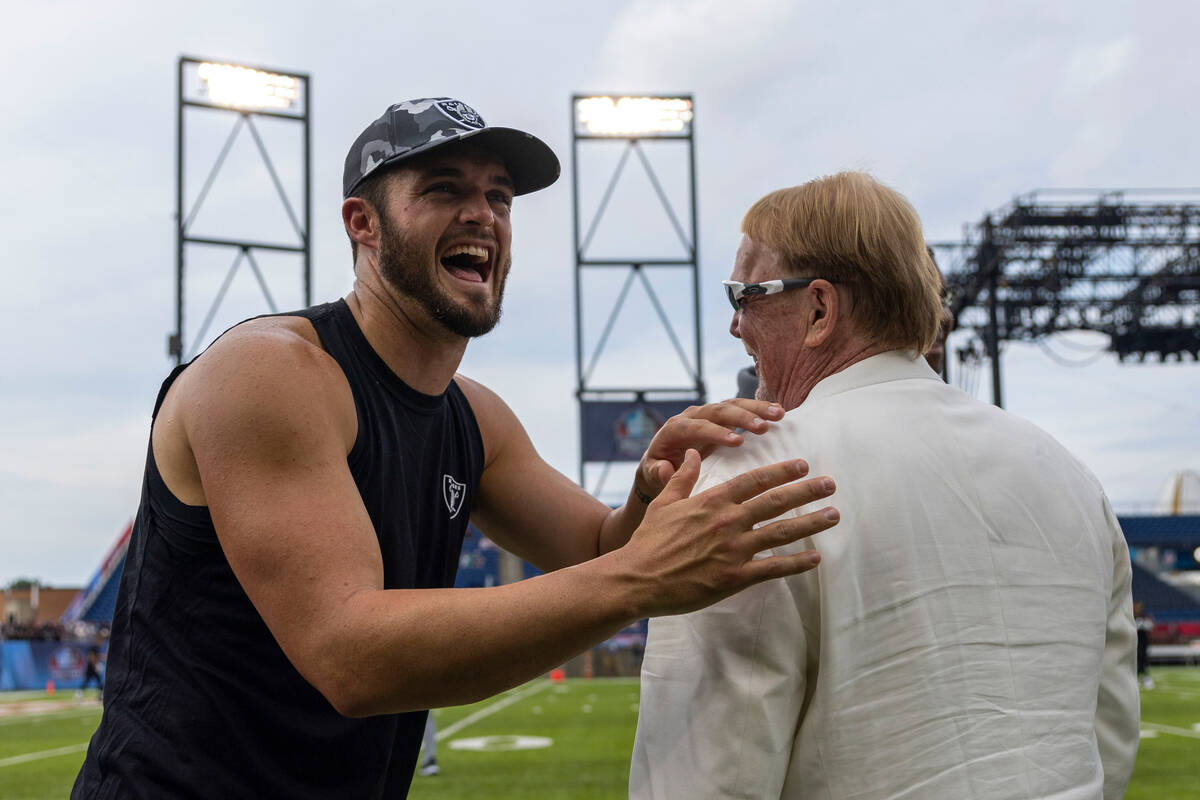 PHOENIX — In the lead-up to the end of his Raiders career, quarterback Derek Carr had a frank talk with Raiders owner Mark Davis.
And as Davis recounted the conversation Monday at the NFL's annual league meetings, it went beyond the normal thank you and good luck usually associated with these types of goodbyes.
Amid the appreciation Davis expressed to Carr for the nine years he gave the Raiders, Davis did something noble. He took responsibility for the organization's inability to field a consistently good team around Carr.
The Raiders had two winning seasons in Carr's nine years as quarterback and two playoff appearances. As the face of the franchise, he shouldered much of the blame for those failures.
But Davis wanted to make sure Carr understood he shared in the culpability.
"I apologized to him for not getting it done," Davis said.
There obviously are many reasons for the lack of success. Regime changes in the past decade failed to have the desired effect. The Jon Gruden email bombshell short-circuited a rebuild many expected would eventually get the Raiders turned around. And poor draft and personnel decisions left the team incapable of competing with the NFL's best teams.
But Davis is in no mood to point fingers.
"I'll take the responsibility because the buck stops here," Davis said. "It's up to me to get it right."
Watch Derek Carr describe his conversation with Mark Davis at Waller's wedding.

"It was like the biggest thank you he could have ever given me."https://t.co/Ofb9gDbKqJ pic.twitter.com/GBRVXpBQJ4

— Harvester Sports (@HarvesterSports) March 27, 2023
Part of which is the trust he's putting in the leadership of general manager Dave Ziegler and coach Josh McDaniels, who approach their second years in charge with a clearer idea of where the Raiders stand and what needs to happen to get them on track to long-term success.
That wasn't necessarily the case last year when McDaniels and Ziegler were hired in early January with a distant view of the roster they were inheriting.
"They did as much as they could," Davis said. "But until you get in and coach and meet and get to know guys … they didn't get the chance to do that."
Ziegler and McDaniels tried to build off the success of 2021 that ended with a playoff appearance with the additions of wide receiver Davante Adams and defensive end Chandler Jones. The offense remained productive, scoring the 12th-most points in the NFL, but injuries to tight end Darren Waller and slot receiver Hunter Renfrow and inefficient red zone play meant an inability to maximize that side of the ball.
Meanwhile, a lack of defensive playmakers left the Raiders vulnerable and resulted in a 6-11 record that included nine losses in one-score games.
Davis expects that to change now that Ziegler and McDaniels have a better command of the roster.
"They've done all their research, they know everybody they've got," Davis said. "They know what they're trying to build. And they're trying to figure out the way they want to do it."
A big step in that process was the decision to release Carr and get more cost-effective at quarterback in the short term with Jimmy Garoppolo and identify a young prospect to build around.
Garoppolo brings a familiarity to McDaniels' offense from their three years together in New England and a winning pedigree that the Raiders believe will allow the offense to compete at a high level.
He also makes $11 million less than what Carr was to make in 2023 and nearly $30 million less over the next two seasons, which allows the Raiders to invest more money in improving the roster, specifically on defense.
They have four picks within the top 100 in the NFL draft, five within the top 109 and 12 overall, leading to the expectation that the franchise can set a foundation for the future.
"I am excited," Davis said.
Contacts Vincent Bonsignore at vbonsignore@reviewjournal.com. Follow @VinnyBonsignore on Twitter.