Raiders expect WR Antonio Brown back soon
August 9, 2019 - 11:51 am
Updated August 9, 2019 - 7:42 pm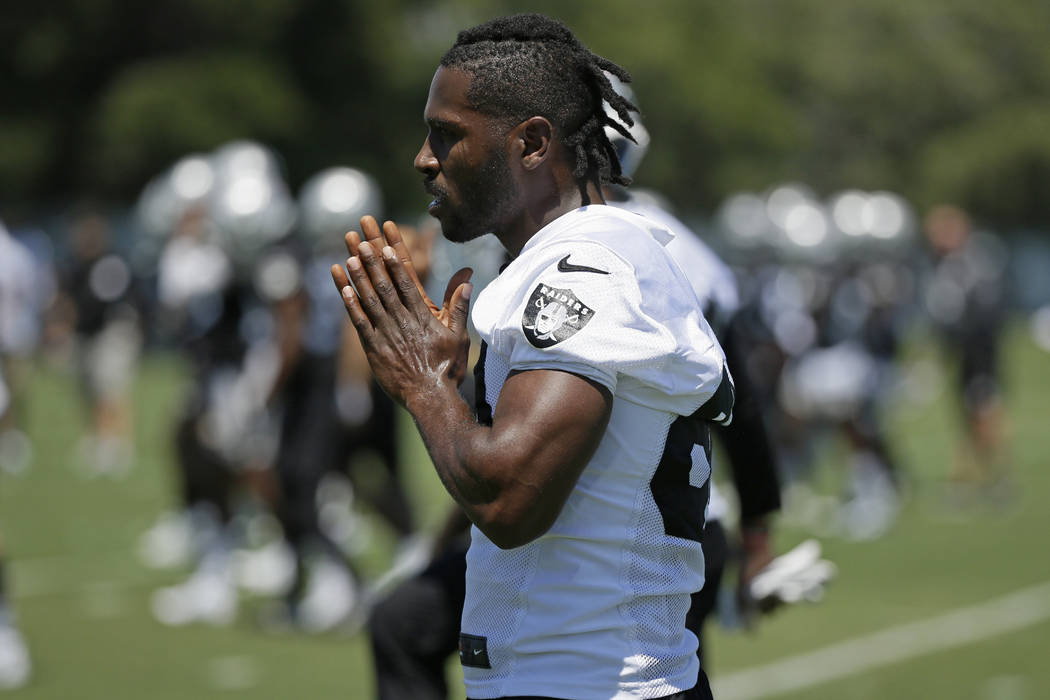 NAPA, Calif. — The Raiders are optimistic Antonio Brown is ready to wear a helmet.
Their star wide receiver is expected to rejoin the club at its training camp headquarters in the near future, a team official said. Brown has not participated in a full practice this camp, missing 10 of 11 sessions in their entirety. A foot ailment that forced him to begin camp on the nonfootball injury list is largely considered a nonissue moving forward.
His feet aren't what caused the latest absences.
Brown has avoided the Raiders' facility amid a heated dispute against the NFL's helmet policy, several people familiar with his thinking have said. On July 30, he wore a league-prohibited helmet during his lone camp practice and departed Napa shortly thereafter.
In between, his helmet usage was broached — and not for the first time this offseason.
Although this is not a team policy, it falls on NFL clubs to ensure that players don't conduct football activities in helmets that fail to meet the league's safety standards. Such is the NFL's directive: All equipment must be certified by the National Operating Committee for Standards and Athletic Equipment (NOCSAE).
This was conveyed to Brown on multiple occasions.
NOCSAE neither has allowed nor tested Brown's helmet model because it is older than 10 years, a source said.
The NFL has worked with the Raiders to move Brown into a helmet deemed acceptable. On Friday, ESPN reported Brown has told the team he'll retire if he cannot wear his preferred one. Given the Raiders' belief Brown soon will report, it's possible this retirement sentiment does not reflect Brown's current stance.
After all, Brown would lose substantial money if he followed through with it.
The Raiders acquired him in March from the Pittsburgh Steelers, signing him to a more lucrative contract to complete the swap. The three-year deal is worth $50.125 million and includes $30.125 million guaranteed. Brown would lose those guarantees.
On Friday, Brown remotely participated in a Philadelphia-based conference call where an independent arbitrator heard his case, a league source said. Representatives from the NFL and player union also participated, and the arbitrator's ruling is expected next week, a source said.
Brown's helmet in question appears to be a Schutt Air Advantage.
Virginia Polytechnic Institute and State University regards this model as a "two-star" helmet on a five-star safety system.
"It's not something we recommend people wear," said Dr. Stefan Duma, a helmet safety expert and founding director of Virginia Tech Wake Forest Center for Injury Biomechanics. "It's an older helmet. Simply put, it has less padding. It's smaller, thinner. So if you get hit in the head, you're going to have higher … concussion risk compared to a bigger, newer helmet that has more padding."
In a phone interview Friday morning, Duma identified Brown's helmet as likely a Schutt Air Advantage after being shown video of Brown practicing July 30.
He acknowledged the helmet carries certain specifications that could explain the seven-time Pro Bowler's attachment.
"It's smaller, and it's lighter," Duma said. "That comes with a price. That comes with less padding, but I don't want to speak for him. I imagine when you've played for so long, you're just used to that. … There are 15 different five-star helmets out there. He can pick any one he likes. He's just not allowed to wear that one."
In April, the NFL and NFL Players Association announced the results of a joint research effort, which explored how 40 different helmet models managed to reduce head impact upon force testing. Thirty-four of those 40 models were concluded to have passed the test. The six others were labeled "banned."
Schutt Air Advantage was not expressly banned because, on account of its age, it wasn't included in the study.
A void has been felt in Napa this month.
J.J. Nelson, not Brown, has seen extensive work as the Raiders' "Z" receiver opposite Tyrell Williams. And although Nelson has filled in admirably, creating big plays with his speed, there is no comparison to the dynamic Brown provides. Brown is a seemingly endless supply of energy and explosion, his technique as a route runner routinely pushing and sharpening the club's defensive backs.
So, it's not just the offense feeling the effects of Brown's absence.
It's the team.
"Yeah, when he is on the field, it's completely different, you know what I'm saying?" quarterback Derek Carr said this week when asked to contextualize Brown's missed time. "He's somebody that changes the way defenses play. He's someone that changes, obviously, what coach (Jon Gruden) will call for him and things like that. So you definitely wish he was out there.
"But we've had a lot of time on task, so it's not like, 'What's the unknown?' We know what it is, and we know that when he is healthy and when we get him back, we will be rolling."
The Raiders next practice Monday and Tuesday.
They are hopeful Brown won't be long.
More Raiders: Follow at reviewjournal.com/Raiders and @NFLinVegas on Twitter.
Contact reporter Michael Gehlken at mgehlken@reviewjournal.com. Follow @GehlkenNFL on Twitter.