Raiders looking for bounce-back season from Tre'von Moehrig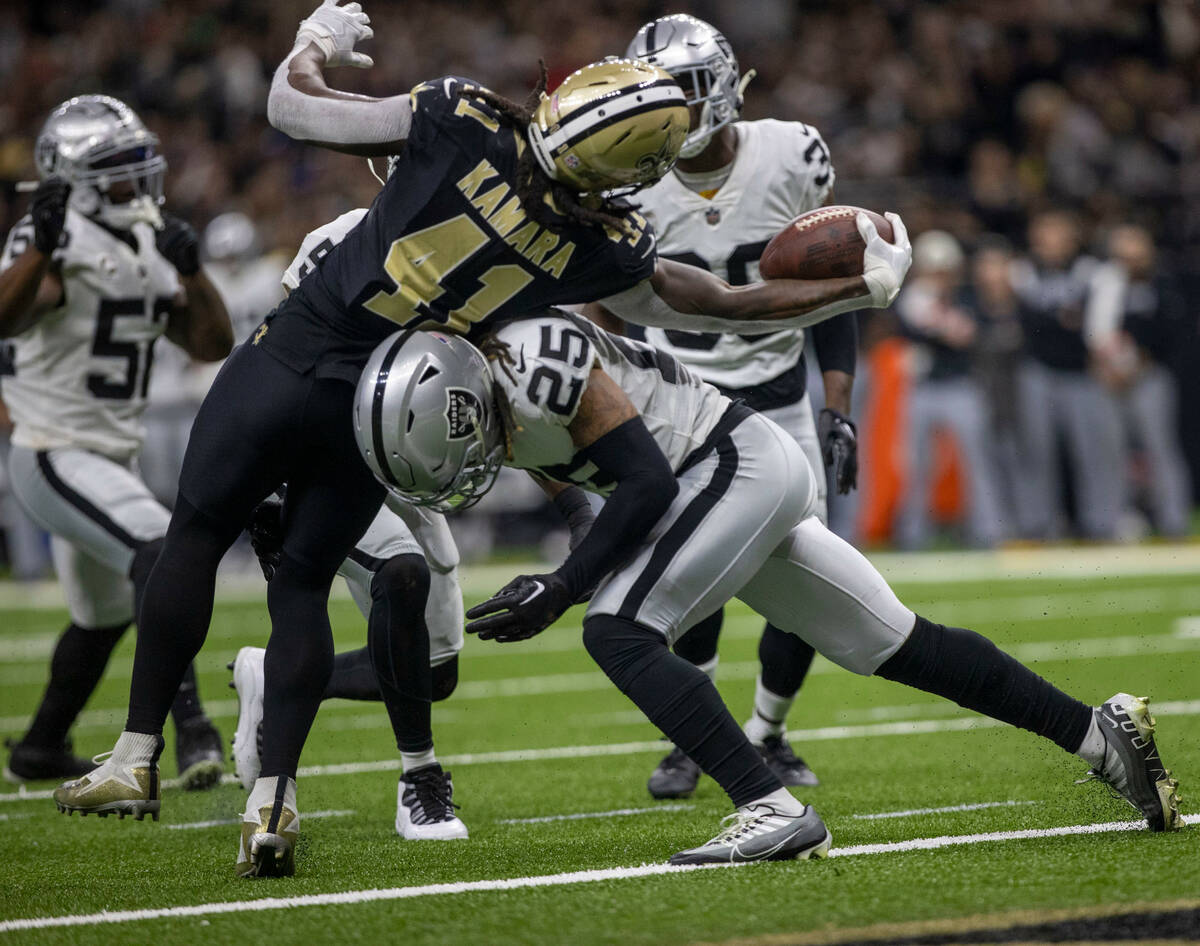 Between the learning curve of mastering a new defensive scheme last year and then going down with a hip injury in the season opener, little about Tre'von Moehrig's second NFL season felt settled.
The way the Raiders' third-year safety explained it this week, he never felt as if he was operating on completely stable ground.
That isn't an excuse; it's just the reality of the situation.
The first part dealt with absorbing the new scheme under defensive coordinator Patrick Graham after playing his rookie season in Gus Bradley's system. To take that a step further, Graham was Moehrig's fourth defensive coordinator in four seasons after he played the 2019 and 2020 seasons at Texas Christian under Chad Glasgow and Joe Gillespie, respectively, followed by Bradley and Graham.
That's an inordinate amount of disruption for a veteran, let alone a young player trying to find his niche in the NFL. In a game in which continuity plays such a big part in development, Moehrig was dealt a tough hand.
Throw in the hip injury against the Chargers in the opener that cost him the next two games and valuable practice time, and it's understandable why Moehrig never felt comfortable.
That doesn't mean his second season was a waste or even a disappointment. But the numbers clearly reflected the different circumstances.
Moehrig finished with the same 55 tackles in 2022 that he did in 2021, but his overall defensive grade by Pro Football Focus fell from 73.3, which placed him among the top 25 safeties in the NFL, to 54.1, which ranked 74th. The drop-off was particularly notable in pass coverage, where he finished with a 49.0 mark on a 100 grading scale.
But the Raiders' decision-makers assessed Moehrig's season with a nuanced eye that took into account the challenges he faced.
The same is true for cornerback Nate Hobbs and linebacker Divine Deablo, fellow second-year players who were in a similar situation as Moehrig.
Between their injuries and the difficulties of mastering a new scheme, none of the three took the expected second-year step forward. On the other hand, as they move into their second season in Graham's system healthy, the Raiders have high hopes for their development, which could go a long way in pointing a struggling defense in the right direction.
"Anytime a young player goes through a system philosophy change, certain types of things change for them," coach Josh McDaniels said. "And so, as much as you want a rookie to kind of grow from (year) one to two, if there's a lot of things that change from their day to day from what they were doing as rookies, sometimes that bump happens from two to three."
Moehrig, who was named to the all-rookie teams for PFF and the Pro Football Writers Association, is counting on continuity being part of the key that unlocks him in his third season.
"It definitely feels good to have the same staff and the same camaraderie that we had last year," he said. "That was big for me. It helps me, and it helps the rest of the team build relationships and play together and faster."
The key, he said, is rolling with the punches, which is why he takes lessons from last season but won't dwell on it.
"I'm a pretty levelheaded guy, so I just take it one step at a time," Moehrig said. "I approached it just with the same mindset as I do with everything else. Try to get better, recover and get back on the field as soon as possible."
Contact Vincent Bonsignore at vbonsignore@reviewjournal.com. Follow @VinnyBonsignore on Twitter.