Raiders mailbag: Fans still curious about Derek Carr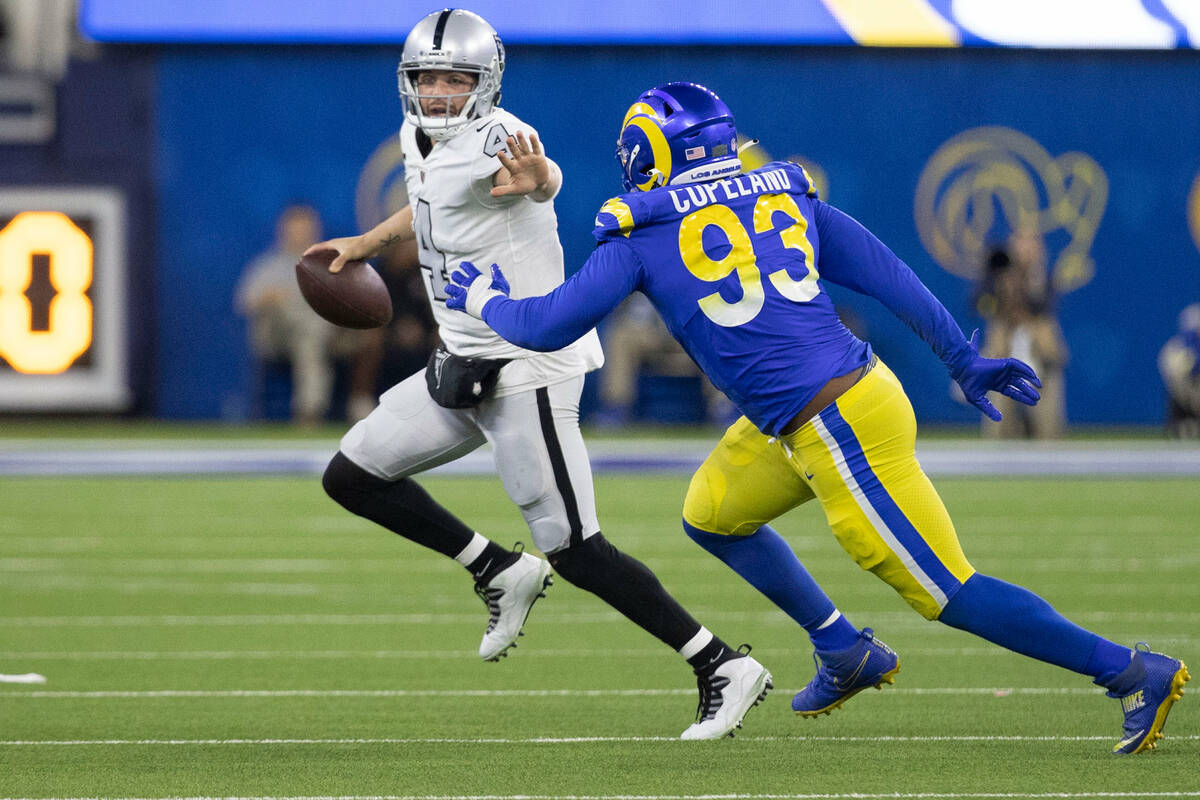 The clock is ticking on Derek Carr's Raiders tenure.
One way or another, he and the Raiders will part ways. The only unknown is whether he leaves via a trade — the Saints, perhaps — or whether the Raiders cut him ahead of the Feb. 15 deadline that locks in a $40.5 million roster guarantee.
With time of the essence, Raiders fans are curious about how it will play out. And they have plenty of questions.
Here's a sampling of what arrived in this week's mailbag:
Jamie Clark (@jamesaclark): The Saints need a quarterback and salary cap relief. Do you think they would give the Raiders a higher draft pick if the Raiders ate the majority of Carr's cap hit?
Vincent Bonsignore: There is always the possibility of the Raiders paying down some of his contract to enhance the level of compensation. But a more likely scenario is Carr and the Saints agreeing to restructure his contract in a way that gives the Saints salary cap relief while also putting more money in Carr's pocket.
ChainedPatriot (@ChainedPatriot): What if Aaron Rodgers doesn't come to Las Vegas? The Raiders probably have someone else in mind outside of Jarrett Stidham, right?
Vincent Bonsignore: Jimmy Garoppolo is also a possibility should the Raiders go down the veteran quarterback route. They might also fall in love with one of the top quarterback prospects — for argument's sake, let's say C.J. Stroud — and get aggressive in terms of trading up to secure him. In any scenario, though, Stidham is a strong candidate to return in either a backup role or as a starter until a younger player is ready to take over.
Sal O (@OdzakovicSelmir): With scouts gone, who fills in with the combine and draft around the corner?
Vincent Bonsignore: The Raiders fired three scouts, but they have a sufficient enough staff to cover those losses. In some cases, most of the leg work from a scout's perspective has been done anyway, relative to the draft. Changes like these are common after a change in leadership, and 12 months into new general manager Dave Ziegler's time with the Raiders, he continues to make moves. The draft has been a huge problem for the Raiders over the years, so it stands to reason they will look to upgrade the infrastructure in terms of talent acquisition.
Jorge Alanis (@raider_al82): Is linebacker Denzel Perryman coming back?
Vincent Bonsignore: On a team that lacks sufficient defensive standouts, Perryman has been a bright spot the past two seasons, on the field and in the locker room. The sense is the Raiders would like him back, provided it makes sense financially.
George (@joooe_g): Which cornerback free agents seem best for defensive coordinator Patrick Graham's scheme?
Vincent Bonsignore: James Bradberry of the Eagles.
Ty Detloff (@TyDetloff): What do you think the compensation will be for Derek Carr? Could the Raiders get picks and players?
Vincent Bonsignore: A 2023 third-round pick and maybe a provisional pick in 2024 based on playing time and accomplishments.
Jeff Hahn (@FundJeffHahn): I know there's talk of the Raiders having an interest in Florida quarterback Anthony Richardson. Have you heard any interest in Tennessee QB Hendon Hooker?
Vincent Bonsignore: Have not heard Hooker connected to the Raiders, but don't read anything into that, as teams play their draft cards close to their vests. He could be a solid candidate on Day 2 of the draft should the Raiders bring in a veteran such as Aaron Rodgers.
Jasinthe970 (@JasonNwestColo): Derek Carr to Saints for two picks? And, if so, why wouldn't he just wait to be a free agent?
Vincent Bonsignore: Carr waiting to get released to shop himself on the open market remains a distinct possibility. From the Saints' perspective, if they are all-in on him, one would imagine they would do what it takes to convince him to agree to a trade to eliminate the competition.
Contact Vincent Bonsignore at vbonsignore@reviewjournal.com. Follow @VinnyBonsignore on Twitter.