Raiders' O-line succeeds in stat that matters most to them
Updated September 11, 2023 - 1:23 pm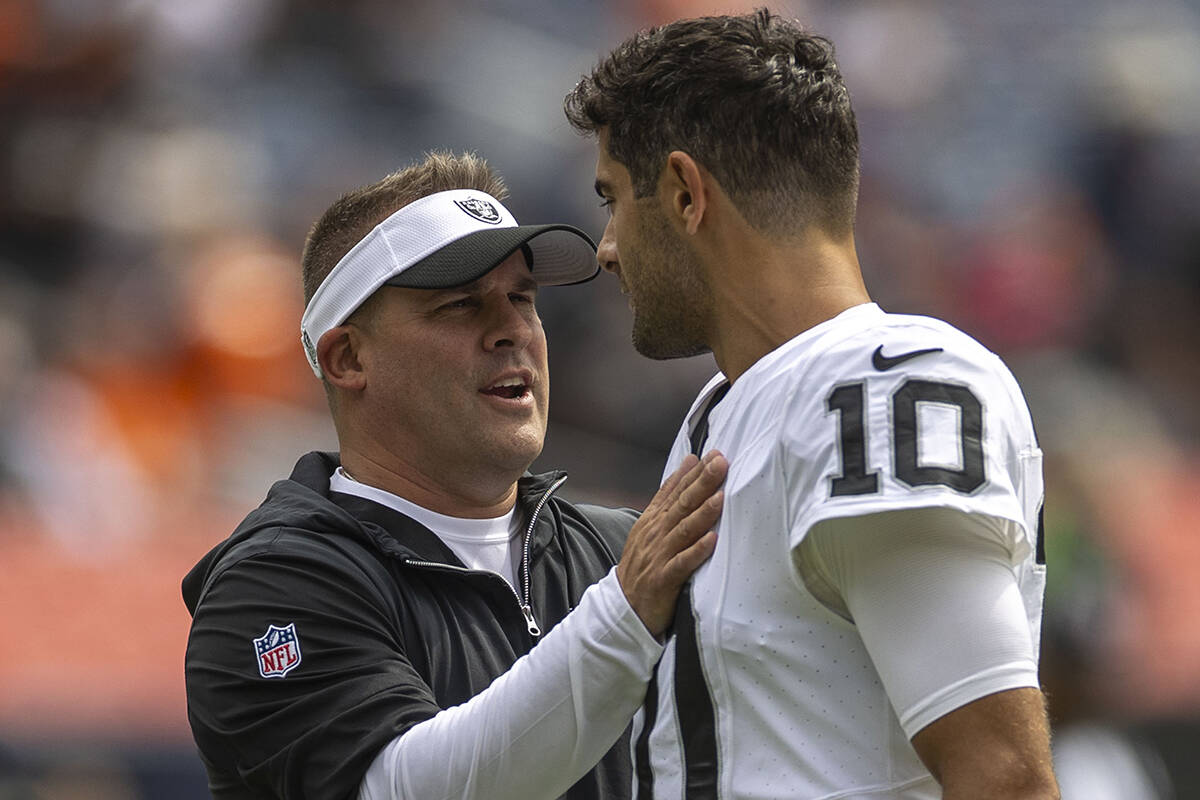 Even in this world of advanced analytics and data mining, there aren't a whole lot of formal stats for offensive linemen.
In fact, there is only one number Raiders right tackle Jermaine Eluemunor really cares about at the end of the day.
"Zero sacks," he said after Sunday's 17-16 season-opening win over the Broncos in Denver. "That's what matters. We tried to get the run game going, but sometimes it's hard when you have five or six trying to block eight. The math just doesn't add up. But zero sacks, not a whole lot of pressures. Jimmy (Garoppolo) had time back there. It's always just good to get that first win and to not allow a sack."
There were several factors that went into maintaining that zero in the box score, but it all starts with the unit up front.
That made Garoppolo's life easier in his debut with the team. It also made coach Josh McDaniels happy.
"I've said for many, many years when people ask my passing game philosophy and the answer is always, 'Protect the quarterback and give him an opportunity to read the defense and throw the ball,'" McDaniels said Monday. "It's not about plays, it's not about formations, it's not about schemes. If you're going to pass the ball successfully in the NFL, it has to start with the guys up front giving the quarterback the chance to do the things he needs to do. I thought for the most part (Sunday), we did a good job of giving him a chance."
Garoppolo deserves some credit as well. He was able to communicate protections very well and his pocket awareness was impressive and evident throughout the game. He also knows when to get rid of the ball.
"We knew going in that he is someone who has a very quick release," Broncos coach Sean Payton said of his team not recording a sack.
McDaniels deserves credit as well for calling a game that put Garoppolo in position to succeed.
Denver's Randy Gregory, a dynamic pass rusher, expressed some frustration with the Broncos' inability to get to the quarterback.
"They did a good job of running the ball, taking shots when they needed to and getting the play-action when they needed to," Gregory said. "I know for me that probably messed me up a little bit. As a pass rusher, you would like to get a little bit more opportunity for one-on-one rushes and to see him drop back more."
It wasn't always flawless and the Broncos scheme was clearly to take away the run, which they were mostly able to do on Sunday. But McDaniels was encouraged by the pass protection.
"There's definitely some things we need to clean up that we didn't do perfectly," McDaniels said. "But when you can give your guy an opportunity to stand in there and read the coverage and try to make some big throws in critical situations, that's a good place to start."
That success also means the Raiders may continue to utilize a rotation at right tackle that seemed to work pretty well on Sunday. Eluemunor, the returning starter at the position, got the nod to start with 2022 seventh-round pick Thayer Munford entering on several occasions as an eligible extra tackle. Munford alternated in at tackle in place of Eluemunor on a few drives, as well.
"I just think Thayer and Jermaine have both busted their butts and really worked hard at competing with each other," McDaniels said. "I think they're very unselfish and they both did some good things in the game. Thayer helps us as the jumbo tight end, But if you have good football players and they're earned the right to play then they deserve to play. They've both earned the opportunity and I was really happy with the way they played when they were in there."
McDaniels added the experience both players continue to gain and the ability to quickly integrate with the rest of the offensive line will be an added benefit at some point this season should an injury or absence pop up, which is almost inevitable in football.
So are sacks, which will happen to the Raiders this season. But the fact there weren't any allowed on Sunday is a source of pride and a positive sign for the season that was a result of a whole lot of people executing their job well.
Contact Adam Hill at ahill@reviewjournal.com. Follow @AdamHillLVRJ on X.