Raiders report: Rookie avoids social media, focuses on improving
Updated September 28, 2023 - 7:20 pm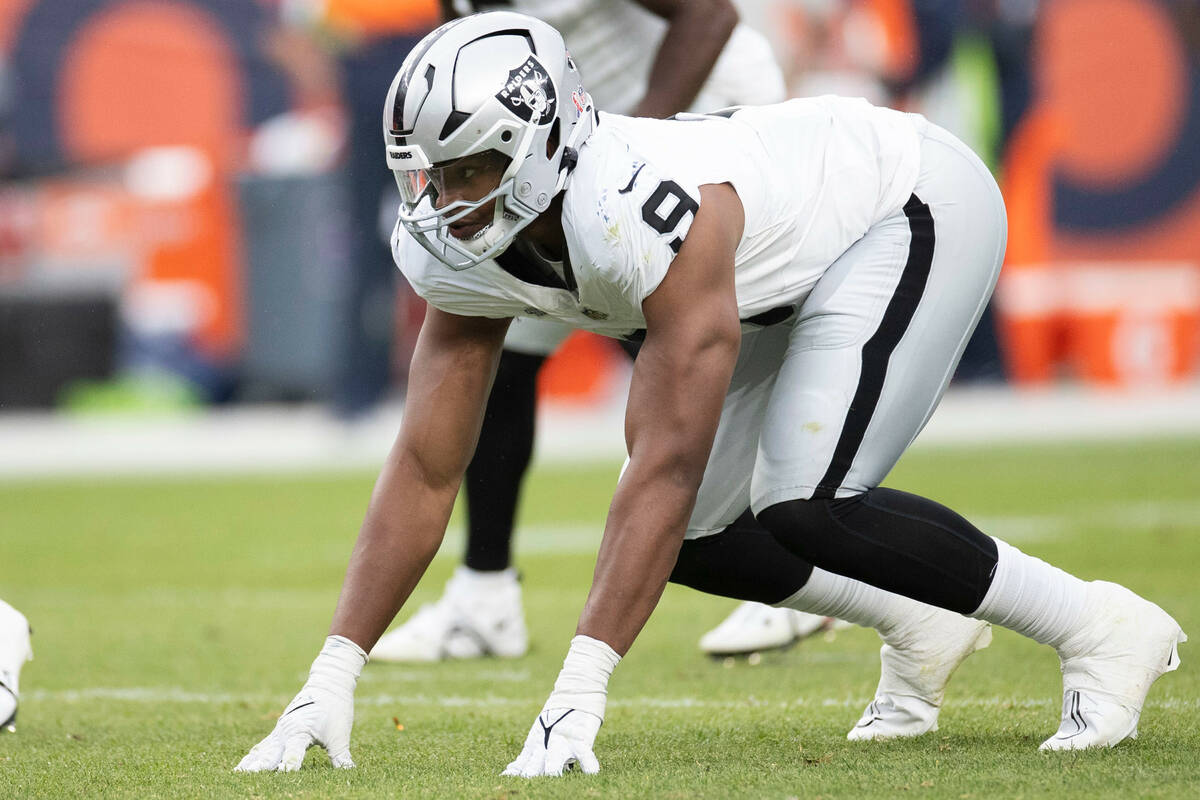 Defensive end Tyree Wilson didn't need to hear the online criticism of his NFL debut to know where he needed to improve.
"I'm not really on social media," the Raiders' first-round pick said.
That's probably a good thing because in Week 1 against the Broncos his name was trending for all the wrong reasons — such as how long it was taking him to get out of his stance and moving toward the quarterback on pass rushes.
"The first game, the get-off was pretty bad," he said Thursday after practice. "But after that, I started focusing on that every time I line up, and I see improvement every day that I watch film."
Wilson has yet to generate much pressure and hasn't come close to his first sack, but there are positive signs in his development.
"Definitely getting more comfortable every game … the more reps I take, the more practices I do," he said.
Wilson is still early in his development because he missed the offseason program as he recovered from a foot injury. He didn't start practicing until late in training camp, and the plan was to ease him into the lineup before fellow defensive end Chandler Jones left the team for personal reasons.
"I wouldn't use it as an excuse, but I feel like you grow with preparation and practice," Wilson said of the missed time. "That's why I come and go hard and give the best every day. I don't care what other people say. What matters is what my teammates say and what the organization says."
Defensive coordinator Patrick Graham has seen the growth and thinks Wilson is on the right track. He cited recognition of offensive sets, building his strength and endurance and sharpening his pass rush moves as the next steps.
Wilson said the game has started to slow down and that he has come a long way in developing his pass rush habits and learning to attack different blocking schemes.
"Really just focusing on those things and the get-off to put stress on the offensive tackles and affect the quarterback," he said.
One thing he hasn't done is plan the celebration for his first sack.
"It's just going to be what's in the bag," he said. "It's just going to come out."
Injury report
Quarterback Jimmy Garoppolo was back on the practice field in a limited capacity Thursday, but star defensive end Maxx Crosby did not participate in the outdoor session.
Crosby was downgraded from limited participation to none with a knee injury. He was in the locker room after practice and did not appear to be limping or favoring either leg.
Safety Roderic Teamer also was downgraded from limited to nonparticipation as he deals with an Achilles injury.
Defensive end Malcolm Koonce (groin) and defensive tackle Byron Young (ankle) were added to the injury report as limited participants after not being listed Wednesday. Cornerback Jakorian Bennett (hamstring) was limited for a second straight day.
Linebacker Curtis Bolton remains out with a knee injury suffered Sunday, though he is believed to have avoided a serious injury.
Challenge accepted
Cornerback Nate Hobbs always looks forward to playing the Chargers, even if it means a slew of one-on-one matchups with star receiver Keenan Allen.
"He's one of the best in the league for sure," Hobbs said. "It's always fun to play the Chargers and go against him. It's always a battle. It gets us going. I feel like we're at our best when we play them."
Hobbs is back in the slot this season, where Allen lines up the most.
"His change of direction and his IQ, his ability to read the defense and find the soft areas, knowing leverage," Hobbs said of what makes Allen so difficult to cover. "Then his short-area quickness is really impressive."
In six matchups in the past three seasons, Allen has 33 catches for 360 yards and two touchdowns. He had 18 catches for 215 yards in Week 3, and the Chargers need him more than ever after losing receiver Mike Williams for the season with a torn ACL.
Contact Adam Hill at ahill@reviewjournal.com. Follow @AdamHillLVRJ on X.