Raiders see first loss of season, fall 27-10 to Redskins
September 24, 2017 - 8:43 pm
Updated September 25, 2017 - 2:55 am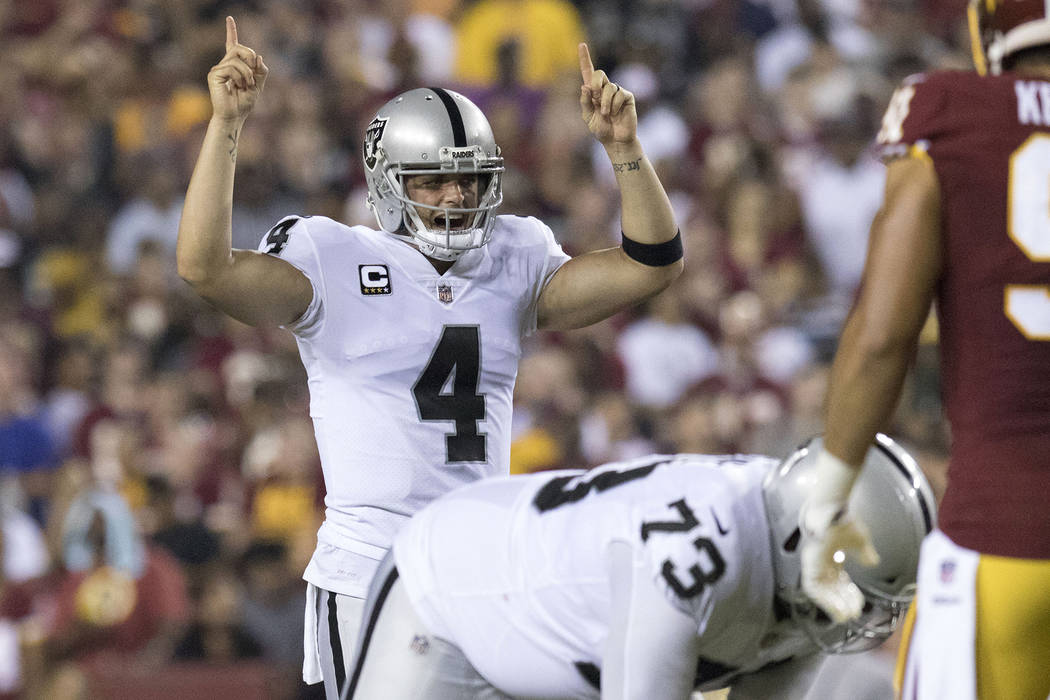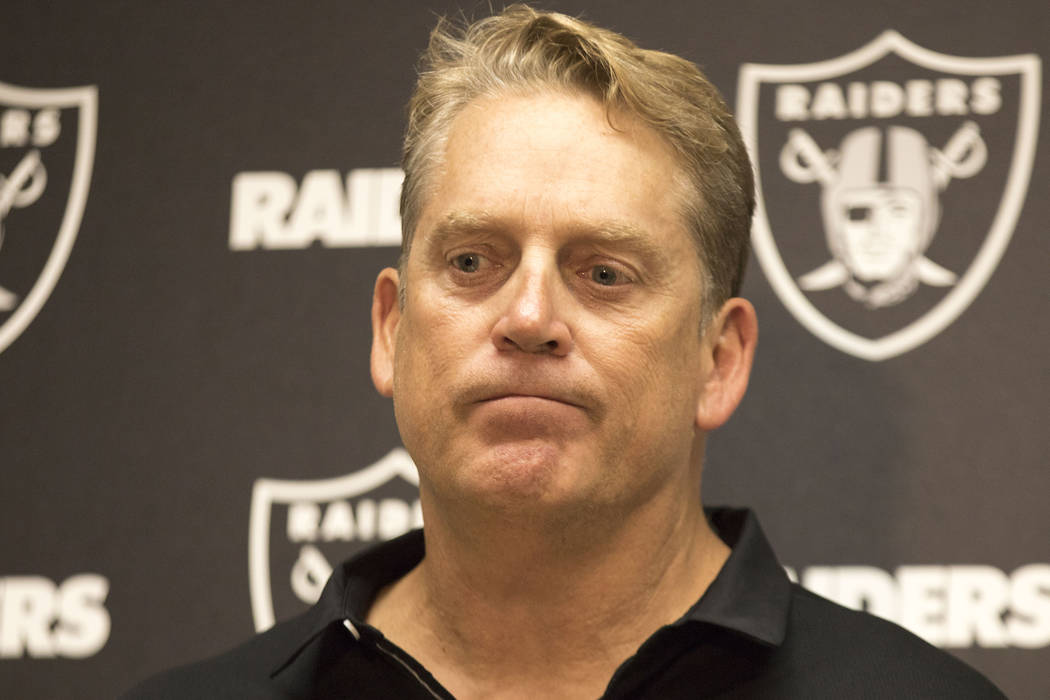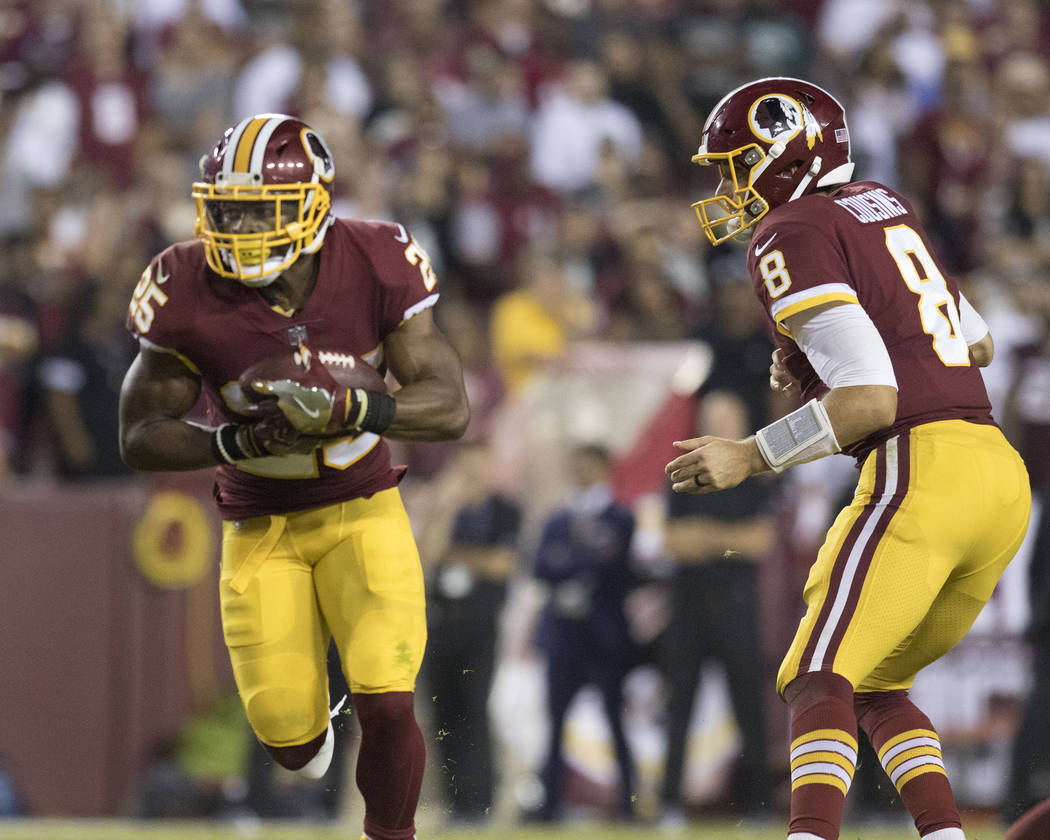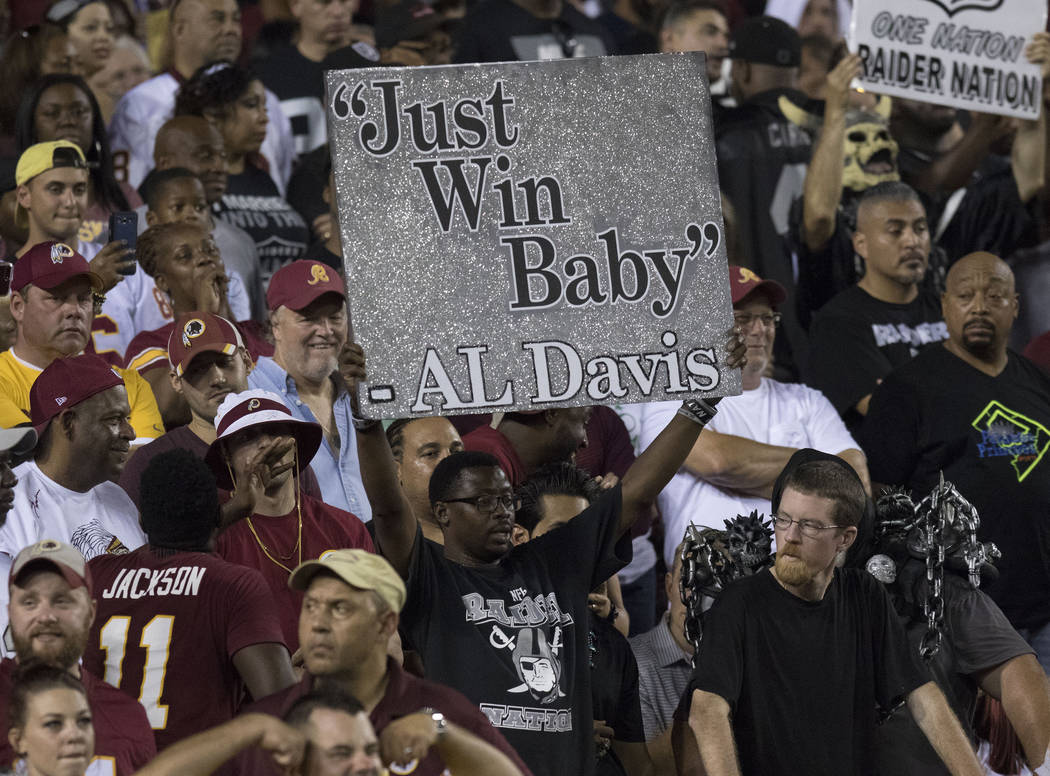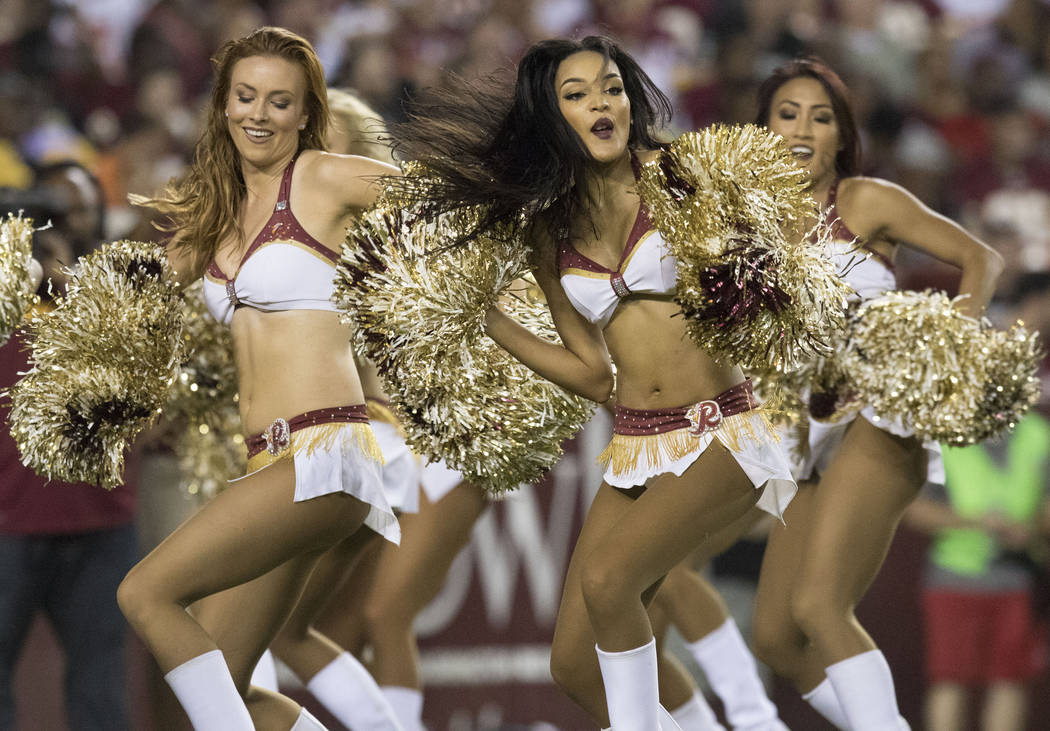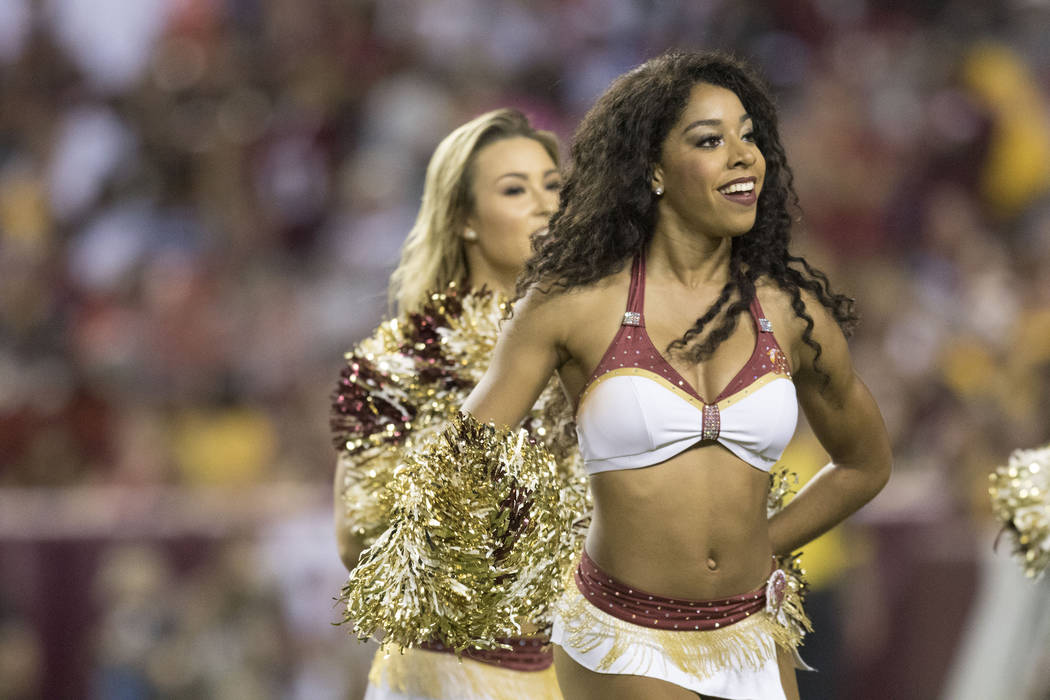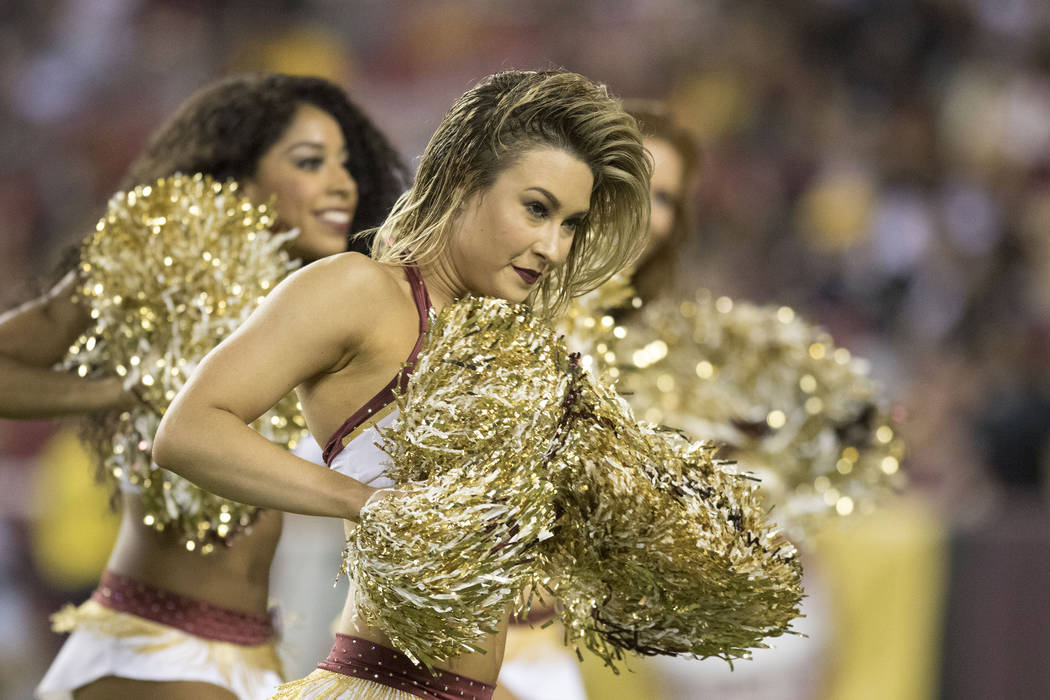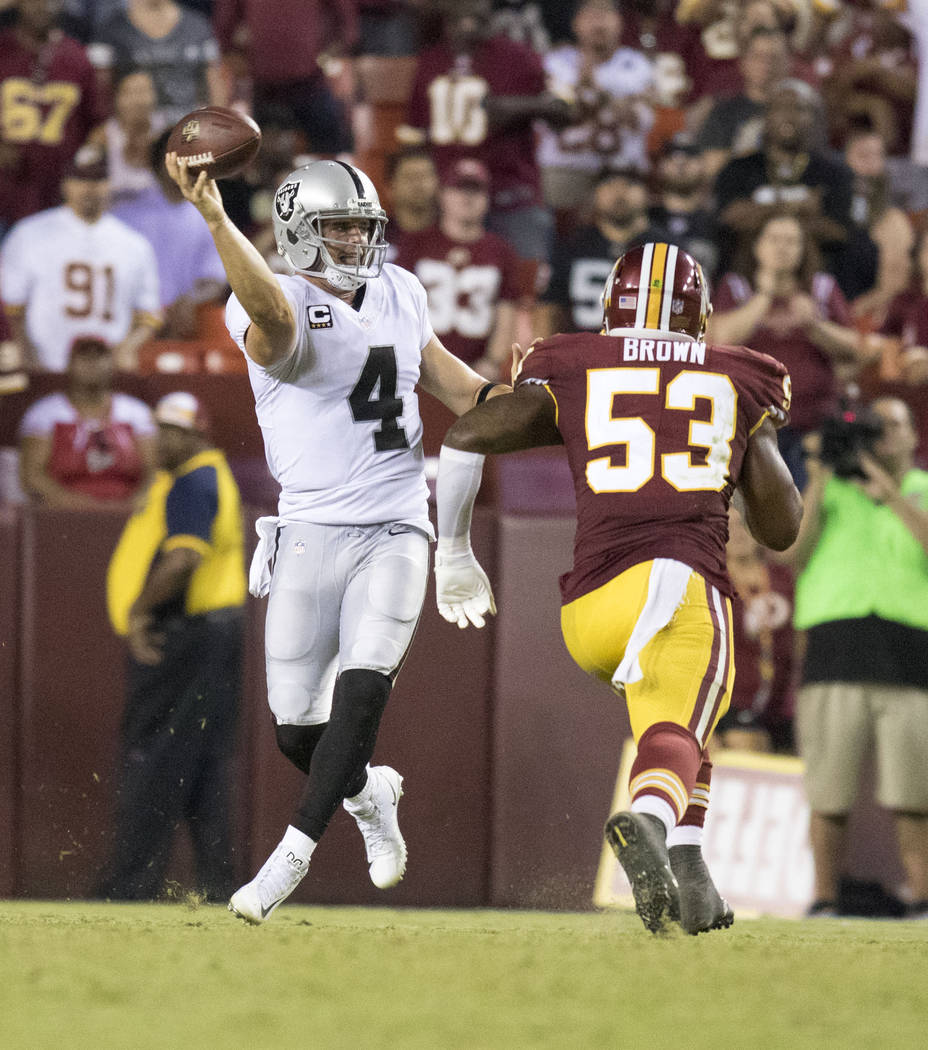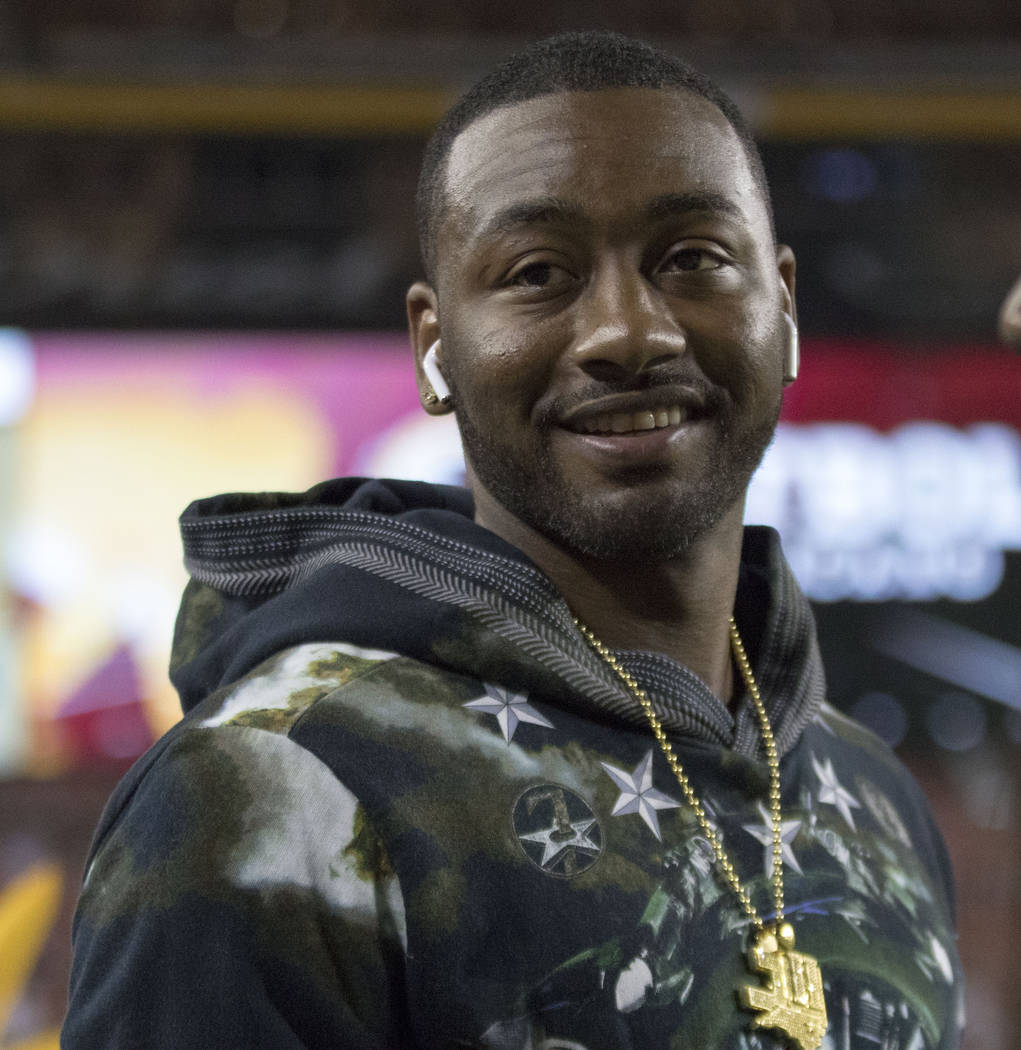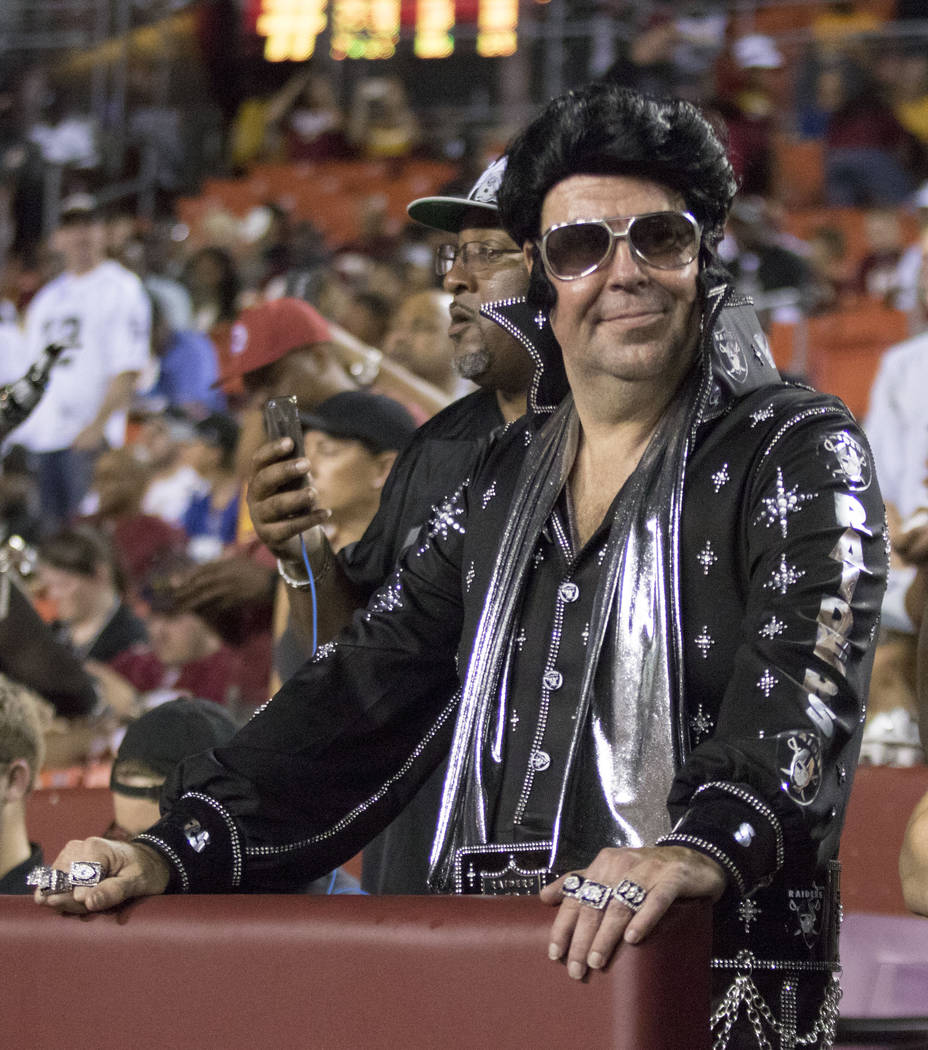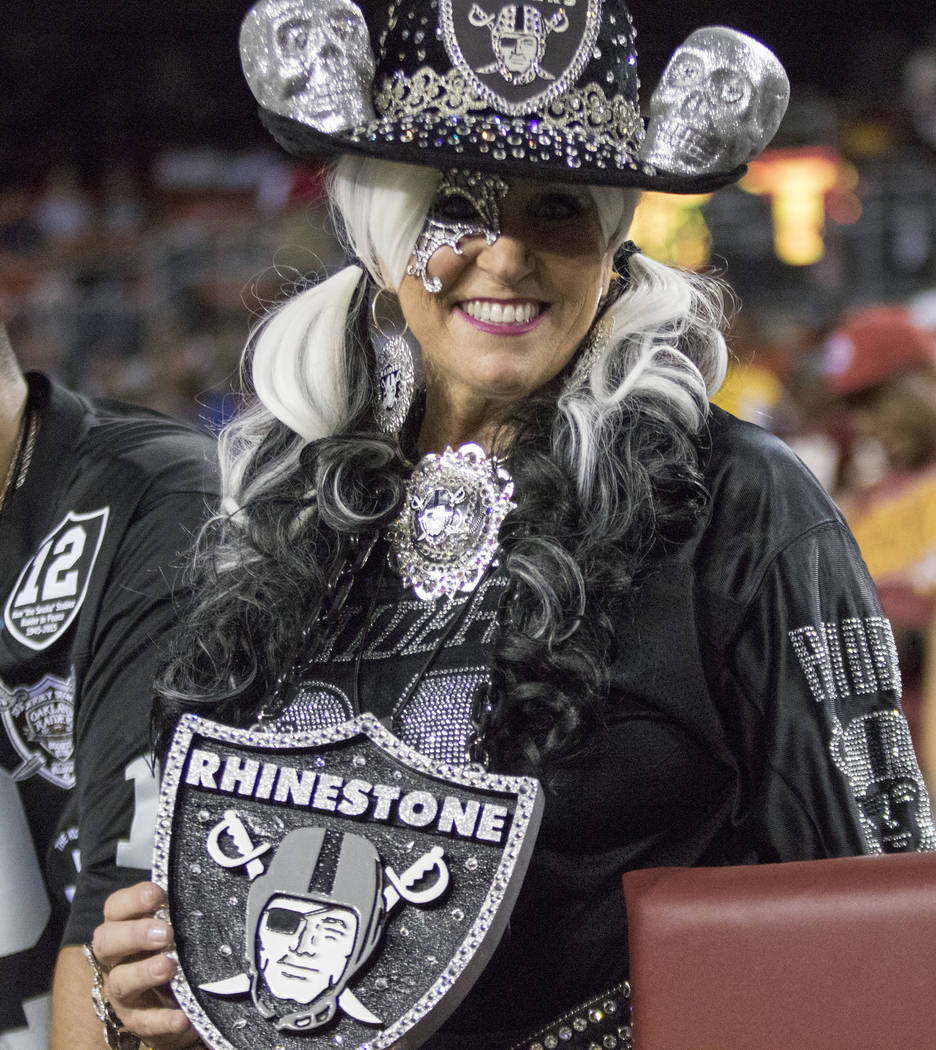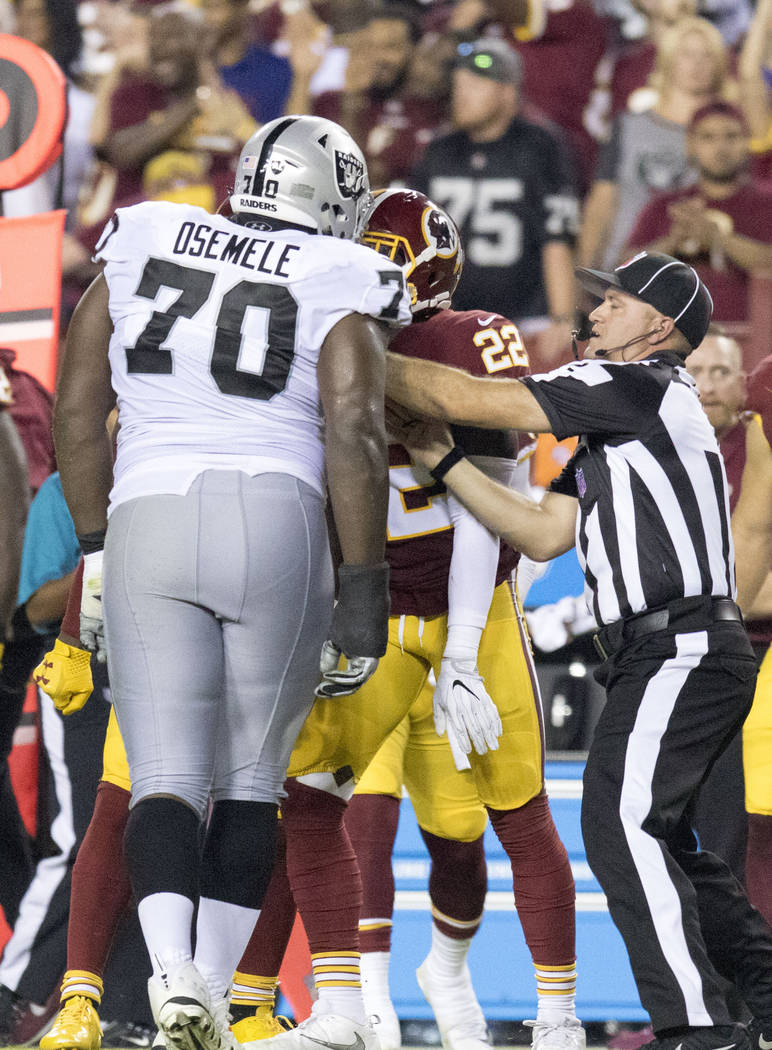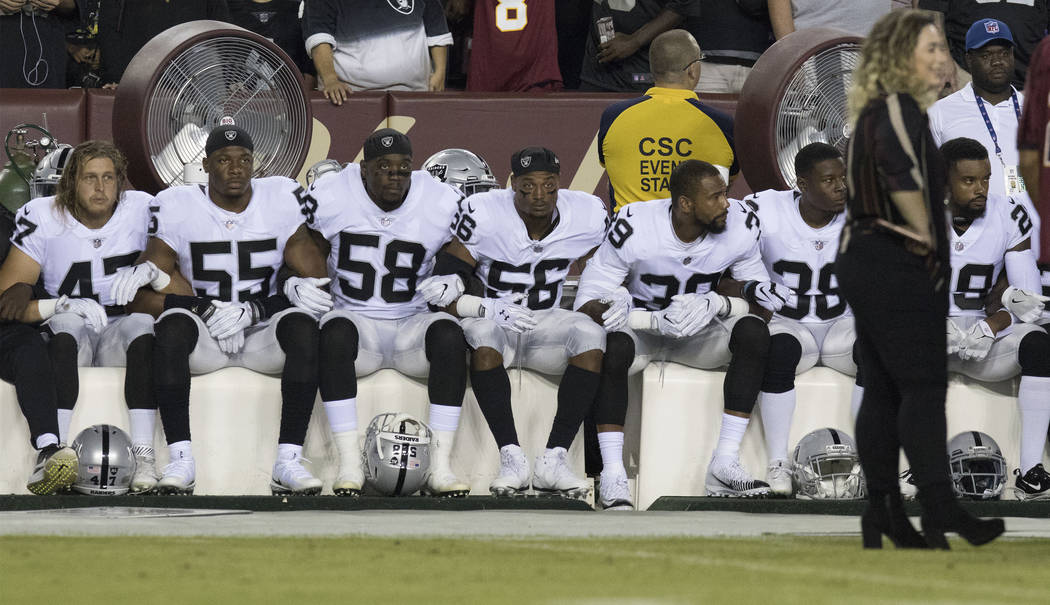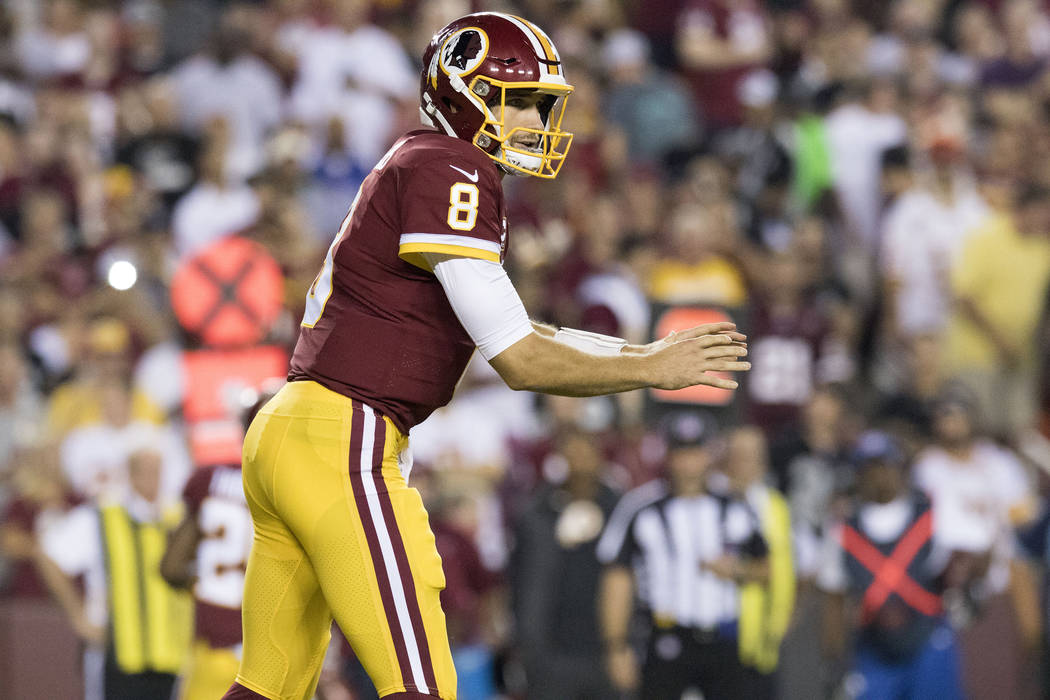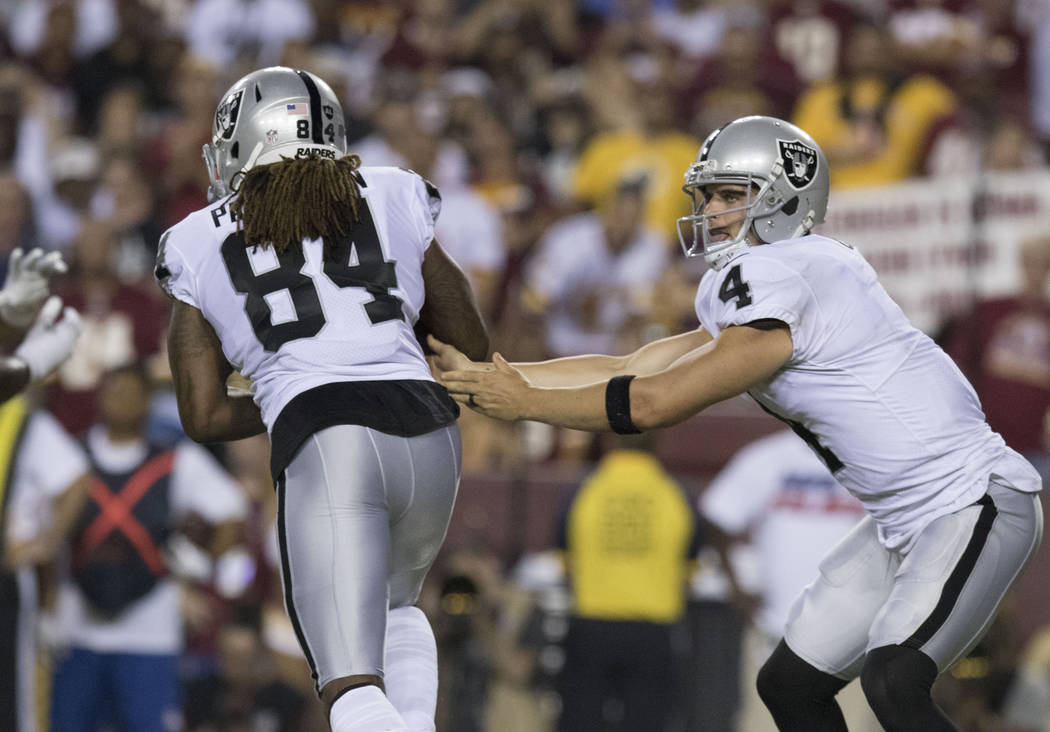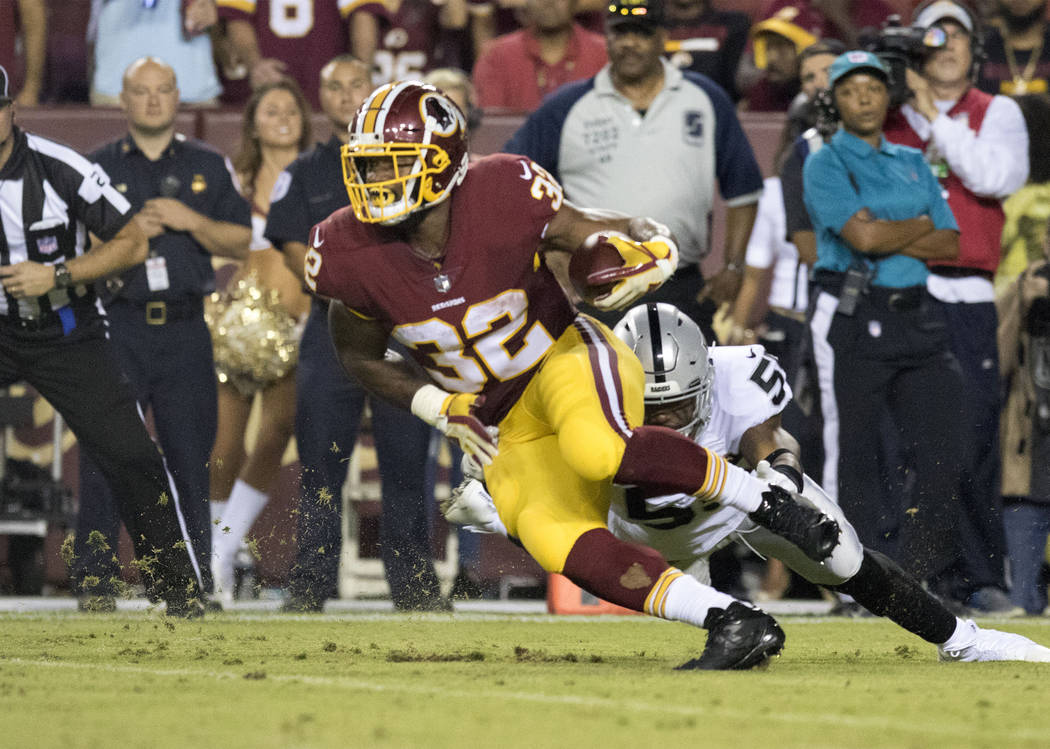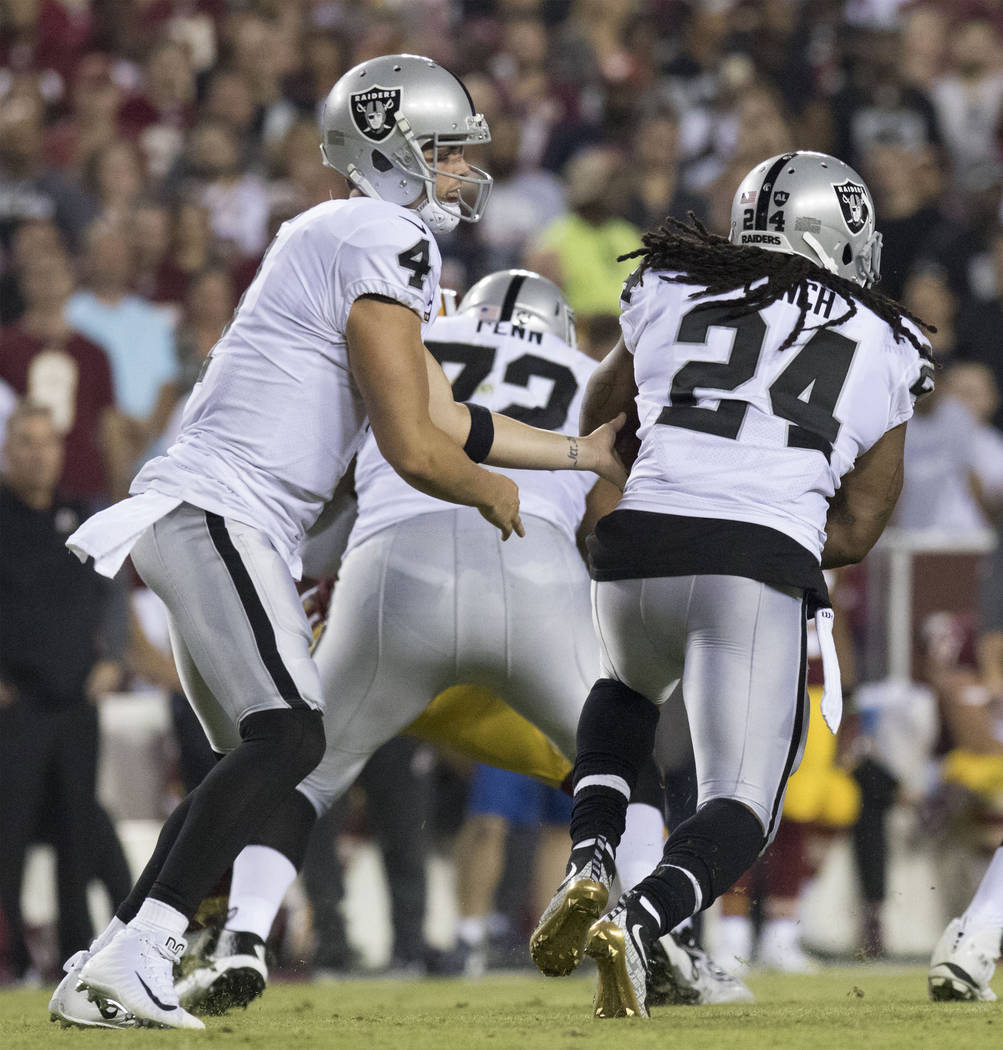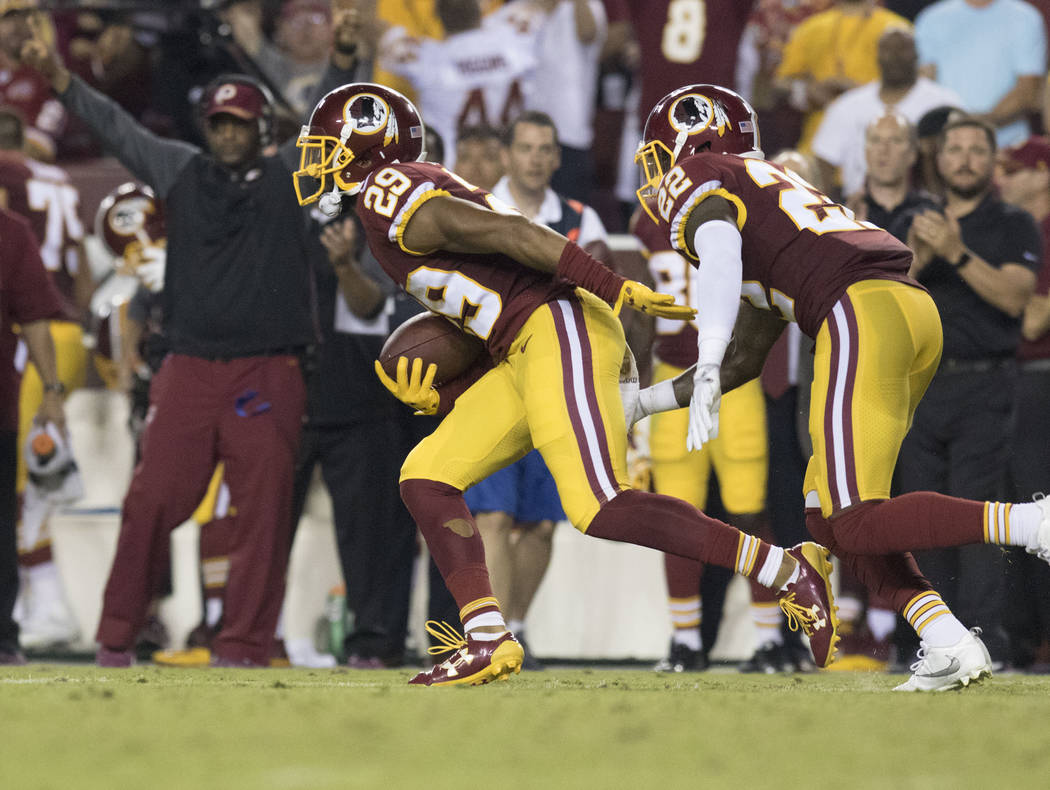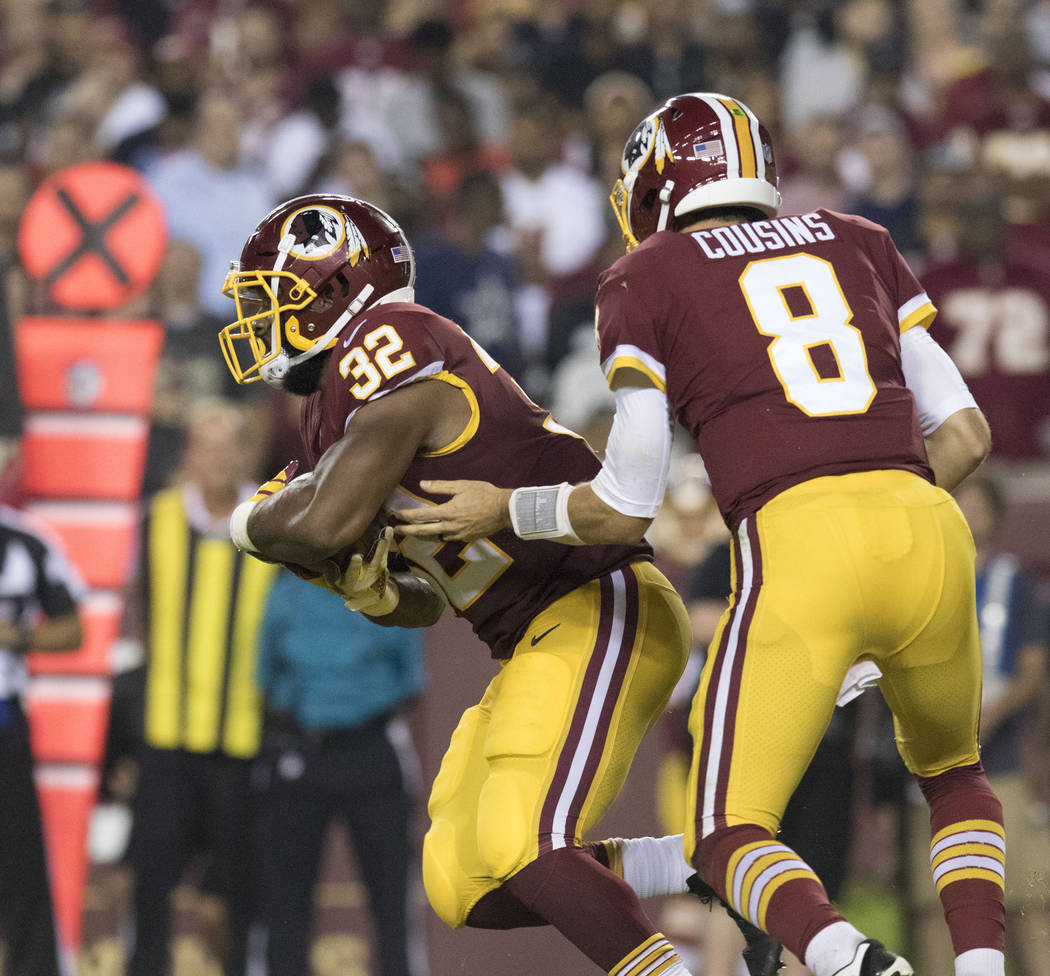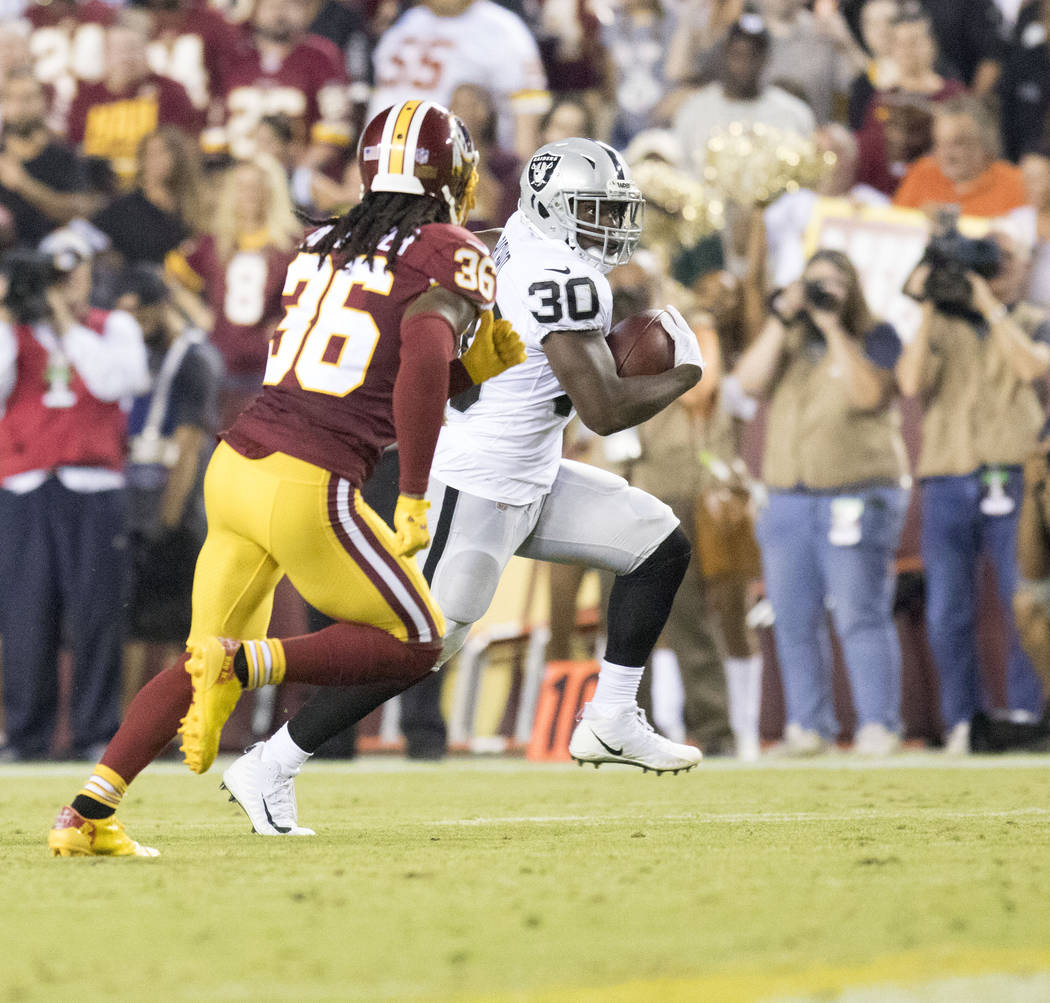 LANDOVER, MD. — Derek Carr was intercepted on his first pass attempt.
He was sacked on his next try. On the ensuing play, he was sacked again.
The Raiders totaled 128 yards on 48 plays. They committed three turnovers, the first two of which led to touchdowns. They allowed four sacks. They failed to convert any of their 11 third-down attempts.
And that was just the offense.
Some Raiders players spent much of Saturday and Sunday wondering how they would, as a team, respond to President Donald Trump's comments at a Friday rally in Alabama. They all spent Sunday evening searching for an adequate response that never came, the team's first loss of the year, a 27-10 battering from the Washington Redskins.
Carr finished 19-for-31 passing for 118 yards with the two picks.
His lone touchdown was a 21-yarder to tight end Jared Cook, and it took a muffed punt to set up that opportunity.
"Man, we just got our butt kicked," Carr said. "They got after us. They played better than us. … This wasn't alarming, but we did get punched in the mouth. It's all about how we respond. Our guys will be ready to fight. … I take full blame for what the offense did. All of that is on me. Every little bit of it. Everyone else played great. I've got to take care of the ball."
Well, not everyone.
This was a full-scale beating. Wide receiver Seth Roberts lost a fumble and likely had a couple blocks he wanted back. Wide receiver Amari Cooper, regarded as someone who accepts blame even when it isn't fully his, was the intended target on Carr's first interception. He and wide receiver Michael Crabtree both surpassed 1,000 receiving yards in 2016. They combined Sunday for two catches and 13 yards.
Crabtree exited in the second half with a chest injury.
The offensive line struggled against the Redskins' pressure packages.
"I wouldn't say I was surprised," left guard Kelechi Osemele said of Washington's front. "Some of the looks that we got, we practiced. We knew they were going to try to take away the double teams. They did a good job of that with their alignment and stuff like that. We've just got to keep practicing. Obviously, we've got to get it fixed because (other teams) watch film, so we'll just go back to the drawing board. We'll figure it out. We'll be more prepared next time."
Oakland did not surpass 100 yards of offense until about 90 seconds remained in the game. Meanwhile, Washington had 472. Running back Chris Thompson earned 150 of them as a receiver, including a 74-yarder on third-and-9. The Redskins had no trouble on third down, finishing 7-for-15 to the Raiders' 0-for-11.
Kirk Cousins was 25-for-30 passing for 365 yards and three touchdowns for Washington (2-1).
The Raiders (2-1) had seven first downs.
All in all, it was a one-sided beatdown for a team that played bully just seven days earlier in a 45-20 showing against the New York Jets. The Raiders' next meeting comes Sunday against the Broncos in Denver.
"They had a good day. We had an ugly day," coach Jack Del Rio said. "I'm glad (ugly losses) don't count for more than one. We definitely took one on the chin today. As I told our team, it starts with me. I've got to be better. We'll all take a look at ourselves and see what we can do better. … If you would have said our offense was going to be 0-fer on third down, I would have said, 'No way.' It's a rarity, but it happened."
"There's no panic," Carr said. "I promise you that. Does it suck? Does it sting? Absolutely because you never want to do something like that. But at the same time, there's no panic. We're going to grind. We're going to get after each other in practice just like we always do."
More Raiders: Follow all of our Raiders coverage online at reviewjournal.com/Raiders and @NFLinVegas on Twitter.
Contact reporter Michael Gehlken at mgehlken@reviewjournal.com. Follow @GehlkenNFL on Twitter.
Related
Widespread protest from Raiders during Sunday Night Football anthem
Trump's words on national anthem only brought NFL closer than ever