Stidham shows ability to adjust on the run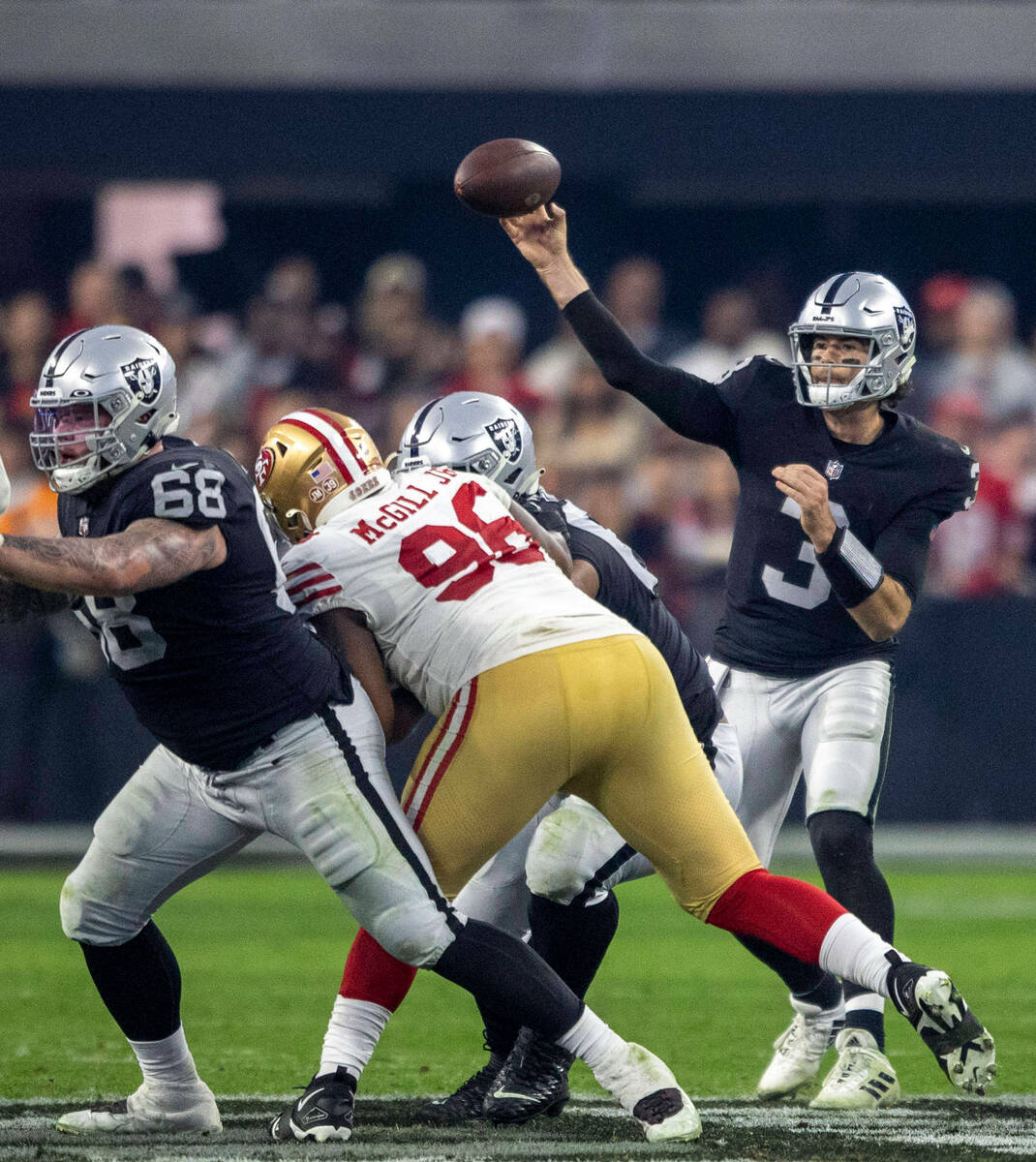 A loaded dual-threat high school quarterback class of 2015 featured some familiar names, including Lamar Jackson, Kyler Murray and Joe Burrow as top-10 players at the position.
But none of those current NFL quarterbacks was ranked No. 1 by 24-7 Sports. That distinction went to Jarrett Stidham, then a senior at Stephenville High School in Texas, who made his first NFL start Sunday for the Raiders.
Hence, the lack of surprise when Stidham showcased in an overtime loss to the 49ers a skill set that went beyond sitting in the pocket and throwing the ball. On a few occasions, he used his legs to pick up key first downs or maneuver around the pocket to make throws downfield.
The most conspicuous was the deft play he made to first feel pressure coming off the edge to his left, then calmly sidestep and roll to his left, keeping his eyes downfield as he scanned his options. He set his feet as two pass rushers barreled toward him and threw the ball over the 49ers' last line of defense. Waiting for the ball was a wide-open Davante Adams, who ran free to the end zone for a 60-yard touchdown.
"That's not easy to do," Adams said. "You've got to be a pretty tough guy to sit in there and take a hit like that just to make sure you've given it everything you got as far as exhausting all your options. I got a lot of respect for just the way he sees the game in that aspect."
It's the type of player Stidham always has been. Fans often think about mobile quarterbacks and their ability to run. The reality is, that mobility is even more important to manipulate a hectic pass pocket to buy time to salvage plays.
"I've never really been a runner first," Stidham said. "I've always tried to be a passer first, and there's just some instances throughout the game where if there's an opportunity to run, I just take off. That's kind of how I've always viewed running the football. I would like to make plays with my arm, not necessarily my legs, but whatever can help the team in that moment, that's what I'll try to do."
But it goes much further than that, especially as it relates to when to abandon the original play. Where to move to find safe space. And whether to hang in there and make a throw downfield or take off running or throw the ball away.
"It's just a feel thing," Stidham said. "Sometimes it's just taking a subtle step to your right or to your left or up or back. Sometimes it's taking your drop and maneuvering up and then out of the pocket and just feel space. It definitely just comes down to how the game feels, how the rush is feeling, how the protection is."
Ideally, every play works exactly as it was drawn up, right down to the quarterback standing safe in the pocket and making a throw to his first read.
But that world doesn't always exist in the NFL. Inevitably, quarterbacks have to make quick decisions based on a number of factors ranging from great coverage to a clean pocket turning hectic because of an overpowering pass rush.
As Stidham showed Sunday, when he was 23 of 34 for 365 yards and three touchdowns, and added 34 yards rushing on seven carries, his ability to assess situations and make adjustments stood out. And it's what coach Josh McDaniels expects from his quarterbacks.
"The most important thing for me as I look at that trait and that skill is that when they do make the decision to move, it's a good decision and not a decision that's going to cause them more harm," McDaniels said. "Leaving the back of the pocket and now you get stripped sacked. Those kinds of decisions bother me because now you're putting the team and the ball at risk.
"If they make a good choice to move and maneuver outside of the pocket, and then when they're out there make another good decision because that's a whole separate part of the equation."
Such as Stidham's handling of the situation on the play that resulted in the long touchdown to Adams.
"I'm not going to tell you what I was saying when he was drifting," said McDaniels, laughing.
"But it's somewhere in the neighborhood of 'throw it away, or get down.'"
Contact Vincent Bonsignore at vbonsignore@reviewjournal.com. Follow @VinnyBonsignore on Twitter.
Up next
Who: Chiefs at Raiders
When: 1:30 p.m. Saturday
Where: Allegiant Stadium
TV: ESPN, KTNV-13
Radio: KRLV-AM (920), KOMP-FM (92.3)
Line: Chiefs -9½; total 52½