'That's like a Hollywood script,' Chandler Jones says of winning TD
Updated December 18, 2022 - 7:40 pm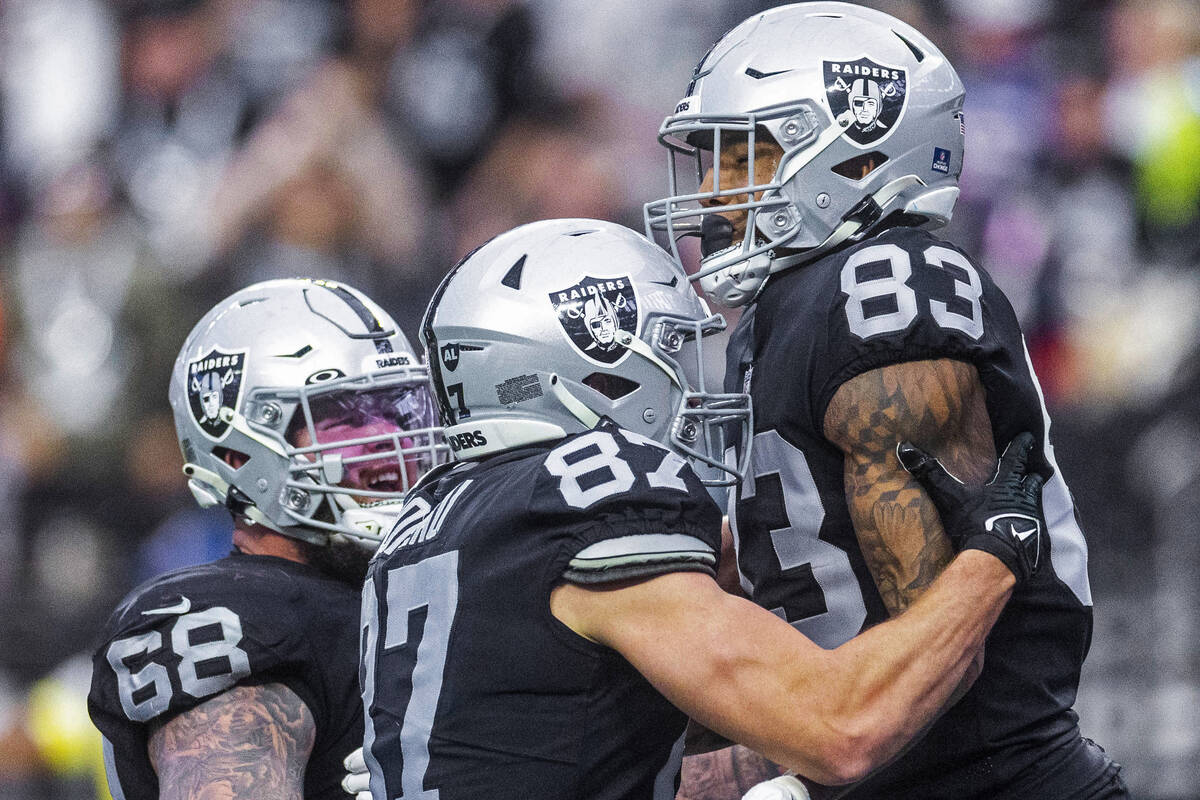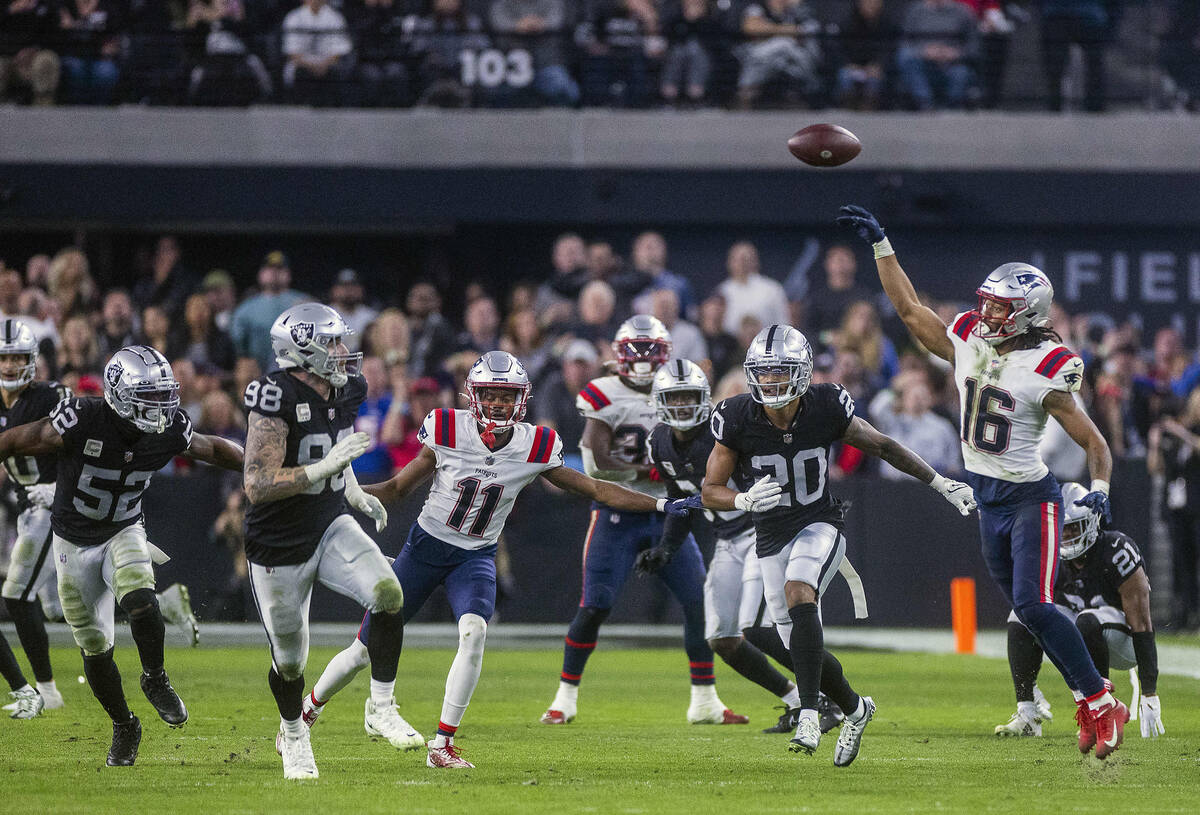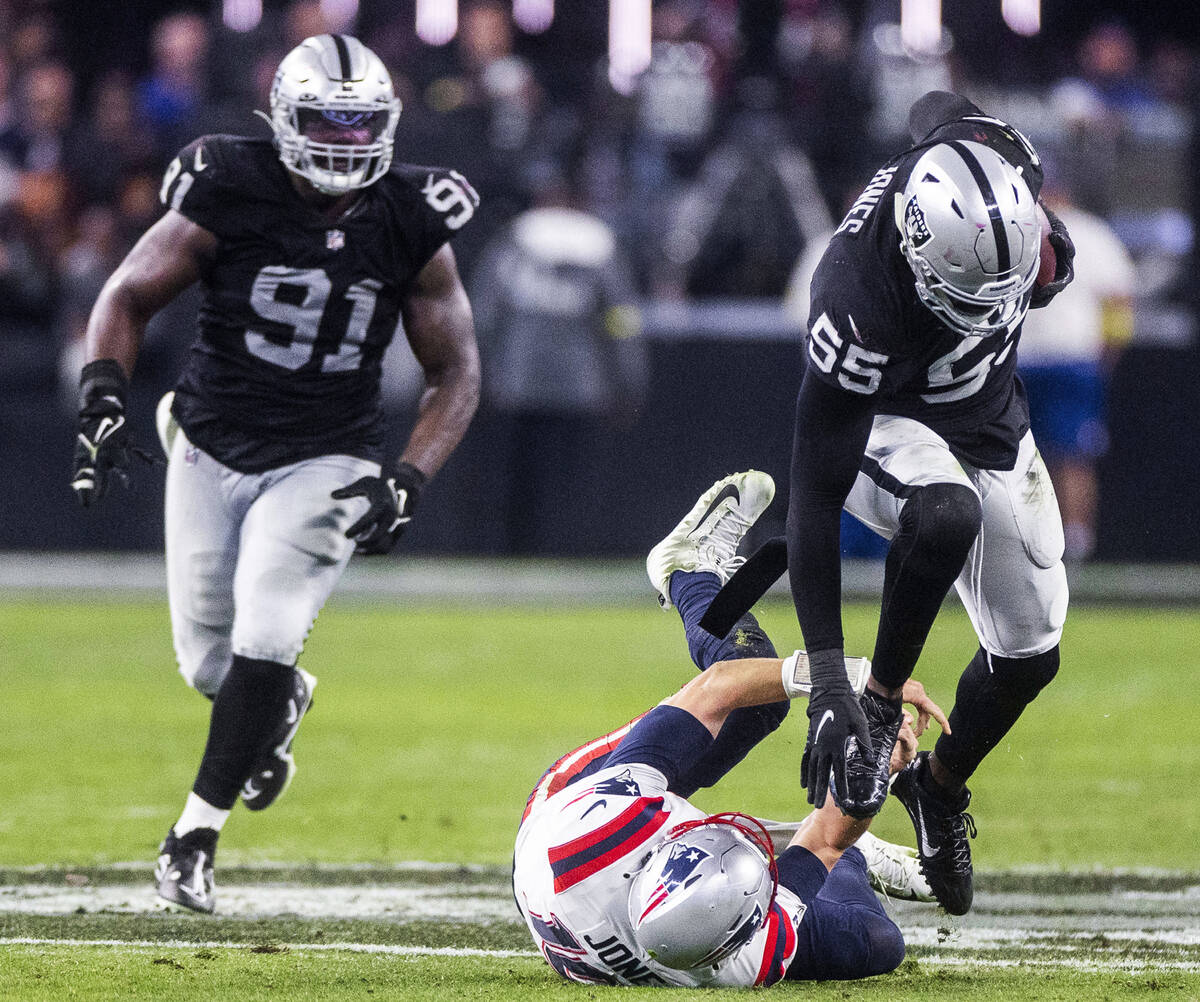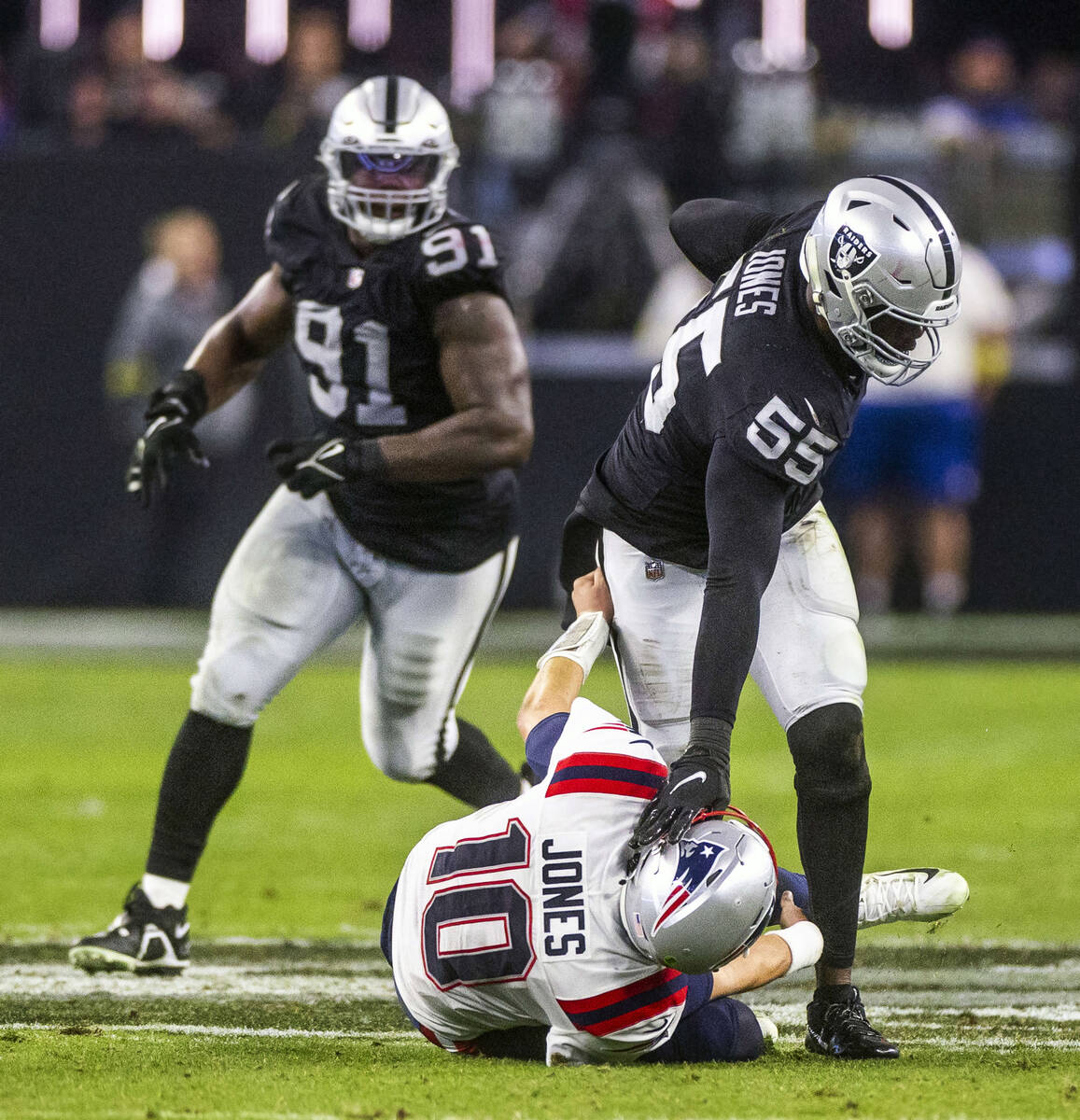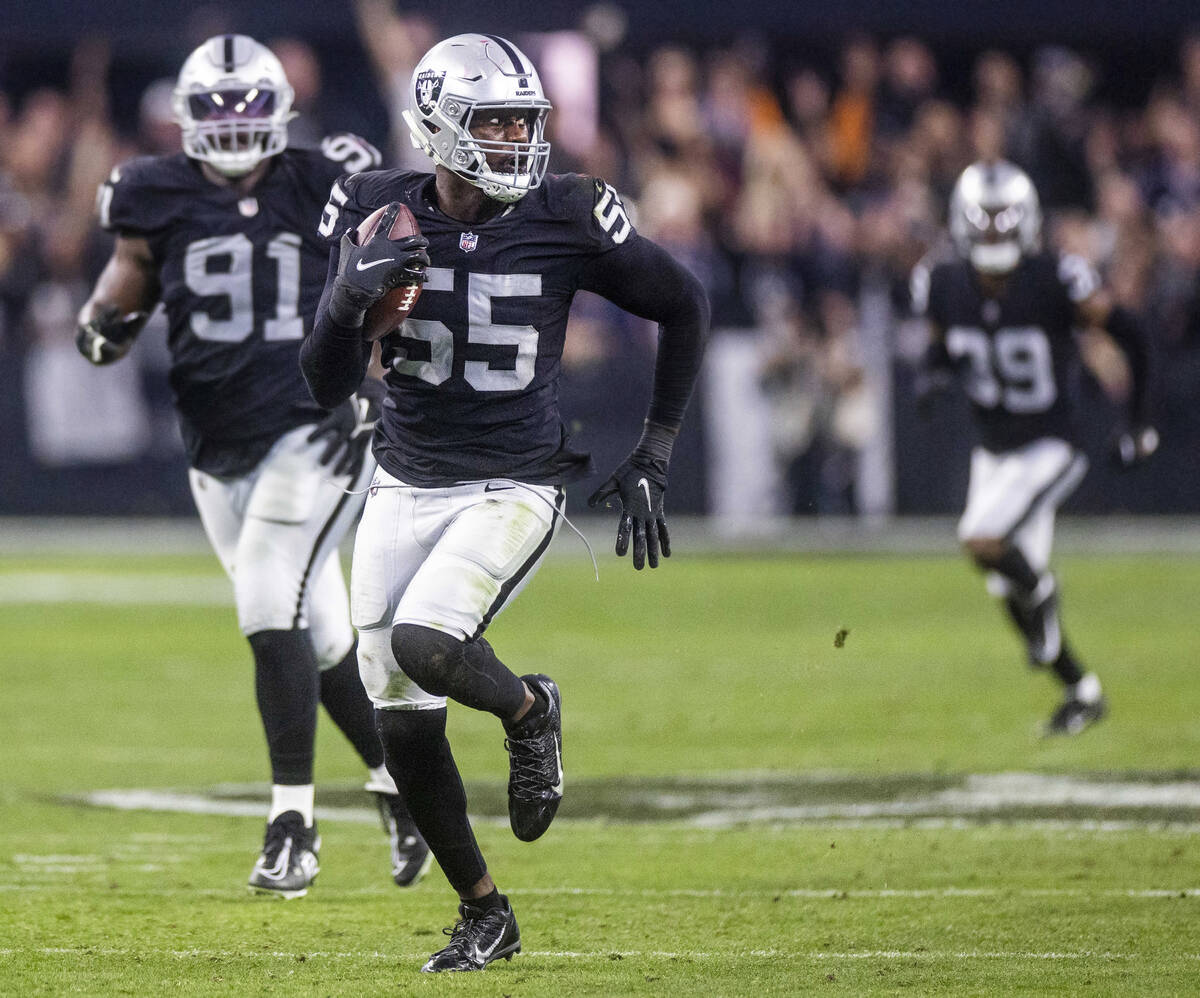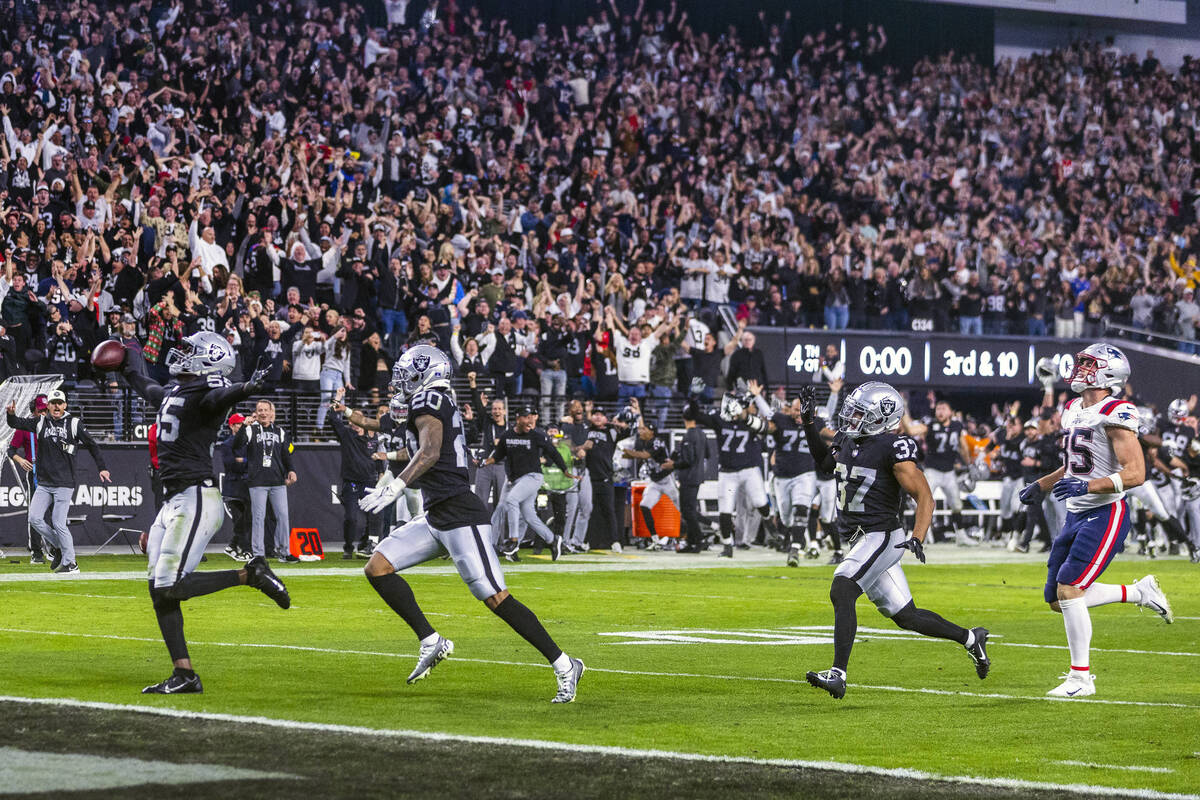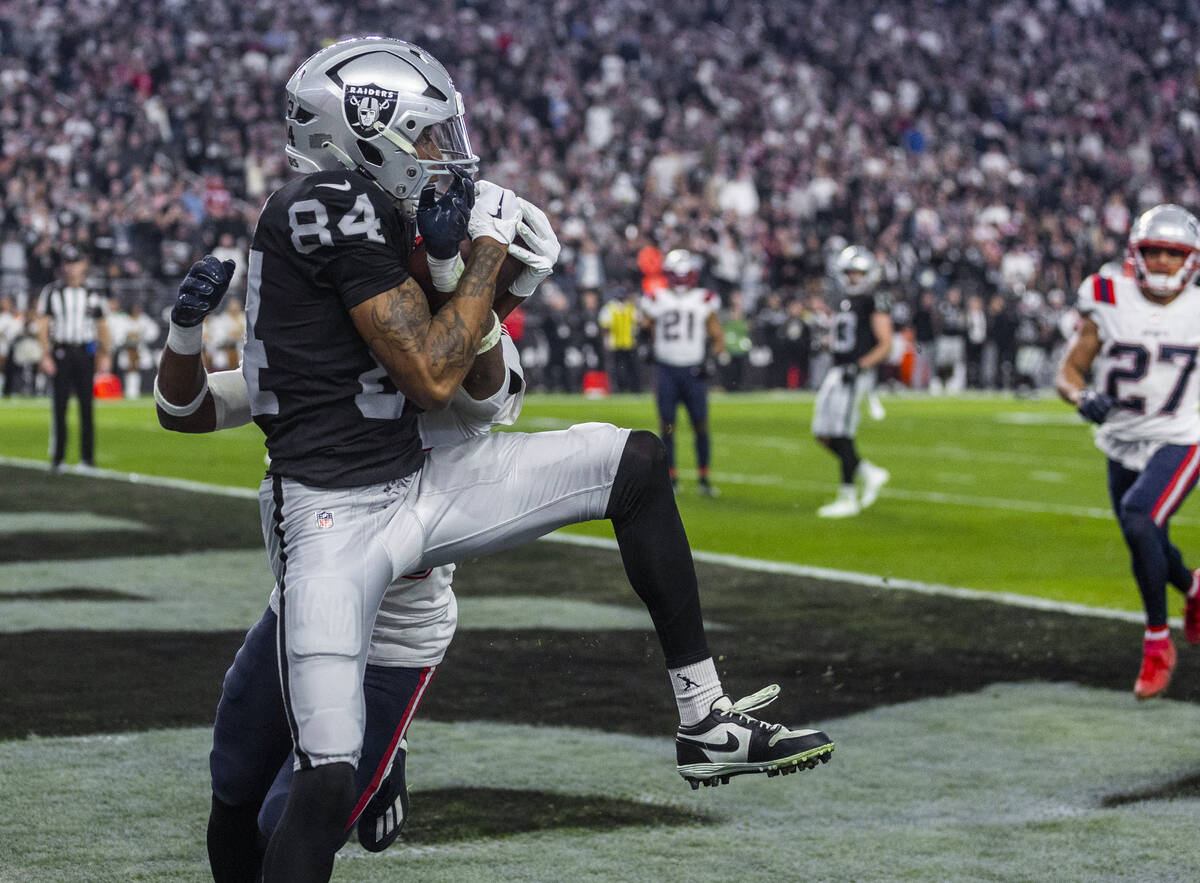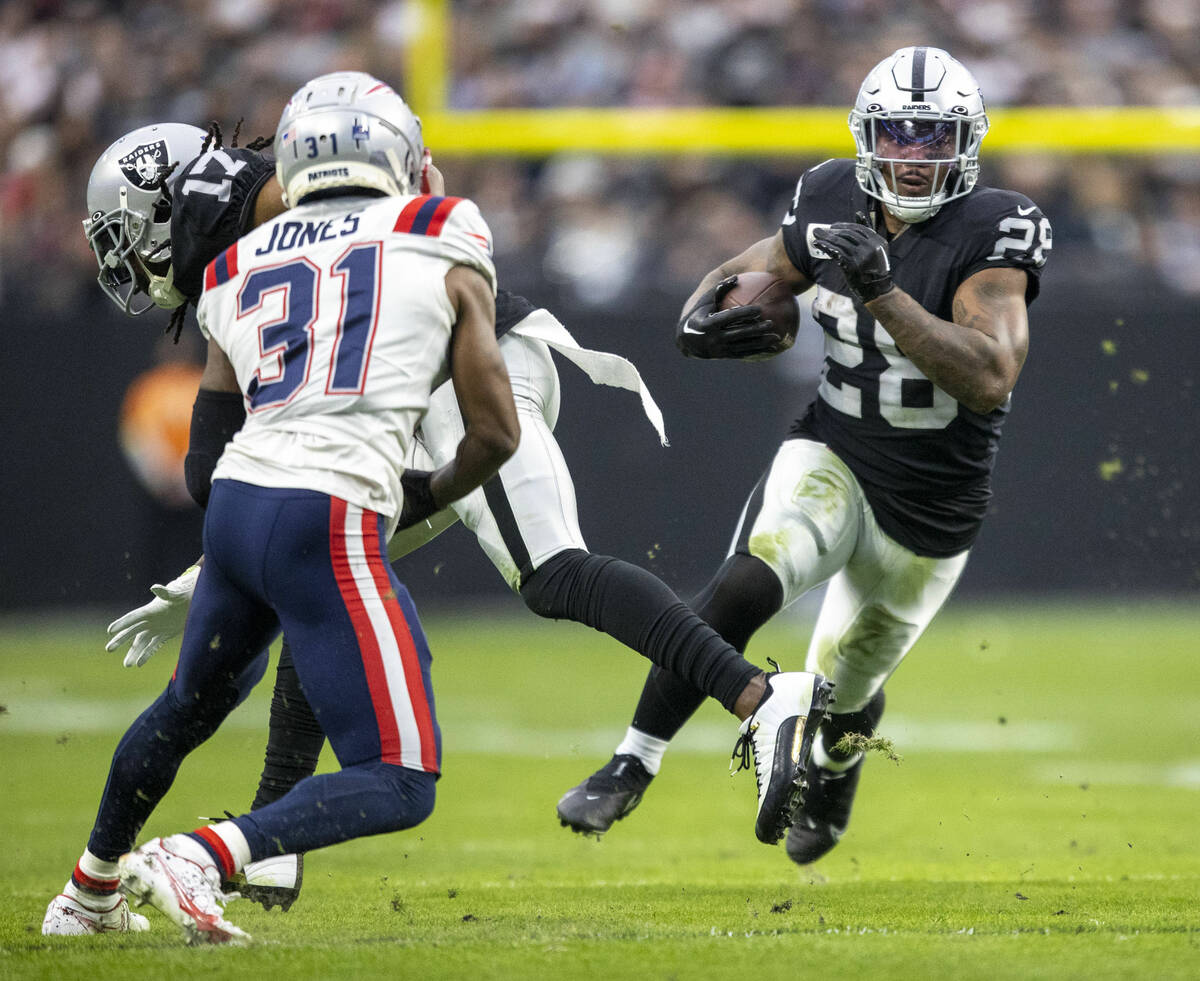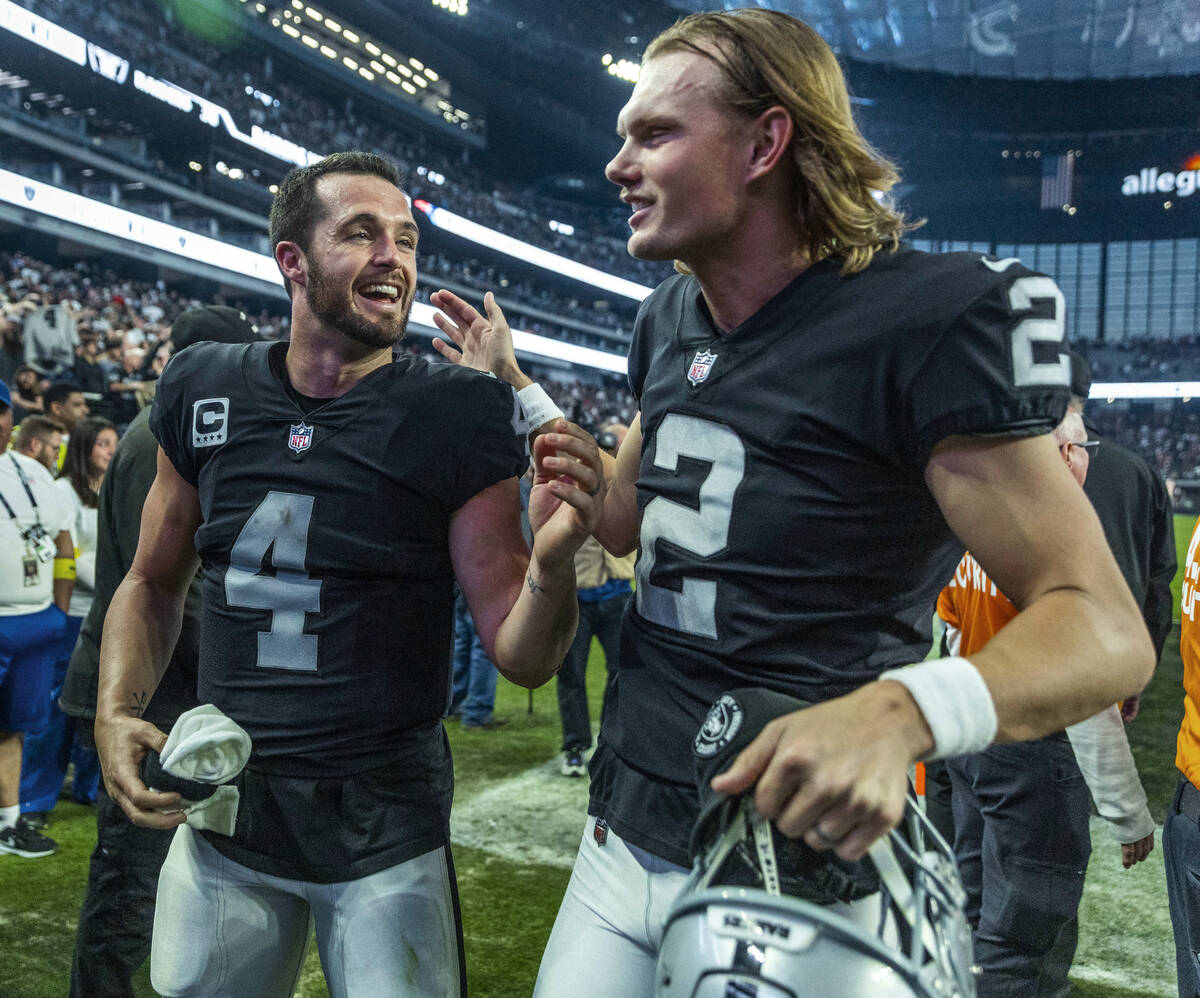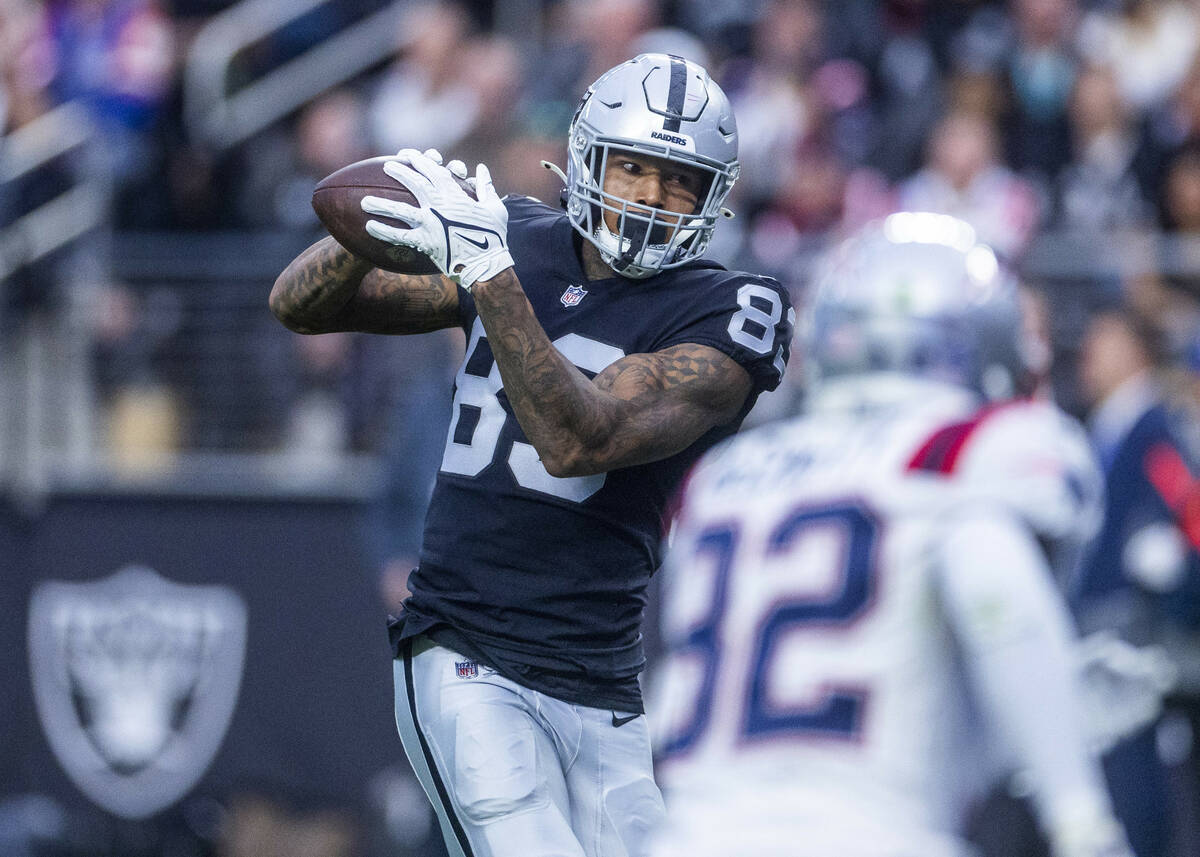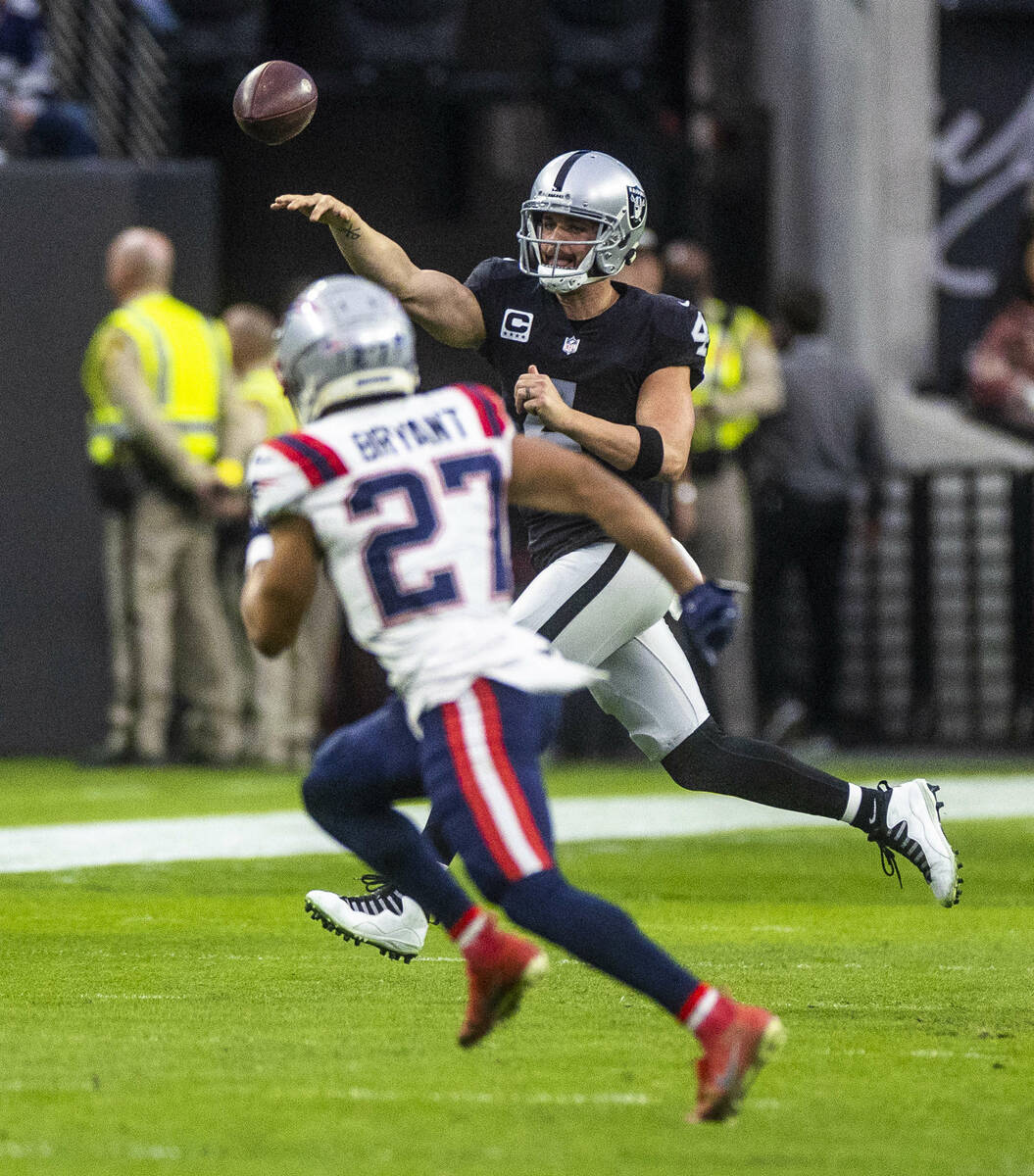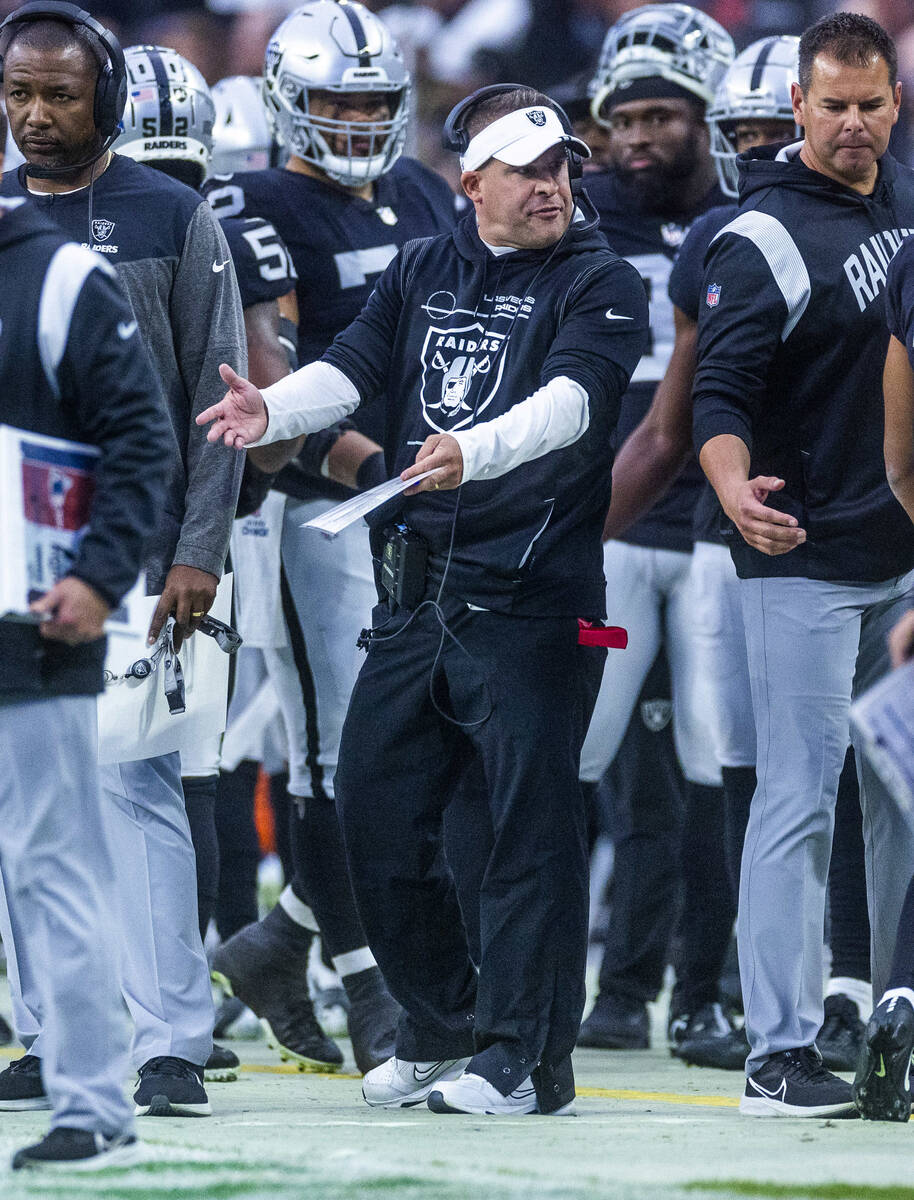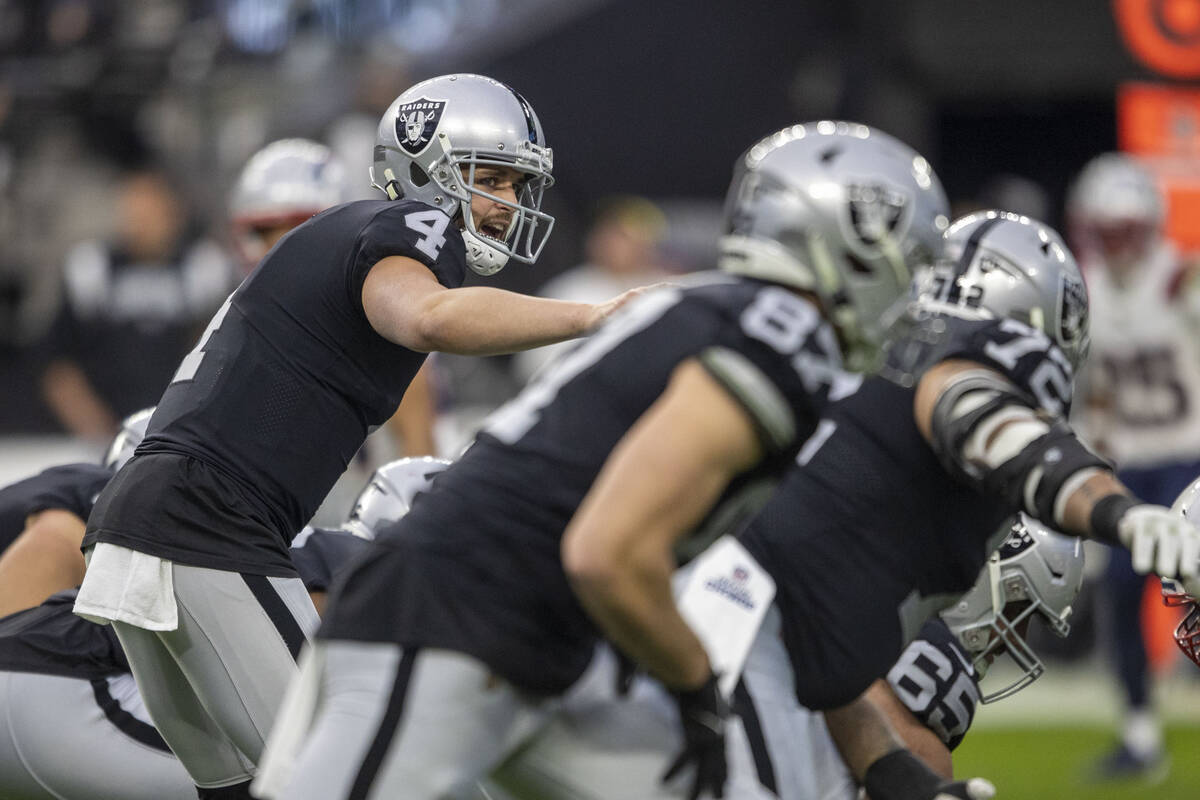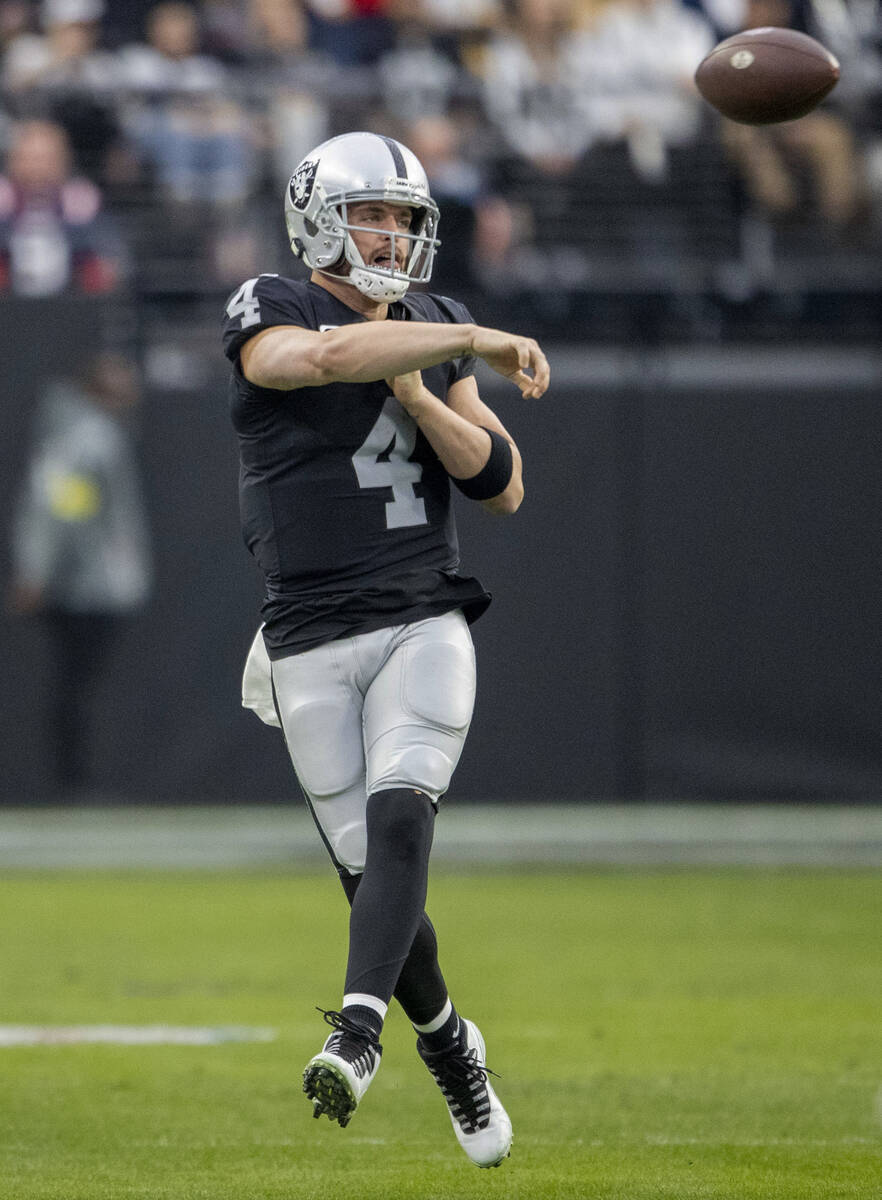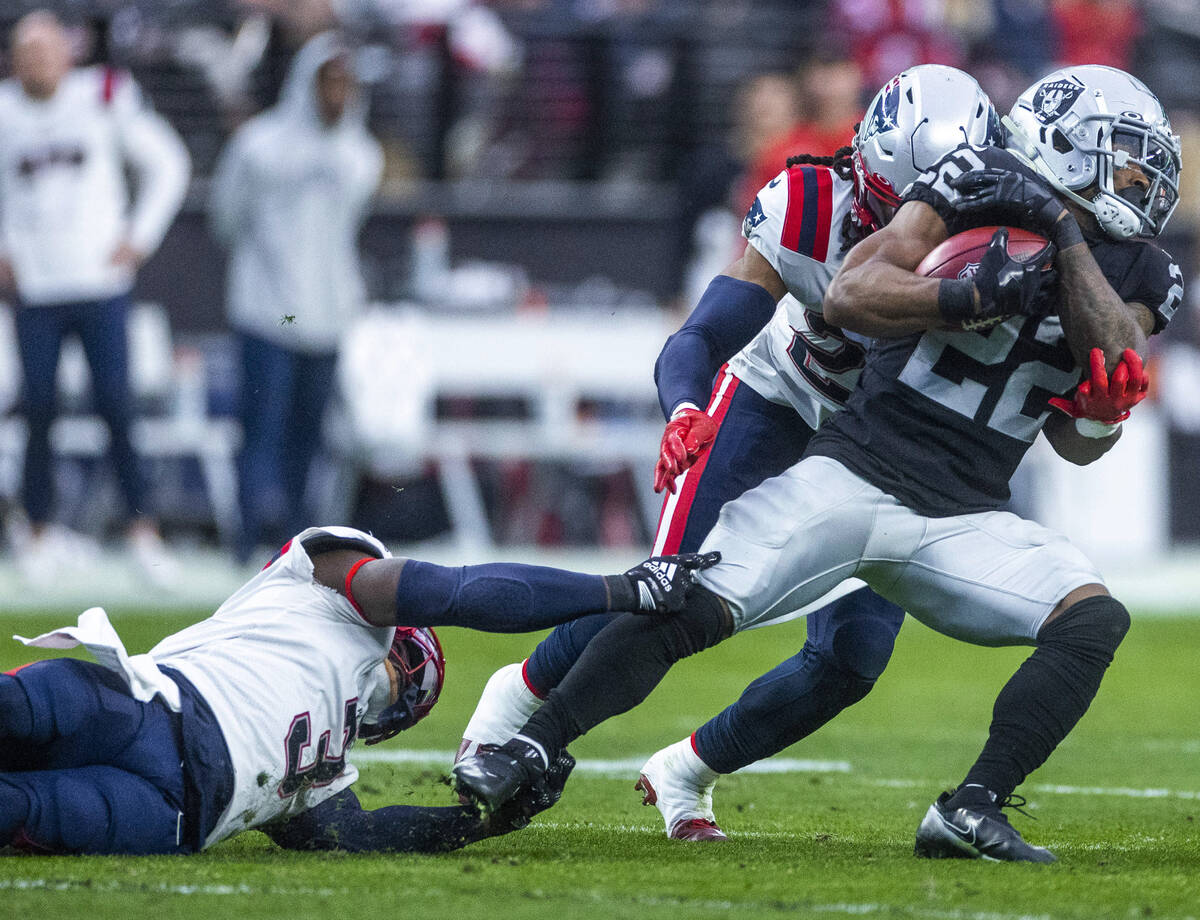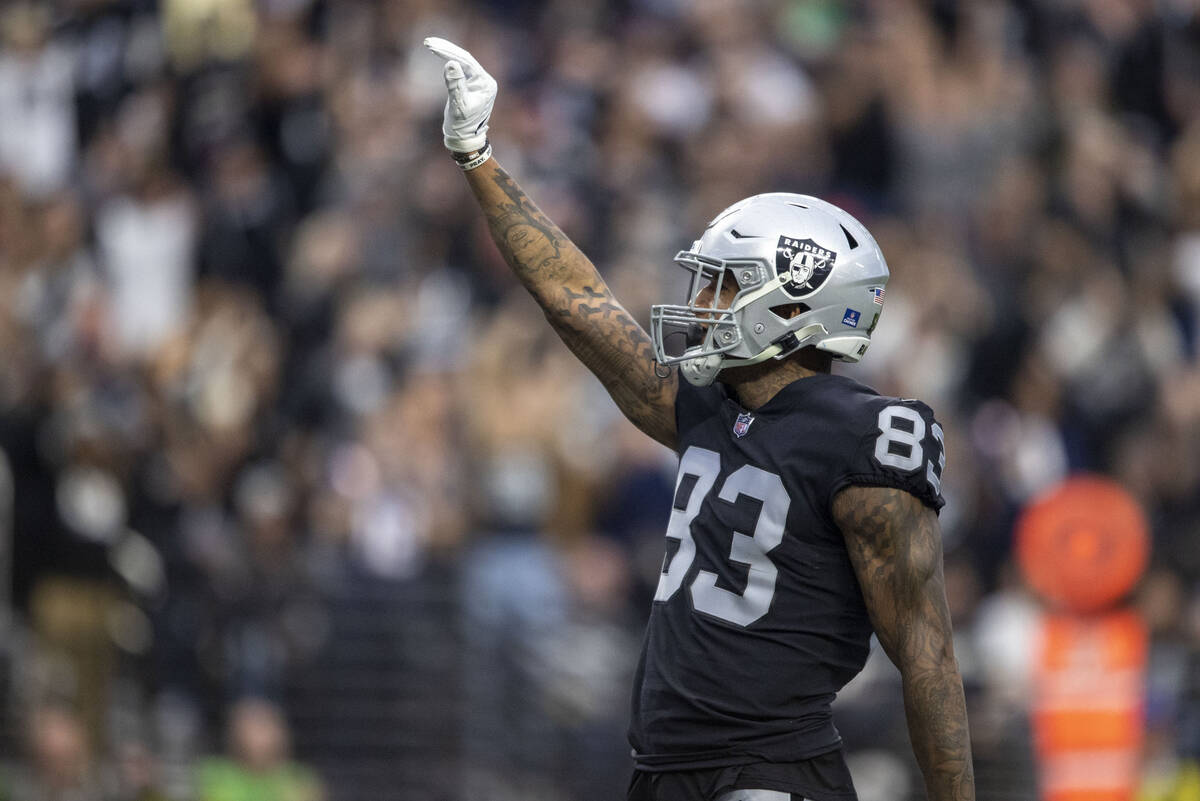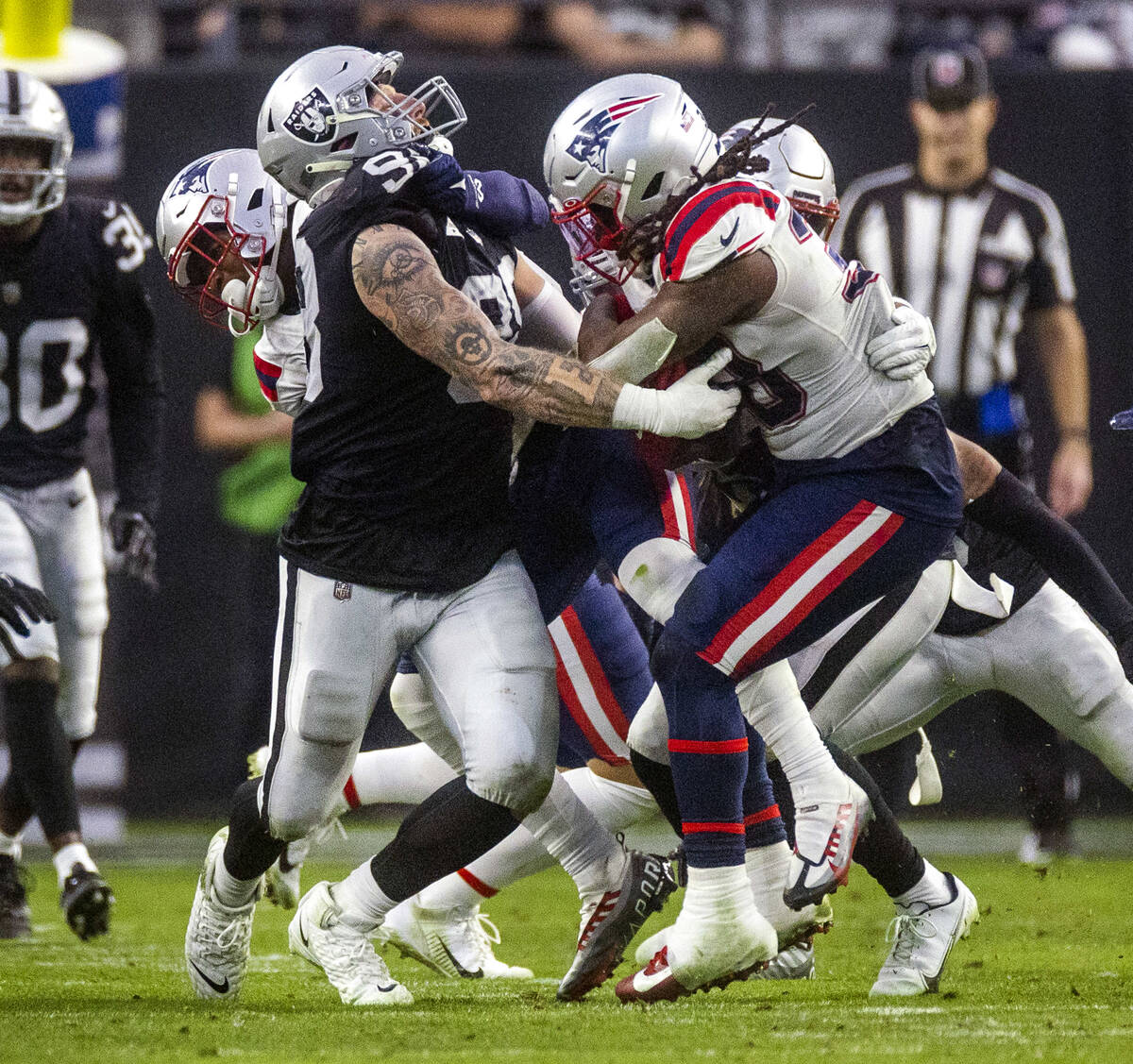 On one of the zaniest, craziest and most unimaginable plays to decide a game, the Raiders temporarily saved their season Sunday with a 30-24 win over the Patriots at Allegiant Stadium.
In doing so, the Raiders (6-8) keep alive their postseason hopes. After their stunning win and some help from other teams, they are two games off the pace with three to play.
That it goes far deeper than that tells you all you need to know about a play and sequence and ending that will be remembered forever.
The winning touchdown came when Raiders defensive end Chandler Jones picked off a desperation lateral by Patriots wide receiver Jakobi Meyers with no time left and the score tied 24-24 and ran 48 yards to the end zone. Jones was in position to make the play, which officially goes down as a fumble recovery, only because he missed a tackle at the beginning of the play, then was pushed to the ground.
Otherwise, he would have either stopped Rhamondre Stevenson at the line of scrimmage to send the game into overtime or been running down the field in pursuit of Stevenson.
Instead, Jones was the hero after getting back up, reading the situation, then picking the ball out of the air when Meyers inexplicably threw it backward trying to keep the play alive. All he had to do from that point was stiff-arm Patriots quarterback Mac Jones to the ground and then race untouched to the end zone.
"That's like a Hollywood script that's never been written," Chandler Jones said. "Not in a million years would you think it would go down like that. But that's why you keep playing."
What did Raiders coach Josh McDaniels, who was going against his mentor, Patriots coach Bill Belichick, think of the ending?
"It's probably the most insane ending I've ever been a part of," he said. "We'll take it."
Belichick had his own thoughts.
"We talk about situational football," he said. "We talk about it every week, but we obviously have to do a better job playing situational football and not making critical mistakes."
Raiders wide receiver Mack Hollins lined up at safety on the Patriots' final play, serving as a last line of defense in case someone broke free toward the end zone. Why the significance of that? Teammate Hunter Renfrow could have sworn Hollins was standing next to him on the sideline, even talking to him, right before the snap of the ball.
"Wait, you were at safety on that play?" Renfrow asked.
"You better check the tape," said Hollins, laughing. "See, even my teammates didn't know."
Hollins thought he was going to have to make a tackle when Stevenson busted through the line of scrimmage and broke a couple of tackles on his way to the Raiders' 32-yard line.
"I was like, 'Oh, boy, I'm gonna have to make a play here," Hollins said.
But he then watched Stevenson lateral it back to Meyers, who was standing at the Raiders' 40, and then as Meyers turned and threw it back toward Jones.
"I was like, oh, that's quite the throw," Hollins remembered thinking.
Renfrow, on the sideline, thought the same thing. "Is that really the time for that?" was the thought racing through his head, he said.
No, it wasn't. The Patriots merely had to take a knee to send the game into overtime. It wasn't ideal, especially after they gave up a late 30-yard touchdown throw from Derek Carr to Keelan Cole that tied the game 24-24. But overtime was salvation compared to what ended up happening.
"I'm still in shock," Raiders cornerback Nate Hobbs said. "I still can't believe what I just saw. All I can say is God had us."
Someone did.
After being on the wrong side of far too many memorable plays that went against the Raiders, either as a fan or a player, Carr was happy the Raiders finally benefited from one.
"I've stood up here and answered some hard questions sometimes about what happened," said Carr, who threw for 231 yards and three touchdowns. "I don't even know what to tell you what happened sometimes."
On this one, the play speaks for itself. And for all the right reasons for the Raiders.
"Being a Raider, I thought I saw about every way someone could lose or win a game," center Andre James said. "I was wrong, man. I was wrong."
Contact Vincent Bonsignore at vbonsignore@reviewjournal.com. Follow @VinnyBonsignore on Twitter.