With the 7th pick of the NFL draft, the Raiders select …
Updated February 20, 2023 - 3:56 pm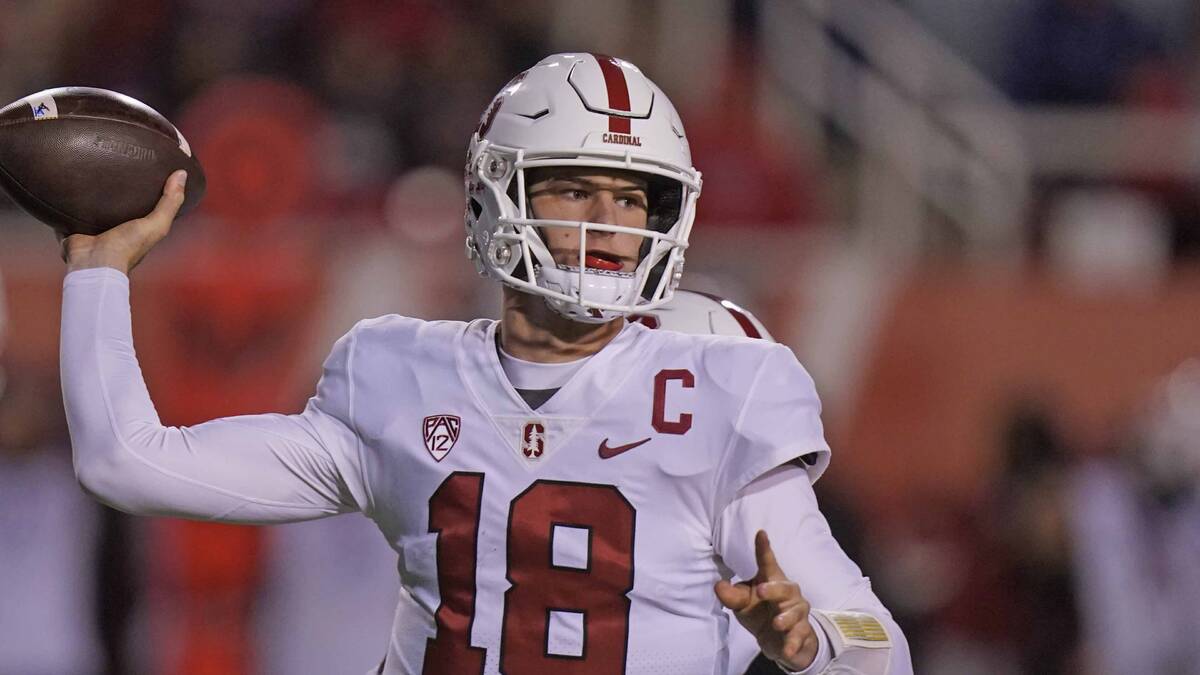 As the Raiders get into the thick of their draft process, they will have a full contingency at the NFL scouting combine next week in Indianapolis.
Armed with nine picks — it will be 11 when they are awarded two compensatory picks — the Raiders have the ammunition to improve their roster during the draft.
Here's what their seven-round draft could look like post-Senior Bowl and before the combine.
Round 1, Pick 7
Tyree Wilson, defensive end, Texas Tech
The Raiders have to be flexible here, as the board figures to be frenzied on draft day with teams jockeying for position to grab their targets. That could involve the Raiders, who are well-positioned to trade up if they fall in love with a quarterback prospect, such as C.J. Stroud or Will Levis, or even fall back a few spots to secure Florida's Anthony Richardson. Any number of scenarios could emerge, and it behooves the Raiders to be open-minded. At the end of the day, though, they hold firm and draft the best edge rusher in the draft. At 6 feet, 6 inches and blessed with an incredible burst, Wilson will make an immediate impact. But it's his upside that makes him such an alluring pick as the Raiders rebuild their defense.
Round 2, Pick 38 overall
Tanner McKee, quarterback, Stanford
The direction the Raiders take in the second round will be predicated on what happens in free agency and the first round, relative to securing their quarterback of the present and future. So this pick could easily turn out to be an offensive tackle, such as Matthew Bergeron of Syracuse or Dawand Jones of Ohio State. Or maybe an edge rusher, such as Notre Dame's Isaiah Foskey, or an interior defensive lineman such as Baylor's Siaki Ika. The 6-6 McKee fits the Raiders as a smart, surprisingly mobile and accurate passer. It might not be mandatory that he steps in immediately, but his time will come sooner than later.
Round 3, Pick 70 overall
Jack Campbell, linebacker, Iowa
The defensive makeover continues in the third round as the Raiders select the 6-5, 245-pound Campbell, whose athletic ability makes him an asset in run defense and pass coverage. The club has made it a priority to add productive, intelligent players who can handle next-level game plans and schemes, and that's what Campbell brings. He joins Wilson as a day-one impact starter.
Round 4
Julius Brents, cornerback, Kansas State
This pick seems a bit hopeful considering how Brents is moving up draft boards after a solid showing at the Senior Bowl. But luck could be on the Raiders' side, as this 6-3 corner falls to them in the fourth round.
Round 5
Nick Saldiveri, offensive tackle, Old Dominion
At 6-6, 303 pounds Saldiveri has surprising athletic ability and body flexibility. The size allows him to be a punishing point-of-attack blocker, and the athletic ability enables him to pass protect and also get to the second level. He can play all over the line, so don't be surprised if he ends up anywhere among right tackle, right guard or even center.
Round 5
Ivan Pace, linebacker, Cincinnati
Pace is a go-getter against the run while blending tremendous read and respond skills with savvy and toughness. He isn't the biggest player, measuring in at 5-10, 231 pounds, but his 10 tacklesin the Senior Bowl earned him Defensive Player of the Game honors, and his impressive practice week was good enough to win the North team's linebacker of the week honor. The Raiders might need a replacement for Denzel Perryman, and Pace has the goods to be that guy.
Projected fifth-round compensation pick (Zay Jones)
Karl Brooks, defensive tackle, Bowling Green
Brooks was a terror last season while racking up 18 tackles for losses, including 10 sacks. At 6-3, 303 pounds, he has a violent burst, good hands and a relentless motor. He projects to the interior in the NFL, where he could turn into an effective inside pass rusher able to win one-on-one battles against guards and centers.
Round 6
Darius Rush, cornerback, South Carolina
Rush had a strong week at the Senior Bowl, being disruptive in pass coverage. At 6-1, 196 pounds, he's another long, athletic cornerback the Raiders can add to their group.
Projected sixth-round compensation pick (Casey Hayward)
Henry Bainivalu, guard, Washington
Bainivalu is listed at 6-6, 307 pounds, but for all that size, he's a nimble, athletic prospect who works with polish and efficiency. An all-around effective blocker, he can win at the point of attack, drop back in pass protection and is smooth on pulls and getting to the next level.
Round 7
Brandon Hill, safety, Pittsburgh
The Raiders have a need at safety, and Hill was a physical, productive mainstay in Pitt's secondary. He profiles as a strong safety in the NFL.
Round 7
Zakhari Franklin, wide receiver, Texas-San Antonio
If Franklin was a little faster, he would be a Day 2 pick. But he will fall in the draft because of his lack of top-end speed, but this is a productive receiver who can line up outside and inside. He had 94 catches for 1,136 yards and 15 touchdowns last season after catching 81 balls for 1,027 yards and 12 scores in 2021. His feel for the position could end up earning him more than just a reserve/special teams role eventually.
Contact Vincent Bonsignore at vbonsignore@reviewjournal.com. Follow @VinnyBonsignore on Twitter.