Siena Golf Club homeowners offered chance to save course
Updated April 26, 2017 - 5:40 pm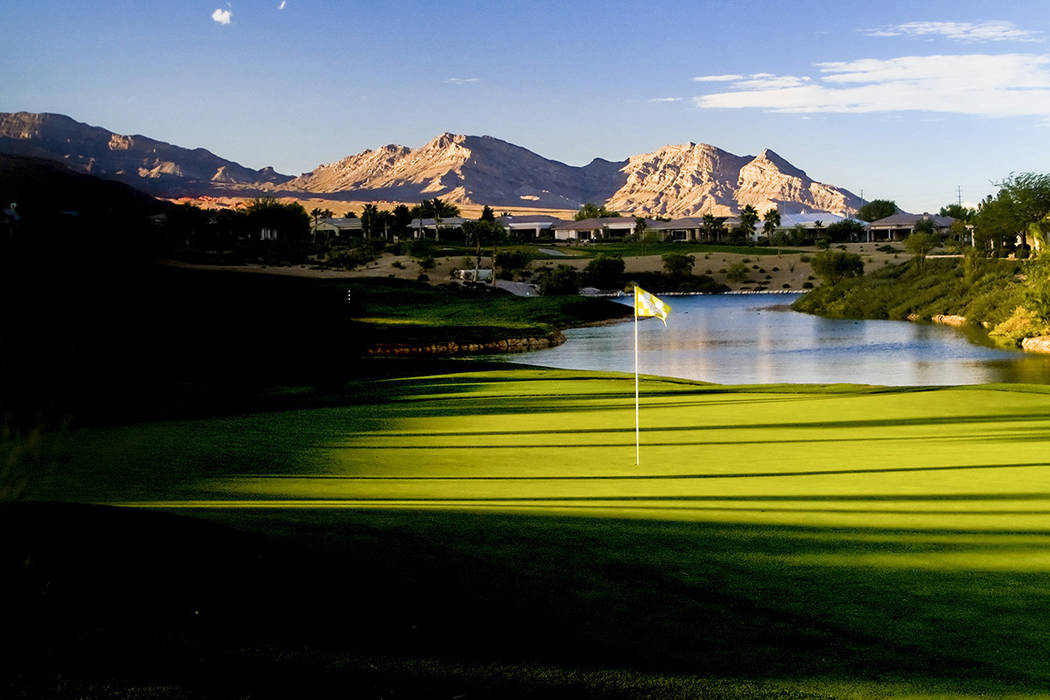 More than 800 golf courses have been shuttered nationally in the past decade because of financial distress and other issues, according to data from BusinessInsider.com.
SilverStone and Badlands have closed in the Las Vegas Valley, and legal battles are in process. Homeowners have been left with declining home values and a lesser quality of life.
And last week, Dr. David Lee, one of three owners of Siena Golf Club, was quoted in an email to Siena homeowners as stating that he might look to sell the course because it is losing money. But unlike in the Badlands and SilverStone cases, Lee is offering homeowners the opportunity to save Siena by creating a partnership.
Lee is asking Siena homeowners to pay a fee of $300,000 annually that would guarantee the course remains open and not sold for development. That amount might alarm homeowners, but when broken down, it's $12.50 a month for each homeowner. The homeowners association is considering voting on the matter, according to the email.
A local PGA of America professional and general manager familiar with these situations said he thinks it's a fair offer and part of a growing trend throughout the country. Such agreements can be proactive in protecting homeowners from closures.
"I believe teamwork between the HOA and golf course ownership is vital in some cases to secure that both properties have value and the golf course can continue to be a benefit in the community," the general manager said. "It may be a case where the HOA might have to subsidize the golf course to help with maintenance of surroundings and in back of the homes on the course or other ways. The subsidies can mean the difference between loss and break even, and a course remaining open or closing."
A similar vote recently took place among homeowners in the Trilogy Golf Club community in La Quinta, California. The HOA voted to assess a $28 monthly fee for each homeowner for the next 48 months to fund perimeter landscape maintenance and rehabilitation and help the course financially.
In Siena's case, the property deed doesn't protect the course from closure or development. Part of the agreement to subsidize the course could be to revise the deed to create a clause to protect the course and homeowners.
Homeowners living in golf course communities can determine the legal status and deed restrictions of their community course by contacting city or county offices.
Deal of the week
Get four rounds for the price of three at Jack Nicklaus' Coyote Springs through April.
Back-to-back champions
A tip of the cap to the UNLV men's and women's golf teams for winning the Mountain West championships for the second straight year. Both are waiting for their seedings for the NCAA regionals.
The men have won four Mountain West titles and the women six.
Senior stars shine
Las Vegans Frank Abbott of Canyon Gate and Doug Pool of TPC Summerlin won titles this month at the Society of Seniors Senior Masters Tournament.
Abbott finished at 3 under to win the grand master division. He has been named the Southern Nevada Golf Association super senior player of the year for the past three years.
Pool finished at 8 under to win the super senior title. He was inducted into the Las Vegas Golf Hall of Fame in 2015.
Stars on, off course
After missing the cut in the PGA Tour's Valero Texas Open, Las Vegan Scott Piercy flew home and saw John Mayer in concert at T-Mobile Arena.
The golf notebook appears each Thursday. Freelance writer Brian Hurlburt is a two-time author who has covered golf in Las Vegas for more than two decades. He can be reached at bhurlburt5@gmail.com or @LVGolfInsider.
Calendar
Friday: SNGA Short Game Championship, Desert Willow
Sunday: Golf Channel Mountain Classic, Mountain Falls
Tuesday: SNGA Social Series, Los Prados
May 6: Henderson Police Charity tournament, Legacy
May 6, 7: SNGA Nye County Amateur, state qualifier, Mountain Falls
May 6, 7: Southern Nevada Junior Golf Nye Classic, Mountain Falls
May 7: Golfweek Amateur Tour, Reflection Bay
May 8: U.S. Open qualifier, TPC Summerlin
May 13: Golf Channel Southwest Open, Rhodes Ranch
May 15: United Way tournament, Red Rock Country Club
May 19: U.S. Golf Classic qualifier, Royal Links
May 19, 20: Tiger Jam, Shadow Creek
May 19-21: Golden Tee World Championship, Hi Scores
May 20: A Level Playing Field charity tournament, Bear's Best
May 20, 21: IMG Junior World qualifier, Wildhorse
May 25: SNGA Tour, state qualifier, Chimera
June 9: Alicia Renee Foundation Golf Classic, Siena
June 13: HELP of Southern Nevada Golfers Roundup, Cascata
Pro schedules
PGA Tour
What: Zurich Classic
When: Thursday, Friday, 12:30-3:30 p.m. (Golf Channel). Saturday, Sunday, 10-11:30 a.m. (Golf Channel), noon-3 (KLAS-8).
Where: TPC Louisiana (7,425 yards, par 72), Avondale, Louisiana.
Purse: $7.1 million (First prize: $1,022,400 per player).
Note: This will be a two-man team event, the first on the PGA Tour since the Walt Disney World National Team Championship in 1981. The format will be foursomes on Thursday and Saturday, and fourballs on Friday and Sunday. The field of 80 teams will be cut to the top 35 and ties.
Defending champion: Brian Stuard.
Last week: Kevin Chappell won the Valero Texas Open.
Next week: Wells Fargo Championship.
LPGA Tour
What: Volunteers of America Texas Shootout.
When: Thursday, Friday, 9 a.m.-noon (Golf Channel). Saturday, Sunday, noon-3 p.m. (Golf Channel).
Where: Las Colinas Country Club (6,441 yards, par 71), Irving, Texas.
Purse: $1.3 million (First prize: $195,000).
Defending champion: Jenny Shin.
Last tournament: Cristie Kerr won the LPGA Lotte Championship.
Next week: Lorena Ochoa Match Play.
PGA Tour Champions
What: No tournament this week.
Last week: Vijay Singh and Carlos Franco won the Bass Pro Shops Legends of Golf.
Next week: Insperity Invitational.
The Associated Press