Chemistry lesson for Golden Knights after loss: Play harder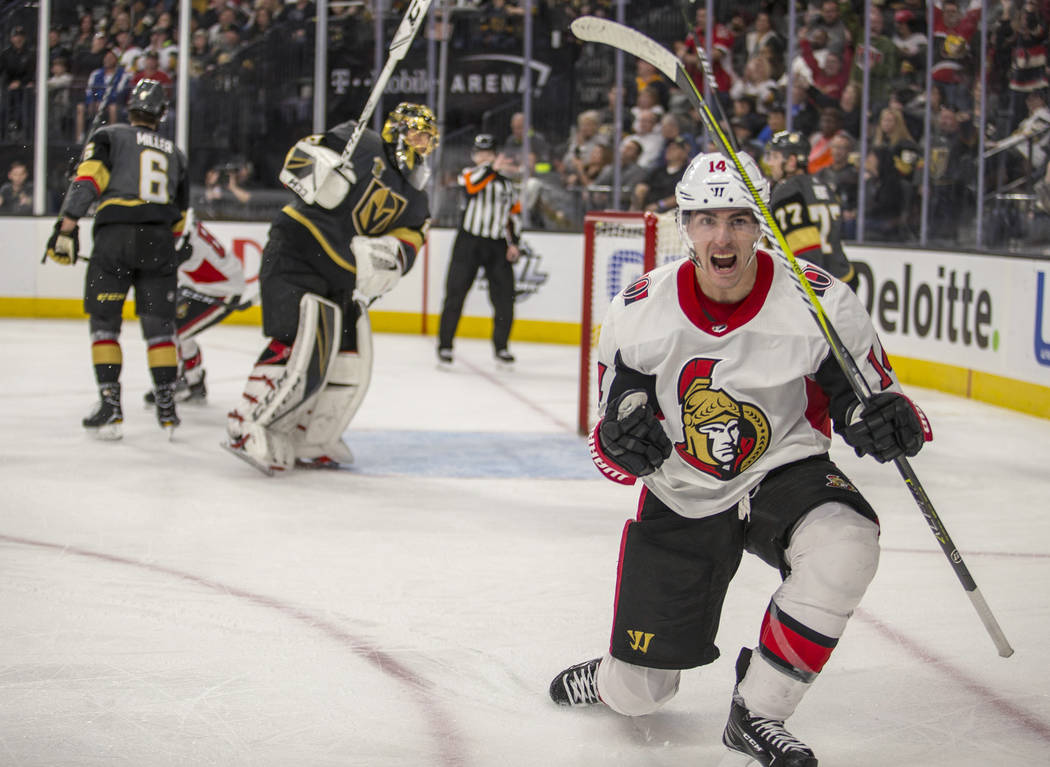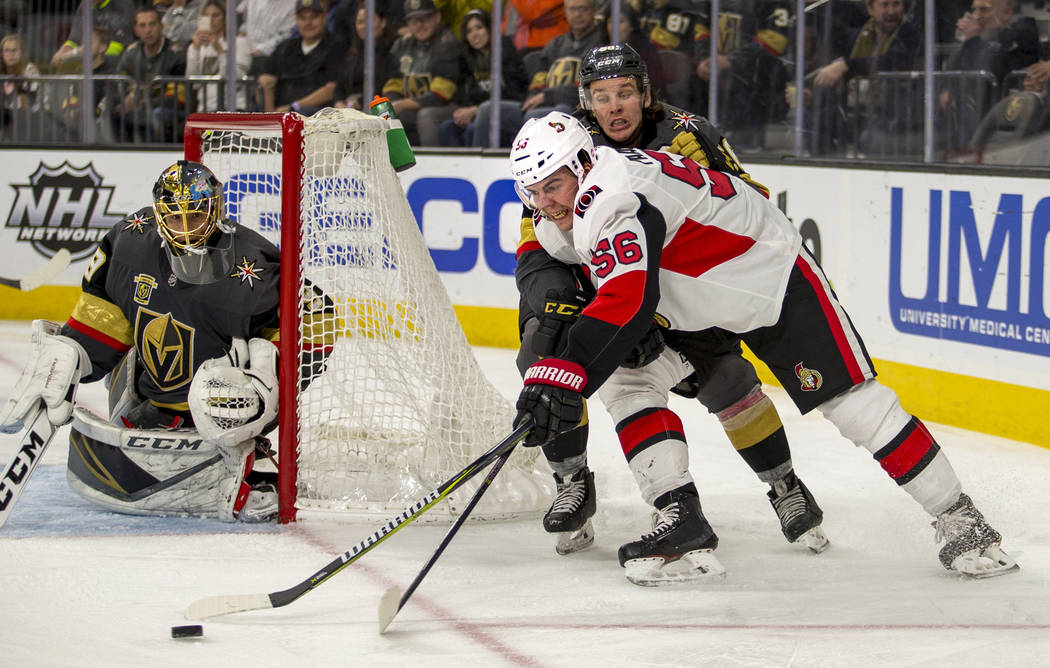 I'm not sure it's more over-used than the theory about momentum in sports — shhh, there's no such thing, really — but this belief about chemistry being one of the more significant ingredients for any team sure gets exaggerated.
Do you know what side usually has good chemistry?
The one that wins.
Do you know what side lacks it?
The one that doesn't.
We have seen more of the former in the Golden Knights over this expansion season, and yet the latter was apparent on Friday when a third straight defeat found Vegas in a 5-4 decision to Ottawa before 18,269 at T-Mobile Arena.
It's the third three-game losing streak for the Knights, who have yet to drop four straight. Now, having fallen to a Senators side that sits seventh in the Atlantic with 54 points but played a whole lot harder than the hosts, Vegas limps into a five-game road trip that begins Sunday at New Jersey.
"We didn't show up," said Knights coach Gerard Gallant. "We didn't come to play. It doesn't matter if you're missing skill guys or talented guys, as long as you compete you have a chance to win. We didn't.
"I hope I don't have to say much before the next game. I hope our guys have enough character and enough pride that I don't have to say anything. I don't make excuses, but I'm not a fan of these long homestands. I'm pretty excited to go on the road again, to be honest with you."
A popular local theory went like this since Monday's trade deadline: That by acquiring Tomas Tatar from Detroit and MMA fighter — I mean forward Ryan Reaves from Pittsburgh — the tide of a Vegas season would either continue its historic rise or fall by the combined effects of a gravitational force from the new guys not fitting in.
Social media was especially harsh toward Reaves, who was blamed for everything from back-to-back losses to the Kings to the forgettable play of UNLV basketball against UNR (he was in attendance, after all) to severe weather patterns across Europe.
Reaves, who had his best shifts yet as a Golden Knight on Friday, offers the sort of physical presence not seen much from Vegas this season. It can be an important skill in March and really important when the playoffs arrive and bigger and heavier teams are standing you up at the blue line and refusing much flow.
Tatar is a different case in regard to what he offers. He's a scorer, always has been, and given some of the injuries suffered by the Knights lately, anyone who can consistently find the net is considered valuable.
He just needs to start doing so here.
James Neal remains out and, with each passing loss, it becomes more and more obvious how much his presence is needed. Tatar on Friday saw 15:25 of ice time over 19 shifts and was limited to two shots.
He arrived from the Red Wings having tallied 20 or more goals four straight years and is sitting at 16 this season. On which line he will settle with — where mixing and matching is a card played often by Gallant — isn't known, but Tatar played alongside David Perron and Erik Haula on Friday.
"When you're playing well, (chemistry) is a lot easier," said Knights forward Alex Tuch. "You have a little more jump in your step. You're not getting as frustrated, and it's easier to talk more. That's a big thing, talk to line mates and see what they want out of the line. It's all about communication."
It's also about this right now: The Knights on Friday were down several regulars, including Neal, Pierre-Édouard Bellemare and arguably their top two defenders in Nate Schmidt and Luca Sbisa.
Vegas has actually been down different guys for a while now, and until the new faces can integrate themselves into a lineup that delivered Vegas to atop the Pacific Division, determining how well Reaves and Tatar fit is fairly difficult.
"Our game is just slipping a bit, and we have to get back to the basics," said defenseman Shea Theodore, who saw a team-high 25:16 of ice time upon returning from a six-game absence because of illness. "The playoff race, coming down the stretch, is going to be tight for points. We just have to play a lot better hockey."
They can begin by playing a lot harder.
Chemistry, if there is such a thing, has nothing to do with effort.
Contact columnist Ed Graney at egraney@reviewjournal.com or 702-383-4618. He can be heard on "The Press Box," ESPN Radio 100.9 FM and 1100 AM, from 11 a.m. to 2 p.m. Monday through Friday. Follow @edgraney on Twitter.