Graney: Put the Knights' parade plans on hold — we have a series
Updated June 8, 2023 - 10:52 pm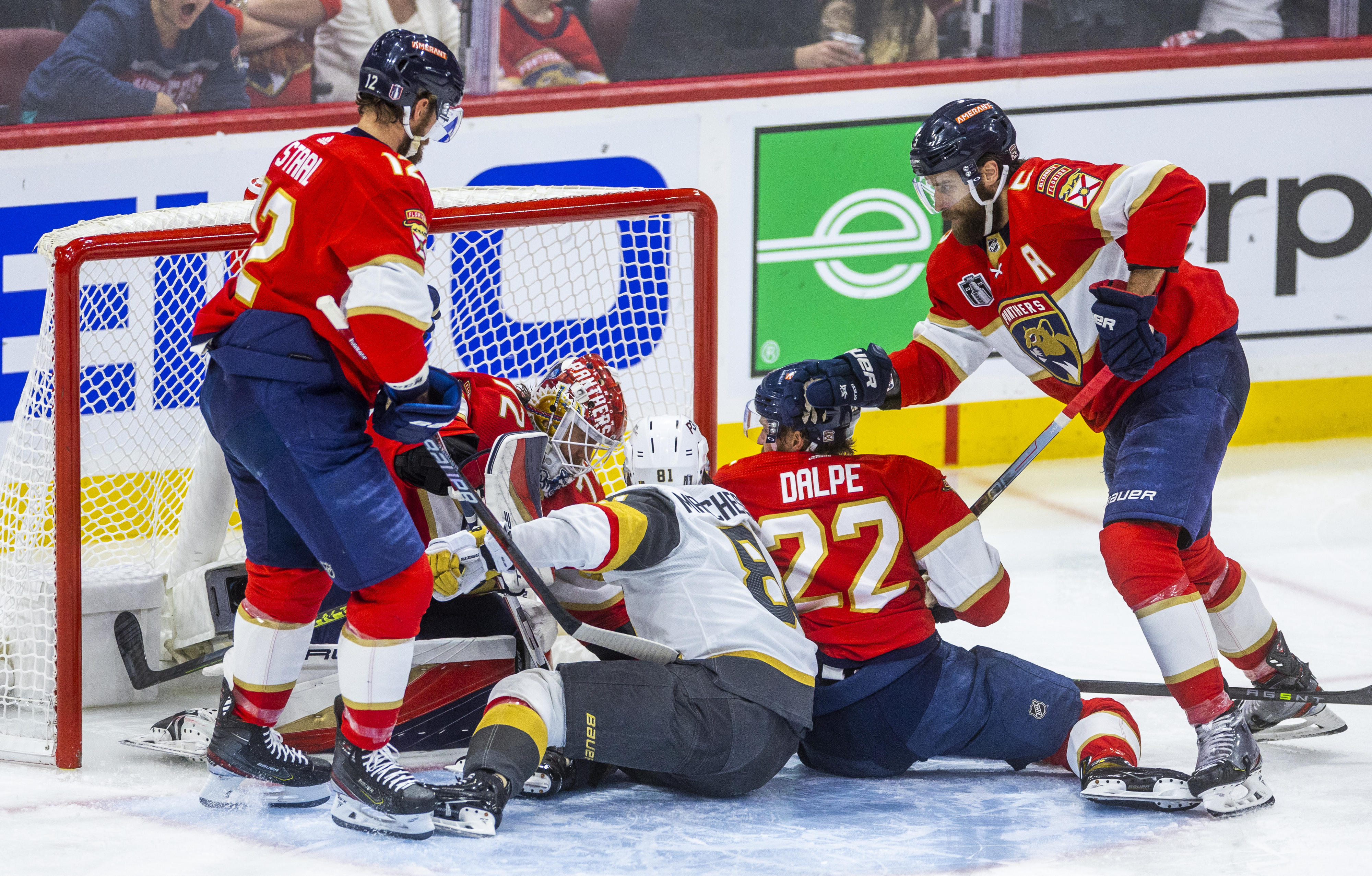 SUNRISE, Fla. — It was early Thursday when Florida Panthers star Matthew Tkachuk had some thoughts about Game 3 of the Stanley Cup Final.
In short, his team couldn't really make it a series without beating the Golden Knights that evening.
Guess we have one now.
Guess he was right.
Guess those parade plans need to be delayed a bit.
In dramatic fashion, the Panthers beat the Knights 3-2 in overtime at FLA Live Arena and trail the best-of-seven series 2-1.
Here's the most frustrating part for the Knights: They played well enough to win. Just couldn't finish.
The bigger picture
In a game as sloppy as was the ice — 15 minor penalties were assessed — the Knights were nearly within 60 minutes of lifting the Stanley Cup. But give the Panthers credit. This close to a 3-0 series deficit, they made things all sorts of interesting when Tkachuk scored with 2:13 left in the third period.
They really made things interesting in a much bigger picture when Carter Verhaeghe beat Knights goalie Adin Hill at 4:27 of overtime.
It was the only shot Hill faced in overtime. It was the only one Florida needed.
It wasn't a bad effort from the Knights. They played a solid five-on-five game. Just couldn't convert. Hit a few posts. Had to rely on two power-play goals to build their advantage before Tkachuk struck for the tying score.
"Obviously, you don't want to blow a lead when you're up a goal with a few minutes left," Knights center Jack Eichel said. "But it's all part of it. Nobody said it was going to be easy."
It just looked that way for the Knights before Game 3.
The ice was fairly bad, seen by the continually bouncing puck. But it's not great at T-Mobile Arena this time of year, either. Said one intrepid scribe from the press box: "Hockey in June."
It didn't stop the Knights' defense from playing well in front of Hill, keeping the goalie out of harm's way for most of the evening.
But when they needed enough bodies in front, they weren't there, and Tkachuk made the Knights pay with his six-on-five score near the end of regulation.
It has bitten the Knights before in these playoffs, not getting enough players back to protect in front late in games or overtime. Did so again.
"Overall, I thought we played pretty well," Knights captain Mark Stone said. "Just go get ready for Game 4. We gave them a couple looks, and they capitalized. Just couldn't put them away. But that's the playoffs, right? Just have to go on to the next one.
"We knew the series was going to be tough. They're a resilient team."
Florida sure didn't look like it in Games 1 and 2, when the Knights outscored the Panthers 12-4. But this was different for them, a home game in front of an energized crowd that watched its organization win a Stanley Cup Final game for the first time in seven attempts.
A sour taste
Knights coach Bruce Cassidy spoke earlier in the day about the importance of calming voices, about how critical veteran leadership is in such a moment. How certain guys in the room — six have won the Cup, and there are nine rings among them — can help with the messaging when needed most.
Some of it will be needed now, but not in an overreacting manner. The Knights should still feel good about where they stand. They were a late stop from being up 3-0 and within 60 minutes of lifting the Cup. Just couldn't finish.
"I hope it leaves a sour taste in your mouth, at least for a night," Cassidy said of his team. "We had a chance to put the game away. We talk about winning hockey and winning hockey games. I hope they're upset with certain things that transpired.
"But not (Friday). It can't be tomorrow. Get your night's rest and be ready to get better. Our goal all year has been to be better the next game and turn the page, and we will. I don't think that will be an issue. We just have to learn from it."
So it's a series now.
Go figure.
Ed Graney is a Sigma Delta Chi Award winner for sports column writing and can be reached at egraney@reviewjournal.com. He can be heard on "The Press Box," ESPN Radio 100.9 FM and 1100 AM, from 7 to 10 a.m. Monday through Friday. Follow @edgraney on Twitter.