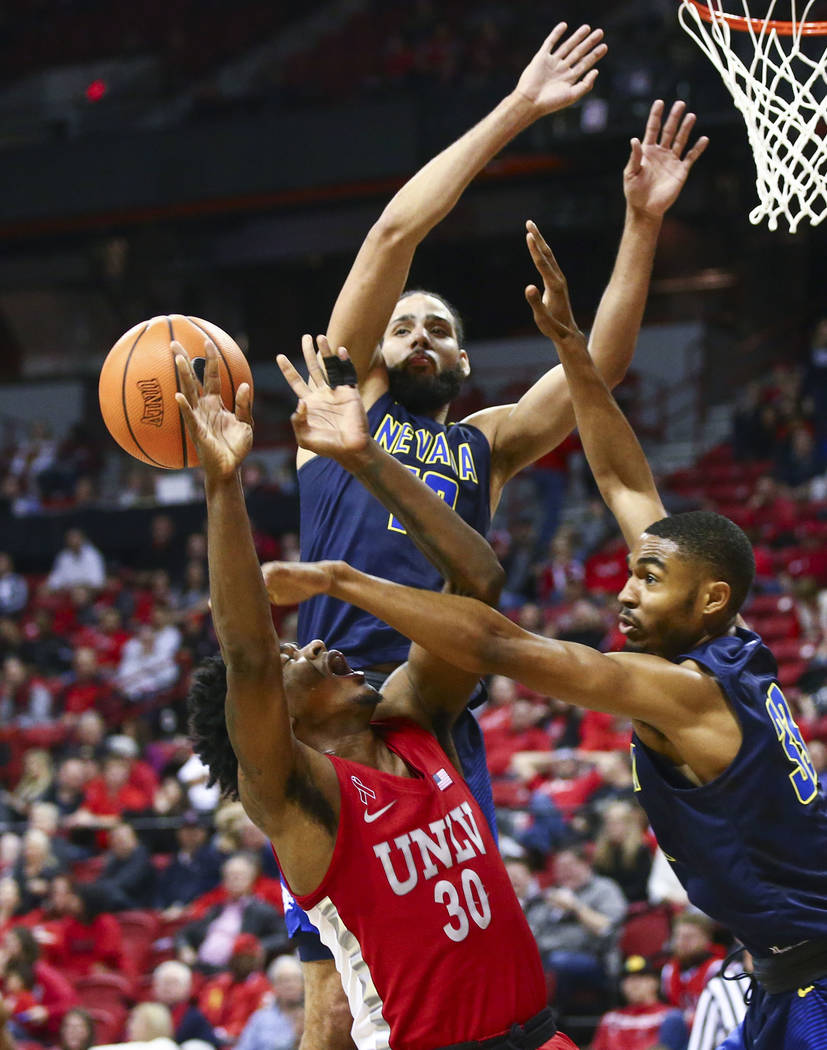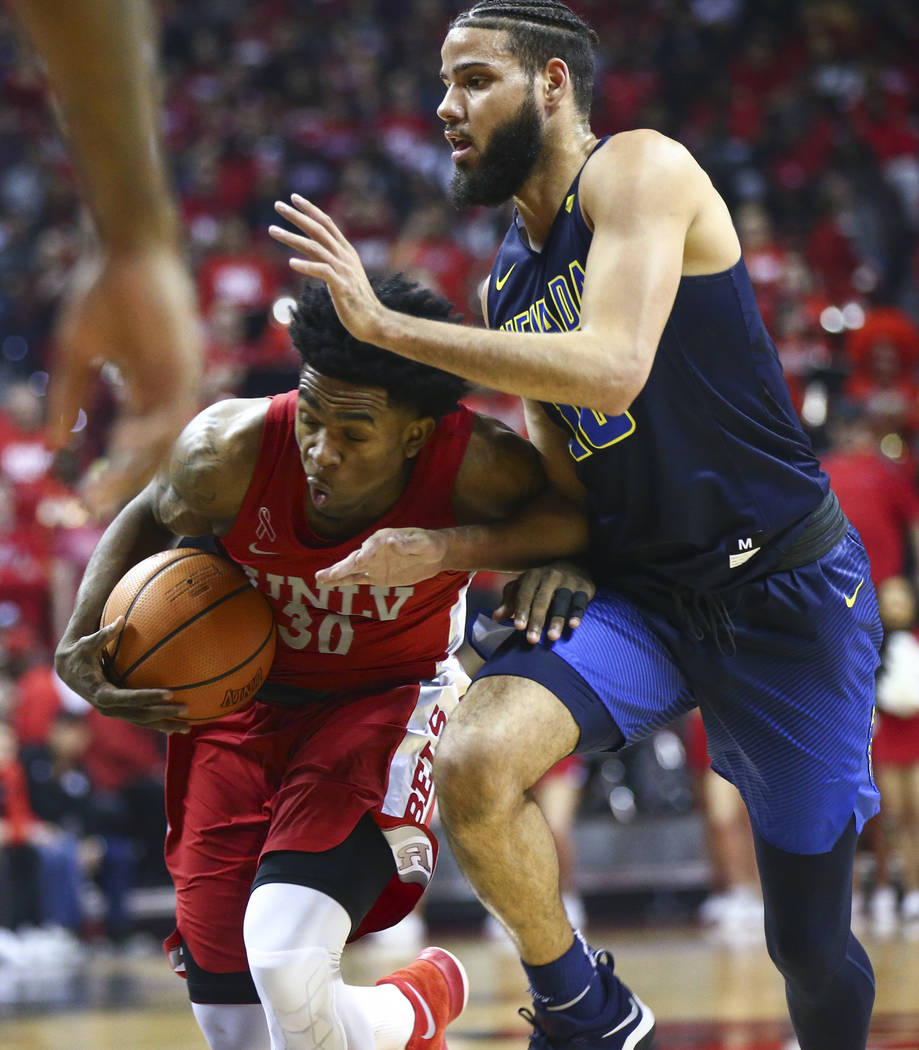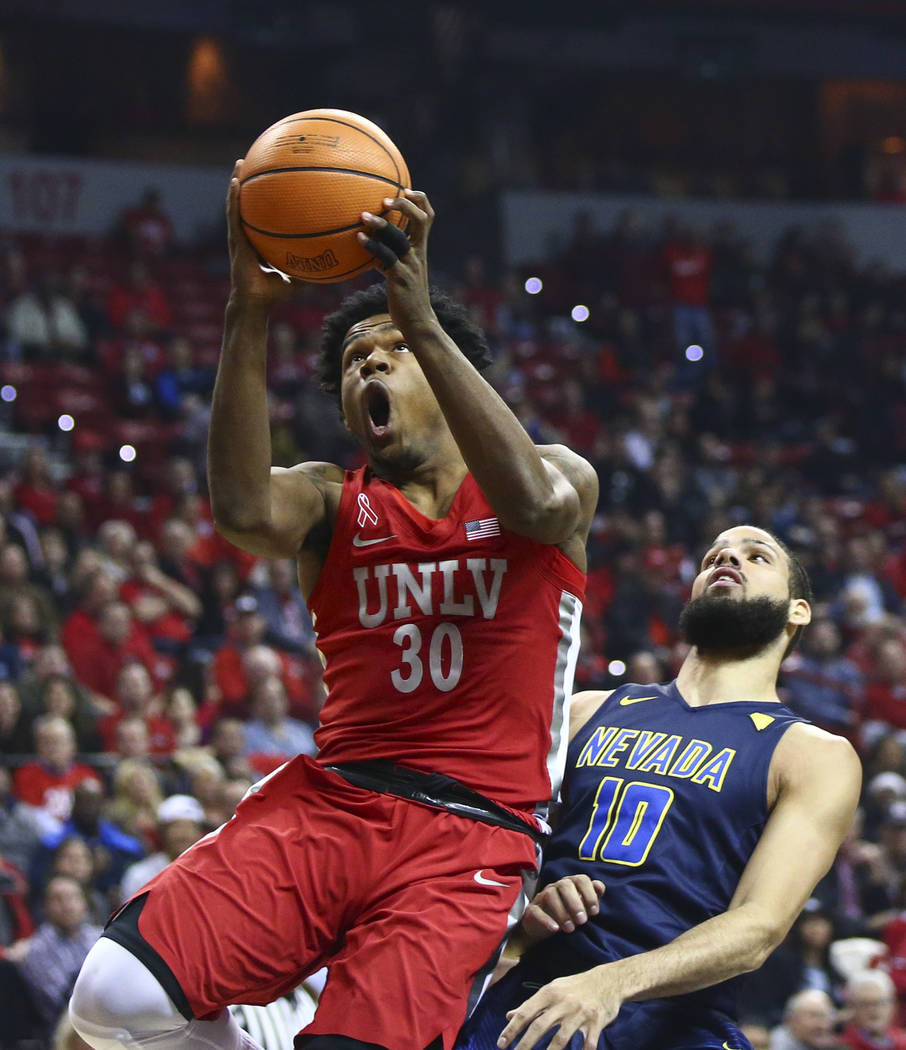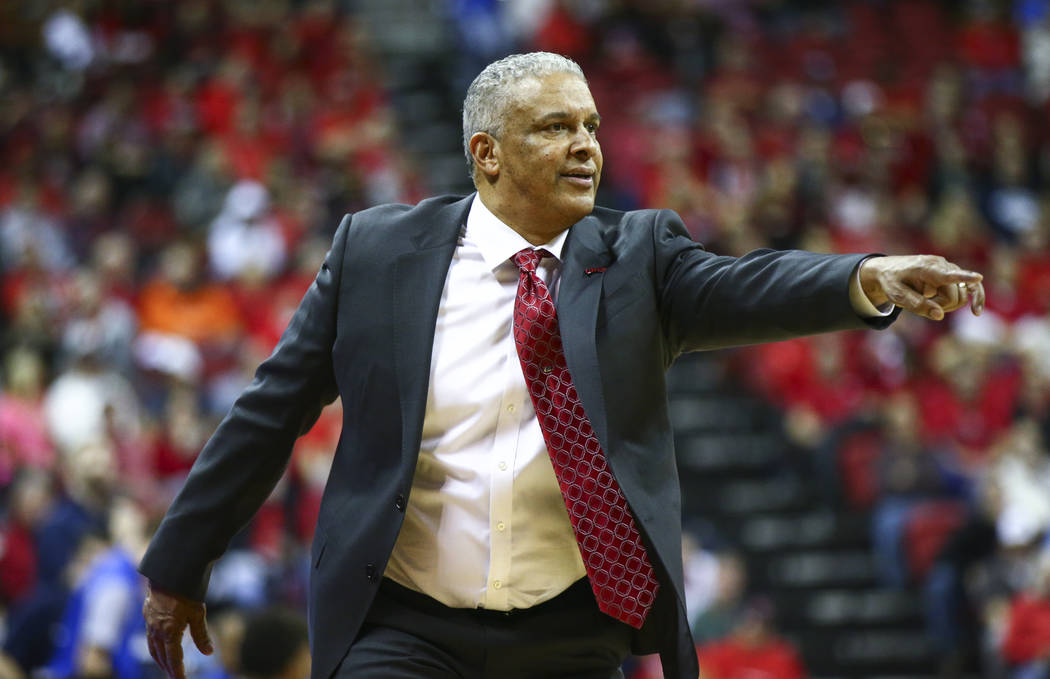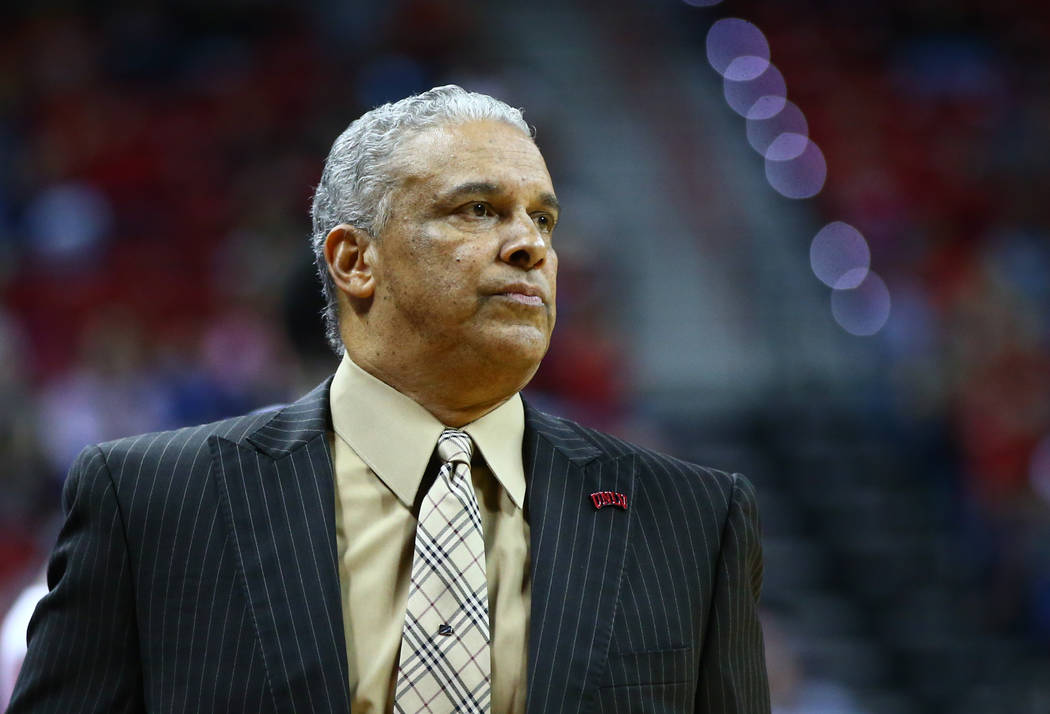 Ever since coaches discovered that three carries more value than two, the 3-point shot has dominated college basketball and the NBA.
Which, for UNLV, is a problem.
The Rebels are mired in their five-game losing streak for several reasons, but especially because they haven't been able to make 3-pointers and their opponents have.
If No. 8 seed UNLV is to end the skid in Wednesday's Mountain West tournament opener against No. 9 Air Force, the Rebels will have to change that narrative. The teams meet at 11 a.m. at the Thomas &Mack Center, and UNLV is a 10½-point favorite. Stadium on Facebook will stream the game.
The Rebels (19-12, 8-10 MW) enter the game against Air Force (12-18, 6-12) having made 17 of 75 3-pointers in those five defeats, or 22.7 percent. Opponents have made 49 of 108 such shots, or 45.4 percent. The 32 additional made 3-pointers for UNLV's foes equates to a 19.2-point advantage per game, and the Rebels' average margin of loss over that time is 18.0.
"It's us not stopping the 3, which is probably more prevalent that us not making the 3," UNLV coach Marvin Menzies said. "We were winning a lot of games and shooting high percentages and ranked nationally in a lot of different categories offensively without being a big 3-point shooting team. The bigger emphasis is us being able to take care of some things defensively."
It's true the Rebels haven't relied on the 3-point shot. UNLV is ninth in the 11-team Mountain West in 3-point attempts with 514, and the Rebels are last with 5.5 made 3s per game.
Senior guard Jovan Mooring accounts for 34.5 percent of those made 3-pointers.
The Rebels are a dangerous team when he is on (see: UNR, the first meeting), but when Mooring has trouble making shots, it's especially glaring because UNLV isn't blessed with a wealth of shooters, whether from the 3-point arc or even a little closer to the basket.
Mooring has made 13 of 57 shots overall during the team's losing streak, or 22.3 percent. He has made 4 of 29 3-point attempts, or 13.8 percent. Those numbers contrast his season averages of 37.4 percent of overall field goals and 31.6 percent of 3-pointers.
"It's frustrating because I feel like every shot I shoot is going to go in," Mooring said. "That's just how confident I am in myself. When it doesn't fall, it takes a toll on me a little bit. At this point in the season, it's just running into the next possession whether they fall or not."
If Mooring finds his shooting touch, the Rebels' chances of winning four games in four days to reach the NCAA Tournament increase dramatically.
"I think we all know JoJo can be streaky," Menzies said. "It's been a long streak, but he's been pretty good in practice. The ball's been going down at a pretty high rate. I think you can always regain your confidence when you see that ball going through the hoop."
Mooring can only hope so.
"It's always good to see the ball going into the net, but it's so frustrating when you put in so much work off the court and you get in the game and it doesn't fall your way," Mooring said. "I think it's mental more than anything, so I'm working to get back on the right track."
More Rebels: Follow all of our UNLV coverage online at reviewjournal.com/Rebels and @RJRebels on Twitter.
Contact Mark Anderson at manderson@reviewjournal.com. Follow @markanderson65 on Twitter.
Game day
Who: UNLV vs. Air Force
When: 11 a.m. Wednesday
Where: Thomas & Mack Center
TV/Radio: Stadium on Facebook (online stream); KWWN (1100 AM, 100.9 FM)
Line: UNLV -10½; total 146½
Other MW tournament games: No. 7 Utah State vs No. 10 Colorado State, 1:30 p.m.; No. 6 Wyoming vs. No. 11 San Jose State, 4 p.m.
Starting lineups
Air Force (12-18, 6-12 MW)
Coach: Dave Pilipovich (84-112, sixth season)
Probable starters
Player ; Pos. ; Ht. ; Ppg.
CJ Siples ; G ; 6-3 ; 4.2
Jacob Van ; G ; 6-1 ; 5.5
Trevor Lyons ; G ; 6-3 ; 9.5
Ryan Manning ; F ; 6-6 ; 2.2
Frank Toohey ; F ; 6-7 ; 3.1
UNLV (19-12, 8-10 MW)
Coach: Marvin Menzies (30-33, second season)
Probable starters
Player ; Pos. ; Ht. ; Ppg.
Jordan Johnson ; G ; 5-11 ; 14.0
Jovan Mooring ; G ; 6-2 ; 13.7
Tervell Beck ; F ; 6-7 ; 7.2
Shakur Juiston ; F ; 6-7 ; 14.4
Brandon McCoy ; F ; 7-0 ; 16.9
Rebels' McCoy named top freshman
UNLV forward Brandon McCoy was named Mountain West Freshman of the Year on Tuesday by the league's coaches. The conference media handed out the same honor Sunday. McCoy and junior forward Shakur Juiston were chosen second-team all-conference by the coaches.
Coaches' All-Mountain West team
Major awards
Player of the Year: Caleb Martin, Jr., F, UNR
Defensive Player of the Year: Cody Martin, Jr., F, UNR
Newcomer of the Year: Caleb Martin, Jr., F, UNR
Sixth Man of the Year: Alex Hobbs, So., G, Boise State
Freshman of the Year: Brandon McCoy, Fr., F/C, UNLV
Coach of the Year: Eric Musselman, UNR
First team
Chandler Hutchison, Sr., G, Boise State
Deshon Taylor, Jr., G, Fresno State
Jordan Caroline, Jr., G/F, UNR
Caleb Martin, Jr., F, UNR
Justin James, Jr., G, Wyoming
Second team
Cody Martin, Jr., F, UNR
Malik Pope, Sr., F, San Diego State
Shakur Juiston, Jr., F, UNLV
Brandon McCoy, Fr., F/C, UNLV
Hayden Dalton, Sr., F, Wyoming
Third team
Bryson Williams, So., F, Fresno State
Kendall Stephens, Sr., G, UNR
Anthony Mathis, Jr., G, New Mexico
Koby McEwen, So., G, Utah State
Sam Merrill, So., G, Utah State
Honorable mention
Nico Carvacho, So., F/C, Colorado State
Antino Jackson, Sr., G, New Mexico
Jalen McDaniels, Fr., F, San Diego State
Ryan Welage, Jr., F, San José State
All-defense team
Chandler Hutchison, Sr., G, Boise State
Deshon Taylor, Jr., G, Fresno State
Lindsey Drew, Jr., G, UNR
Cody Martin, Jr., F, UNR
Antino Jackson, Sr., G, New Mexico
Alan Herndon, Sr., F, Wyoming