UNLV coach Marvin Menzies focuses on helping Dwayne Morgan off the court
Updated May 18, 2017 - 8:22 pm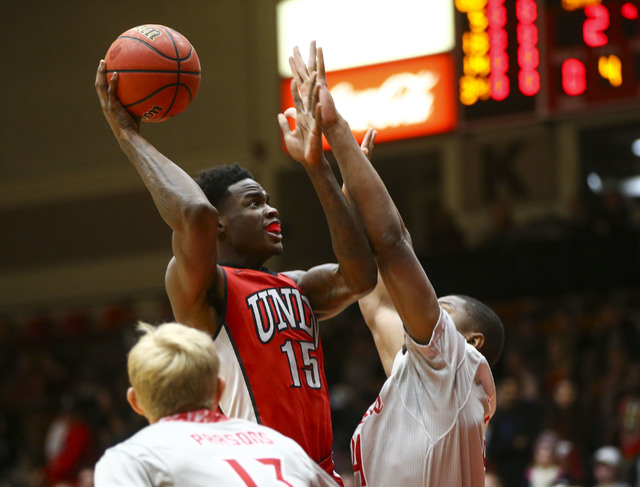 As players left the UNLV basketball program in droves last year, forward Dwayne Morgan was one of the few to stay.
And because he was one of three players who returned, coach Marvin Menzies wants to do everything he can to help Morgan, who is indefinitely suspended after his May 6 arrest for disorderly conduct, a misdemeanor charge.
"I think any time a player says yes to you initially after recruiting him or makes a decision to stay, you owe that player every opportunity to be successful in life," Menzies said. "Basically trying to make sure we give Dwayne the best chance to get his degree and be successful in life."
Menzies wouldn't go into specifics regarding what it would take for Morgan to be reinstated.
"My whole plan for him has nothing to do with basketball," Menzies said. "Without getting into details, we're dealing with other things to make sure that he has a great life. He's still on scholarship, and he's still going to school.
"I'm not sure whether he'll ever be back on the team, and we're working on giving him full support academically. Off the court in every aspect he can be supported, we're giving him that. That's where we're at. We don't play any games for five or six months, whatever it is. I'm not even thinking about basketball with Dwayne right now."
Roster decisions
Menzies said he has no timetable on making a decision with his extra scholarship. UNLV is one over the 13-player limit.
If Morgan works his way back onto the team, a decision must be made regarding another player.
"We've got time to navigate the situation, so we're not going to make any decisions right away," Menzies said.
Menzies said there are no plans to add to the current recruiting class.
"Stranger things have happened, but right now we're rolling with what we've got," he said.
MW-MV Challenge
It's been known the Rebels will have a challenging trip in the Mountain West-Missouri Valley Challenge, having to travel to Northern Iowa.
Now the rest of the Challenge schedule is known, thanks to FanRag Sports, including games such as Bradley at San Diego State and Illinois State at UNR. The Mountain West did not confirm the matchups, saying the contracts haven't been finalized.
UNLV will get a home game against a Missouri Valley team during the 2018-19 season.
Poyser a Bonnie
Former UNLV point guard Jalen Poyser has transferred to St. Bonaventure. He played for the Rebels the past two years, averaging 10.4 points last season. He was one of three players to depart the program March 29.
"I think it's the best decision for me and my family," Poyser tweeted. "They run a great program with a promising future that I can be a key part of and help to build in."
— jalen poyser (@_jalenp15) May 18, 2017
Potential changes
The NCAA basketball rules committee passed on going from halves to quarters, extending the 3-point line and widening the lane, but left it open for conferences to experiment.
A Mountain West spokeswoman said the conference will not make any such changes next season regarding how the games are played.
Menzies said he didn't have enough information to comment, that he would know more after attending a coaches' clinic this summer.
"I haven't had a lot of time to really evaluate and analyze the ramifications of those rules," he said.
More Rebels: Follow all of our UNLV coverage online at reviewjournal.com/Rebels and @RJRebels on Twitter.
Contact Mark Anderson at manderson@reviewjournal.com. Follow @markanderson65 on Twitter.
Related
UNLV's Dwayne Morgan tried to get in police car before arrest
UNLV's Dwayne Morgan suspended after arrest, disorderly conduct charge