Valparaiso rides big run to victory over UNLV 72-64
Updated November 29, 2018 - 2:10 am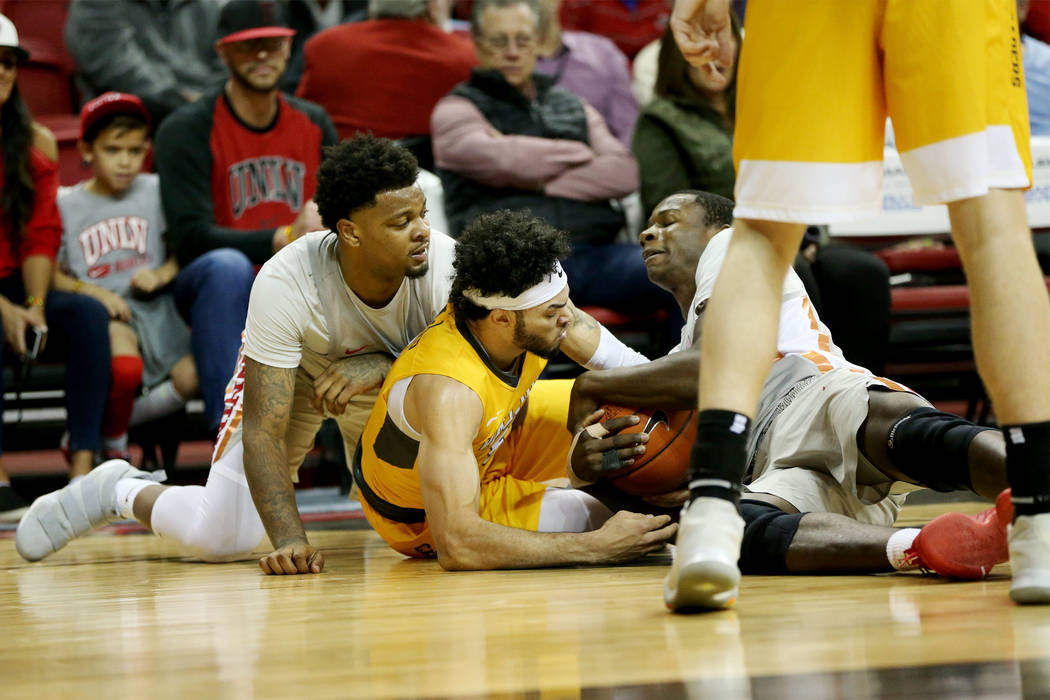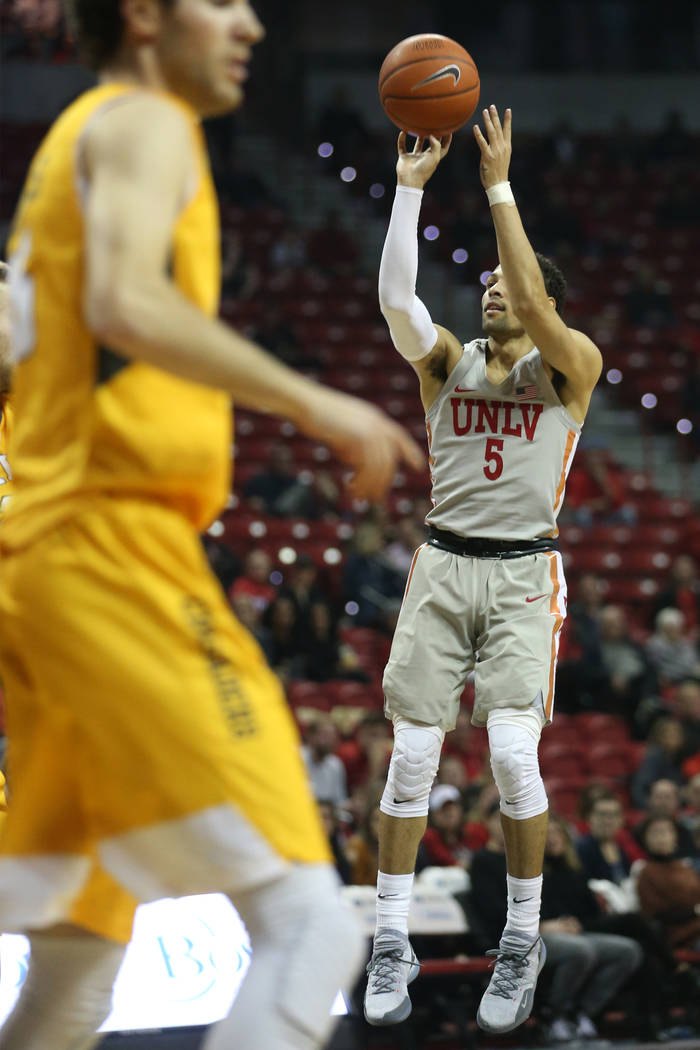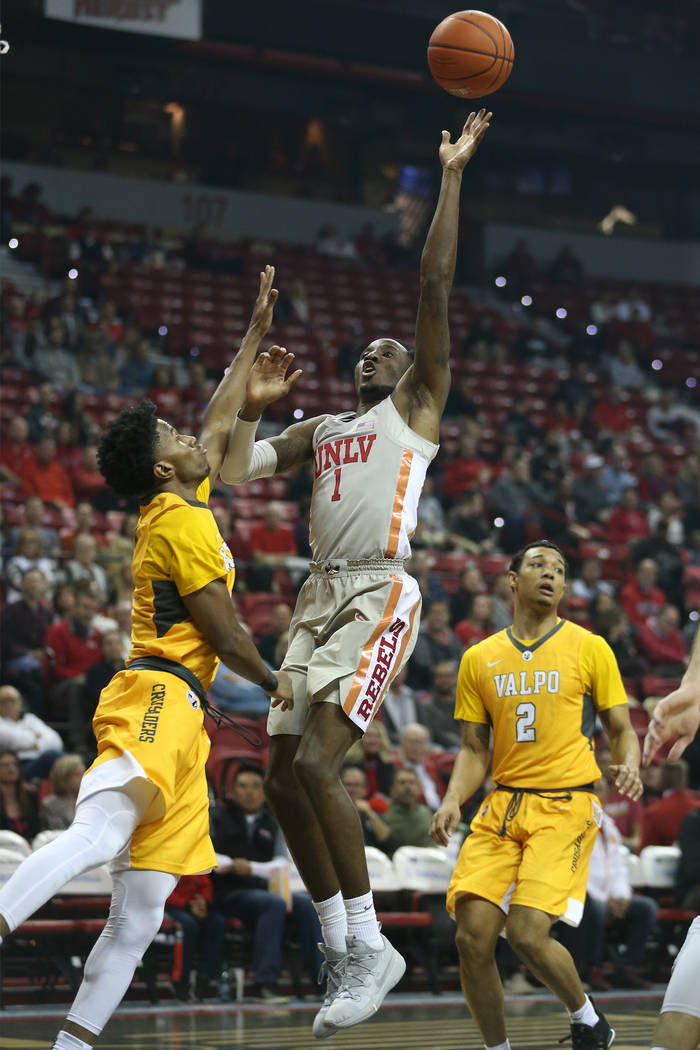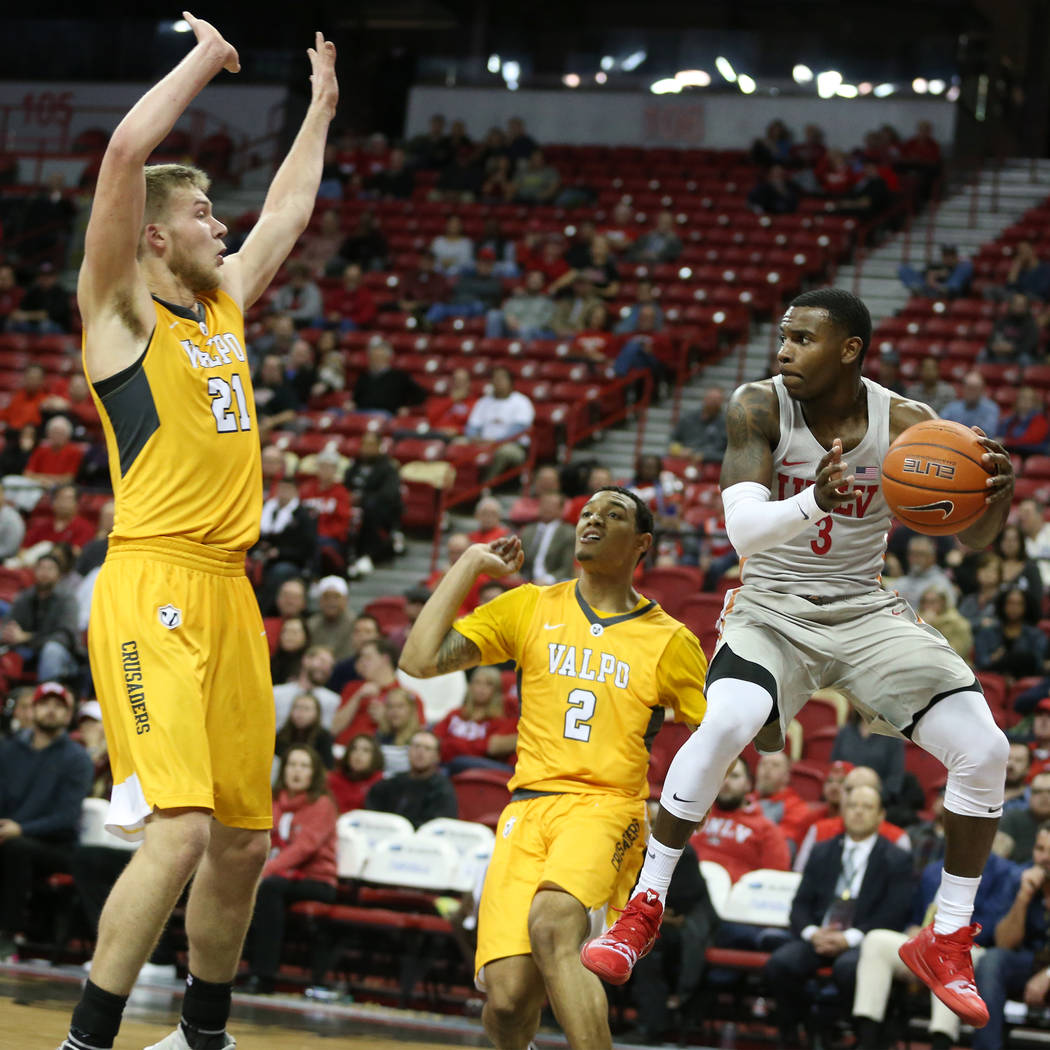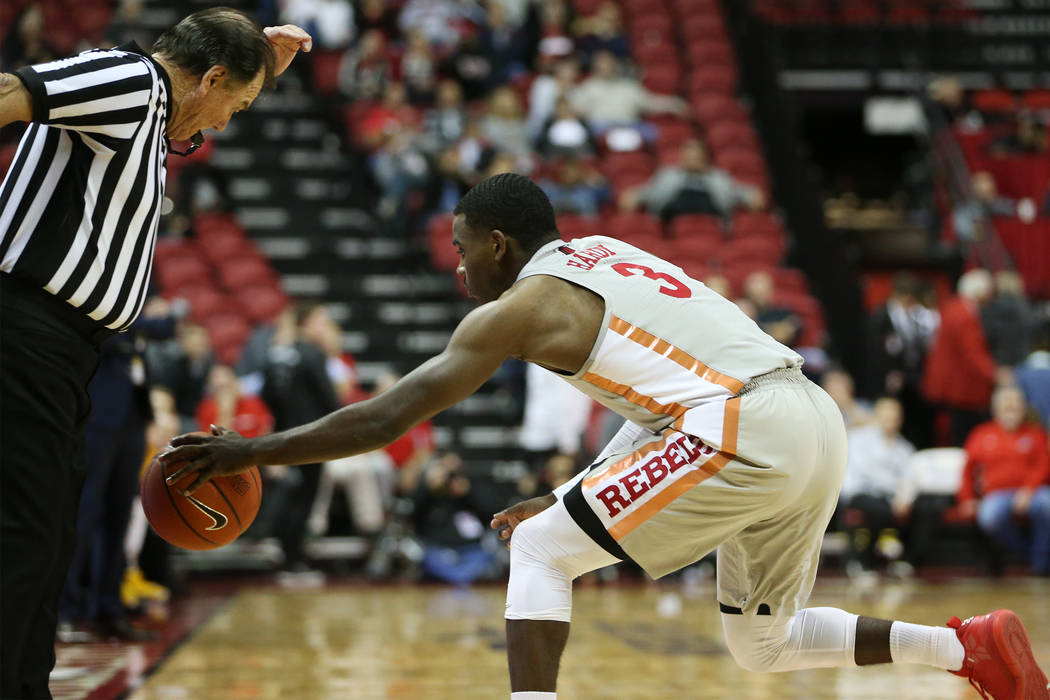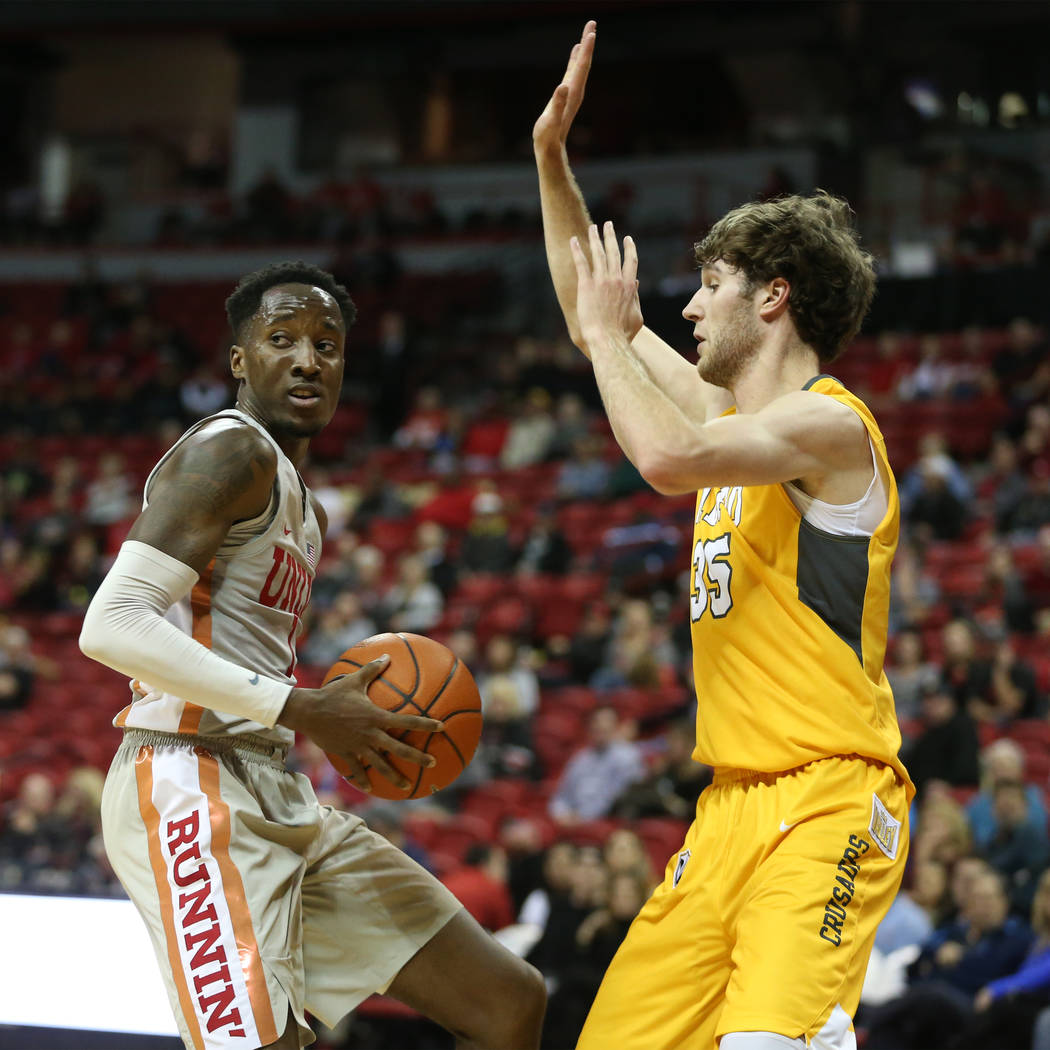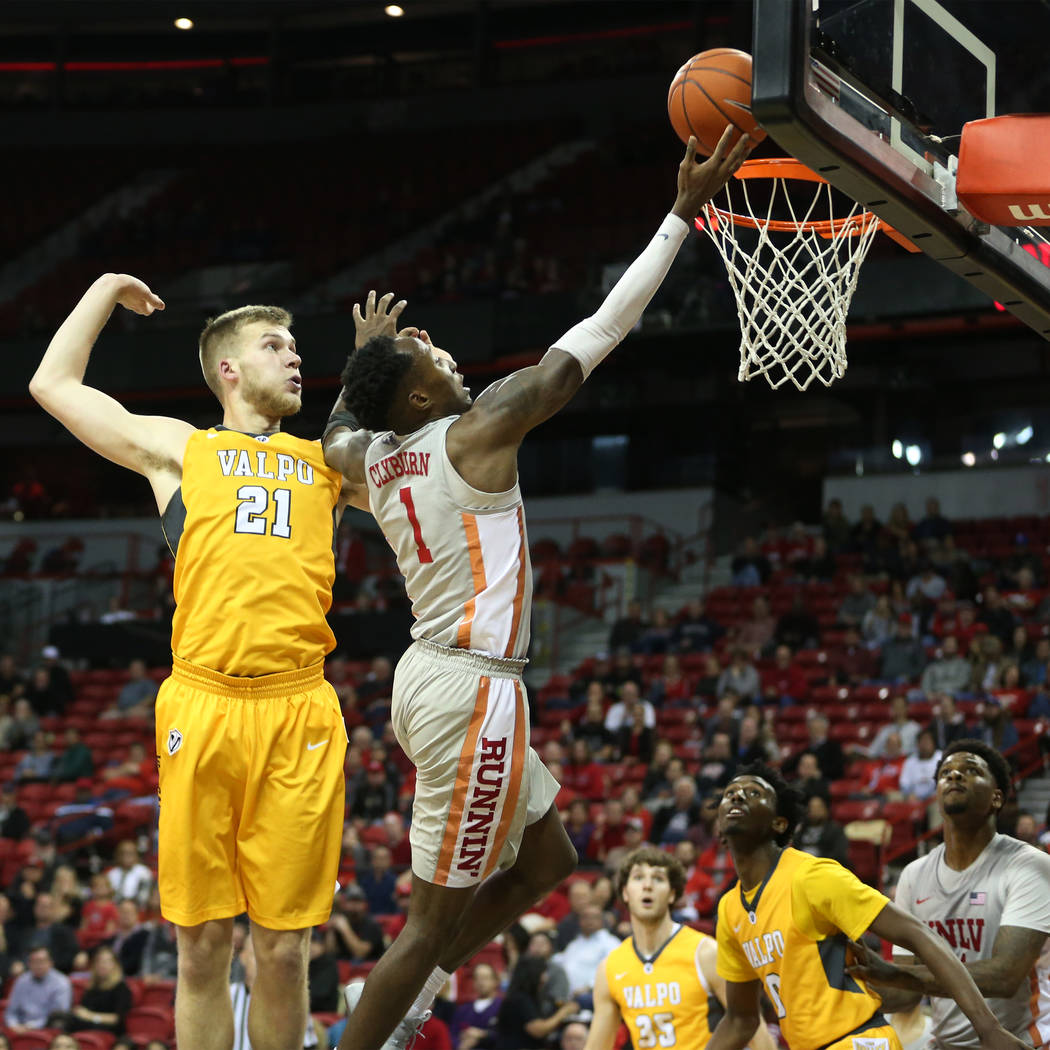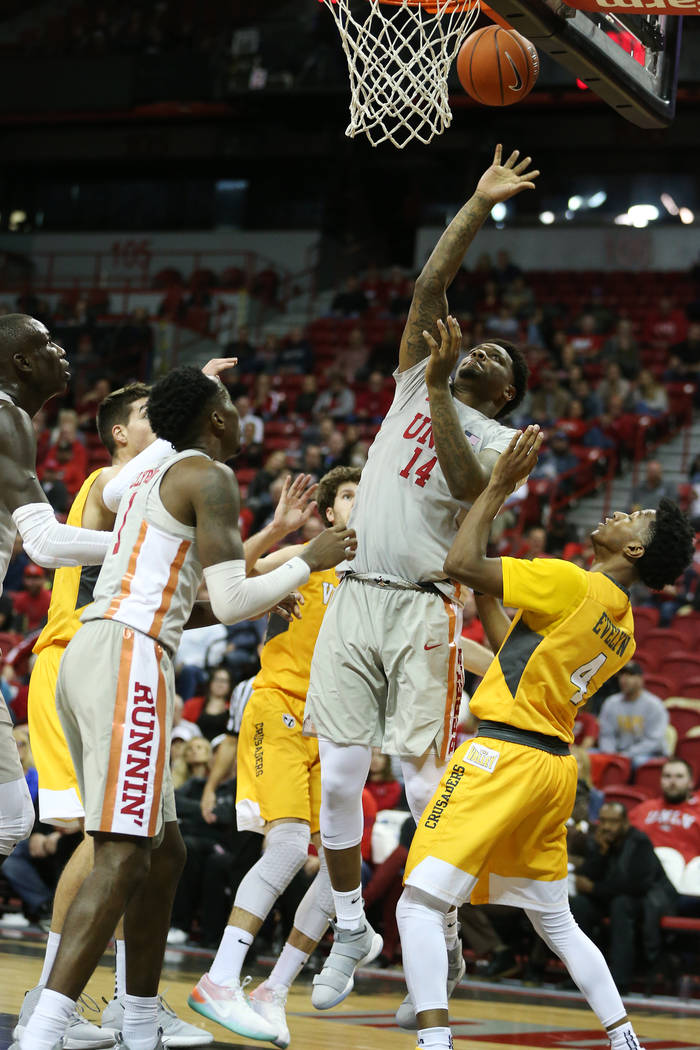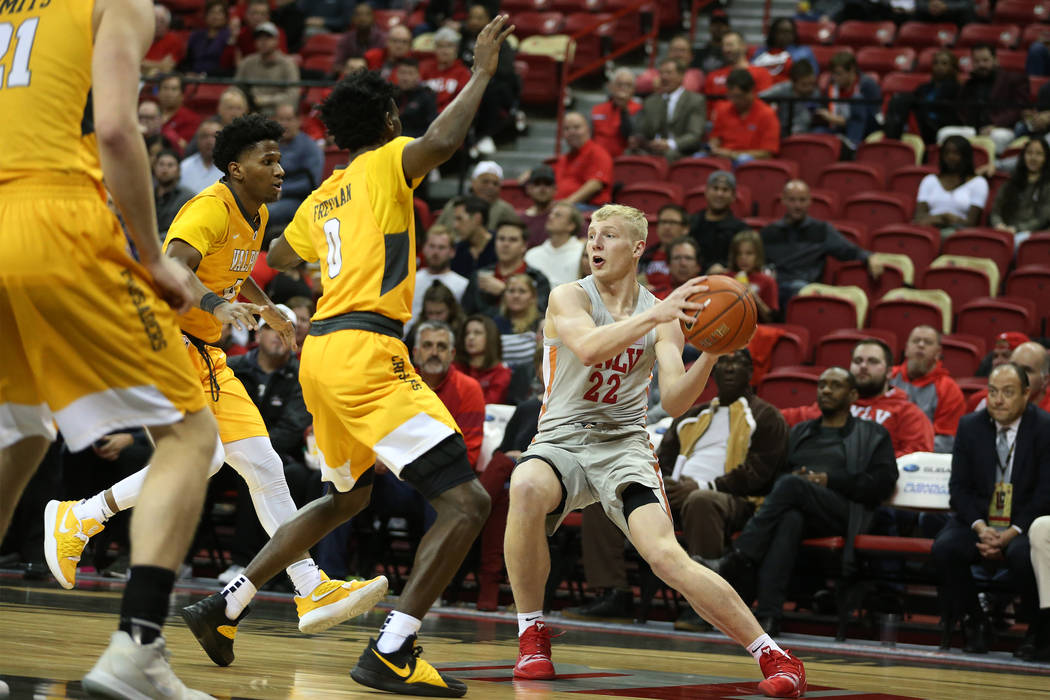 Cheikh Mbacke Diong was glued to the bench with three fouls. UNLV was turning over the ball seemingly every other possession. And Valparaiso was running the Rebels off their own Thomas & Mack Center floor.
This was not the way the Rebels wanted to head into the meat of their nonconference schedule, getting beaten 72-64 in a Mountain West-Missouri Valley Challenge game Wednesday night.
"Seventy-points, and 49 were us not blocking out or throwing the ball away," UNLV coach Marvin Menzies said. "You never want to knee-jerk off of games like this too early in the season because you want to stay the course, but you've got to figure out exactly what (the players need to know) on every single turnover and every single missed blockout.
"The game slippage is extremely high right now with this young team, and that's probably the most challenging thing as a teacher to watch the process in the early stages when you don't have the result that you play for."
Valpo (4-3) took control with a 21-2 run that began late in the first half. By the time they were done, they had taken 46-37 lead.
The loss ended a four-game winning streak for the Rebels (4-2). They next welcome Cincinnati to the Thomas & Mack on Saturday, a Bearcats team that advanced to the second round of last season's NCAA Tournament.
From there, UNLV plays at Illinois, against Brigham Young in T-Mobile Arena and then in the Diamond Head Classic in Honolulu. If the Rebels don't come up with answers soon, this could be a long December for them.
"It's a tough loss for a host of reasons, but it's by no means the season," Menzies said. "We've got to make sure (the players) understand it's a long journey, but it unfolds very quickly."
UNLV looked in control early, going on an 11-point run in the first half for a 31-20 lead. The Rebels made 15 of their first 21 shots, getting to the rim almost at will.
They missed 33 of their final 45 attempts.
"I feel we still got to the basket well, we just had trouble finishing," UNLV guard Kris Clyburn said. "They did a pretty solid job, but at the end of the day, we've got to finish."
The Rebels were sloppy throughout, and it was a major part of their undoing. They committed 25 turnovers, repeatedly making errant passes that were easily deflected or intercepted.
"Pretty much we turned the ball over ourselves," UNLV forward Shakur Juiston said. "I don't think they did anything that dictated us turning the ball over. We're an unselfish team. We always look for the other guys, but at times we have to be 100 percent that the pass is there, and if it's not and if we're in scoring position, then just take the shot."
Juiston scored 14 points and had 19 rebounds, Clyburn scored 12 points, and Noah Robotham totaled 10 points.
Derrik Smits, son of former Indiana Pacer Rik Smits, finished with 20 points and 12 rebounds for the Crusaders.
More Rebels: Follow all of our UNLV coverage online at reviewjournal.com/Rebels and @RJ_Sports on Twitter.
Contact Mark Anderson at manderson@reviewjournal.com. Follow @markanderson65 on Twitter.
Three takeaways
1. Jovan Mooring is missed. UNLV fans might not have thought they would want the gunner in the lineup, but he was the one Rebel last season capable of putting the team on his back. No such player has emerged this season. The Rebels made 3 of 17 3-pointers against Valparaiso. That won't get it done.
2. No answers for Derrik Smits. Except for a stretch by Mbacke Diong in the first half, the Rebels struggled to defend Smits, who had 20 points and 12 rebounds. Diong had a plus/minus rating of plus-8 in the first half, but minus-10 in the second. Cheickna Dembele had a minus-12 rating for the game.
3. Enter Mick Cronin. Cincinnati's coach spurned UNLV's offer in 2016, choosing to remain the Bearcats' coach. He leads Cincinnati into the Thomas & Mack Center on Saturday, but given the Rebels' struggles and their trouble drawing crowds, it might not be the raucous atmosphere originally anticipated.