UNLV extends shoe, apparel deal with Nike
Updated July 23, 2019 - 8:21 pm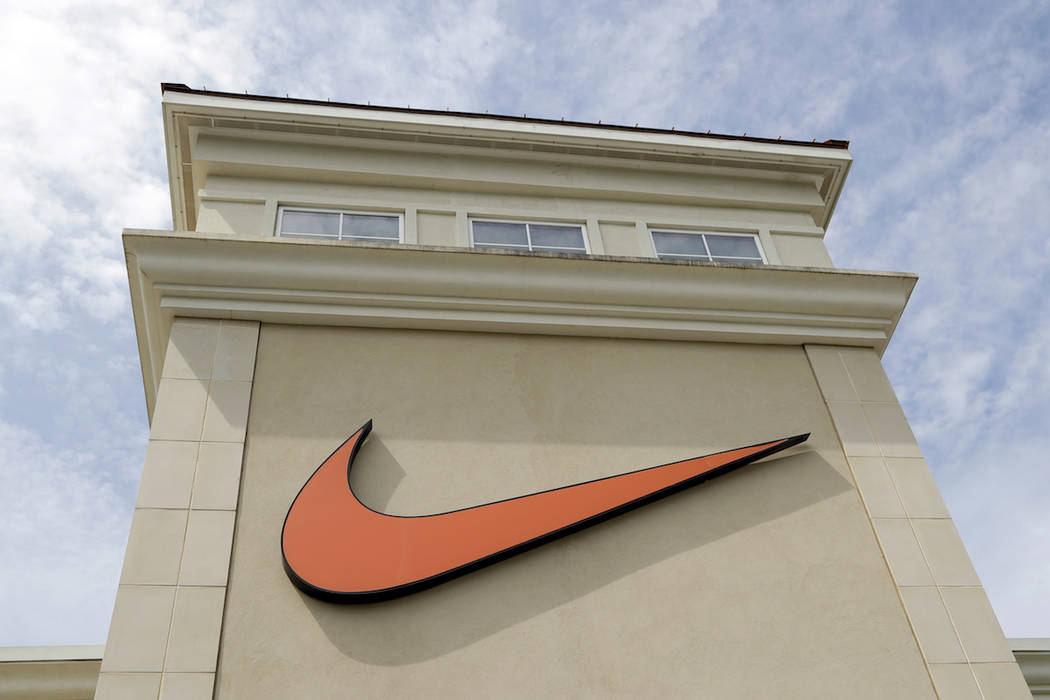 UNLV shopped around but ultimately decided to stay with Nike for its shoe and apparel deal.
The university announced Tuesday that it had agreed to a three-year contract valued at $9 million. The athletic department will receive $2 million in product each year, with the ability to purchase an additional $1 million annually.
Under the previous six-year agreement, UNLV received $1 million in product annually with the ability to purchase $800,000 each year.
Of the six Mountain West schools that have contracts with Nike, Boise State is the only one with a better deal than UNLV. The Broncos have a seven-year escalating contract that provides $12.685 million in product plus another $750,000 in cash through 2025. Unlike UNLV, Boise State doesn't spend money to purchase shoes and apparel.
"UNLV's positive momentum continues with the extension of our long-standing affiliation with one of the most recognizable brands in the world," Rebels athletic director Desiree Reed-Francois said in a statement. "We appreciate the input we received throughout this inclusive process from our coaches and staff, as well as from our Student-Athlete Advisory Committee, who had an important voice in the process. We are excited for the future and grateful for Nike's commitment to UNLV athletics."
Reed-Francois wasn't available for comment Tuesday.
UNLV will receive no cash in the deal, but such an arrangement is typical for a Group of Five school.
The 19 richest shoe and apparel deals belong to Power Five programs, according to Forbes. UCLA has the most lucrative, receiving an average of $12.76 million per year from Under Armour that includes $9 million annually in cash. That contract runs through 2032.
But by Mountain West standards, the Rebels did well with the Nike deal.
"Nike's had such a great relationship with UNLV for so many years," Rebels football coach Tony Sanchez said. "I think it's a natural fit. It's nice to get a big contract and to improve there. We're excited to be with Nike."
UNLV had an exclusive negotiating window with Nike through April 1, and the athletic department solicited offers from different companies.
The Rebels' athletic department could have sought to leave Nike after defense attorney Michael Avenatti released documents in April alleging company executives made payments to steer former five-star basketball recruit Brandon McCoy to UNLV. McCoy signed with the Rebels in 2017.
Nike wasn't the only shoe and apparel company involved in accusations of wrongdoing. Adidas executive Jim Gatto and consultant Merl Code were found guilty in October as part of a wide-ranging FBI corruption investigation into college basketball.
Sources close to the UNLV athletic department indicated before Tuesday's announcement that any controversy involving shoe and apparel companies would have no bearing on the final agreement.
"The Runnin' Rebels have been wearing Nike for decades, and it is a big reason why our program is recognized globally," UNLV men's basketball coach T.J. Otzelberger said in a statement. "It means a great deal for us and our tradition to continue being a Nike school. Our current and future student-athletes are excited about the partnership with Nike."
More Rebels: Follow at reviewjournal.com/Rebels and @RJ_Sports on Twitter.
Contact reporter Mark Anderson at manderson@reviewjournal.com. Follow @markanderson65 on Twitter.
UNLV's Nike deal
Length: Three years
Total value: $9 million
Value of annual product allotment: $2 million
Value of annual purchasing power: $1 million