College football shocker: Underdog UNLV crushes SEC's Vanderbilt, 34-10
October 12, 2019 - 4:14 pm
Updated October 12, 2019 - 7:45 pm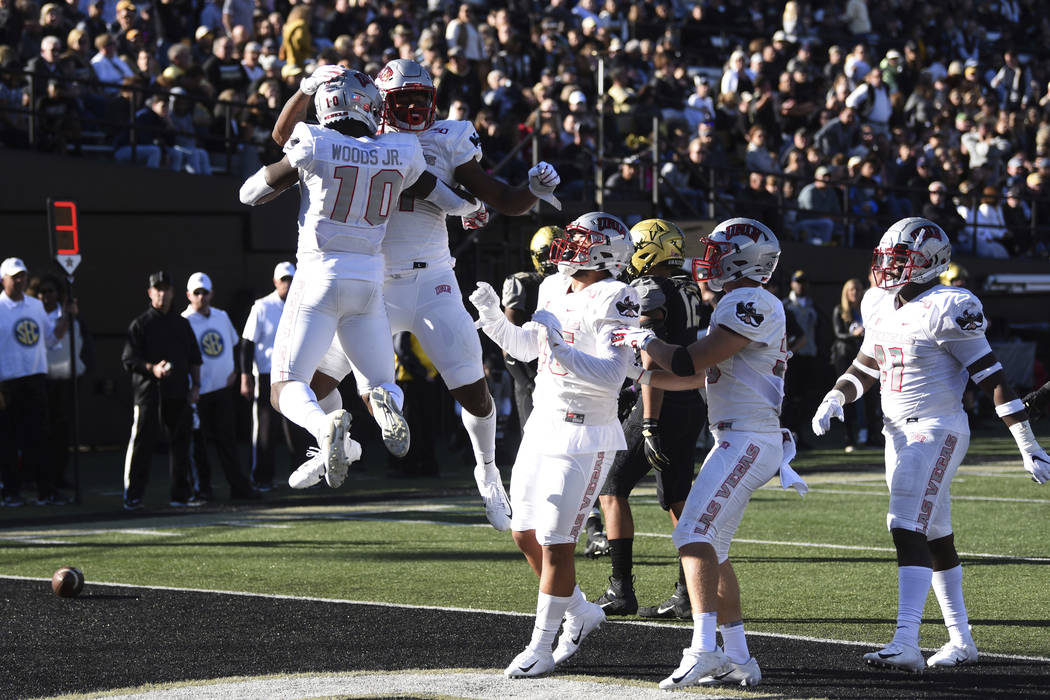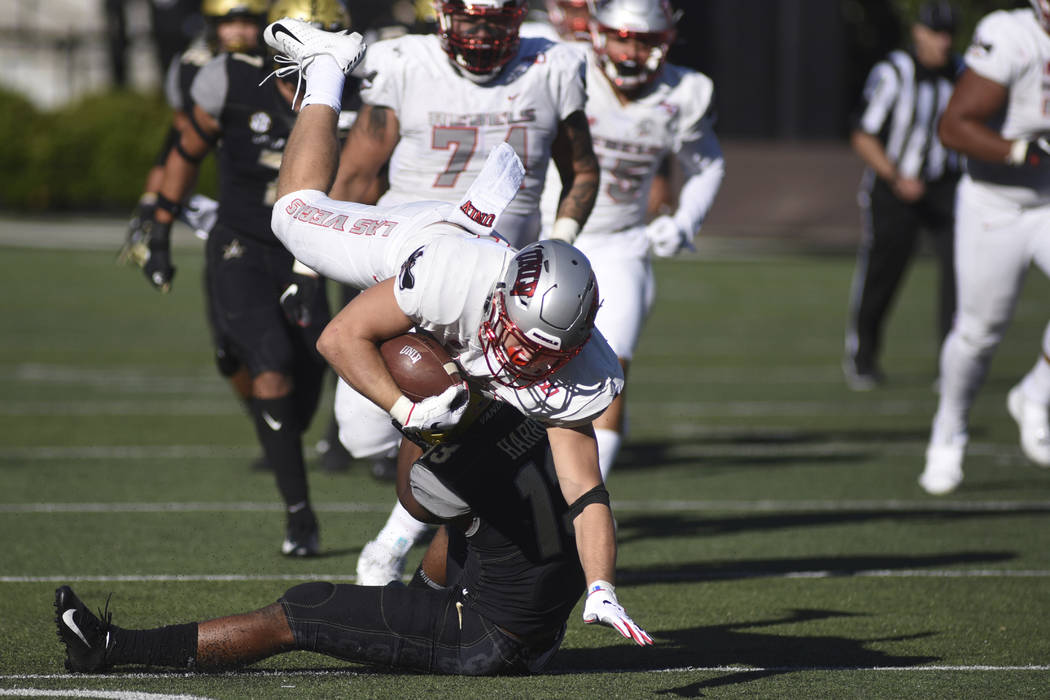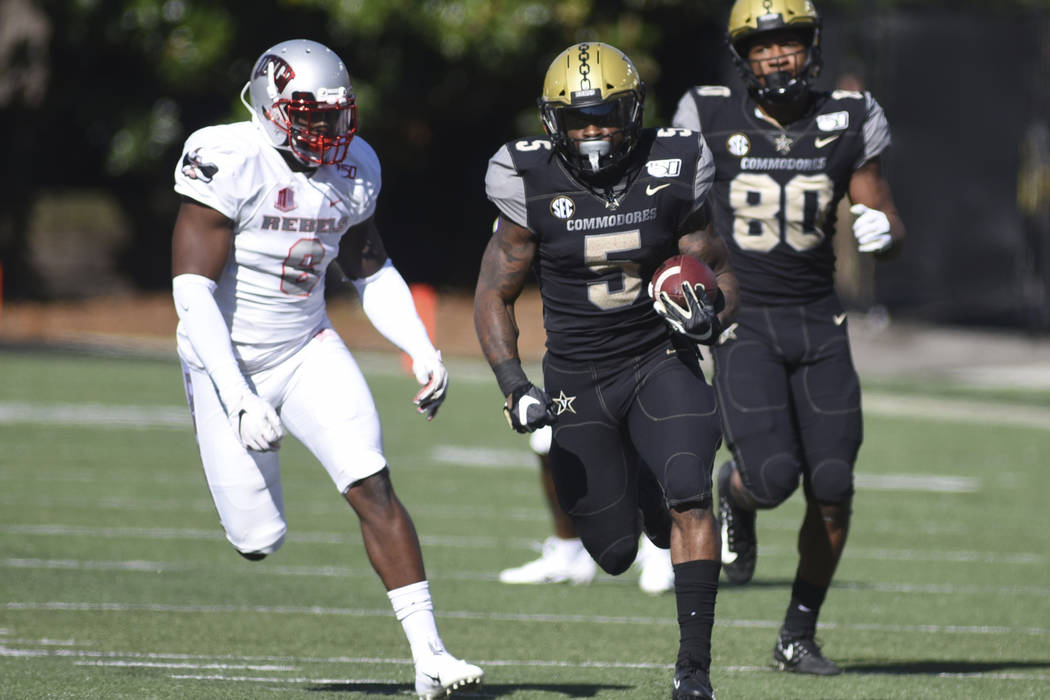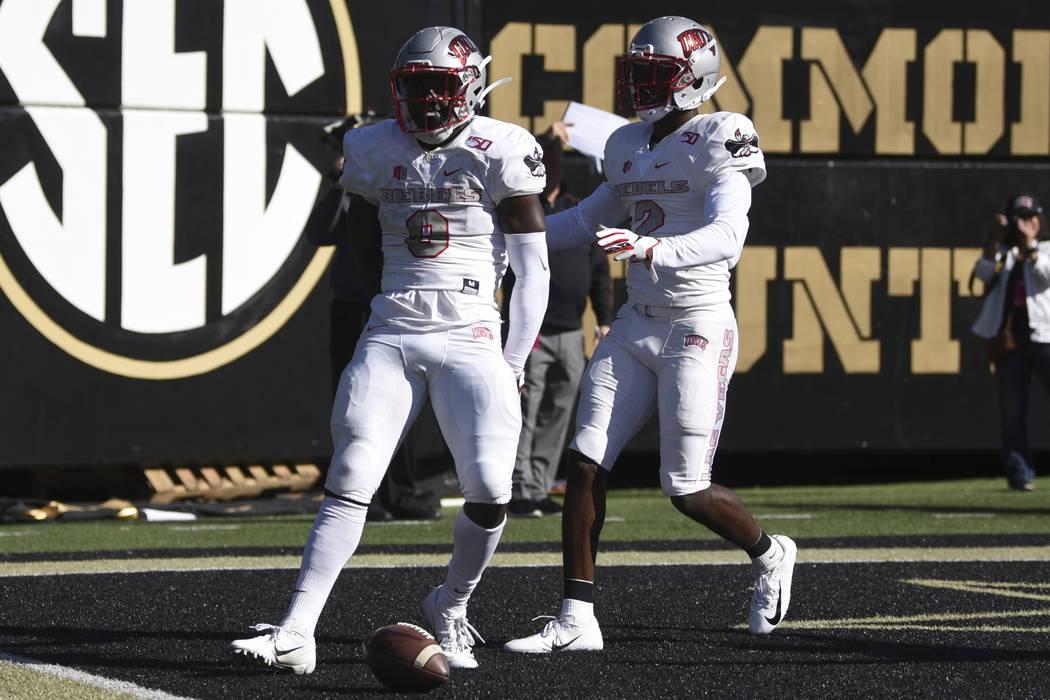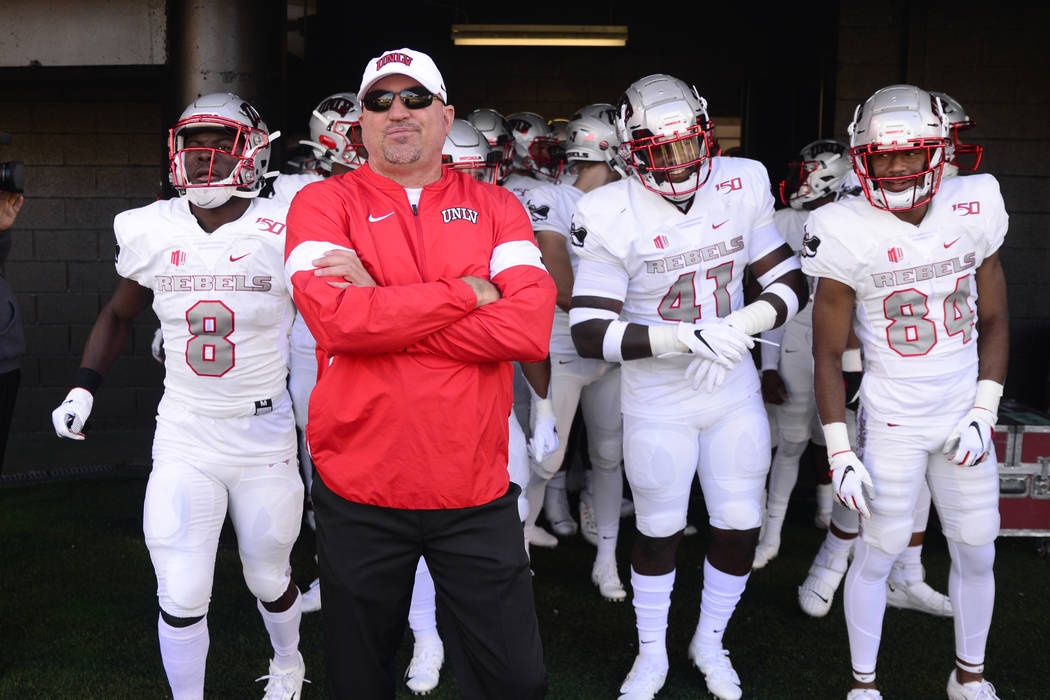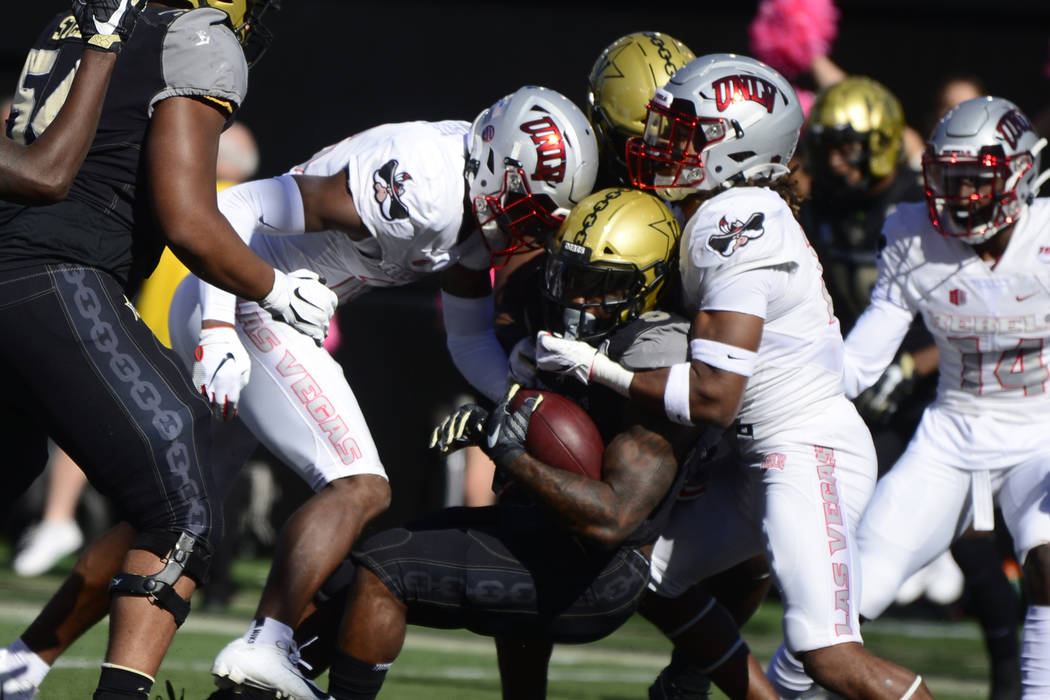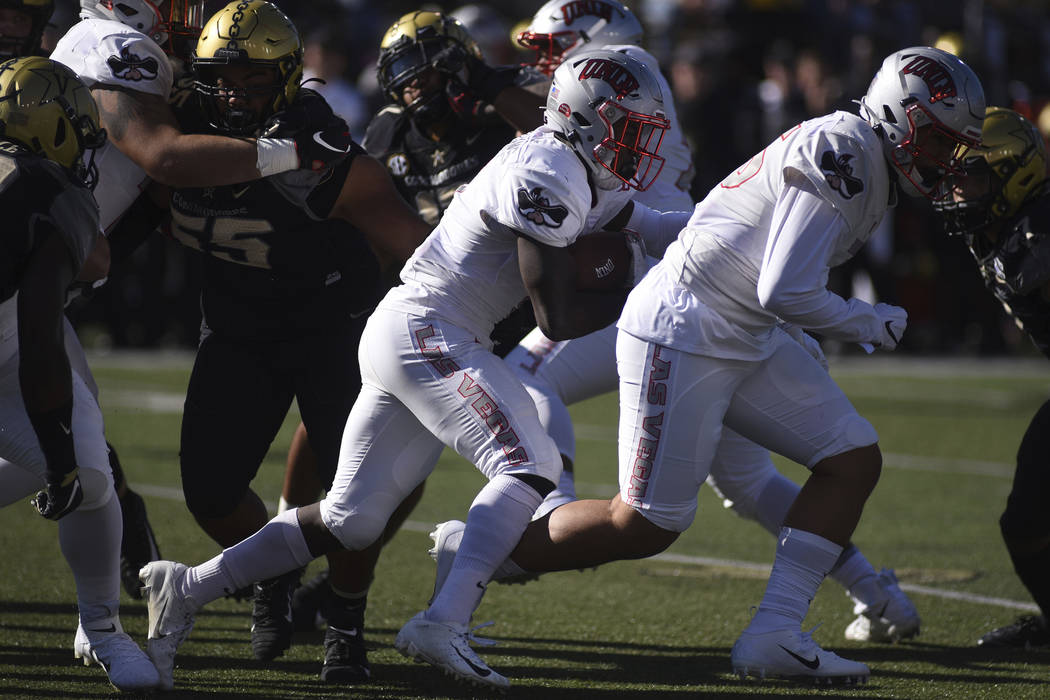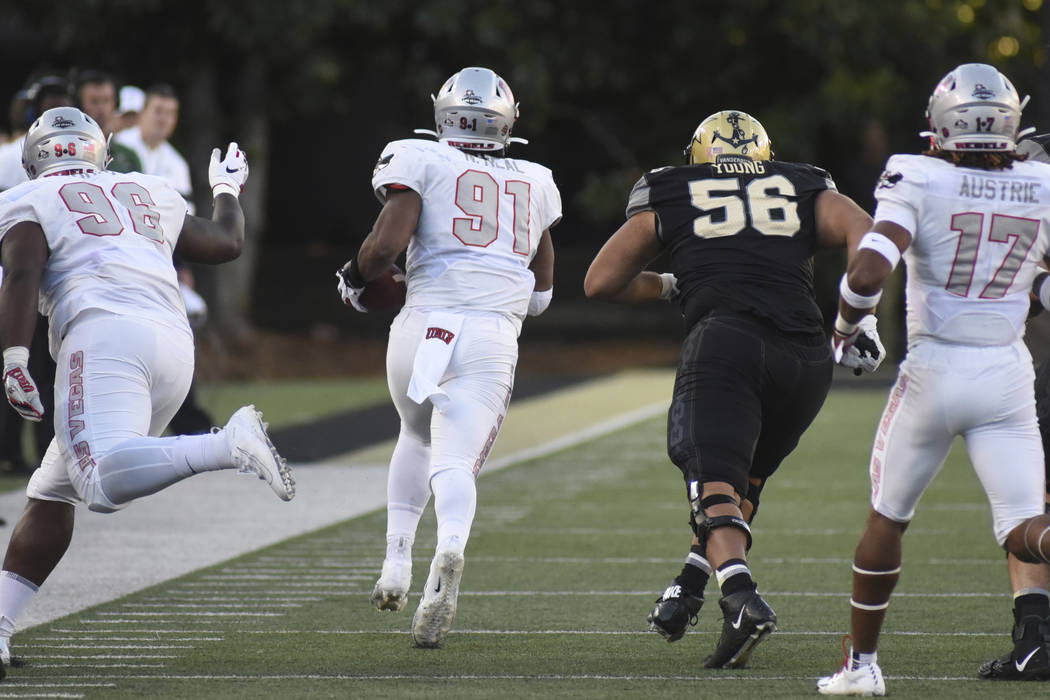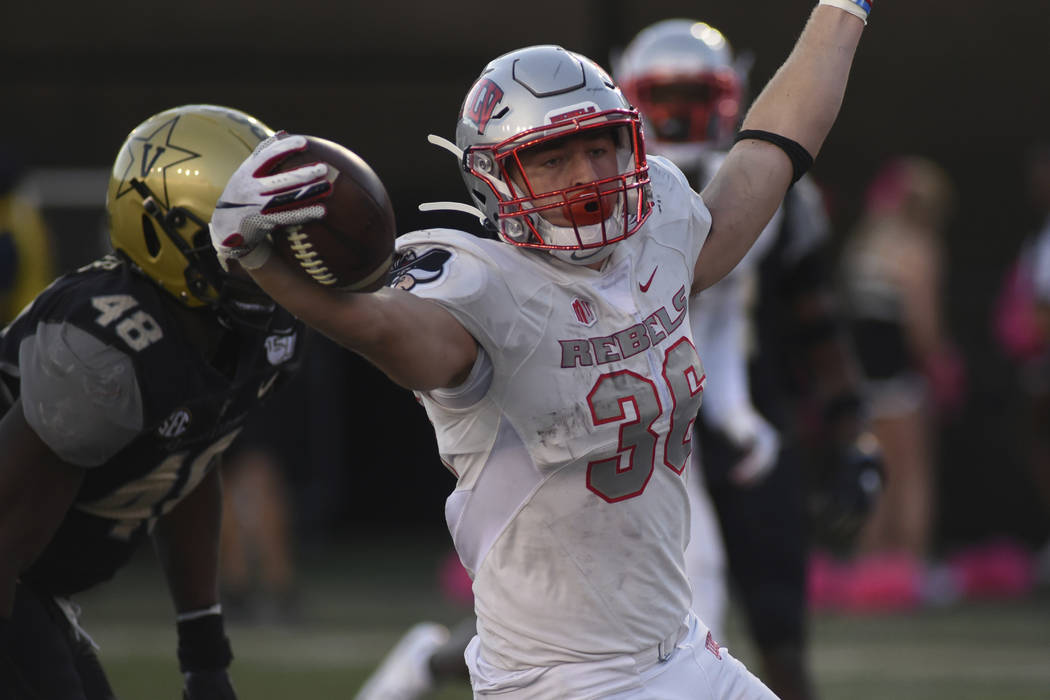 NASHVILLE, Tenn. — A road win is always good. One as a double-digit underdog is better. And a historic one is even better.
Such was the case Saturday when UNLV, a 14½-point underdog, routed Vanderbilt 34-10 in front of 20,048 at Vanderbilt Stadium in the first meeting between the schools.
The victory was UNLV's first ever on the road against a Southeastern Conference opponent. It was the Rebels' first Power Five win since 2008 when they defeated Arizona State and Iowa State in back-to-back games. Their only other victory over an SEC team was a 31-14 rout of Arkansas in the 2000 Las Vegas Bowl.
"Obviously, it was really exciting in that locker room," UNLV coach Tony Sanchez said. "Things have not started the way we wanted to, but these kids show up every day with a great attitude. You saw it with their effort and execution this week."
The victory ended a four-game losing streak for the Rebels (2-4), who allowed a season low in points and scored their highest total since a 56-23 win over Southern Utah in the season opener.
The Rebels wasted little time taking control. After allowing a touchdown on the game's first series, UNLV scored on its next four series.
Quarterback Kenyon Oblad threw for two touchdowns, including a 63-yarder on an over-the-shoulder catch by wide receiver Randal Grimes at 12:05 of the second quarter.
"We practice that play a lot," Oblad said. "We finally got to run it, and it worked to perfection. He ran a great route."
Grimes has been working with Oblad quite a bit in practice, and they have made a connection quickly in the past two games.
"Kenyon has been doing a great job of throwing the ball and reading his keys," Grimes said. "He is a smart guy."
Oblad earned his first victory in his second start for UNLV. He completed 11 of 16 passes for 172 yards and no interceptions. He wasn't sacked and led an offense that had the ball for 37 minutes.
"Kenyon looked calmer and more composed," Sanchez said. "He has spent a lot of time in the film room. His accuracy was really on. His (touchdown) pass to Randal was beautiful. We hadn't had the chance to do that all year."
Four of the scoring drives went for more than 72 yards. Noah Bean capped a 79-yard drive, the longest of the day, with a 5-yard touchdown catch with 3:39 left in the first half, giving UNLV a 24-10 halftime lead.
"I can't even explain the feeling," Oblad said. "It was a great feeling I want to keep the rest of the year. Everything was rolling for us."
UNLV rushed for 206 yards, with Chad Magyar leading the way with 116 yards on 22 carries and one touchdown. Charles Williams ran for 69 yards on 24 carries and a TD.
"I can't explain how great the offensive line and running backs played," Oblad said. "Every time we called rushing play, it seemed like we were running for 5 or more yards."
The defense had its best game of the season, limiting Vanderbilt (1-5) to 12 first downs. Linebacker Javin White had the only interception of the game.
"The defense gave up 10 points, but we shouldn't have given up 10," White said. "I felt like we did a great job of executing Coach (Tim) Skipper's scheme.
"The coaches told us a few weeks ago to just play free and let it loose and go play football. We had no worries. If a bad play happens, it happens. We did a good job of not worrying about a bad play. We were trying to make a good play."
White was just as pleased with UNLV's offensive effort.
"I love seeing the offense out there," he said. "Kenyon did a great job of controlling the clock. I tell him all the time he is a great football player so just go out and play."
Vanderbilt coach Derek Mason praised the Rebels.
"UNLV played hard," he said. "They were the first aggressor. They fought. They played a 60-minute ballgame. We did not. And so my hat goes off to Coach Sanchez."
More Rebels: Follow at reviewjournal.com/Rebels and @RJ_Sports on Twitter.