UNLV drops to 0-4 after loss at San Jose State
Updated November 15, 2020 - 12:00 am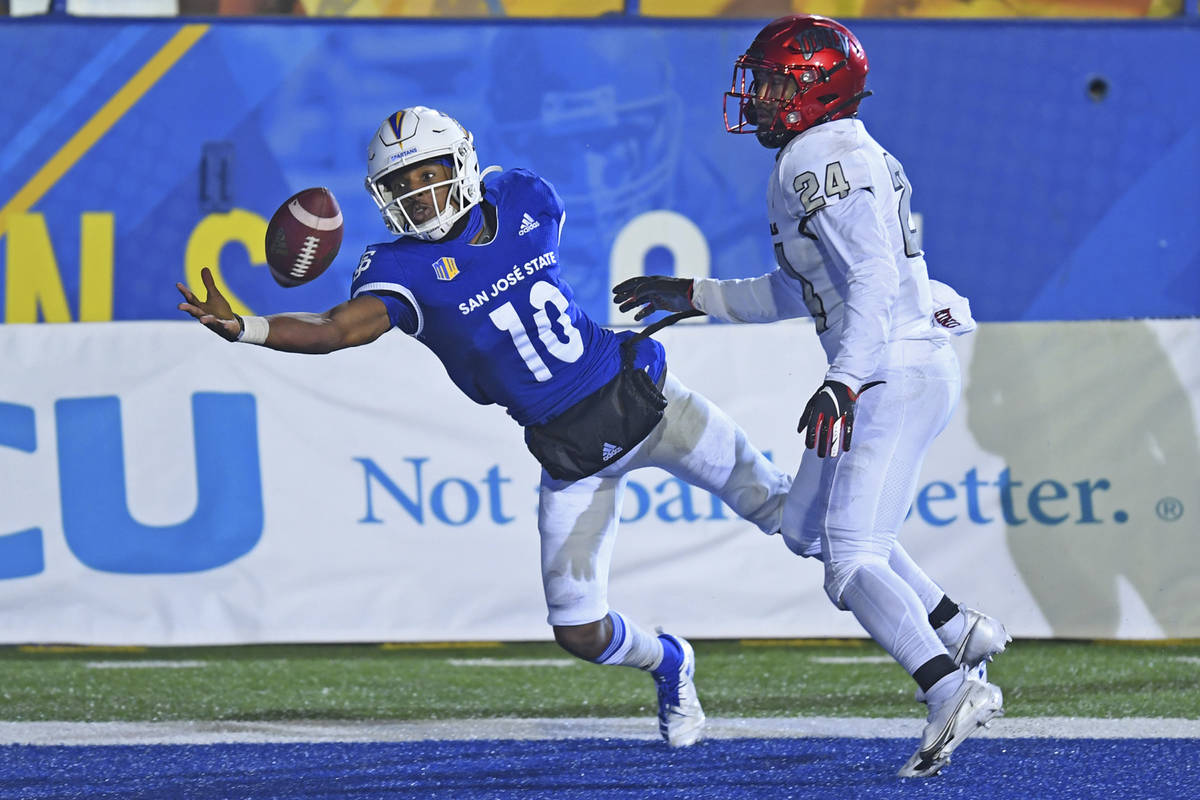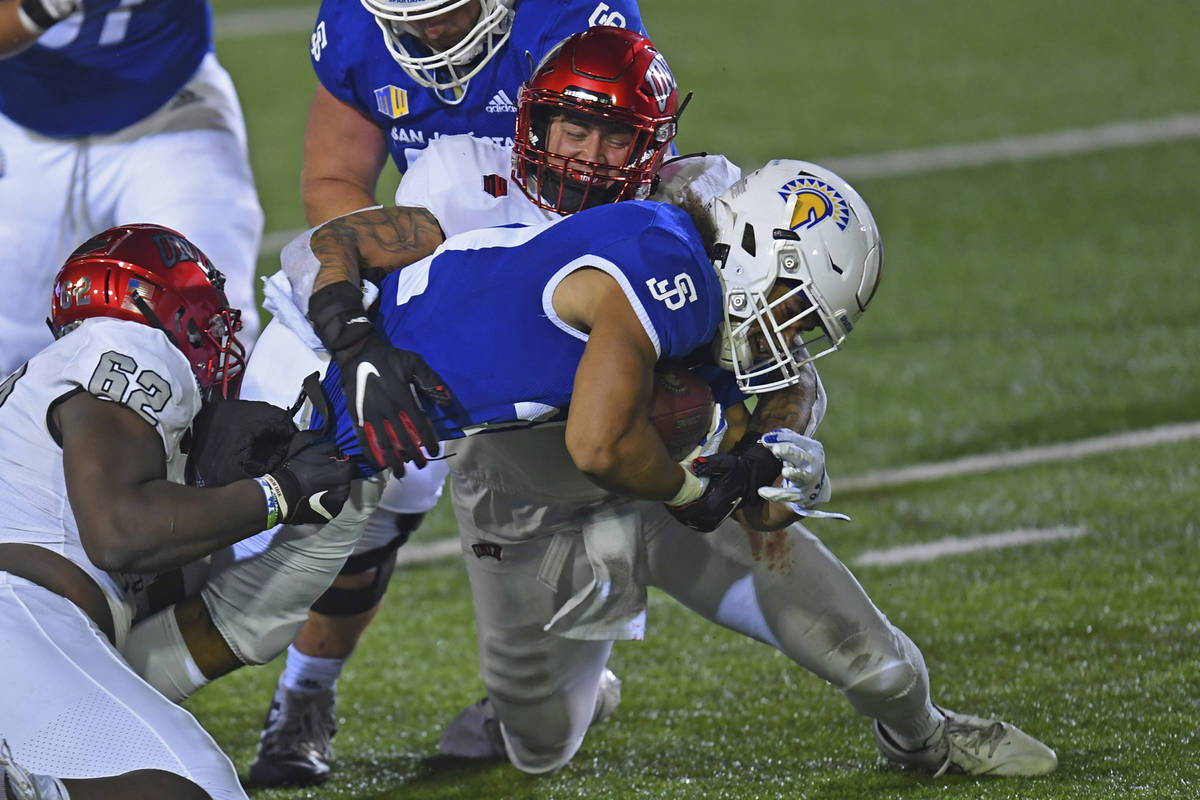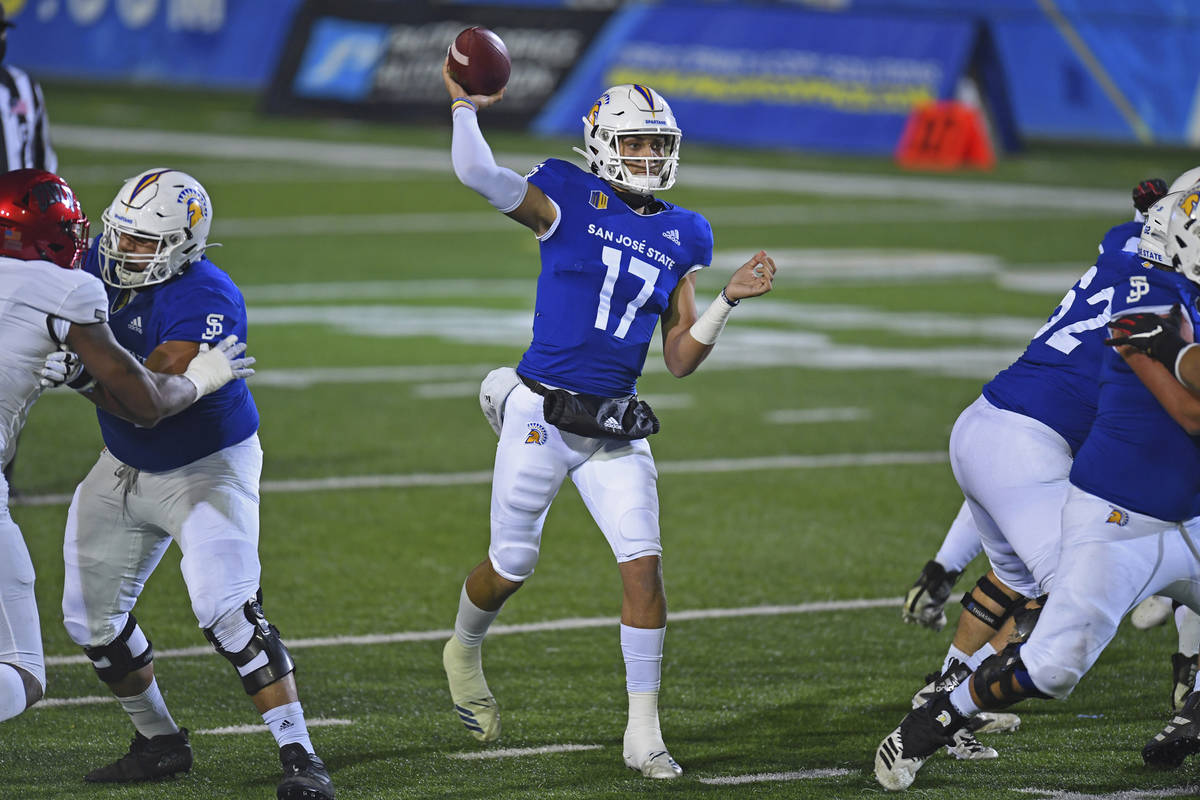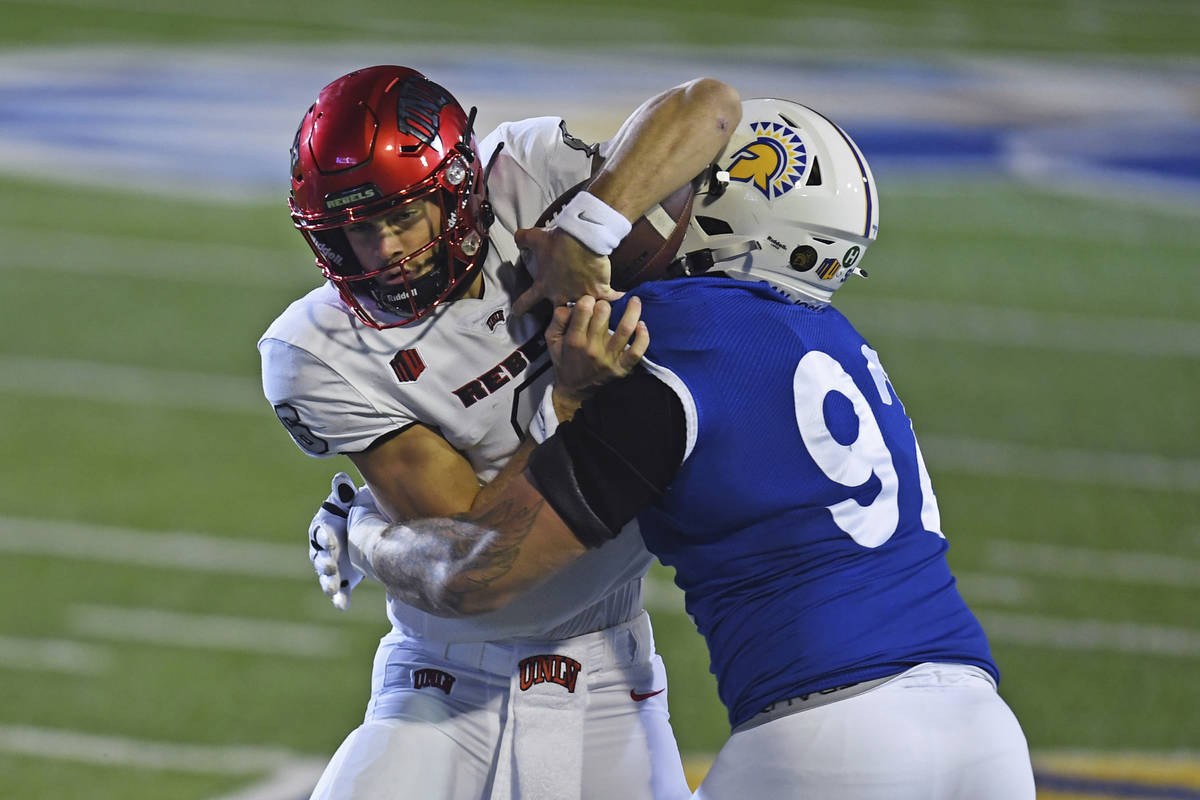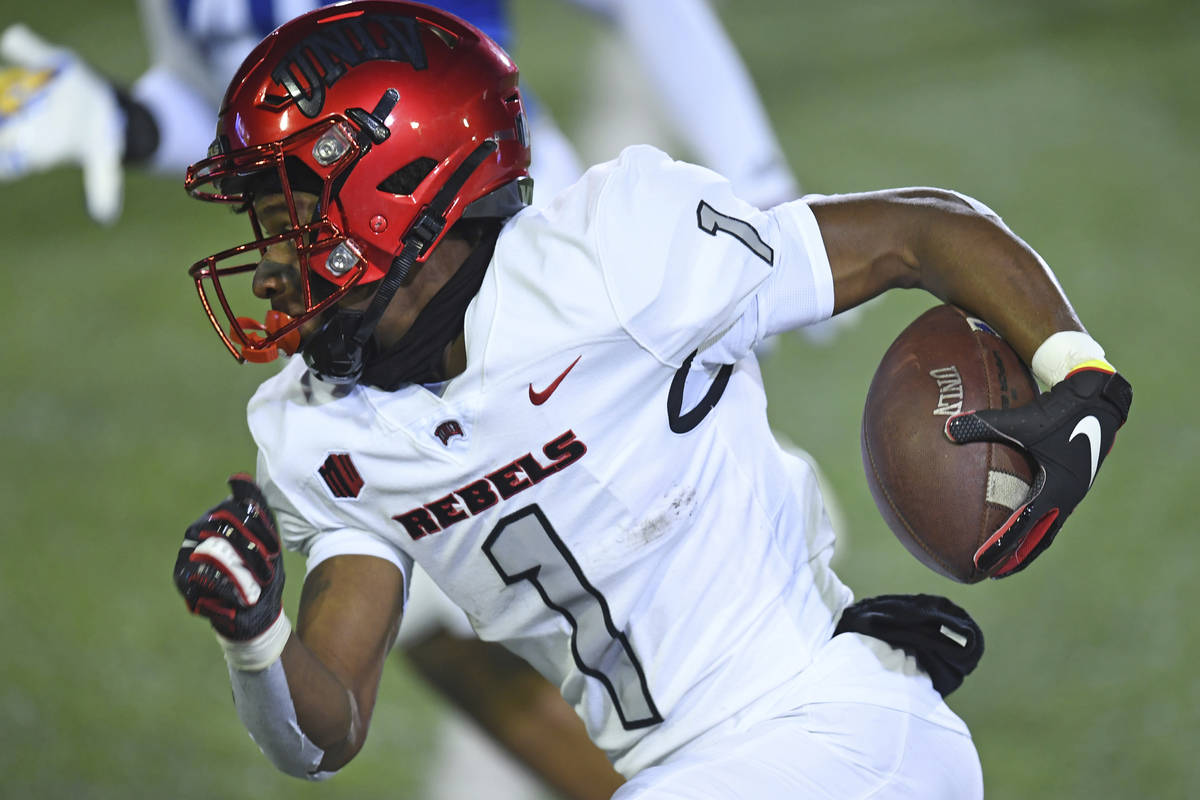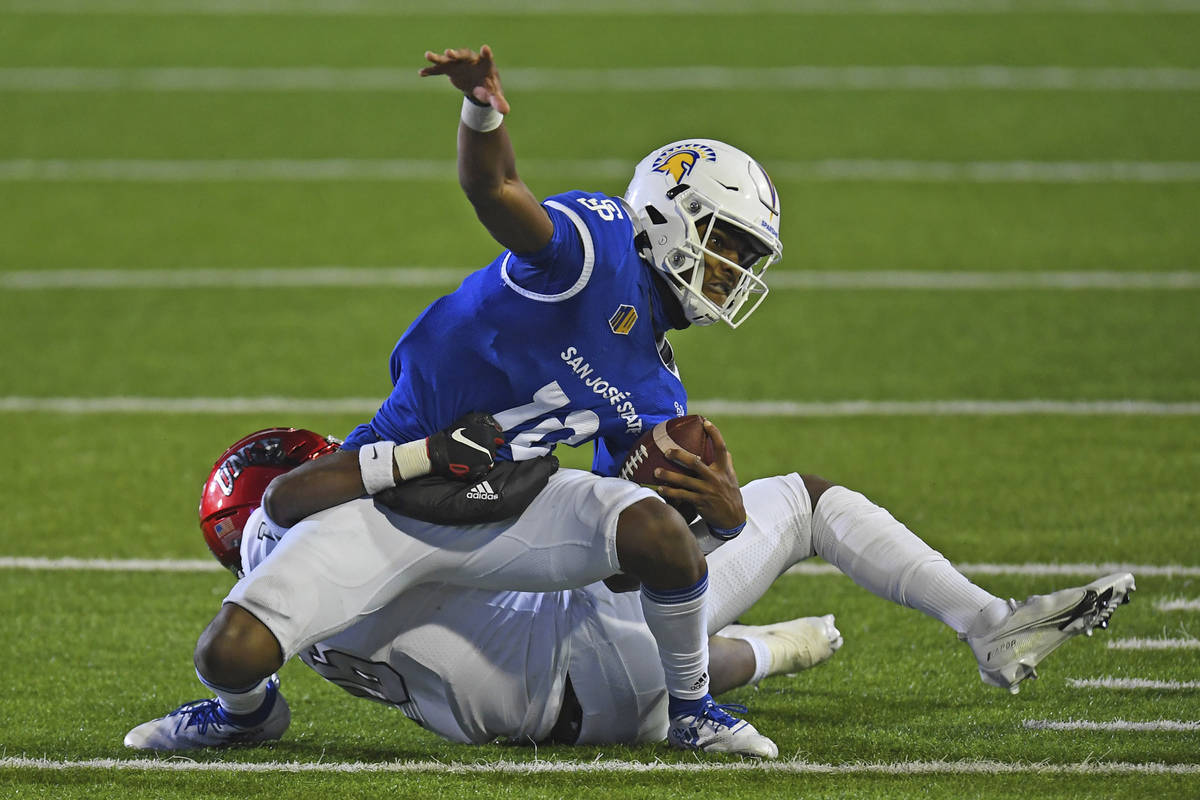 Good football teams find ways to respond when they're challenged, and San Jose State did that against UNLV on Saturday night.
The Spartans scored 17 straight points in the first half to take control, then responded with touchdowns both times the Rebels got within one score in a 34-17 win at CEFCU Stadium.
"We ran into a very good football team," UNLV coach Marcus Arroyo said. "San Jose State has done a great job. Coach (Brent) Brennan and those guys have done a great job in their tenure here of doing it the right way, and he's got a tough football squad that's playing well together."
Arroyo, who played quarterback at San Jose State from 1998 to 2002, downplayed the emotions of being back in the stadium in San Jose, where he also began his coaching career.
"This is a special place, but I'm so emotionally tied to this football team I'm coaching," Arroyo said. "It's not at all to diminish the experience, the time spent and the people I've been around, but the reality is I'm so dug in as a UNLV Rebel with my guys, I can't even think about wherever we're at."
San Jose State had 457 total yards with success passing and running, depending on which quarterback was in the game.
Nick Starkel was 17 of 28 for 274 yards and touchdown passes of 41 and 2 yards to Bailey Gaither, who caught six passes for 94 yards. Starkel was intercepted once, by Tre Caine on an overthrown deep ball.
Nick Nash also received time at quarterback and was the Spartans' leading rusher with 94 yards on eight carries.
Tyler Nevens and Kairee Robinson scored a rushing touchdown apiece for the Spartans, who moved to 4-0 for the first time since 1955.
Max Gilliam started and played most of the first and the entire fourth quarter, with Justin Rogers taking the second- and third-quarter snaps for the Rebels, who fell to 0-4 for the first time since 2004. Rogers was 12 of 18 passing for 162 yards and his first collegiate touchdown pass, a 19-yarder to freshman Kyle Williams for his first career scoring reception.
Gilliam was 7 of 10 for 62 yards. Williams finished with nine catches for 110 yards, and Charles Williams led the Rebels with 55 yards and a touchdown on 19 carries. UNLV had 70 yards rushing, 1.9 per attempt.
"The quarterback rotation was planned," Arroyo said. "Both of those guys were ready to go into the game and do whatever they can to move the football. There are some flashes there of good, and there are some flashes of things we need to get better at."
Here are three takeaways from the loss:
1. Feast or famine
UNLV had the ball 11 times and either scored or did next to nothing each time.
The Rebels' three scoring drives combined for 33 plays for 224 yards. On their eight other possessions, they amassed 66 yards on 31 plays. They went three-and-out five times, including two drives that resulted in lost yardage.
The Rebels gave up seven sacks and had 11 negative plays.
2. Penalties hurt Rebels
Seven of UNLV's eight penalties came in the first half, and most of them were on defense or special teams. They were hit with three pass interference calls, two of which were immediately followed by touchdown passes from Starkel to Gaither.
"When you allow drives to continue on situational football like that and they extend into touchdowns, you can't beat yourself against good teams," Arroyo said. "We're off the field. We've got a couple penalties and big plays, we've got to get off and we've got to make sure that doesn't happen."
The Rebels also had a late hit after a punt return, a roughing-the-passer call, an illegal shift and a holding penalty that wiped away what would have been a first-down run for Charles Williams.
3. Big day for freshmen
Along with Kyle Williams' first 100-yard day as a Rebel, freshman Zyell Griffin had three catches for 68 yards, including a 53-yarder that set up Charles Williams' touchdown run. Freshman Courtney Reese had the Rebels' longest run of 19 yards and finished with 27 yards on three carries.
"It's a great feeling. It's something I've been dreaming about since I was a little boy," Kyle Williams said. "But at the same time, it's expected. The plays and concepts have been getting me open. I feel like the sky's the limit for me."
Contact Jason Orts at jorts@reviewjournal.com or 702-387-2936. Follow @SportsWithOrts on Twitter.