UNLV, Mountain West opts for 10-game scheduling format
Updated August 5, 2020 - 7:06 pm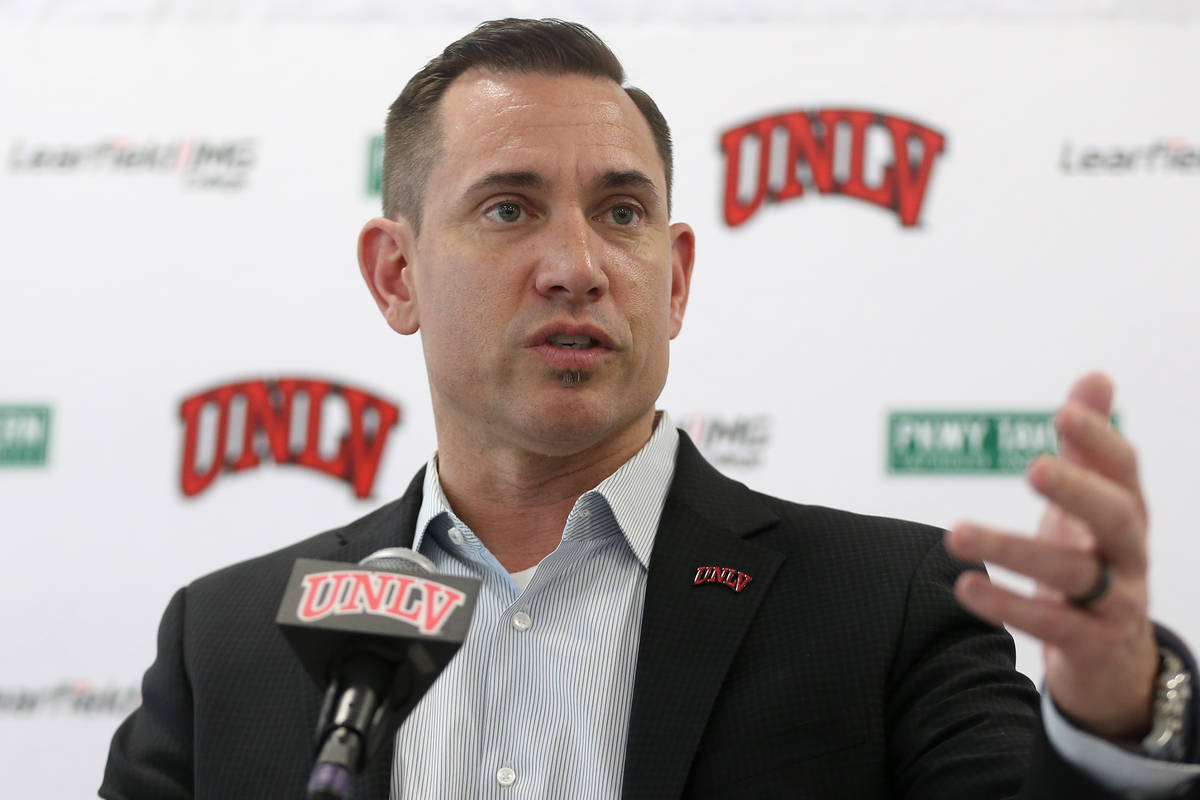 UNLV will play eight conference football games this fall — along with two optional nonconference games — as part of a schedule amended in the wake of the coronavirus pandemic.
The Mountain West announced the changes Wednesday. It will allow the conference schools some flexibility as they navigate the virus and its uncertainty. Mountain West teams will begin play the week of Sept. 26, and the conference championship will be either Dec. 5, Dec. 12. or Dec. 19.
A number of scheduling models are still under consideration, and the Mountain West says the final version will be announced upon its completion.
"We are working collaboratively to determine next steps," UNLV officials said in an a statement. "We remain committed to all of our programs with the health and safety of our student-athletes, coaches, staff and fans at the forefront of our decision-making."
UNLV was supposed to open its first fall camp under new coach Marcus Arroyo on Thursday, but the amended schedule postpones its start, a school spokesperson confirmed. The Rebels began walk-throughs last week, marking the first time this summer that they've been on the field under Arroyo.
Juggling dates
The Rebels were scheduled to play eight conference games this season and four nonconference games.
The Pac-12, Big Ten and SEC have canceled all of their nonconference schedules. UNLV's home-opening game against Cal on Aug. 29 at Allegiant Stadium was wiped out by the Pac-12 decision, as was the Sept. 12 home game against Arizona State.
The Iowa State game was scheduled for Sept. 19, a week before the Mountain West's start date. The Big 12, which has not announced a start date, is restricting schools to one nonconference game apiece, and Iowa State has two other nonconference games on its schedule.
The Mountain West's opening date also will affect the Sept. 5 game against Louisiana Tech at Sam Boyd Stadium. In other words, UNLV might be left with no optional nonconference games.
On the current schedule the Rebels' opener would be Oct. 3 at San Diego State and their first home game Oct. 10 vs. Wyoming — both of which are conference games that could change dates.
Arroyo said last week that he had "stopped pretending" to know if the Rebels could play a full season this fall.
"The opportunity is going to present itself at some point," he said. "We've got to be ready to roll."
The Mountain West also announced amended schedules for the remainder of its fall sports. Olympic sports will contest conference competitions only, and women's soccer and volleyball will decide their champion based on regular season play.
"The modified fall structure as presently configured allows flexibility and time for our athletic programs to be in the best possible position to play collegiate sports this season," conference commissioner Craig Thompson said. "There is still a lot of work to be done and many important decisions to be made. Today's announcement provides a path forward as we navigate the weeks ahead."
Contact reporter Sam Gordon at sgordon@reviewjournal.com. Follow @BySamGordon on Twitter.