'Vision is starting to take place': UNLV football signs 18 players
Updated February 1, 2023 - 6:16 pm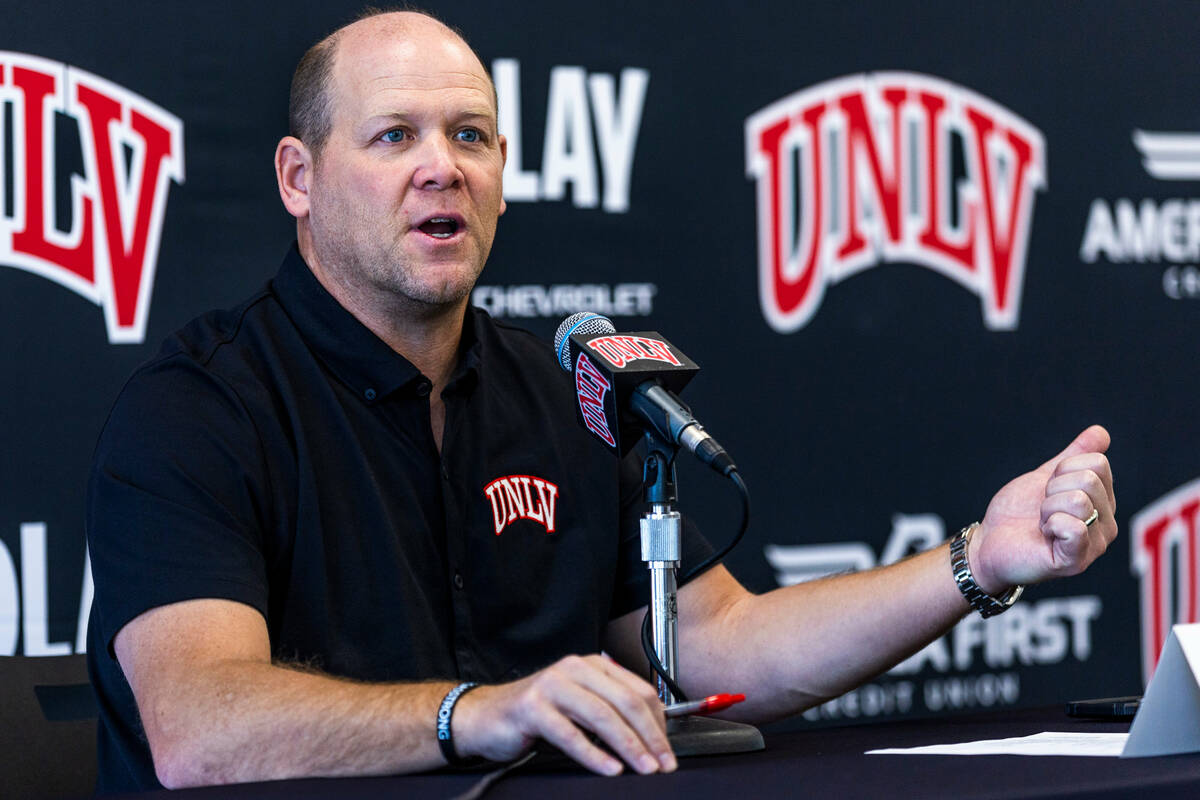 UNLV football coach Barry Odom said he is more excited for the 2023 season now than he was when he first took the job.
Odom and the Rebels signed 18 players to their 2023 recruiting class during Wednesday's national signing day, fulfilling the coach's promise to add more talent to the roster.
"The vision is starting to take place," he said.
The Rebels' new signees include eight high school prospects, three junior college players and seven transfers. Five of the new additions are defensive backs, along with three wide receivers and three offensive linemen. The Rebels also signed quarterback Bo Edmundson.
Odom praised his staff for putting together the recruiting class on such short notice after his hiring in December, and he said the Rebels addressed many of their needs. There are still opportunities to add to the group after spring practices, which begin March 1.
Odom also announced that the spring game will be held at 1 p.m. April 8 at Allegiant Stadium.
"I said a month ago that this is not a long-term rebuild project," Odom said. "This is a win-now project, and I expect the urgency for these guys to go to work, and to come in with the attitude and the mindset that they're going to be a starter, be a player right now to help us develop depth, or become an every-down player to help us go win."
Odom expected to sign a large class Wednesday after adding only seven players during the early signing period in late December.
Wednesday's signees are a balanced mix of high school prospects and immediate-impact transfers.
Three of the Rebels' transfer additions arrive from the Southeastern Conference. Linebacker Jackson Woodard and offensive lineman Jalen St. John — both juniors — spent 2022 at Arkansas, where Odom was defensive coordinator during the past season.
UNLV also landed junior outside linebacker Zavier Carter from Louisiana State. He played in 11 games last season, registering five tackles, a sack, a pass defended and a forced fumble. Odom compared Carter to Arkansas linebacker Drew Sanders, who was tied for first in the SEC with 10 sacks last season for Odom's defense.
Carter "is versatile enough to play three, four, maybe five spots.," Odom said. "So it's our job to find the best one for him, let him understand the scheme and then be able to use his abilities to play fast."
Additionally, Odom added two Power Five defensive backs. Senior Jaxen Turner, who played 33 games for Arizona, arrives for his final year of college eligibility, while Jalen Frazier joins from North Carolina State. Four of the five defensive backs UNLV added are listed at 6 feet or taller, with Frazier measuring in at 5 feet 10 inches.
Among the eight high school additions, Edmundson, a former Michigan State commit, stands out. Odom was also high on safety Cameren Jenkins, a 6-1 safety from Lewisville, Texas.
DeAngelo Irvin Jr., listed as an athlete, will start on the offensive side of the ball, though Odom didn't specify what position the high school quarterback will play. Matthew Greene, a high school recruit who joined during the early signing period, will begin his career as a defensive lineman.
"It's been a fun month-and-a-half," Odom said. "I'm sure excited to get these guys into the mix."
Contact reporter Andy Yamashita at ayamashita@reviewjournal.com. Follow @ANYamashita on Twitter.
UNLV signing day class
— Austin Boyd, OL, 6-4, 280, Lehi (Utah) HS
— Zavier Carter, OLB, 6-4, 205, Louisiana State (transfer)
— Jacob De Jesus, WR, 5-7, 165, Modesto JC
— Bo Edmundson, QB, 6-2, 190, Lake Travis (Texas) HS
— Jett Elad, DB, 6-1, 205, Garden City CC
— Jalen Frazier, DB, 5-10, 185, North Carolina State (transfer)
— Jack Hasz, OL, 6-4, 295, Buffalo (transfer)
— DeAngelo Irvin Jr., ATH, 5-9, 155, Midwest City (Okla.) HS
— Rashawn Jackson, WR, 6-2, 185, Venice (Calif.) HS
— Cameren Jenkins, S, 6-1, 175, Lewisville (Texas) HS
— Darrien Jones, RB, 6-0, 195, Park Hill (Missouri) HS
— Quentin Moten, DB, 6-0, 185, College of the Canyons
— Jose Pizano, PK, 5-7, 220, Missouri State (transfer)
— Jalen St. John, OL, 6-5, 320, Arkansas (transfer)
— Jai'Den Thomas, RB, 5-10, 180, Westlake (Georgia) HS
— Corey Thompson Jr., WR, 6-1, 185, Lincoln (Calif.) HS
— Jaxen Turner, DB, 6-2, 210, Arizona (transfer)
— Jackson Woodard, LB, 6-3, 230, Arkansas (transfer)