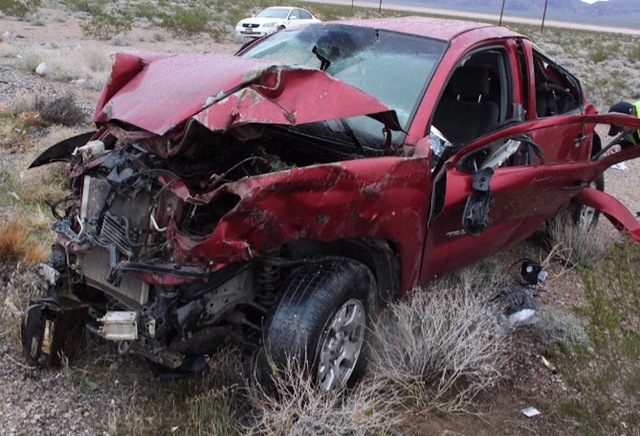 The man and woman who died after being ejected from a vehicle Saturday morning near Jean have been identified.
The Clark County coroner identified the woman as Leslie Gilmore, 29. She is a resident of Riverside, California, according to Nevada Highway Patrol. She died at the scene.
The Highway Patrol identified the man as 23-year-old Andrew Dorado, whose city of residence is unknown. He was taken to University Medical Center, where he died from his injuries Sunday.
A Nissan Altima and Toyota Tacoma crashed about 3 a.m. Saturday on Interstate 15 near Jean, according to the Highway Patrol.
The Nissan was traveling north on the I-15 when the Tacoma rear-ended it. The Tacoma, occupied by Gilmore, Dorado and another man, struck a highway hazard sign and overturned in the desert terrain.
All three occupants were not wearing seat belts and were ejected from the vehicle, the Highway Patrol said in a statement Tuesday. The other man was taken to University Medical Center with critical injuries.
The Nissan's three occupants were uninjured. Speed appears to have factored in the crash, the Highway Patrol said.
"This tragedy is another reminder of the importance of buckling up. Wearing your seat belt can reduce your chance of serious injury and death by half," the agency said in its statement. "Everyone can do their part by making sure everyone in the car buckles up."
Contact Lawren Linehan at llinehan@reviewjournal.com or at 702-383-0381. Follow @lawrenlinehan on Twitter.