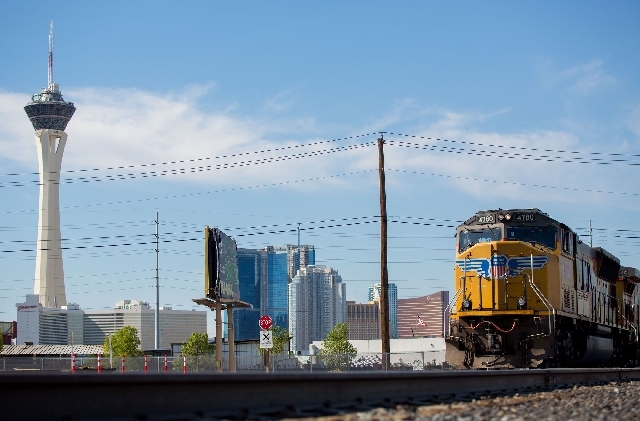 There are times in our lives when cutting corners is appropriate to save a minute or two.
And there are times when it is not.
Take approaching a train crossing, for example. When the red lights are flashing. And the gate is coming down.
"Every time I go over a crossing," says engineer John McKelvey, "somebody runs it."
He proved it Wednesday, when his employer, Union Pacific Railroad, invited reporters and photographers to observe a sting operation.
The locomotive McKelvey was operating weighs about 200 tons. A Ford Crown Victoria, a full-size sedan commonly used as a police car, weighs about
2 tons.
McKelvey nodded at the locomotive before boarding.
"One of these hitting a car is like getting hit by 100 cars. There are no fender-benders. It's complete annihilation."
McKelvey and the crew ran the locomotive along a route that crossed several busy streets around town.
Nearly every time the train approached an intersection, cars dashed through as the red lights flashed and the gate swung downward.
The police, who were waiting at those intersections, wrote 46 citations during the four-hour operation, said Phil Rapagna, a Union Pacific police officer who helped coordinate the effort. He said the ticket typically exceeds $400, plus court costs.
The locomotive used Wednesday generates more horsepower with its diesel-electric motor than a garage full of race cars.
Because it weighs so much and is capable of traveling at freeway speeds, it has powerful air brakes.
It can still take a mile or more to stop the train, depending on the speed, McKelvey said.
Since 2008, according to figures from the Federal Railroad Administration, there have been a dozen pedestrian fatalities on railroad tracks in Nevada. There have been 14 train-versus-automobile wrecks during that same time.
These types of videos are all over YouTube. To watch them is to be astonished, not only at the behavior of the drivers who attempt to cross the tracks, but at, like McKelvey said, the total annihilation of the vehicle.
Though McKelvey said he has never been unlucky enough to hit a car, he has had close calls.
Two weeks ago, as he was approaching Wyoming Avenue, near Interstate 15 and Charleston Boulevard, a car drove around the gate and darted across the tracks, he said.
There was barely 25 feet to spare.
"What if he would have broke down?" McKelvey said. "There's no way I could have stopped."
No one was that blatant during Wednesday's sting operation, one of several the railroad and local police perform each year in Las Vegas.
But many, many cars appeared to speed up and run under the gates as they were closing.
This happened on a route south of Russell Road that crossed Valley View Boulevard, Las Vegas Boulevard, Sunset Road, Bermuda Road, Paradise Road and Eastern Avenue.
The people who ran the red lights and ignored the closing gates were lucky, though. They got tickets, but the train is only allowed to travel 10 mph on that track.
Contact reporter Richard Lake at rlake@reviewjournal.com or 702-383-0307.