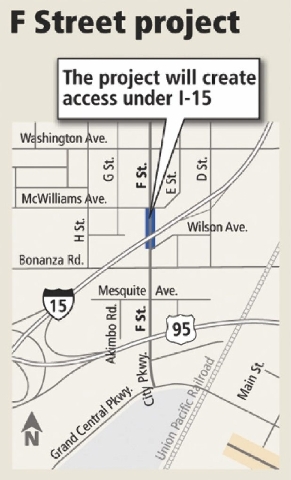 The headaches surrounding the reopening of F Street are about to begin.
Construction of the $13.6 million project began weeks ago, but phases two and three are about to start. Those phases will require lane closures up above on Interstate 15 for the building of overpasses.
Starting in the middle of July and running through late fall, northbound interstate traffic will cross onto southbound I-15. There will be only two travel lanes in each direction. The northbound offramp at D Street will be closed.
Once that is complete, traffic will shift onto the other side of the interstate, and a temporary ramp taking traffic from southbound I-15 to U.S. 95 will be put in. There still will be only two lanes in each direction on I-15 through spring 2014.
The whole project should be finished by the end of 2014, but the major work involving the interstate should be done by spring.
F Street, which runs through historic West Las Vegas, near downtown, was closed in 2008 for the widening of I-15. But nobody told the people who lived in the neighborhood.
When the residents realized what happened, they got angry. They organized. They led a fight to get the street reopened, saying that they were being disrespected and that there weren't that many ways in and out of their neighborhood.
The closing of F Street, they said, cut them off.
West Las Vegas, which is historically black, generally includes the area bordered by Carey Avenue, Bonanza Road, I-15 and Rancho Drive.
Trish Geran, chairman of the F Street Coalition, said Thursday that she and the area's other residents were pleased with the outcome. It was worth the fight, she said.
"The lesson is that, as long you pay your taxes and you're able to vote, you have rights," she said. "You have a voice. Whenever something is not right, you speak up. No matter how long it takes."
The Legislature chimed in, passing a law that required the city of Las Vegas and the state to cooperate and fund steps for the approval, design and construction of the project to reopen F Street.
They held a joint groundbreaking ceremony on the new project last month.
When it's all done, it will include the overpasses, a single travel lane in each direction, bike lanes and wide, pedestrian-friendly sidewalks. It will include artwork , including depictions of Martin Luther King Jr. and the Moulin Rouge casino.
Jenica Finnerty, the Nevada Department of Transportation senior project manager overseeing the design, said it could be reconfigured in the future if necessary to accommodate more traffic.
Contact reporter Richard Lake at rlake@reviewjournal.com or 702-383-0307.