Las Vegas taxicab passengers could see savings in parallel routes
Updated March 28, 2017 - 6:10 pm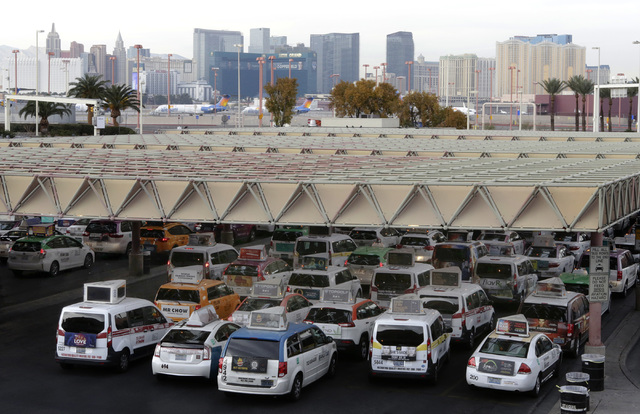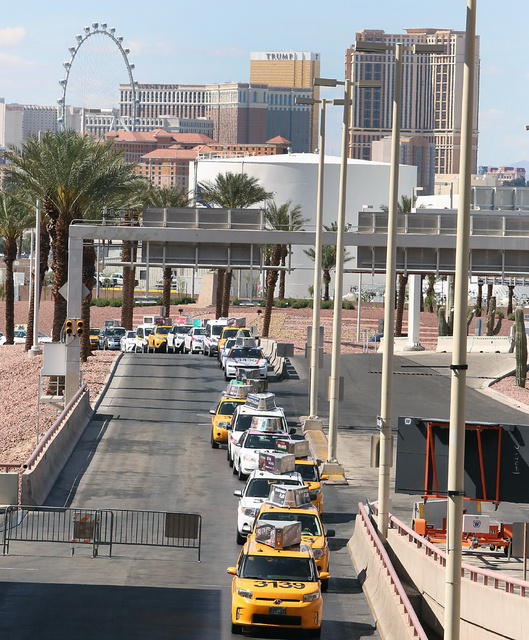 Sometimes the shortest way to get from one end of Las Vegas to the other isn't always the fastest or the cheapest.
Southern Nevada's taxicab companies and their regulators are examining "parallel routes" along Frank Sinatra Drive, Koval Lane and Interstate 15 that cabbies could use when Las Vegas Boulevard is congested.
"If you're driving your own car and you wanted to go from downtown to Mandalay Bay, you're not going to take Las Vegas Boulevard at 10:30 p.m. Friday," said Brent Bell, president of Whittlesea-Bell Transportation and head of the Livery Operators Association, which represents some of the local taxi companies.
"It's the same if you're in a cab, and this gives the drivers some options that they don't have right now," Bell said. "Shame on us for not doing something sooner."
Though the issue was discussed at length on Tuesday, the Nevada Taxicab Authority agreed to hold a special meeting on April 11 to potentially approve several parallel routes that would be used during a 60-day trial period.
Cab companies belonging to the Livery Operators Association recently tested alternate routes between Strip and downtown hotels during the midday and evening commutes. The results show passengers could save time or money by avoiding the Strip. In some cases, it was both faster and cheaper to take a parallel route.
For example, an evening drive from the MGM Grand to the Stratosphere by way of Koval would shave off 8 minutes in travel time and save $2.61 compared to traveling on the Strip, the association reported. Taking I-15 from New York-New York to the Downtown Grand resulted in a $4.26 savings and cut 21 minutes from an evening trip.
The Taxicab Authority's enforcement officers will fact-check those findings over the next two weeks.
"It's a complicated issue and we'd like to have time to figure out these routes to iron out differences we may have," Taxicab Authority Administrator Ronald Grogan said.
'TIRED OF DOING NOTHING'
Although long-hauling is sometimes reported for rides on the Strip and in downtown Las Vegas, Grogan said some of the "most egregious" violations start at McCarran International Airport. The cab companies did not suggest parallel routes for the airport.
The proposed set of parallel routes were drawn up as one way to deal with the drivers who take longer routes than necessary in a practice known as long-hauling. Representatives from several taxicab companies said that drivers are sometimes unfairly accused of long-hauling if they drive up Koval or other nearby streets, rather than staying on the Strip.
Ruthie Jones of the Industrial, Technical and Professional Employees Union, the group representing local taxi drivers, said she supported the suggested alternate routes because it would lead to fewer allegations of long-hauling.
Under the current law, most recently updated in 1977, taxicab drivers are required to take the shortest possible route, and passengers must approve of alternate courses.
State lawmakers are drafting a bill that would give the Nevada Taxicab Authority the ability to designate parallel routes that drivers could take without getting accused of long-hauling.
Of the 248 citations issued to Southern Nevada taxi drivers in February, 107 of those violations were for long-hauling, Taxicab Authority officials said Tuesday.
"If we don't try something, then we're doing nothing," said Stan Olsen, chairman of the Nevada Taxicab Authority. "We're tired of doing nothing."
Contact Art Marroquin at amarroquin@reviewjournal.com or 702-383-0336. Follow @AMarroquin_LV on Twitter.
Proposed parallel routes compared to the Strip
Starting at Mandalay Bay, via Frank Sinatra Drive:
■ To Downtown Grand midday: $2.37 and 9 minutes saved
■ To Downtown Grand at night: 72 cents extra and 5 minutes saved
Starting at New York-New York, via Interstate 15:
■ To Stratosphere midday: $1.19 extra and 5 minutes saved
■ To Stratosphere at night: 24 cents extra and 7 minutes saved
Starting at MGM Grand, via Koval Lane:
■ To Wynn midday: same price and time
■ To Wynn at night: $4.26 and 8 minutes saved