Nation's newest freeway, 15-mile stretch of I-11, ready to roll
August 9, 2018 - 11:26 am
Updated August 10, 2018 - 3:47 pm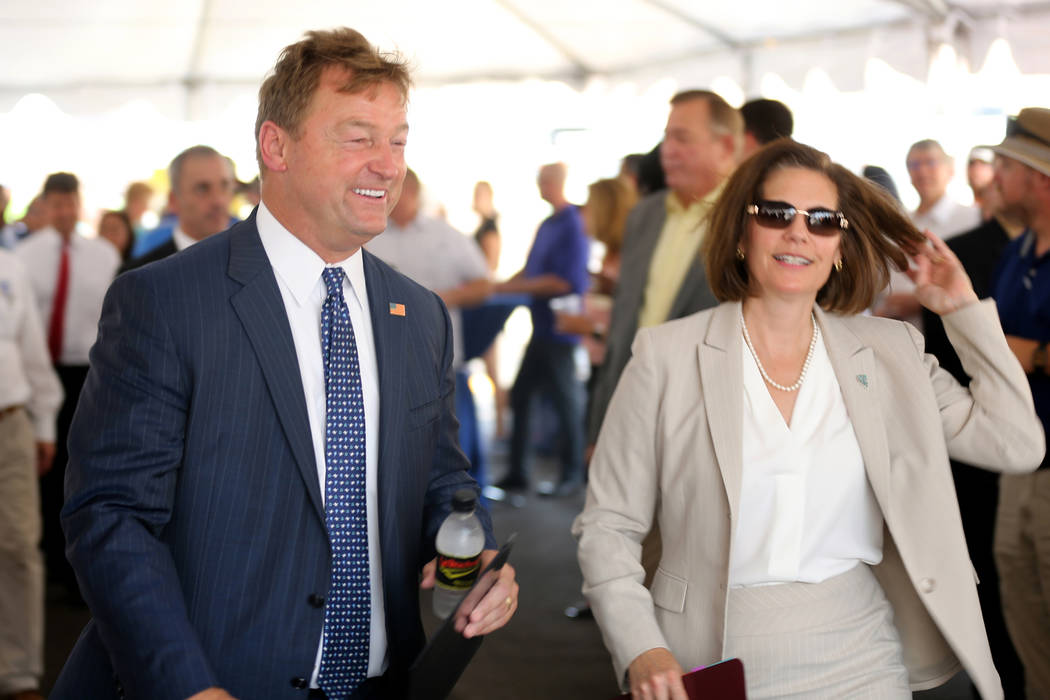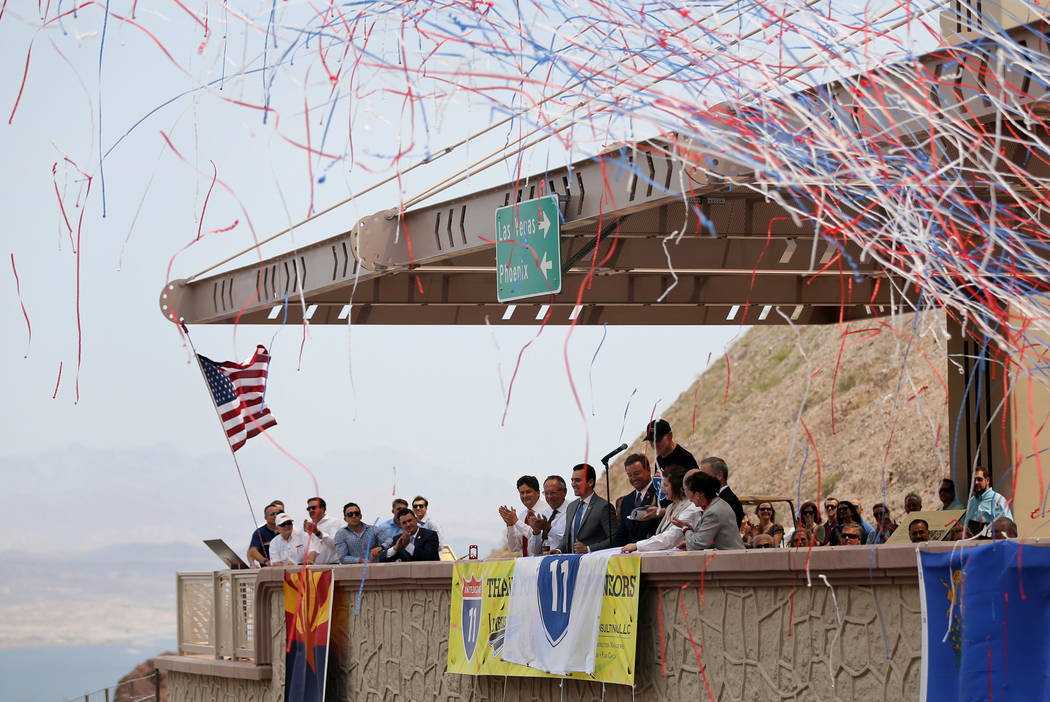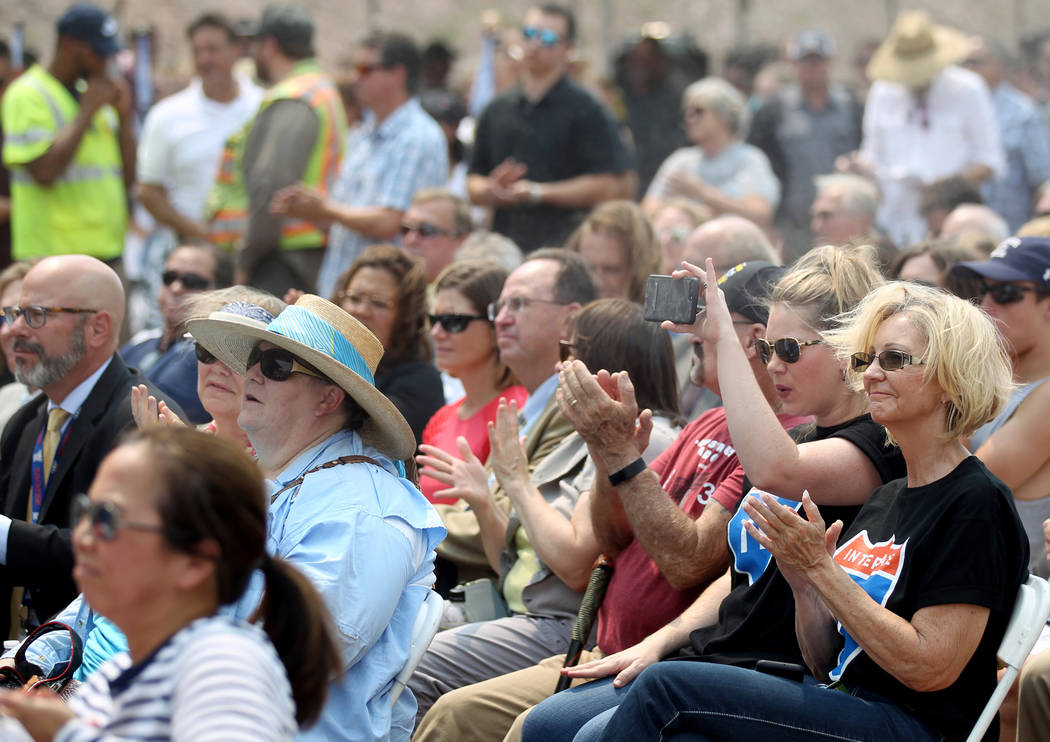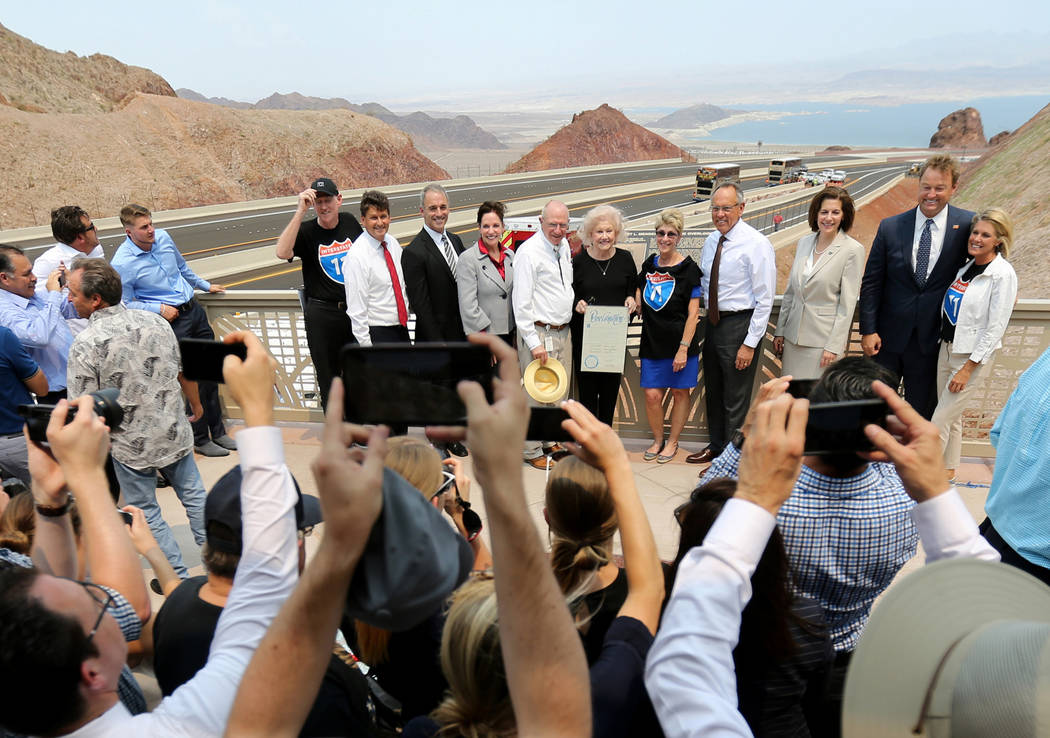 A carved section of the Eldorado Mountains gave way to a picturesque view of Lake Mead from the scenic overlook on Interstate 11, where transportation officials and local politicians gathered Thursday to open the nation's newest freeway.
With the initial 15-mile stretch of highway completed, officials took a moment to look farther down the road into the future of I-11 as a potential link to Phoenix and, perhaps, grow into an international trade route that someday will connect with Mexico and Canada.
"You've heard that Interstate 11 will someday meet with the border of Mexico and the border of Canada, but you today are part of where it all began right here in Boulder City," Clark County Commissioner Larry Brown told about 500 people gathered for the ribbon-cutting ceremony.
A bighorn sheep perched nearby as the news conference took on a celebratory tone. The spectacle kicked off when the Vegas Golden Knights' Drum-Bots thundered past the stage. Confetti cannons sprayed attendees as Boulder City High School's cheerleaders and marching band performed.
Traffic started rolling along northbound I-11 just before noon Thursday, led by a pair of Nevada Highway Patrol cruisers and four work trucks from Las Vegas Paving. Southbound lanes were expected to open by 9 p.m., according to the Nevada Department of Transportation.
"I think we can all say that all roads lead to Boulder City, and here's a perfect example of this," Sen. Dean Heller, R-Nev., said during the news conference.
"The purpose of this is to create good-paying jobs … but the second thing, as important is to create commerce and economic growth," Heller said. "We want this growth to continue, and it can't continue without great infrastructure projects like this."
Construction of I-11 started in April 2015, transforming the physical landscape of Boulder City's outlying desert.
Controlled dynamite blasts burrowed a new path through the Eldorado Mountains to make way for I-11's path toward the Colorado River. A touch of art deco designs adorn 10 concrete bridges along the route. Metal figures and a 1,200-foot-long retaining wall depict the construction of the nearby Hoover Dam.
"I really love the aesthetics and how it all fits with the lay of the land here," NDOT director Rudy Malfabon said. "These are amazing rock cuts, and everything really complements the environment and the history of this area."
The $318 million freeway segment was funded by federal and state money with Clark County's fuel revenue indexing tax. Work was split between NDOT and the Regional Transportation Commission of Southern Nevada.
Discerning motorists will be able to distinguish the two segments, which were built simultaneously. NDOT's 2.5-mile segment of I-11, closest to Las Vegas, was paved with concrete as a way to save money on long-term maintenance costs. Asphalt, which costs less, covers the remaining 12.5 miles headed to Hoover Dam, RTC officials said.
NDOT officials said the four-lane highway is expected to reduce travel times between Henderson's southern border and the Hoover Dam by up to 30 minutes while looping past Boulder City.
"I think anything that gives you an option to improve efficiency, spend less time on the road and burn less fuel is a good thing," said Paul Enos, CEO of the Nevada Trucking Association.
"I think this will relieve a lot of the concerns that have been going on for years now about an increase in truck traffic going through Boulder City," Enos said. "If it's ever built to be a full north-south corridor, then I think it will ultimately be a good thing for commerce in the United States."
Drivers can still opt for the traditionally slower route on U.S. Highway 93 by cutting through the downtown area of Boulder City, dotted with small shops and restaurants.
Although most motorists probably will veer onto I-11, state Sen. Joe Hardy, a former Boulder City councilman, said he isn't worried about business drying up anytime soon.
"This is my road, and people have called it the Boulder City Bypass," Hardy said. "I would like to call it Boulder City's gateway to Nevada."
I-11 was identified as a vital link between Las Vegas and Phoenix — and potentially a larger corridor connecting Mexico and Canada — when President Barack Obama signed the Moving Ahead for Progress Act in 2012.
That's when state transportation officials from Nevada and Arizona started crafting a route for the nation's newest interstate since 1992.
"The I-11 project will relieve congestion, improve safety and enhance travel and commerce between these two great states," said Peter Osborn, a director of field services for the Federal Highway Administration.
"It will be a win-win for businesses in both states that need to move their goods to market more quickly, and for the thousands of drivers it will serve each day," Osborn said. "This ribbon-cutting is the end of construction, but it's only the beginning of a truly important part of the American transportation network."
Over the nearer term, NDOT is expected in September to release a $5.3 million study of the Las Vegas Valley's freeway corridors, including the next segment of I-11. Three proposed routes are under consideration:
■ West on the 215 Beltway, linking to U.S. Highway 95.
■ North on U.S. 95 through the Spaghetti Bowl freeway interchange to the northwest end of the valley.
■ Build a freeway running from the Lake Mead National Recreation Area past Frenchman Mountain — about 8 miles east of Las Vegas — before emerging at I-15 to connect with the 215 Beltway and west to U.S. 95.
State officials envision I-11 leaving northwest Las Vegas by way of U.S. Highway 95 to Tonopah. From there, NDOT is reviewing four options that call for using a mix of existing roads and new traffic lanes leading north to Interstate 80:
■ A westward swing toward Carson City and Reno.
■ Running up through Silver Springs and Fernley.
■ A path through Fallon.
■ An eastern route through Salt Wells.
"I am delighted that we are going to be working together with Arizona to see this completed to Phoenix because we are the only two major metropolitan areas in the country that are not connected by an interstate highway, so we say it's time to put that in place," Rep. Dina Titus, D-Las Vegas said.
Heading east past the Colorado River, an environmental study is underway to determine where I-11 could run along the 280-mile corridor between Nogales and Wickenburg, said Laura Douglas, a spokeswoman for the Arizona Department of Transportation.
A series of public hearings will be held before the study is released in late 2019. Meanwhile, Douglas said that Arizona state officials are seeking construction funds.
"ADOT continues to work with our federal, state and local partners to advance I-11," Douglas said. "From Arizona's southern border to its northern border, I-11 will be a combination of new and existing infrastructure — with improvements made to much of the existing infrastructure."
Contact Art Marroquin at amarroquin@reviewjournal.com or 702-383-0336. Find @AMarroquin_LV on Twitter.
Critter crossings help animals along I-11
Horses, bighorn sheep, tortoises and other critters will still be able to traverse the desert, thanks to five wildlife crossings that were installed at strategic locations along the 15-mile stretch of Interstate 11.
Four of the 60-foot-wide crossings will run beneath I-11, while another will serve as a bridge over the freeway, said Tony Illia, a spokesman for the Nevada Department of Transportation.
Perimeter fences rising 8 feet tall will also help keep animals from meandering onto the road, aimed at reducing potentially fatal collisions with speeding vehicles, Illia said.
A pair crossings were also installed beneath the freeway for all-terrain vehicles, Illia said.
While they're a first in Southern Nevada, seven other animal crossings in rural, undeveloped areas of the state have helped to keep more than 26,000 mule deer off the road, Illia said while citing research from the University of Nevada, Reno.