Nevada freeway message signs used to urge driver caution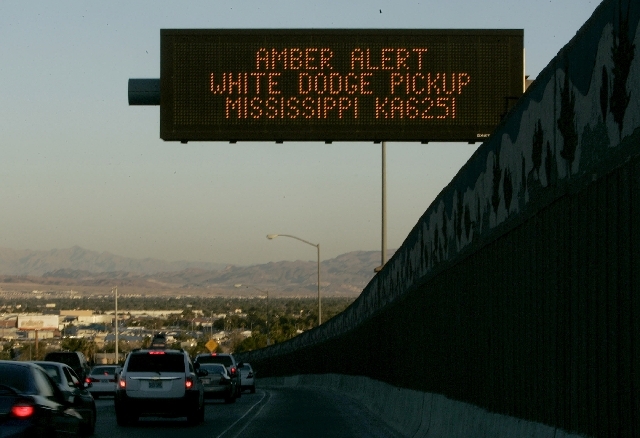 Driver's will get a grim reminder of the dangers of unsafe driving starting 6 a.m. Wednesday as they traverse Las Vegas freeways.
The digital message signs that now state travel times will also display statewide traffic death numbers.
They also will have safe driving tips, including reminders to wear a seat belt and never drive while impaired, according to the Nevada Department of Transportation.
The freeway signs are part of a campaign called the Nevada Strategic Highway Safety Plan. The plan calls for traffic fatalities to be cut in half by 2030, with the ultimate goal of zero fatalities on Nevada roads.
"We're one of the first handful of states using these DMS messages as a driving safety reminder to help save lives," Transportation Department Director Rudy Malfabon said in a prepared statement. "This is a sobering message we post in hopes it will help all of us in Nevada get home safely every time we're on the road."
There have been 104 traffic fatalities in Nevada from Jan. 1 to May 12, according to the Transportation Department website. In 2012, there were only 95 traffic fatalities in that same time period.
In 2012, there were 258 traffic fatalities on Nevada roads, an increase of 12 deaths from 2011, according to the the Transportation Department.
Contact reporter Rochel Leah Goldblatt at rgoldblatt@reviewjournal.com or 702-383-0264.